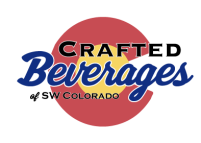 The Durango Area Tourism Office (DATO) is pleased to announce Crafted Beverages of Southwest Colorado, a new marketing campaign dedicated to promoting the region's nearly 30 independent breweries, wineries, cideries, distilleries, and craft soda producers.
The ultimate road trip through Colorado craft country extends across La Plata, Ouray, Montezuma and Archuleta Counties, encouraging craft beer and spirits connoisseurs to get off the beaten path and discover some of the best outdoor, cultural and historic destinations in the state. "Crafted Beverages taps an important trend in the Colorado tourism sector and connects to other movements such as farm-to-table," says Bob Kunkel, executive director for DATO. "It also helps promote other mountain towns in Southwest Colorado, such as Silverton, Mancos, Bayfield, and Dolores and provides these areas with additional marketing assistance."
Scattered amidst the San Juan Mountains, gems of fermented delights are tucked away in remote Colorado mountain towns like Durango, Silverton, Ouray, Ridgway, Cortez, and Pagosa Springs. Iconic scenic byways and trail systems connect this network of crafted beverages with endless opportunities for side trips to hot springs, pristine mountain trails, national historic districts and ancient cliff dwellings. The rugged, wild landscape and down-to-earth local vibes provide the ideal backdrop to pair gourmet Southwestern flavors like spicy elk green chili and sour beers made with locally grown fruit. 
DATO conceptualized the program last fall and was awarded a $20,000 matching marketing grant from the Colorado Tourism Office (CTO). The $40,000 campaign includes a regional Crafted Beverages video, various marketing assets from a logo and map to branded pint glasses, dedicated web pages on Durango.org, print and digital advertising, a calendar of special events and tours, media FAM trips, and public relations outreach.
The Durango area is Southwest Colorado's premier four-season destination, attracting more than one million visitors annually. Please contact Theresa Blake for media inquiries, or visit www.durango.org/crafted-beverages for more information.
About Durango Area Tourism Office
The Durango Area Tourism Office is an independent non-profit organization operating with the mission to promote Durango and La Plata County's multitude of tourism attractions, events and services. The unbeatable combination of the iconic San Juan Mountains, art galleries, culinary fare, cultural and historic sites make it the perfect base of operations to explore Southwest Colorado. Visit DATO's full-service Welcome Center, located at Main Avenue and 8th Street in the heart of historic downtown Durango, or online at www.durango.org. Follow @visitdurango on Facebook, Twitter and Pinterest.