Colorado's newest lake offers fishing, boat ramp, and other facilities to enhance Durango's recreational opportunities
Durango, Colo. – (March 29, 2018) – The Durango Area Tourism Office (DATO) is pleased to announce the long-awaited opening of Lake Nighthorse on Sunday, April 1, 2018. Located just 2-miles southwest from downtown Durango, Lake Nighthorse promises a popular recreation spot for locals and visitors to swim, boat, fish and picnic along the nearly 1,500 surface acres of water.
Durango is one of Colorado's top destinations for fishing and boating, touting 12 lakes within a 100-mile radius of downtown. With the addition of Lake Nighthorse, visitors can enjoy boating, fishing, swimming and picnicking, all within a few miles of downtown Durango and the Animas River. Situated in Ridges Basin surrounded by mountains and ridgelines with dramatic cream-colored cliffs, Lake Nighthorse blends Durango's picturesque scenery with magnificent multi-sport recreational opportunities.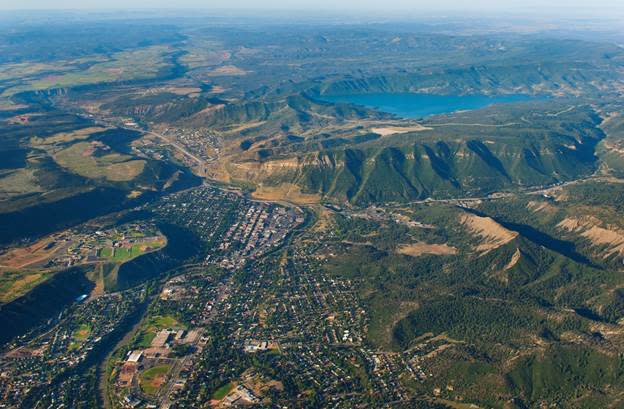 "We applaud the long anticipated opening of Lake Nighthorse," says Frank Lockwood, Executive Director with DATO. "It offers a rare opportunity for visitors to add reservoir-based recreation to their itineraries, and provides even more reasons to visit and stay in Durango."
Ideal for fishing, since 2011 Lake Nighthorse has been stocked with rainbow trout, brown trout and kokanee salmon, and is one of only 26 bodies of water in Colorado stocked with kokanee. Excitement about the size and quantity of fish abound, since no one has yet to fish these waters. Children ages 15 years old or younger will get dibs at the "First to Fish" event from 10 a.m. to 2 p.m. on Saturday, March 31st.
Non-motorized users, such as swimmers, fishers, kayakers, paddle boarders, and other human-powered vessels will be among the first to experience Lake Nighthorse on Saturdays and Sundays, April 1st through May 13th.  Lake Nighthorse opens for daily use on May 15th, and approved motorized boats will also have access beginning May 15th. To balance user interests, Mondays and Wednesdays are designated "no wake" days. Daily entrance fees are $8 per vehicle and $3 for walk-ins.
Named after Ben Nighthorse Campbell, a U.S. Senator from Colorado, the manmade lake provides water storage for the Southern Ute and Ute Mountain Ute tribes, and water right claim-holders along the Animas River. Construction began in 2003, and the reservoir was filled to capacity in 2011. In 2018 the City of Durango annexed the lake, the last legal step required to open the lake for recreation.  "Lake Nighthorse is another jewel to add to Durango as an outdoor recreation capitol in southwest Colorado," adds Cathy Metz, Parks and Recreation Director with the City of Durango.
The Durango area is Southwest Colorado's premier four-season destination, attracting more than one million visitors annually. For information about the Durango Area Tourism Office, please contact Theresa Blake Graven for media inquiries, or visit Durango.org. For more information about Lake Nighthorse, please visit Durangogov.org/LakeNighthorse.
About Durango Area Tourism Office
The Durango Area Tourism Office (DATO) is an independent non-profit organization operating with the mission to promote Durango and La Plata County's multitude of tourism attractions, events and services. The unbeatable combination of the iconic San Juan Mountains, art galleries, culinary fare, cultural and historic sites make it the perfect base of operations to explore Southwest Colorado. Visit DATO's full-service Welcome Center, located at Main Avenue and 8th Street in the heart of historic downtown Durango, or online at www.durango.org. Follow @visitdurango on Facebook, Instagram, Twitter and Pinterest.