Summer means a lot of things in Colorado - hiking, rafting, fly-fishing, mountain biking and most importantly, peak bagging! Durango is perfectly situated between eight of the most breathtaking Colorado 14ers, making our town the perfect southern Colorado base camp.
From Handies Peak to Mt. Eolus, these mountain summits vary dramatically in difficulty and accessibility. There's a peak out there for everyone, so if you're ready to take on the challenge of a sunrise summit, here's what you need to know.
Caution: The activities described within this article can be dangerous and carry risk of personal injury or death. Visit Durango expressly disclaims any responsibility for injuries or death brought upon by the contents of this article. Please use good judgment. Hike at your own risk.
Handies Peak
Best for: Beginners, Families, Photography, Alpine Lakes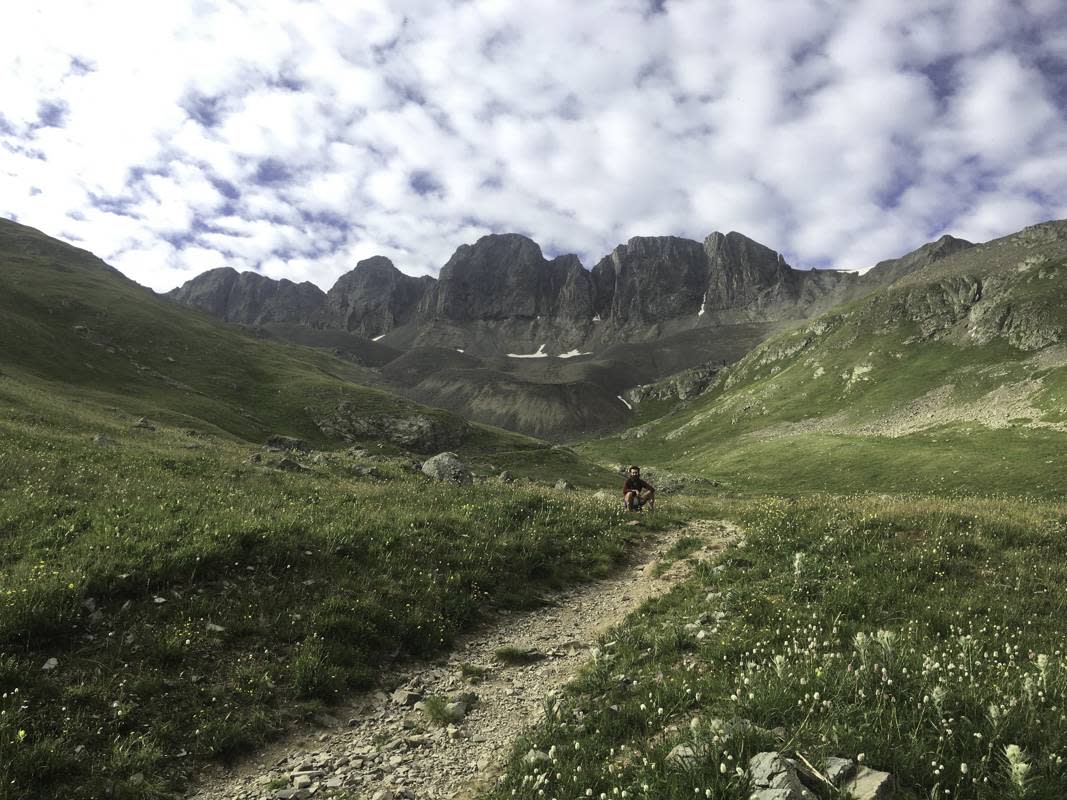 Have you ever dreamed of taking the whole family on a 14er climb but weren't sure where to start? 65 miles from Durango, Handies Peak is the perfect option. Handies offers some of the most incredible San Juan views for the least amount of work. The peak is only 2.25 miles and 2,500 vertical feet away from the American Basin Trailhead.
Getting to the American Basin from Silverton, you will need a 4WD vehicle. The drive through Cinnamon Pass is a harrowing one, but also a perfect warm-up for the epic summit day ahead. You can choose to camp in the basin or at any of the nearby walk-up campsites on County Road 30. Larger vehicles or RVs are allowed at the Mill Creek Campground.
The trail up to the base of Handies is moderate and winding. It's nearly impossible to lose the hard-packed and highly trafficked trail through the basin. The trail leads up to Sloan Lake, where it turns left just three hundred vertical feet from the summit.
Continue to follow switchbacks up this section and soon you will reach a wide and gradually sloping ridge. Here, you've earned your first 360-degree view of the mountains. From here, it's a straight shot to the summit!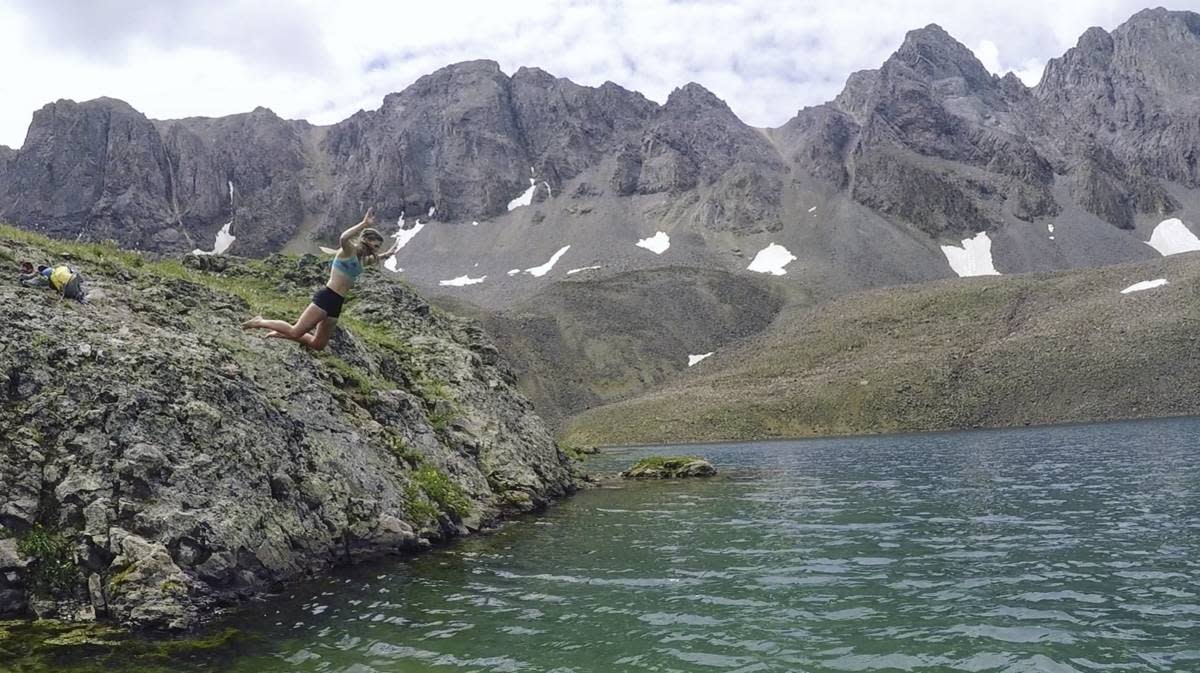 Sneffels Peak
Best for: Photography, Alpine lake, moderately skilled climbers
The 14,150-foot peak of Mt. Sneffels is located 1.5 miles from the Yankee Boy Basin trailhead. It's one of the shortest distances you'll ever travel to bag a 14er, but it arguably boasts the most spectacular of views.
Mt. Sneffels is rated as a moderately difficult trail, due to sections of loose rock and one area of high exposure. As with all summit days, it is important to begin hiking early enough to be off the summit before noon, as afternoon thunderstorms are common. The average duration of this hike from the trailhead ranges anywhere from two to five hours, depending on your skill level.
To reach the Mt. Sneffels trailhead from Durango, hop on the scenic Million Dollar Highway. About a ¼ mile from the town of Ouray, turn west onto County Road 361. It is a slow 7.5 miles to the lower parking area where 2WD vehicles should park and another 1.2 miles to the official trailhead.
The beginning of the trail is fairly flat and stable. You'll pass through meadows of wildflowers and an alpine lake. It's easy hiking until you reach a steady, vertical climb on eroded trail. It can be easy to lose the trail at this point, so be diligent or opt for a bee-line route to the Lavender Couloir above. From the Col, it's a scramble up to a smaller gully and through a v-notch. This is the only area of high exposure on the mountain. Climb through and soon, you will be enjoying your summit.
Sunshine and Redcloud Peaks
Best for: Long hike, moderately skilled hikers, photography

They say it's more about the journey than the destination. When it comes to summiting Sunshine and Redcloud peaks, that couldn't be truer. Bagging these peaks is an experience and I guarantee that it's one that you will never forget. I encourage you to be well acclimated for this route and partnered with people that you trust, as the trail to both summits is a roundtrip 13.25 miles with 4,800 feet of elevation gain.
Like Handies, the American Basin trailhead to Redcloud and Sunshine can be reached through Cinnamon Pass. The parking lot to Redcloud and Sunshine can be packed with tents and vehicles, so plan to get there extra early and start your hike at least before 5am to beat the crowds.
The first 1.5 mile approach follows a creek and can feel slow-going in the early morning hours. After 3 miles, you'll begin the real ascent through the basin. When it starts to feel hard, the trail will get steeper. Then, it will get steeper again. At 13,000', you will reach the saddle and the first great view of the Redcloud summit. Turn west and follow switchbacks up to the ridge and your first summit.
From the top of Redcloud, you can already see Sunshine. It's only 1.5 miles away, but it's another 500' climb to the top of your next peak. The route is not very technical but can be steep in some areas.
Note that the easiest way down from the summit of Sunshine Peak is back the way you came, so prepare for a second 500' ascension and a second climb up to Redcloud. As a trail sign will suggest, do not descend via the saddle between the two peaks, as the terrain is too loose and steep.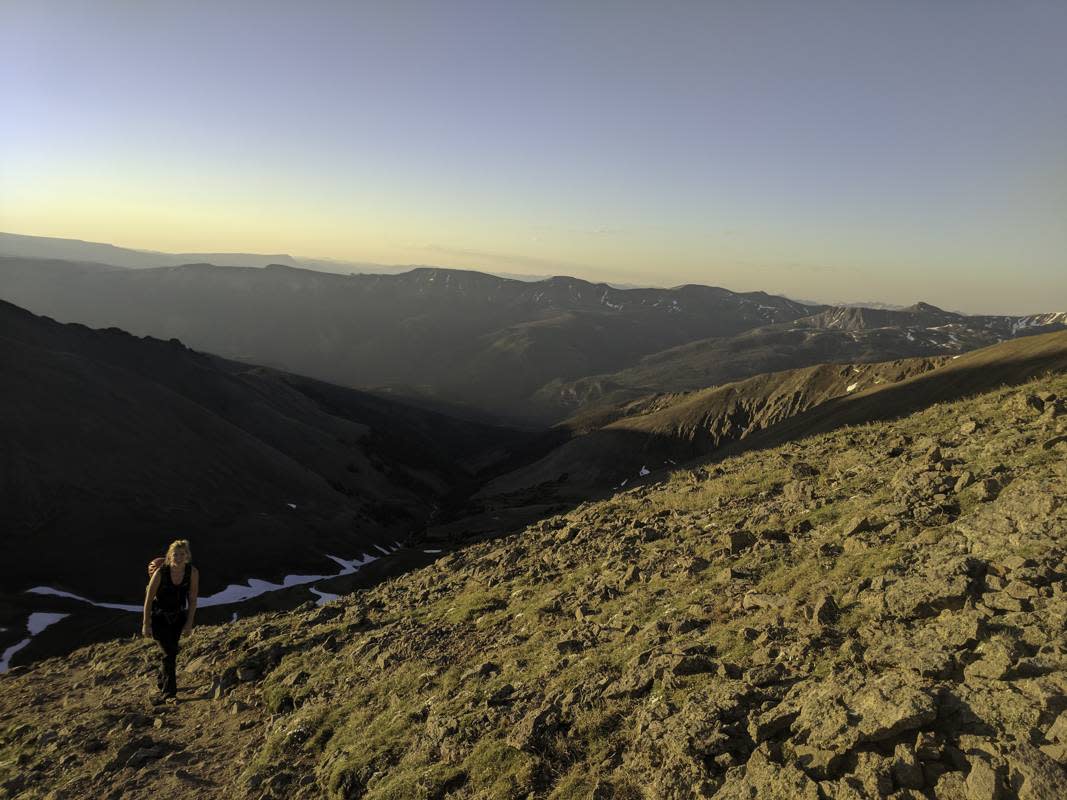 Sunlight and Windom Peaks
Best for: Thrill seekers, adrenaline junkies, photography, moderate to serious climbers, alpine lakes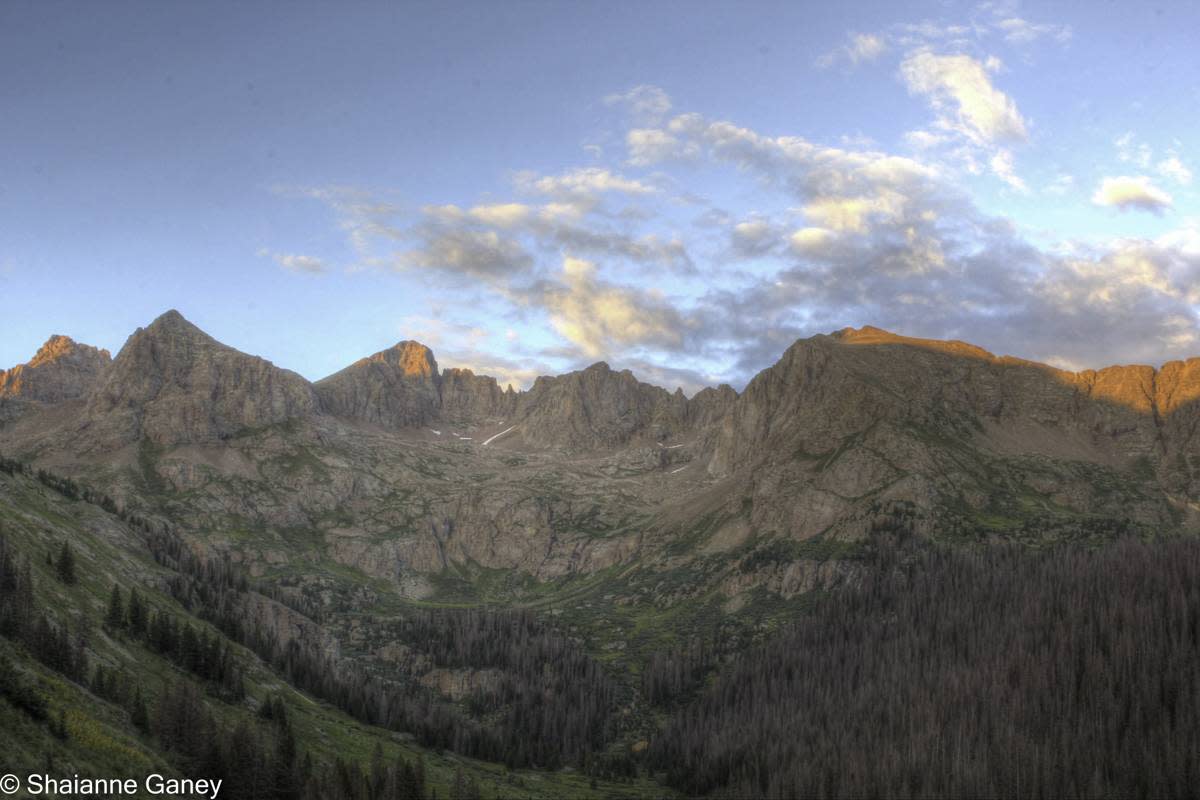 Sunlight Peak, Windom Peak, Mt. Eolus and North Eolus are all part of the Needle Mountain Range, an incredibly remote area not accessible by vehicle. Even better, it's accessible by train! Bagging these peaks will take some work and time, so prepare for a multiday adventure and book your ticket on the Durango & Silverton Narrow Gauge.
The train departs from Durango at 8:45 in the morning and will drop backpackers off at the Needleton Trailhead around 11:30 AM. Follow the trail for 6 miles into the Chicago Basin, where you should plan to camp and prepare for an early morning summit the next day.
Depending on where you set up your base camp, the trip from tent to summit should be around 3 miles. On summit day, climb up into the basin until you reach the Twin Lakes trail sign on your left. This is where the real climb begins. Follow the very obvious trail up to Twin Lakes, where the route will fork. Take a left to summit Eolus and North Eolus. Follow to the right to climb higher to Windom and Sunlight.
These peaks in the Needle range are more technical than others near Durango. Windom and Sunlight both have separate approaches and descents, but are typically climbed on the same day because of their close proximity to each other. You can choose to summit either Windom or Sunlight first. Windom is considered a less technical peak than Sunlight, but the final few pitches do require serious scrambling and face high exposure. Use caution in these areas. Windom is rated as a difficult Class two, but that is really only true if you follow the route exactly. This can be challenging, so many consider the route to be a Class 3.
To reach Sunlight Peak, the route is a steep, short, and treacherous out-and-back. You can reach the base of the mountain either from the saddle of Windom or hiking straight from Twin Lakes. You will want very high traction shoes and probably appreciate a pair of trekking poles for this summit. There is moderate exposure once you reach the final ridge of Sunlight and extremely high exposure for the final pitch. This final pitch and last section known as the Leap of Faith are what make this summit a Class 4. Use extreme caution and rope if necessary.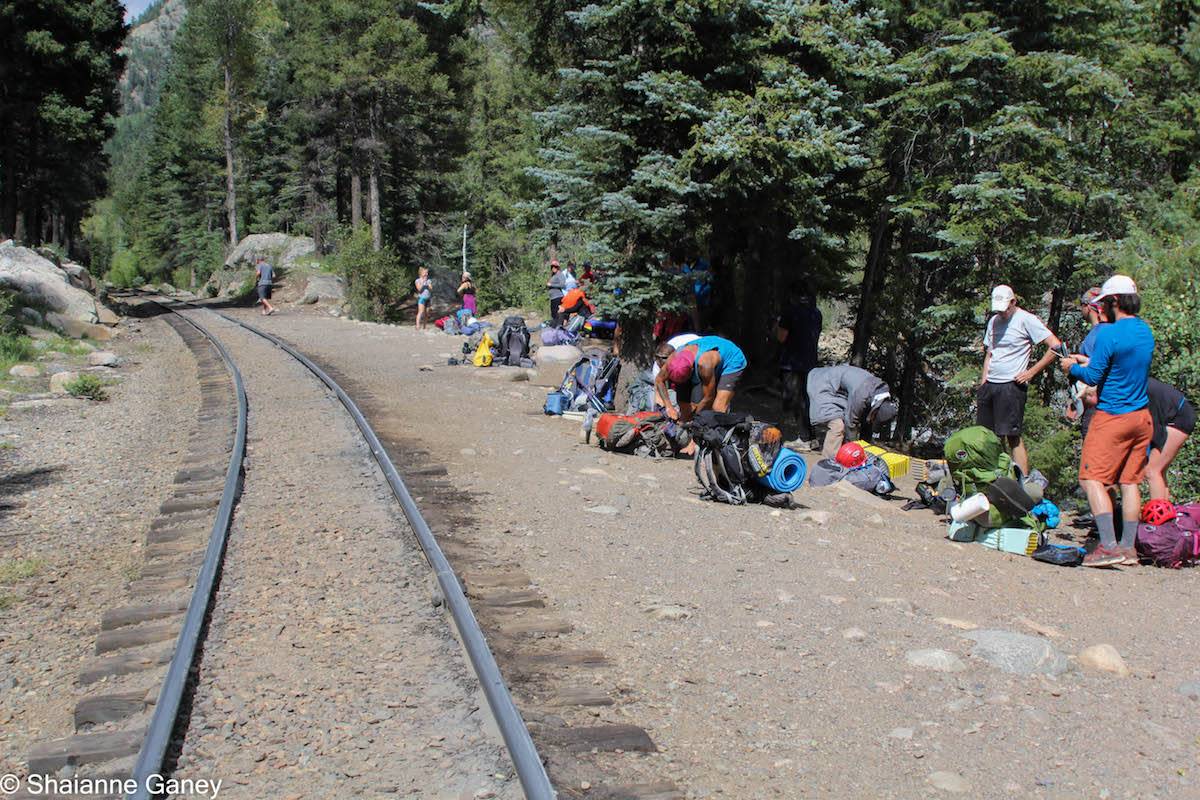 Mt. Eolus and North Eolus
Best for: Thrill seekers, adrenaline junkies, photography, moderate to serious climbers, alpine lakes
Mt. Eolus and North Eolus are both accessible via the Chicago Basin and possess the same approach as Sunlight and Windom. Mt. Eolus and North Eolus are typically climbed together but on separate days from Sunlight and Windom.
From the Twin Lakes trailhead, follow the switchbacks up to Twin Lakes where you will turn left. It is a very short and sturdy approach to the base of the mountain, which is visible from the lakes. Stay focused on following the trail, as one mistake can have critical consequences. Once you reach the notch, you will have the option to turn left for Mt. Eolus or right for North Eolus. Some people do not consider North Eolus as an official 14er, as it only has a topographic prominence of less than 180 feet. Even still, the Class 3 scramble is short and worth it.
Mt. Eolus is famous for its sheer ridge and catwalk. This Class 3 scramble can look incredibly intimidating so do know your limits. Do not consider this climb in high winds. Helicopter rescues from this peak are not out of the ordinary. Follow the notch to the left and take your time across the relatively flat but high exposure catwalk. The final pitch climbs over 250 feet in elevation and requires route finding. Do not follow the ridge directly to the top. Rather, it is best to zigzag up the face of Mt. Eolus and climb from directly below. The last few moves are harrowing but the view of this final 14er is well worth the adventure to get here.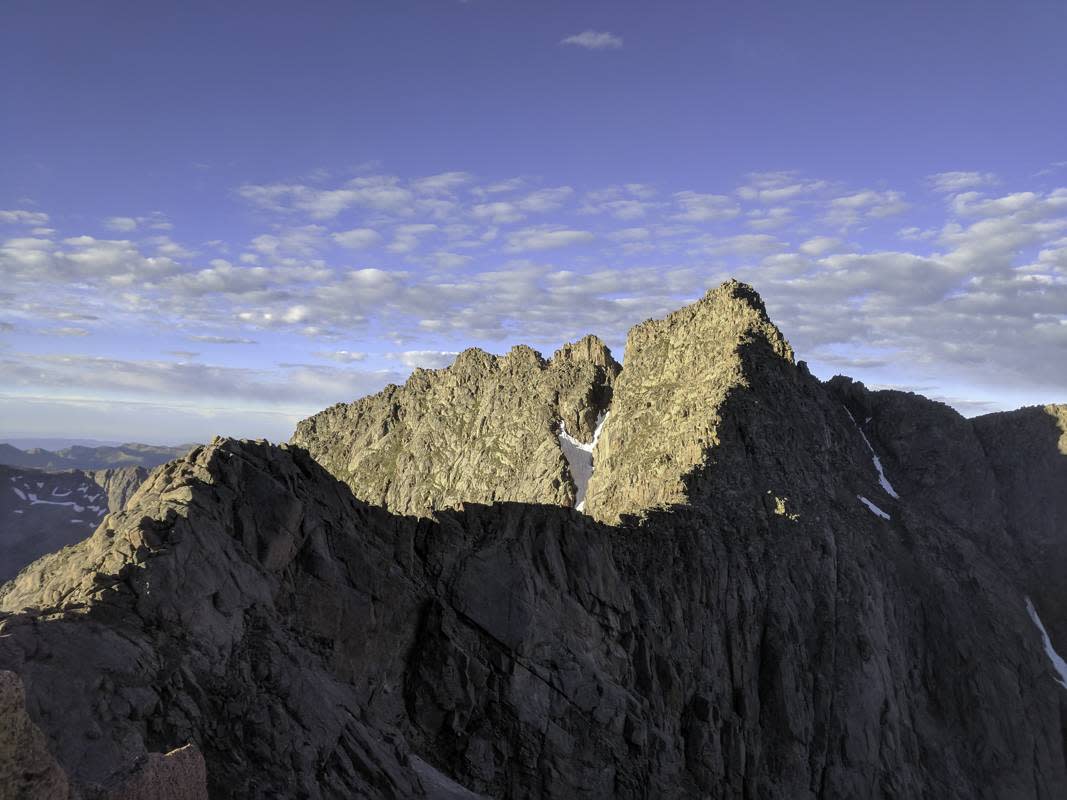 Photos by Alex Gulsby and Mariah Ganey
If you're looking for something a little bit milder to stretch your legs, check out these blogs