People often ask me about my favorite Durango activity. It's a loaded question and I know what they're looking for. They want the inside scoop, directions to the secret trails and views, something magical and transportational off the beaten path. They want to know, from a local's perspective, the best way to experience our town.
My answer is twofold: You must experience Durango's past at sunset and its present and future at sunrise. And to visit Durango's past, I direct them to the Bar D Chuckwagon.
The Bar D Chuckwagon is often referred to as our town's #1 summer event and a "family favorite in entertainment since 1969." Now celebrating its 50th year in operation, the experience of dining, dancing, laughing and singing on a proper Colorado homestead has changed very little in the last half century, and for good reason. The event is timeless.
Travelers who avoid the Bar D for fear of hitting a tourist trap would be gravely mistaken, as few other places so thoroughly and authentically capture the spirit of our Wild West town. The Bar D encapsulates everything that the southwest once was. Skipping out on a chuckwagon dinner in Durango is like visiting Hawaii and not attending a luau. Many locals make sure to go at least once a season!
The four-hour event is held nightly during the summer, starting Memorial Day weekend and ending Labor Day weekend. On the grounds you'll find the Bar D Train, a short locomotive that will chug the kids on a winding rail, the Lil Buckaroo Park and Kid's Korral with sandbox, horse-go-round, seesaw and horseshoe pit, and the tractor-pulled hayride offering cozy, dynamic seats to take in the view.
As if the activities weren't enough, it is the main dining event, served up campstyle, that keeps visitors coming every year. Authentic barbecue, roast beef, chicken breast, oven baked beans, homemade biscuits, potatoes, applesauce, cowboy coffee, lemonade and old fashioned spice cake, all of which requires two hands to carry your tin platter back to your chair. Find your seat among friends new and old at the community tables and settle in for the real magic, a musical comedy show hosted by none other than the Bar D Wranglers. I put money down that nobody is immune to the foot-tapping comedy stylings of Matt Palmer, Joel Racheff, Richard Espinoza and 2 time National Flatpick Champion Gary Cook. If you manage to leave without a smile, well, I'll owe you a dollar.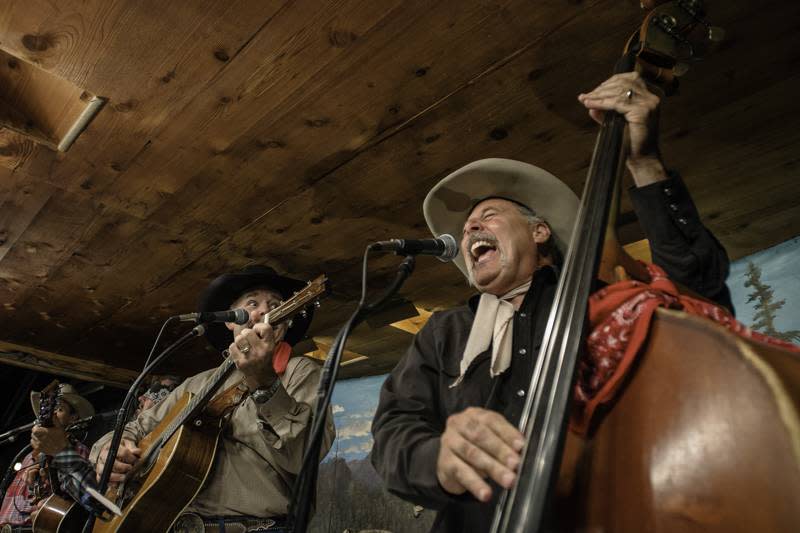 It's clear, even before dinner is served or the show starts, that a lot of love and commitment has been devoted to the Bar D Chuckwagon experience. Perhaps most of its success can be attributed to the familial roots. Founded by Cy Scarborough in the late 1960s, this family-run operation receives multi-generational support. Cy's wife, Jeanne, continues to work alongside him to this day, as do his grandson and his wife. Cy's son, Rick, and his wife have been running the kitchen since 1969 and Rick has been the general manager for many years. He never seeks the limelight but surely the Chuckwagon could not have been so successful without him. Cy, an Arkansas native who fell in love with our town, even still performs with the Bar D Wranglers from time to time. 
Of course, the activities are part of Bar D Chuckwagon's draw but we love it more because of what it represents. There are so few places left in our modern world where we can truly experience, not just read about, the past. Where else can you go gold panning, shoot an Old West-style revolver, rope a steer dummy or peruse a true blacksmith or leather shop? To enjoy bona fide Cowboy Poetry on Sunday or have the opportunity to host your own wedding at the Cowboy Chapel is something you'll find nowhere else.
Now a half century into operation, 2018 is sure to be a nostalgic year. Visitors, new and seasoned, can expect some of the best shows to date. Rumors are floating of guest appearances by Charlie Daniels, Riders in the Sky and more. On the last day of every season, fondly known as Prank Night, chances are nobody will be safe.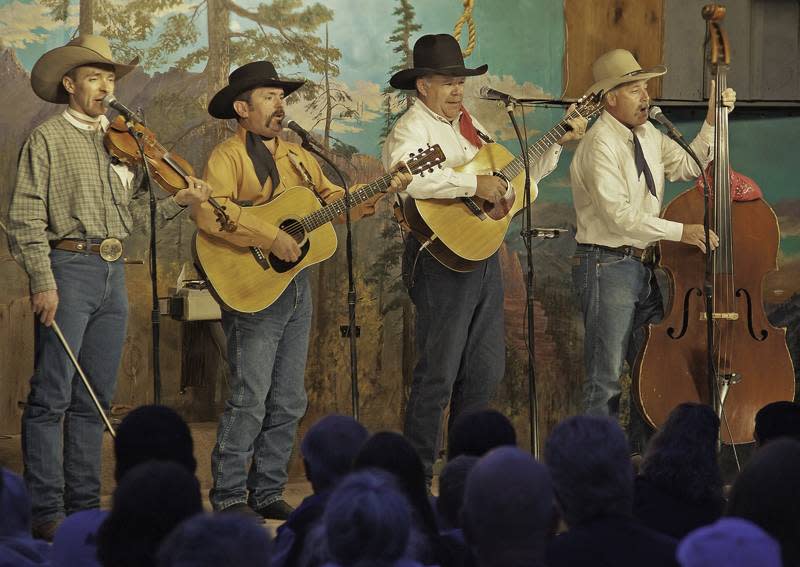 At 9:30 every night, the show will come to a close. Visitors shuffle out under the alpenglow of summertime and return to their homes, cabins, and historic hotels. The nostalgia factor of the Bar D Chuckwagon, a place able to share a glimpse into what life might have been like for the first homesteaders, is what makes it so special. It's more than a western carnival, they've all realized; it's what gave our state its charm.
The next day, when the sun peeks over the mountains in Durango, I encourage visitors to find their way to Main Avenue. "Stroll Main Avenue at dawn," is my local perspective. Watch the heart of our town come to life in the crisp, quiet of morning and discover for yourself all the small things that have made Durango what it is today.