Guest blog provided by Pamala Keller
Discover Durango: A breathtaking landscape for any cyclist
Rooted alongside the banks of the free-flowing Animas River, Durango offers some of the most diverse landscapes for anyone who enjoys stunning views on their biking adventures. Durango is a second-to-none travel destination for any cyclist.
 Whether you ride mountain, road, or cruiser – Durango has a wide variety of scenic biking routes.
We've listed a few of our favorite rides in Durango, some of which are included on At Your Pace – Freestyle Cycling Adventures' Durango Colorado Bike, Brews & Rail Self-guided Bike Tour, which encompasses the most scenic rides, activities, and breweries the town offers.
Twin Buttes
A view of the Twin Buttes. Photo credit to: Twin Buttes of Durango
Located just right out of town on Highway 160, Twin Buttes is one of the latest trail system additions to Durango. It has a moderate, yet steady, uphill climb as well as winding single track descents that will make any mountain biker want to ride back to the top to do it again.
The scenery in the area does not fail to disappoint either. The trail system surrounds two rocky top mountains very similar in size and shape. Hence, the name Twin Buttes. There are several types of terrain varying from open pine and gamble oak on single track hard pack trails. "Ed & Flo" located on the far west side of the trail system offers some phenomenal twisting turns with jumps, banks and berms that will have you wanting more.
The Million Dollar Highway: Durango to Silverton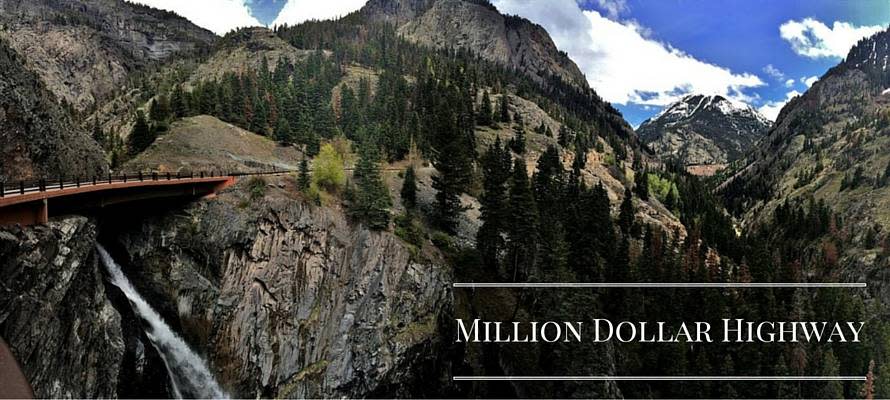 The Million Dollar Highway Photo credits: Dustin Orrick
Known as one of the most scenic drives in the USA, the Million Dollar Highway, which stretches from Silverton to Ouray, offers jaw-dropping views of vista after vista. Riding on the highway, you'll see some gorgeous views of the San Juan Mountain Range and Uncompahgre Gorge.
One of the best ways to enjoy this ride, which is a part of At Your Pace's Durango, Colorado Bike, Brews & Rail Self-guided bike tour is to take the coal-fired, steam-powered locomotive from Durango to Silverton and cycle back on the highway. You'll get to experience spectacular & breathtaking canyons in the two-million-acre San Juan National Forest as well as the high elevation of the Million Dollar Highway, carved right out of the side of the San Juan mountain range.
Animas River Trail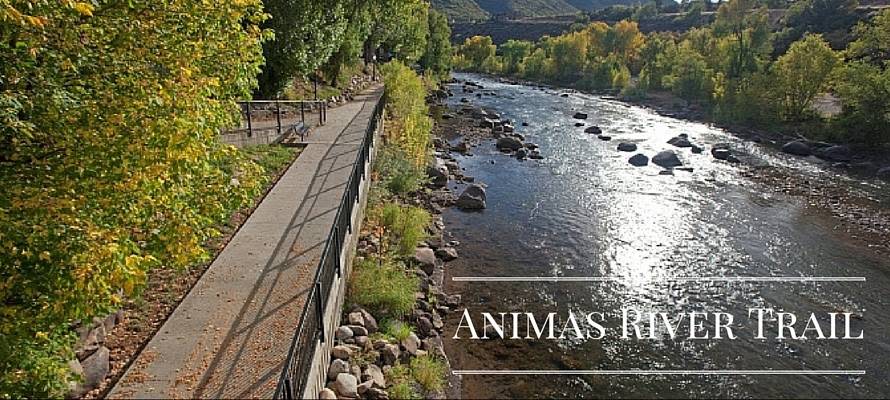 Animas River Greenway, Durango Photo credits:  Great Outdoors Colorado
The Animas River Trail runs right along the scenic Animas River with various points of access around the town of Durango. This trail is certainly one of the best ways to experience the city of Durango because of its connection with some of the beautiful city parks the town has to offer where art is the centerpiece. You can enjoy riding on this paved trail around Durango without crossing a single street, and even partake in visiting Durango's finest craft breweries!
Check out At Your Pace's Durango, Colorado Bike, Brews & Rail Self-guided Bike Tour and book your trip to Durango today by calling 970-776-0181 or emailing info@atyourpacebiking.com.