My trip to Narnia and back: How to cope one week after the Durango Bluegrass Meltdown - Jimi Giles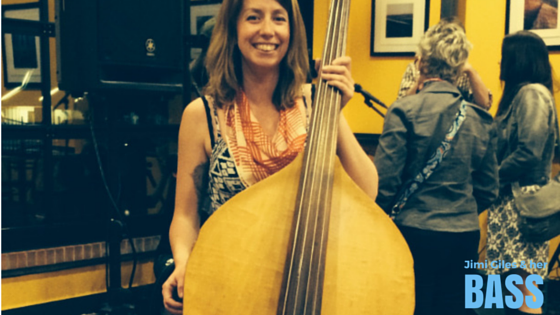 Have you ever wondered what it would be like to visit a magical place, where all people, young and old, exuberate happiness? Where long, dark, sometimes ominous hallways lead to pockets of enchanted sounds?
It's where the tinkering of banjo picks mimic the dance of fairies…the ever-present guitar strum honors the strong hero…the sweet, sometimes shrill pulls from the fiddle mirror the bipolar emotions of an evil witch…the thump of a bass reveals the entrance of giant beast…and the speedy mandolin chops reinforce the battle about to ensue. It's where each instrument not only serenades the soul with its sweet melodies, it opens the doors to lifelong friendships. Sounds surreal, but I was lucky enough to visit and participate as a character in this wonderland last weekend. It's called the Durango Bluegrass Meltdown. Sprinkled with fairy dust, I got to play with my lovely six-piece band La La Bones as well as with my man and many new friends. The experience was intoxicating, and Sunday night, after I realized my adventure to Narnia had to come to an end, I came down with the bluegrass blues.
So how do we cope with such a brutal blow? Luckily, Durango's not a one trick pony when it comes to live music. As a stand-up bass player, I feel honored to live in a town that is not only filled with music lovers but is hospitable and gracious to those that provide the tunes.
One of my favorite places to indulge my music love is at the Henry Strater Hotel. Seven nights a week, this hotel provides live music in two locations, and establishments that are proponents of live music can hold my hand any time. Two venues, the Diamond Belle Saloon and the Office Spiritorium, provide two distinct, yet highly reveled experiences.  The former is great for families wanting to shift back to the "good ol' Western life." At the Diamond Belle Saloon, not only can you spend hours looking at the magical detail of the décor, men and women alike can marvel at the beautiful waitresses dressed as old-time saloon girls inspired by the 1900s.  For me, my favorite treat is playing bass with my man, Robin Davis, who simply shreds his 1936 Gene Autry model Supertone guitar. A hero of many talents, Davis found this once-dilapidated guitar on the wall of his father's dentist office held together by wire. He ripped this guitar apart with his bare hands and managed to put it back together again. And believe me, it sounds amazing. Just to see this instrument is a dessert to satisfy any music lover. We call our time at the Diamond Belle Saloon our date night. We get to serenade the town from 5:30 to 10 pm, telling old stories with the Durango locals and making new friends with those visiting. For a more adult experience, the Office Spiritorium is also a must-see. The bartenders can make some stellar drinks while patrons listen to a musician pick some tunes from 7 to 11 pm. And have a mentioned the margaritas? They'll take you straight to Durango's version of the beach. I don't really know what that is, but it's good.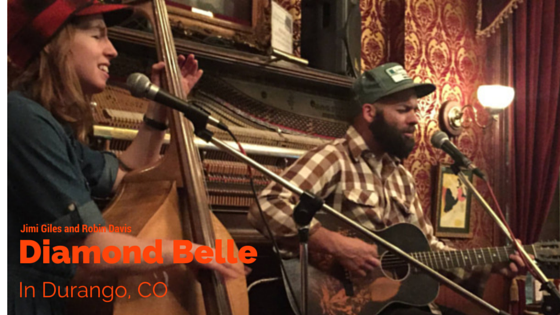 The Balcony Bar and Grill will always have a special place in my heart. When La La Bones first started playing in Durango, our best shows were played here. This venue is top-notch because customers can enjoy food, drinks, and music while taking in the breathtaking views and fresh air Durango has to offer. One of Durango's only outdoor music venues, the Balcony makes anyone smile. Not to mention, the owners recently opened the Balcony Backstage, which is adjacent to this outdoor venue. With a new stage and sound system, the Balcony Backstage (or the BBS as I like to call it) is a great addition to the music scene.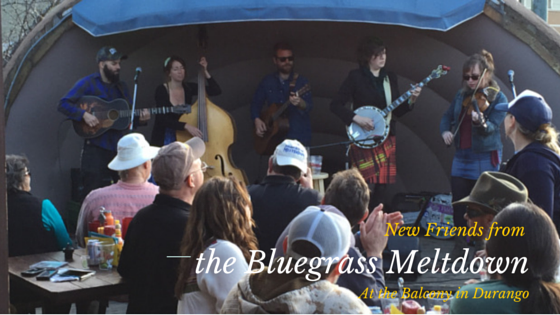 Animas City Theater, also known as the ACT, and Fort Lewis College's Concert Hall always headlines big-time names. A glance at their music calendar will showcase artists that are surely worth the ticket price.
A couple of venues that are a slightly unexpected choice to see music are BREW Pub & Kitchen and El Rancho Tavern. BREW is a newer brewery in the Durango local beer scene located on College Drive just off of Main Avenue, and they provide a great venue for restaurateurs to hear some great music. One of my favorite local bars to see music is at El Rancho Tavern, or as the locals call it, the Ranch. The Ranch has such an epic nightlife, they probably don't even need live music to entice late night partiers through their doors, but shows at the Ranch keep people dancin' 'til last call.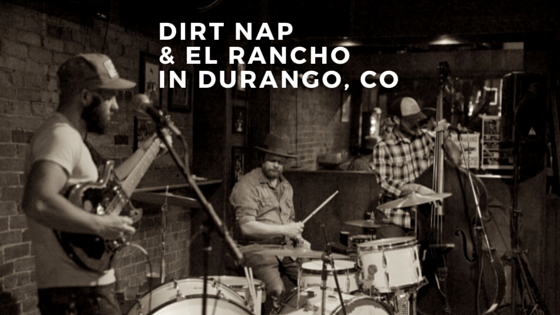 In my experience, these venues treat artists extremely well. We live in an age where music can be as simple as pushing a button on a wireless device. While that's great at times, it's even more impressive when an establishment takes the time, effort, and money to showcase live music. This is vital in keeping our live music scene thriving in Durango. And though I'm slightly sad that my dreamlike, enchanted adventure to the Durango Bluegrass Meltdown will have reconvene in 2016, I am elated to know that I can find mystical, musical fairy dust all over Durango every day of the year.