Sunday, better known as Brunchday, is a hailed holiday nationwide. But leave it to Durango to do it better than all the rest.
Some people look forward to weekends for the time off to rest; others look towards the food and the socially acceptable (and strongly encouraged) pastime of sleeping in and eating out. Brunch is always a good idea so read on and recruit yourself with the expertise of a local to get the best out of your weekend eating activities.
Hakuna Mimosa! It means it's brunch time!
Location: 957 Main Avenue
Hours: Monday-Saturday: 6 A.M. - 2 P.M.; Sun: 6 A.M. - 1 P.M.
You just don't want to look back on life and think, "I could have eaten that!" Have no regrets come brunch time when you spend it at the Durango Diner, where the entrées have been known to literally drape over the massive plates they're served on. Guaranteed, you won't go away hungry. In fact, finishing a sopping plate of "The Cure" is essentially a rite of passage to experiencing life as a Durango local. Whatever you order, make sure to get a pancake on the side for yourself or the table to share. We won't judge. Alcohol isn't served here, but if you'd prefer to pair your meal with the best bloody marys in town, you can park yourself next door at El Rancho Tavern and have the meal delivered straight to you.
Location: 601 Main Avenue
Hours: Tuesday-Sunday: 7 A.M. - 10 P.M.; Closed Mon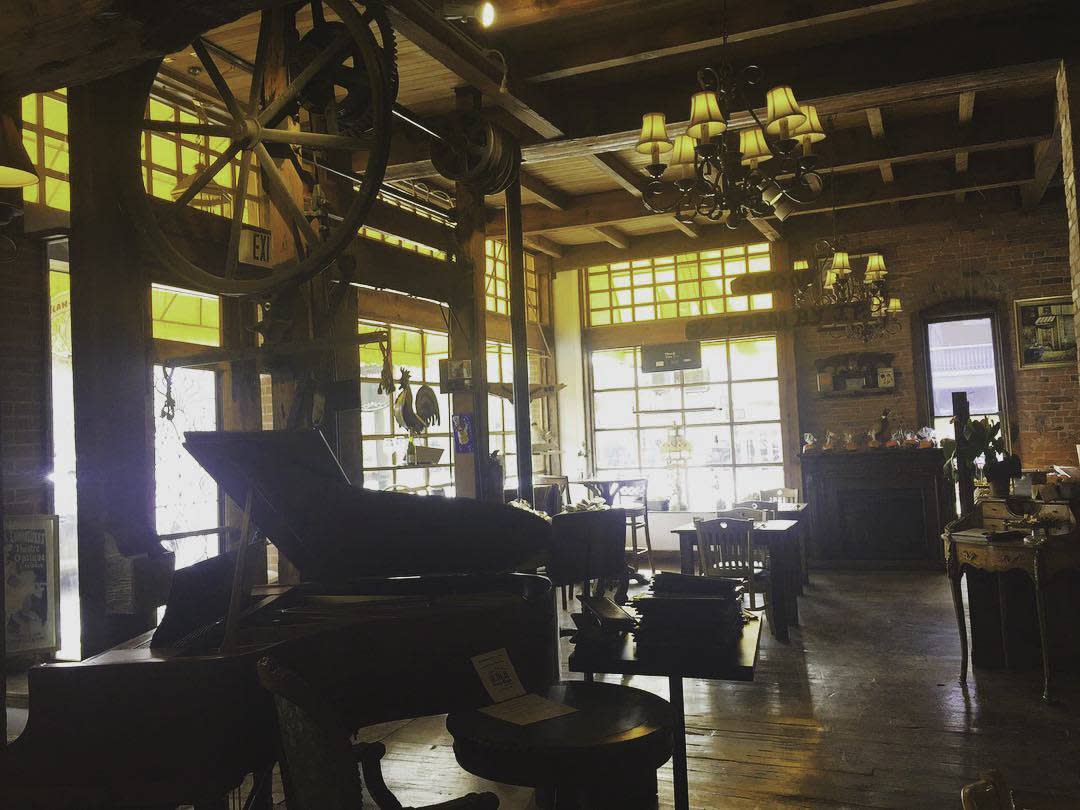 Brunch without champagne is just sad breakfast. Those looking for a real weekend treat should migrate to the town's favorite French bakery, Jean Pierre. Fresh squeezed orange juice made to order is what makes these mimosas great. While breakfast here is not the most wallet-friendly of options, dining at a true French bakery in the middle of Southwestern Colorado is a savoring experience. The bakery and wine bar is open all day, while brunch and the to-die-for eggs benedict is reserved for the morning hours.
Easter Breakfast | Seasons
Location: 764 Main Avenue
With Easter right around the corner, it's time to make reservations now for a town favorite food event: the Easter brunch buffet at Seasons. This event will take place on Easter Sunday, April 1st, from 10:30 A.M. to 6 P.M. They haven't released the full menu, but rumors suggest you can expect pancakes, biscuits and gravy, honey glazed ham, prime rib, smoked salmon and more. It's an easy, guaranteed good time for the whole family come Easter.
Location: 945 Main Avenue
Brunch hours: Saturdays & Sundays: 9 A.M. - 2 P.M.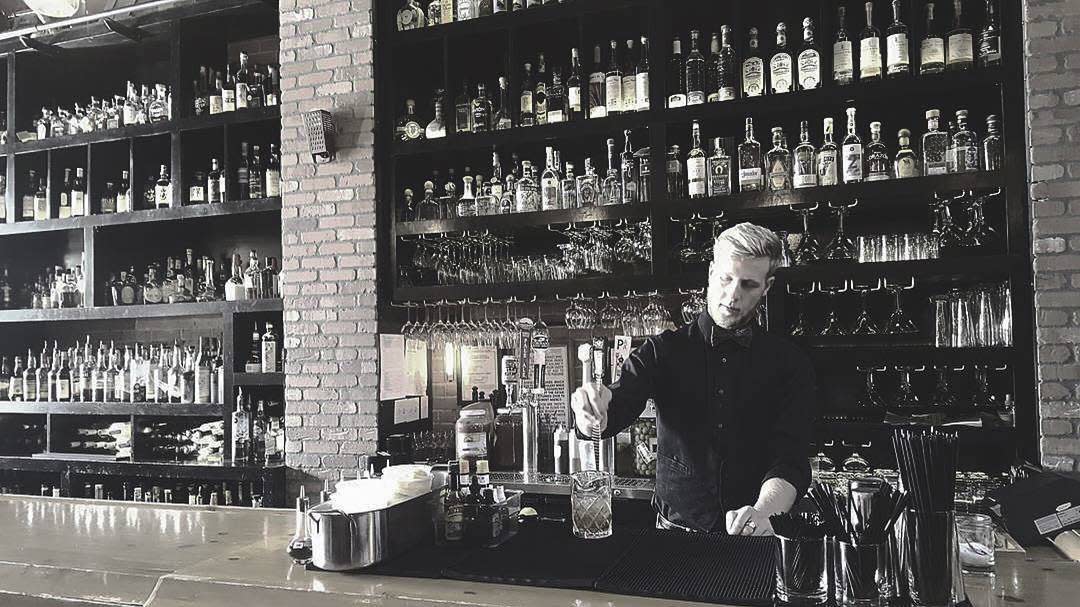 El Moro isn't bashful about their goals. They're here to heal your hangover with greasy, delicious, protein-rich, alcohol-absorbing menu items, coupled with cocktails made from the hair of the dog that bit you. As a biased writer, El Moro is admittedly my go-to for brunch because it has everything from a full English breakfast, to their breakfast burger, chicken fried steak, and array of six "beneddictions" to choose from. Whether you want something sweet, spicy, savory or somewhere in between, it's a solid menu with an understanding, non-judgmental staff. That's without mentioning any of the unique cocktails you'll find nowhere else in Durango...or how "simply Instagrammable" the bar area is. 
A close second behind El Moro Tavern is of course, El Rancho, the bar locally endeared as "The Ranch," and celebrated for their bloody marys. They don't serve up food of any kind, but they have partnered with the awesome waitstaff from neighbor Durango Diner, who will bring you breakfast straight from next door.
Location: 699 Main Avenue
Brunch Hours: Saturdays & Sundays: 7 A.M. - 1 P.M.
Located in the Strater Hotel, Mahogany Grille may not seem like the place to bring the kids, with its historic ambience and intimate atmosphere, but the awesome wait staff and children-specific menu says otherwise. Where else can you find Mickey Mouse pancakes to go along with your scrambled eggs and cinnamon pecan french toast? They even have a few gluten free options, so the whole family can find something to enjoy. Plus, if you're staying at the Strater Hotel, as you should, the proximity makes this meal a win/win.
Location: 1101 Main Avenue
Hours: Monday - Sunday: 6:30 A.M. - Midnight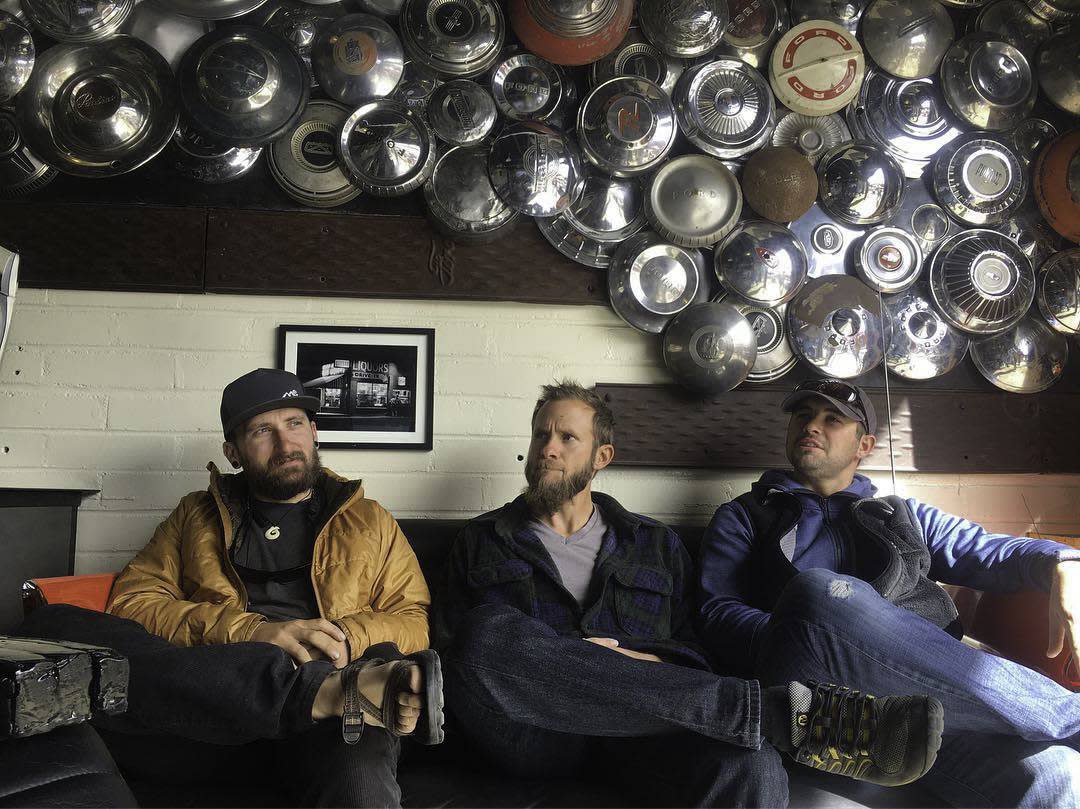 The mainstay of Durango's favorite culinary collective is a blessing to all day drinking connoisseurs, even offering three happy hours every day. The first happy hour runs from 11 A.M. to 2 P.M., and that's right folks; thats primo brunch time. The service station-themed bar can prepare you pretty much any and everything, from flights of mimosas, mezcal or tequila, to a variety of coffee cocktails, on-tap cocktails, beer and spirits. And since Ernie's is nestled in a lot of food trucks, the opportunities for breakfast brunch pairings are endless.
Best Stop on a Beautiful Day and Best Crepes | Michels Corner
Location: 598 Main Avenue
Hours: Wednesday - Saturday: 10 A.M. - 3 P.M.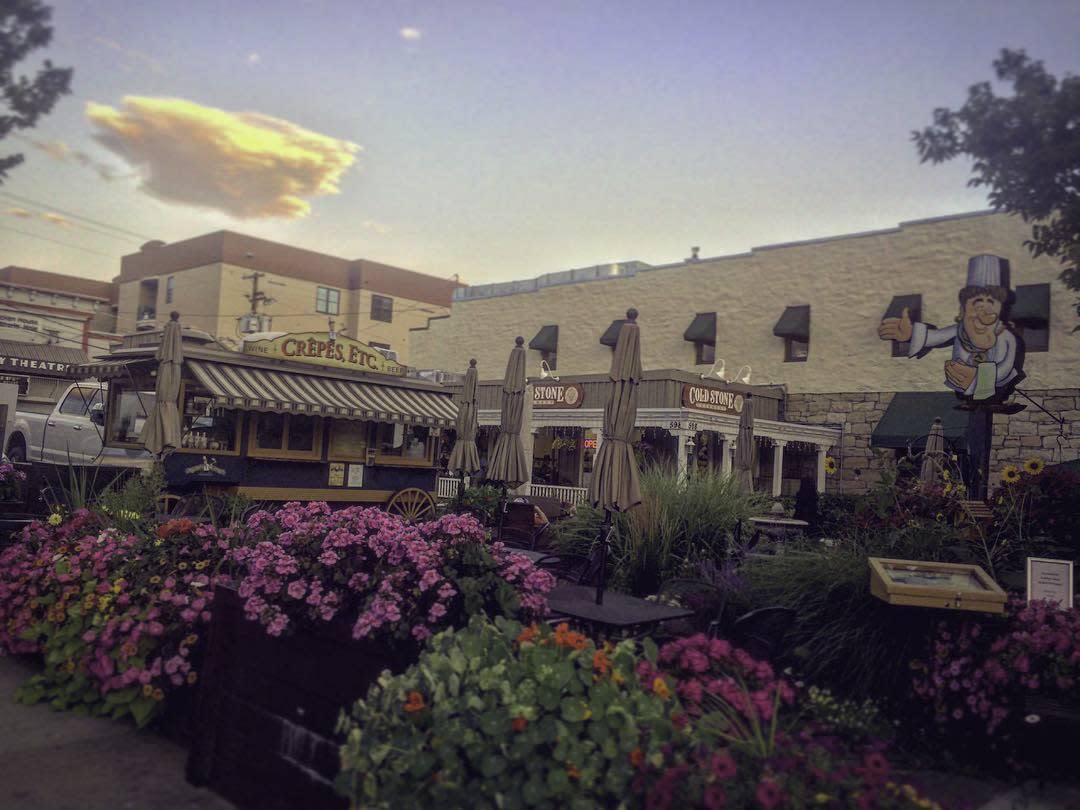 The only restaurant on this list with menu items so good you'll have recurring food dreams about them, Michel's Corner is something special. This little food cart on Main Avenue is easy to overlook, but you'd be hugely mistaken to do so.
Choose from an array of different sweet and savory crepes, from the tomato, basil, and mozzarella to the apple, caramel, and walnut, ham gruyer and tomato, or spice plum jam. Mix it up if you'd like and enjoy your dish on the patio, a la carte style, in owner and chef Michel Poumay's garden of flowers. Poumay, who was named one of the 33 Lifelong Master Chefs by Belgium's Culinary Society, prepared meals for the chancellor of Germany, and received awards from Wine Spectator, has found his home in Durango, where we couldn't be more thankful.
Best View and Best Experience | Durango & Silverton Narrow Gauge Winter Brunch Train
Location: 479 Main Avenue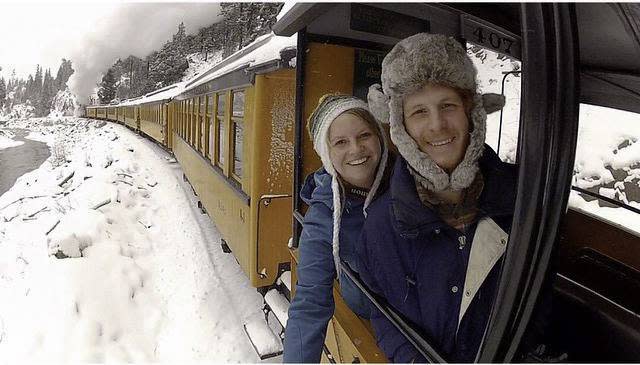 Make it a point to visit Durango during one of the four winter brunch train events. The 2019 dates are yet to come out, but be prepared and check on their website for updates because tickets can go fast. The huge buffet spread is always coupled with live onboard music and complimentary drinks and mugs for brunch passengers. What could a make a trip aboard this historical train even better? A bloody mary, mimosa and full bar, that's what! It's a brunch experience you'll talk about for years.
Location: 509 E 8th Avenue
Brunch Hours: Sunday: 8 A.M. - Noon.
Breakfast hours: Monday - Saturday: 7 A.M. - 4 P.M.; Sunday: 8 A.M. - 3 P.M.
"Location, location, location!" is what makes the Raider's Ridge Cafe so great. Consider it a re-fueling brunch destination for all bikers and hikers exploring the trails of nearby Raider's Ridge. The cafe is situated at the base of the ridge, within walking distance of all the best trails. Breakfast is served every day, but the must-try brunch menu is saved for Sundays, as all great things are. Expect to enjoy smothered biscuits, avocado toasts, spicy chorizo dishes and a Build-Your-Own style plan for breakfast burritos and pancakes.
Location: 699 Main Avenue
Brunch hours: Saturday - Sunday: 11 A.M. - 2 P.M.
To bring a new date somewhere is to fully trust that the experience will be perfect. The Diamond Bell brunch, with its classic Old West cocktails, historical decor and role as a swanky piano bar in the evening makes this the place to impress. Add to that great service, awesome food, conversation-starting atmosphere, and all the ice breaking alcohol you need to relax in the mid-morning hours and you can't go wrong. The menu offers its own spin on all the brunch favorites, from huevos to biscuits and gravy, shrimp and grits, a full English breakfast and even Colorado trout and eggs.
Location: 1022 Main Avenue
Breakfast/Brunch Hours: Monday - Friday: 7 A.M. - 11 A.M.; Saturday - Sunday: 7 A.M. - 12 P.M.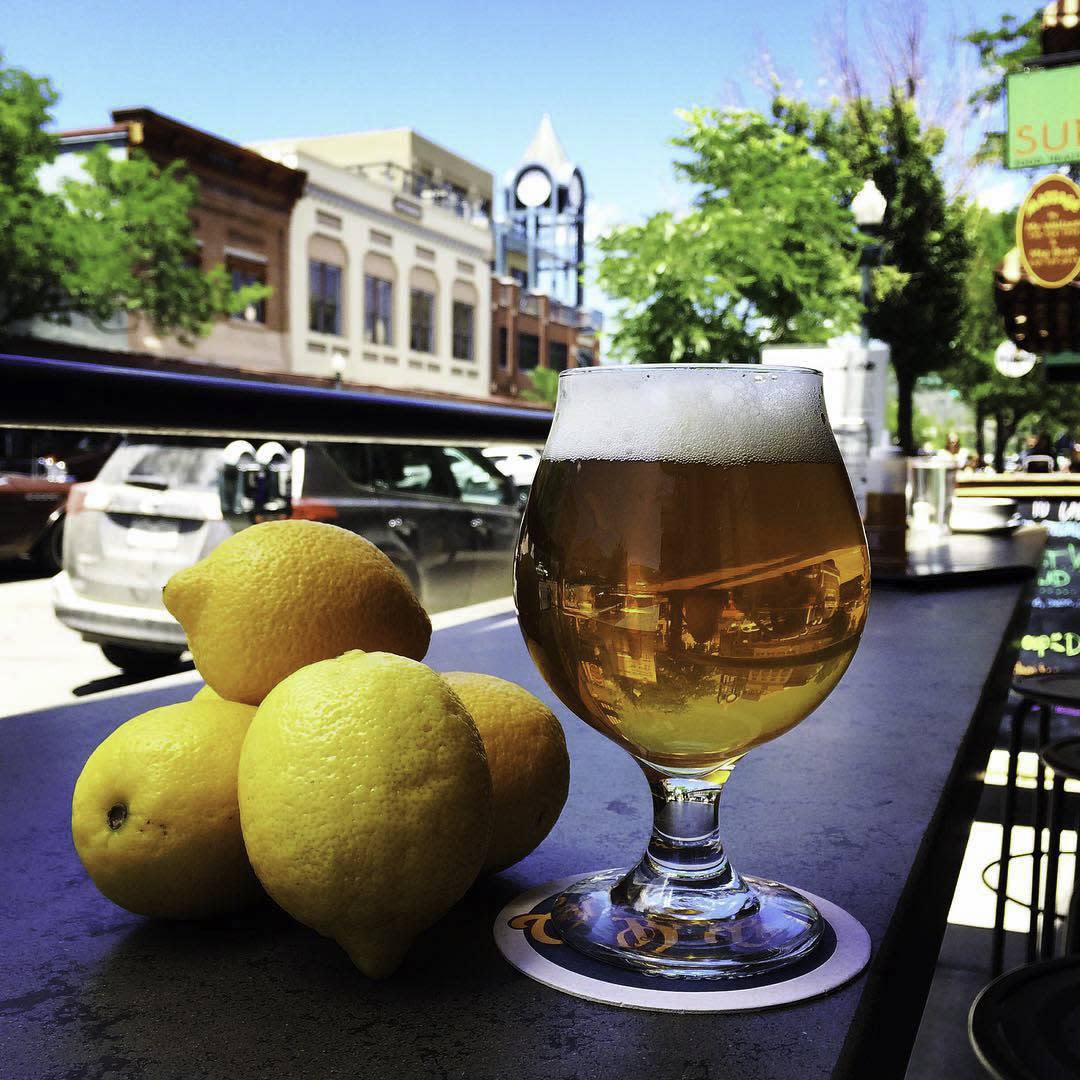 Breakfast at Carver Brewing Co. is serious business with its menu crafted, tailored and edited to perfection. There are six different classifications of breakfasts to choose from here, from "Hot Off the Griddle" to the "Southwestern' Style," "Classics" to "Benedicts," and even the healthy stuff. And since absolutely everything on the menu is delicious, it's almost unfair that you have to choose. The deluxe bloody mary is worth a stop in itself, as are the unique mimosa cocktails, like the Razzmosa made with half orange juice, half Carver's Raspberry Wheat Ale. And with nitro coffee, locally-sourced ingredients and juices of every kind, you don't have to drink alcohol to enjoy your time here. Sit on the back or front patio on a beautiful day and realize that this is what it means to do brunch right.
18071 County Road 501, Vallecito Lake, Colorado 81122
According to their website "You could eat three different meals a day for six months at La Comida Ranchera Mexican Food (located within the Vallecito Lake Country Market) and never eat the same meal twice." And it's true! Their menu keeps going and going and just when you think you've found the perfect burger to order you notice that you have the option to order it deep fried! That's right, they replace the bun with a tortilla wrapped around it and they drop it in the fryer! Yum.