Hello again!
So I thought it might be fun to switch up our usual "how-to-guide" and instead take you along to an event in order to give you a taste of what Durango is really like.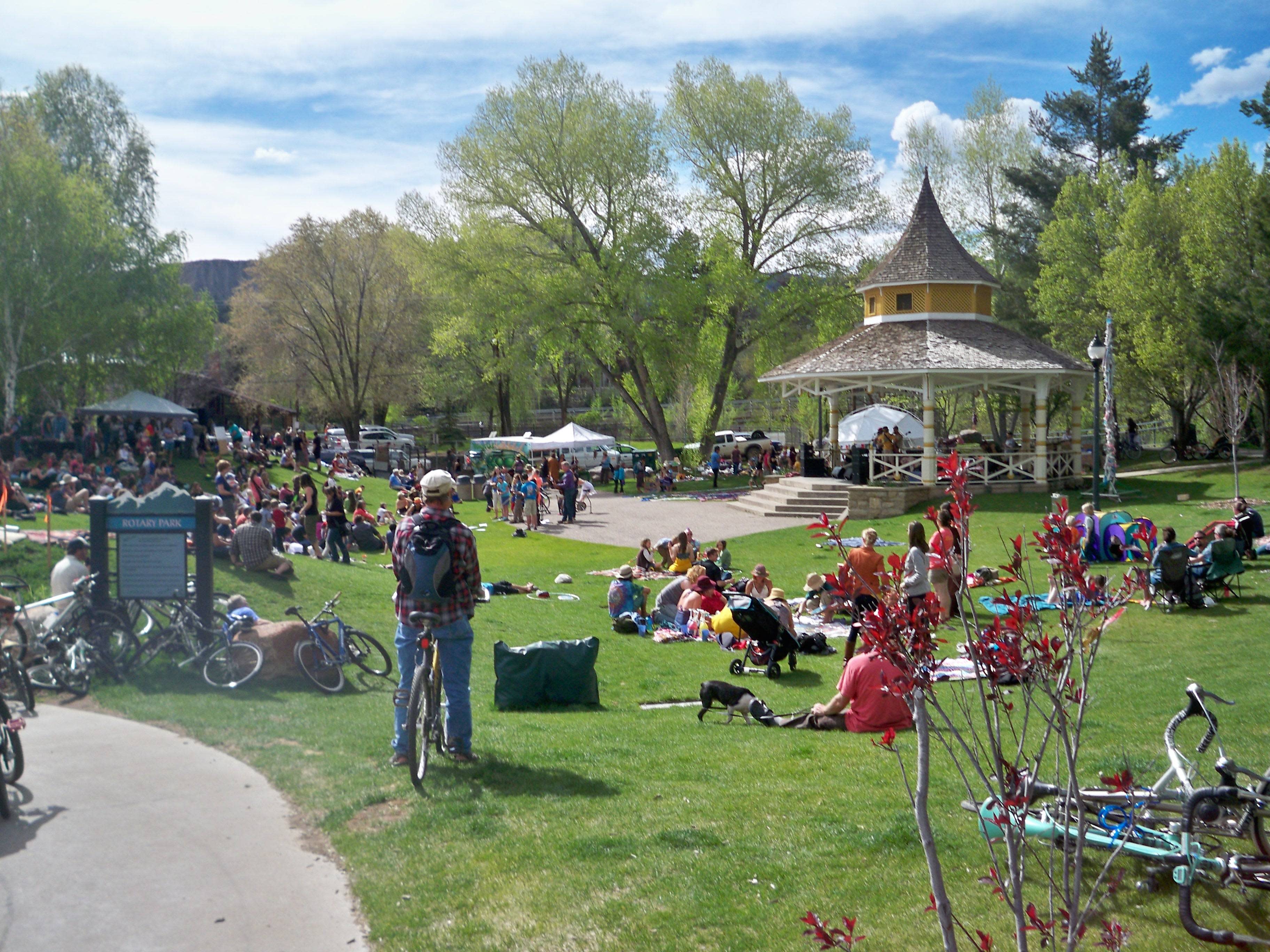 My First Experience at the Dandelion Festival!
The Dandelion Festival is the event that kicks off the summer festival season! They could not have picked a better day to do it because that particular day was also the 2015 graduation of the students from Fort Lewis College. What a great activity to do for some Durango culture after sitting in a hot gymnasium for a few hours. I certainly needed it after playing in the band for 2 ceremonies! It was the perfect balmy day for a festival in Rotary Park which is a lesser known park of Durango but in my opinion one of the prettiest. It has an enchanting little gazebo right by the river with large trees that are perfect for an afternoon picnic and maybe a quick nap. 
I got to the festival around 2:15 and caught the very end of Liver Down the River, which is a local Durango Bluegrass band that I have seen play multiple times and they just embody the funky and fun nature of Durango. Quite a sight to see, if I do say so myself, with 6 members who each contribute in a variety of ways (some playing and some singing.)
Once they finished it was the The Dande Good Times Cooking Show which I enjoyed immensely because let's be honest, who doesn't like food? I love food and cooking so this was just lovely for me. 
The cooking show as followed by The Chava People, which is another local Durango band that has three members and has more of an electric sound. I hadn't heard them live before but I really enjoyed hearing them and I liked the change of sound from the usual Bluegrass of Durango.
From 4pm to 4:30 there were the Next Generation Fiddlers with Matthew Moon. Which mainly consisted of the main fiddler Matthew Moon and a bunch of new fiddle players. Coming from a family of musicians I loved the cross generational playing and how good they were for even having some new players involved. 
After that I had to leave for a Graduation Party but I heard the rest of the festival was a hit. Heres a video of an event that I was unable to attend but it is the Maypole Dance. Now also coming from a family of scandinavian heritage, I know what a Maypole Dance is. But this one was way more fun and entertaining than any I have ever seen! Enjoy! 
Honestly if you can visit on a weekend where there is a festival going on I highly recommend coming down and seeing us.
Durango, in general, is a bit of an eclectic town and I love it for that reason. We take full advantage of any reason to celebrate. Halloween is not a one time occurance in Durango, we condone rediculous outfits and costumes for many holidays and festivites throughout the year (google Snowdown winter festival if you're curious). If you are looking for a good summer festival that gives you a taste of Durango then try to plan your visit around a time when a particular popular festival is happening.
The next weekend that you can expect to see an epic festival is Animas River Days which is May 28th- 30th.  I'll be covering that so make sure to check back in a few weeks to see what happens!
If you have any questions or suggestions for me feel free to email me at juliavolzke@msn.com. I'm always open to suggestions or any ideas you may have!