Time and time again, Durango has been named one of the best Christmas towns in all of America. Whether we're skiing powdery mountains, climbing frozen waterfalls, snowshoeing a forest of fir, or waking up to a snow capped winterscape, our holiday cheer is strong enough to make even the Grinch grin.  
Spend your winter days in the most magical corner of southwest Colorado and experience the dream of living life like a Hallmark movie. With sleigh bells and holly wreaths on every corner, fires crackling in every home, and a welcoming community of life-loving friends, family, and strangers, Durango offers visitors a once-in-a-lifetime holiday experience.
As the season of good tidings approaches, plan to make this December a time to remember. Check out our guide to experiencing the magic of Durango's holiday season.
What to Pack:
The first step to enjoying your winter vacation is knowing how to keep warm and cozy at all times. Winter in Colorado promises snow and cold temperatures, but expect a few days of sunshine during your stay. Opt for layers of fast-drying, moisture-wicking fabrics like synthetic nylon, polyester or even better, wool. The fabric rules are the same for mittens, hats, and socks. Add a mid-layer fleece or sweater and a weather-proof shell and you're prepared for all the elements. If you forget something, don't worry. There are plenty of outdoor gear shops in town that can help you stay prepared.
Where to Stay:
From winter cabins to historic hotels, bed and breakfasts, and ski resort condos, there are countless places to stay in and around Durango. Here are a few options:
The Strater Hotel: Built in 1887, this legendary hotel is an iconic piece of southwestern history. Staying here allows visitors to keep close to downtown shops, the train station, dining, and the hotel's own Henry Strater Theatre.
Purgatory Mountain Resort: Sleep slopeside at Durango's own Purgatory Mountain Resort and you'll enjoy ski lift deals, direct mountain access, and fun activities for the whole family to enjoy.
O-Bar-O Cabins: Escape the bustle of town at your own private cabin getaway. Tucked into the hills on the Florida river, O-Bar-O Cabins provide direct access to two lakes, horse trails, and the San Juan National Forest. 
Explore countless more vacation rentals options here.
What to Do:
Imagine checking off every item on your holiday bucket list in a single vacation! Whether you dream of an extreme holiday spent in the blizzardy backcountry or a cozy vacation enjoyed under a pile of blankets, you can enjoy the season exactly as you've always dreamed.
Here are our top ten bucket list items to enjoy this December:
Run with dogs at the Durango Dog Ranch: Tour the San Juan National Forest in style behind a team of professional sled dogs. Curl up under a blanket in the cargo bed or stand on the footboards and guide the sled along. You'll enjoy warm drinks, snacks, doggy kisses, and unbeatable vistas of our snowy landscape.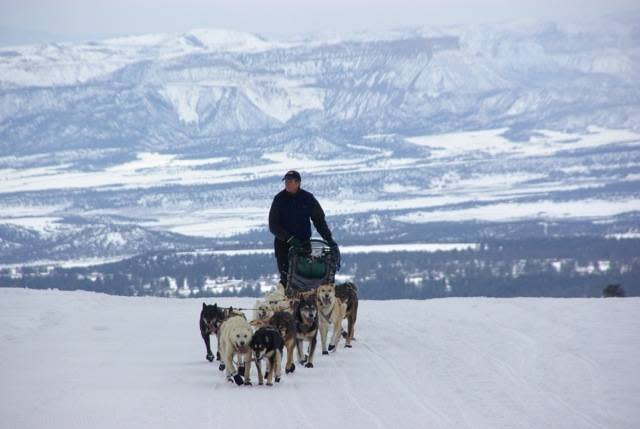 Ride the Polar Express straight to the North Pole: What's more magical than a historical train ride through the San Juan National Forest? It's Durango's premiere travel event of the season, the Polar Express. Watch as the award-winning story by Chris Van Allsburg comes to life aboard the Durango train. You and your family will sing christmas carols, enjoy readings from the book, meet Santa, drink hot chocolate and visit all the characters as you make your way to the North Pole.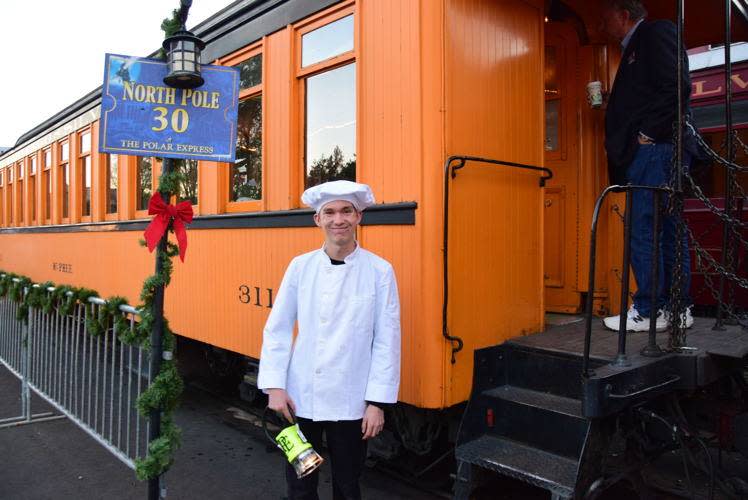 Snowshoe through an unspoiled Winter wonderland: It takes more than snow to close down our trail system. In fact, the opportunity to snowshoe through the pristine mountains of Colorado is part of what makes a vacation to Durango so special. Some of the best snowshoeing trails include the Animas Mountain Trail, Colorado Trail, Engineer Mountain Trail, and Molas Pass.
Cross Country Ski through Mesa Verde National Park: Besides the Purgatory Nordic Center and Vallecito Nordic Club, cross country skiers have the incredible opportunity to ski through our own neighboring National Park. Mesa Verde, just 35 miles west of Durango, is often quiet and uncrowded during the winter season, providing adventurers with private views and a peaceful getaway. Be sure to check trail conditions before venturing out.
Ski your heart out at Purgatory Mountain Resort: With 92 trails, more than 1,500 acres of skiable terrain, and a summit elevation of nearly 11,000 feet, Purgatory offers a wide range of trails with access for every skill level. The resort is known for its consistent snow and bright, bluebird days, making it a paradise for winter skiing.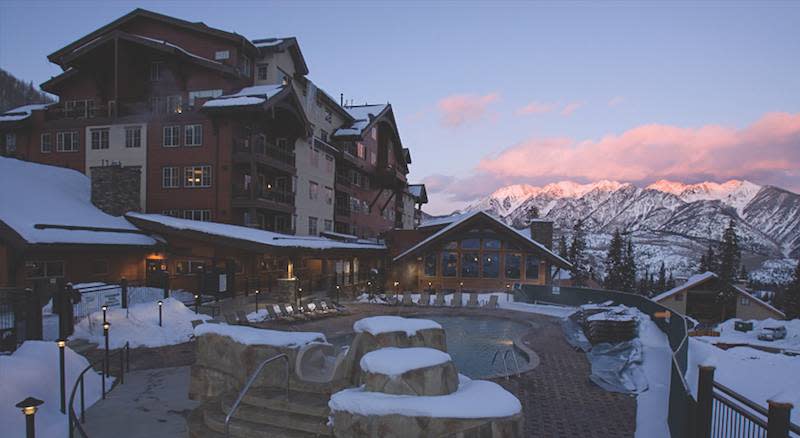 Curl up with loved ones on a horse-drawn sleigh ride: Grab your blanket, hot chocolate, and favorite warm weather snacks on a romantic carriage ride through the woods. You can travel from downtown, Purgatory Resort, or book your own custom experience with one of the many guides in Durango. Stay bundled up, watch the snow fall, and enjoy the sound of draft horses as they move effortlessly through the terrain. 
Photo: Claude Steelman
Soak in the healing waters of the Trimble Hot Spring: The mineral rich waters of the Trimble Hot Spring are as soul-warming as they are body-restoring. Give yourself a well-deserved break in the naturally heated pools. Kick back, breathe in the hot steam, and watch flurries of snow dance overhead.
Ride the Christmas Tree Train and chop down your own Christmas Tree: Create your own family tradition and help support environmental efforts in the San Juan National Forest by chopping your own Christmas tree. You'll ride the Durango Silverton Narrow Gauge Railroad to a secluded region of breathtaking Cascade Canyon. By "thinning out clusters of trees," you not only create lifelong memories with your loved ones, but are playing an important part in forest fire mitigation.  
As you sip the world's best hot chocolate from Animas Chocolate Company, take advantage of the long line of boutiques and small businesses to shop along historic Main Avenue. Confirm your title as "Best Gift Giver" as you browse locally-made presents and artisan goods. Don't miss out Durango's version of Small Business Saturday on Noel Night, December 7th. The Holiday Arts and Crafts Festival takes place on November 30th, followed by the Holiday Market on December 8th.
Celebrate Christmas at Bar D Wranglers annual Christmas Jubilee: Remember the true meaning of the holidays with Durango's favorite cowboy band. Celebrate with western music, cowboy poetry, and loads of holiday spirit. The gentlemen behind the Jubilee have been bringing Christmas cheer to Durango for nearly 50 years and have become iconic pieces of our holiday tradition. While winter will eventually end, the memories made in Durango last a lifetime.