Guest Blog provided by Kelly Spitzer, Coldwell Banker Heritage House Realtors
Home. It's a simple word that evokes numerous and conflicting emotions. It's a concept we are always trying to express and define. Home is an escape and a haunting, a refuge and a vacancy. Homes hold hidden spaces and host family dinners, sometimes too crowded. They contain the breathlessness of leaving, and the anticipation of returning. These houses are not just examples of Durango's earliest and finest architecture. They were and are homes. The character of these homes are as beautiful as the character of the people who built them and lived in them and formed the town, and the people who reside in them and care for them and shape the future of Durango today.
Disclaimer: These properties are private residences and businesses. Please respect the owners' privacy.
The Dwyer Home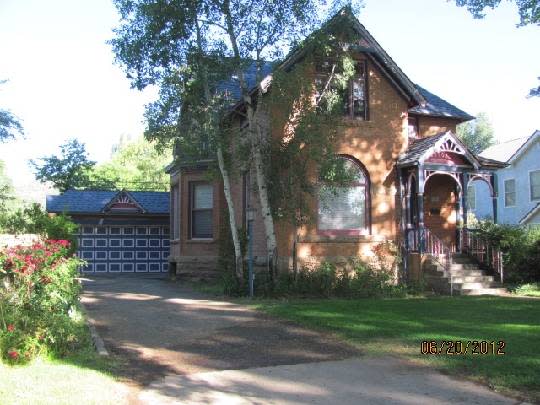 The illustrious Robert Dwyer served as Durango's first marshal, and later as La Plata County Sheriff. Dwyer is well-known for his role in taking down the Stockton Gang which was terrorizing Durango in the early 1880s. The Dwyer homestead originally consisted of 160 acres and a log cabin located south of Animas City on Junction Creek, including where the fairgrounds sit today. The brick home now standing at 2535 W 2nd Ave became the Dwyer residence in 1888, after his retirement. Placed on Durango's Registry of Historic Places in 1997, this landmark still boasts its original stained glass windows and gable ornaments.
The Original Ochsner Hospital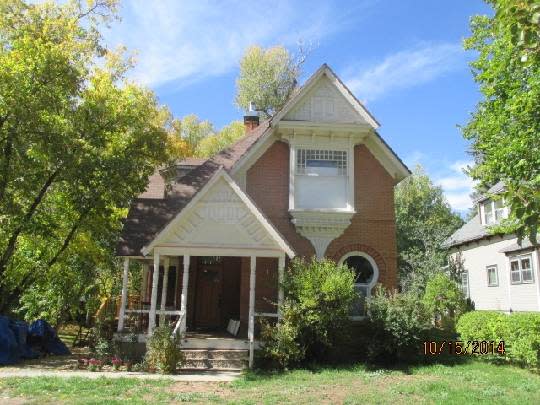 Known for its distinctive keyhole window, 2449 W 2nd was the original location of the Ochsner Hospital, established in 1903. It's founder-- Dr. Benjamin Ochsner-- was not only a distinctive doctor in the Four Corners area, he also gained international fame as a photographer. The hospital moved to W Park Ave in 1911, and then to what is now The Gable House. This brick beauty built in 1898 sits in a tranquil location along Junction Creek.
The Rock Houses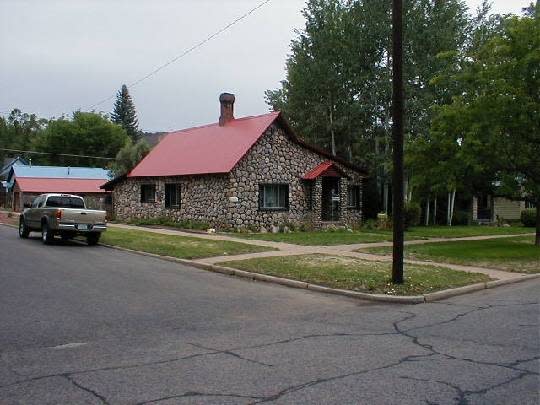 Though no history could be found for these two homes sitting at 1858 and 1872 W 3rd Ave, they are nevertheless a part of Durango's history. Built in 1888, both cottages are built from cobblestone, and are worth a walk-by.
Pill Hill/W Park Ave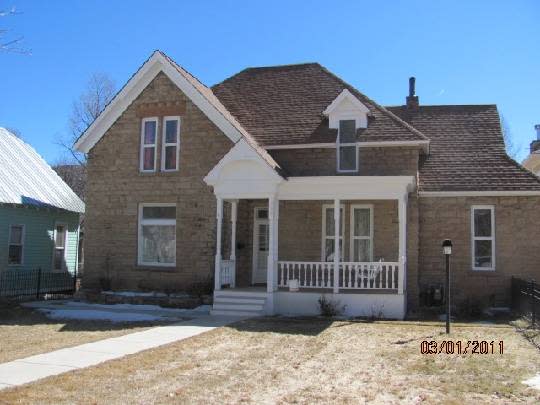 Durango's very own "Pill Hill" on W Park Ave. became home to many prominent Durango doctors. The Ochsner Hospital relocated to 353 W Park Ave where it operated from 1911-1912. This masonry home built in 1892 overlooks the Animas River and still possesses many of its original elements.
Surgeon David S Griffith built a home on Park Ave. Griffith operated an office in Durango, and was also the doctor for the Denver & Rio Grande Railway. The home Griffith built was constructed of brick, though the address, or whether it still stands, is unknown.
Though the face of Park Ave has changed with the addition of condos, several historical homes still grace this avenue.
The Amy Mansion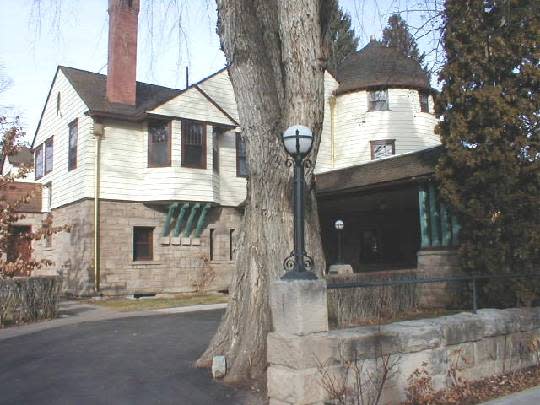 This Durango icon 1261 W 3rd is now the home of Hood Mortuary, but it was once the residence of Ernest Amy and his bride, Isabelle. Amy managed the San Juan and New York Smelter, a regional smelting center for ores coming out of the San Juan mines. He built the house in 1888 as a Shingle Style mansion to suit his wife's east coast upbringing.
The Perkins House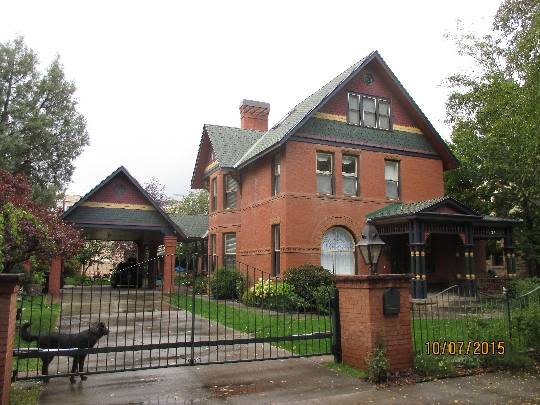 Known as the Perkins House, this residence located at 1237 E 3rd Ave. was constructed in 1892 for Adair and Margaret Wilson. Adair Wilson was elected to the Colorado Senate in 1886, and also served as chief justice of the state court of appeals in 1897. The home, however, takes its name from Durango mayor Clayton Perkins who also resided here.
"Smoothie's" Foursquare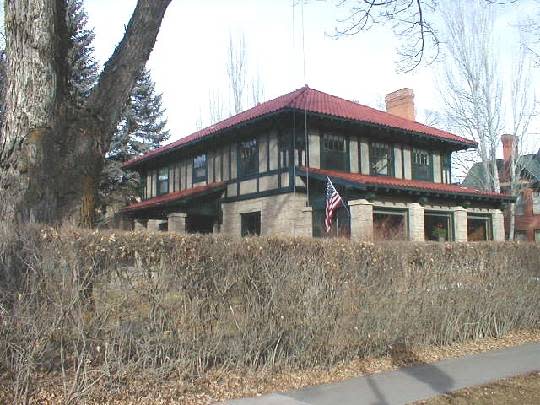 Built in 1912, this home at 1215 E 3rd Ave. belonged to George "Smoothie" West, a Colorado state senator. The American Foursquare structure also pays tribute to several other architectural styles, most notably the half-timbering of a Tudor.
The Jakway House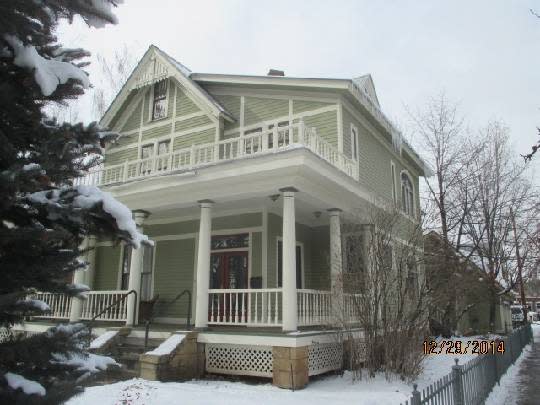 Recently renovated, the Jakway house sits on the corner of E 3rd Ave and 11th St. Built in 1888, it was the home of Louis C. Jakway from Stubbs & Jakway, a Durango plumbing company. This classic Victorian era home features a large upper deck, characteristic front porch, overlay boards common in the Stick Style of Victorian architecture, and Romanesque columns.
The Herr House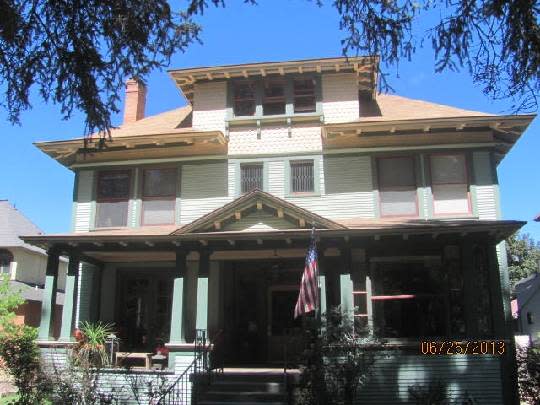 This American Foursquare at 1017 E 3rd Ave was built in 1907. It was the home of Charles Herr -- the President of The Durango Planing Mill & Lumber Company -- and his family. The Herr home was the recipient of the 2004 City of Durango's Rehabilitation Award.
Sloan-Ayers House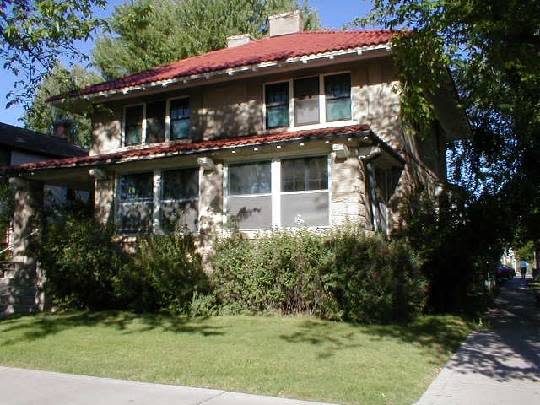 973 E 3rd Ave is a Vernacular style home that's reminiscent of the American Foursquare. Built in 1912 for Robert Sloan, an associate of General William Jackson Palmer, co-founder of the Denver & Rio Grande Western Railway, and co-owner of Graden Mercantile, this home became known as the Sloan-Ayers home after Robert's daughter Mary Sloan-Ayers.
Harry Jackson's House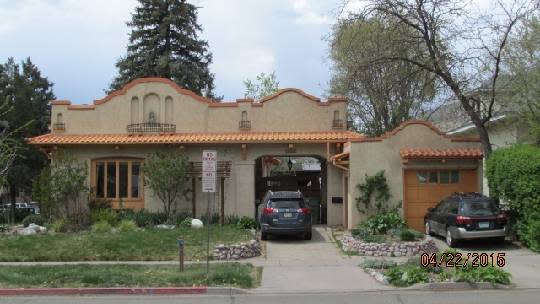 One of the few distinctly Mission Revival style homes in Durango, the Harry Jackson house at 801 E. 3rd Ave. is a fine example. Built in 1929 for Harry Jackson, a local merchant, the home's stucco siding, roof parapets, arcaded entry porch, and flat roof are characteristic elements of the Mission home.
The Camp House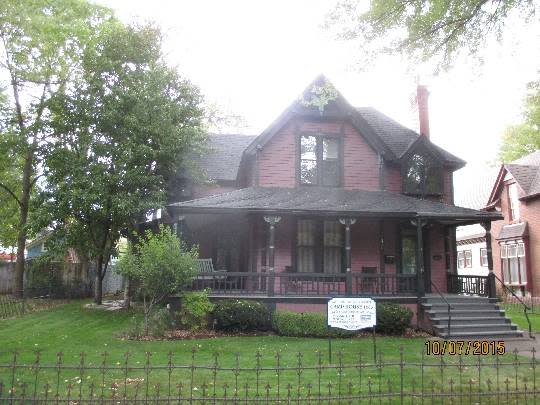 Located at 747 E 3rd Ave, The Camp House is a fine example of a Folk Victorian. Built in 1883 for A.P. Camp, the founder of Bank of Durango (now First National Bank), the home maintains many of its original elements, both inside and out. The Folk Victorian is a simpler style of Victorian construction-wise (vs. the Queen Anne, for example), while still maintaining the decorative trim elements.
Clark-Hatfield Residence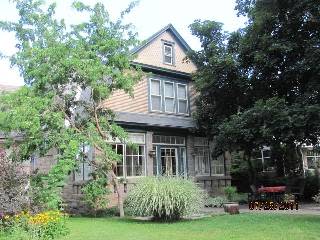 Built in the Dutch Colonial Revival style in 1906 by Scottish stone mason David Ramsey, the home became known as the Clark-Hatfield residence from its later owners. In 1926, it sold to Fred & Marguerite Clark, and Hatfield was alleged to be a district attorney in town. This unique and well-preserved home is located at 669 E 3rd Ave.
Weightman's Brick Queen Anne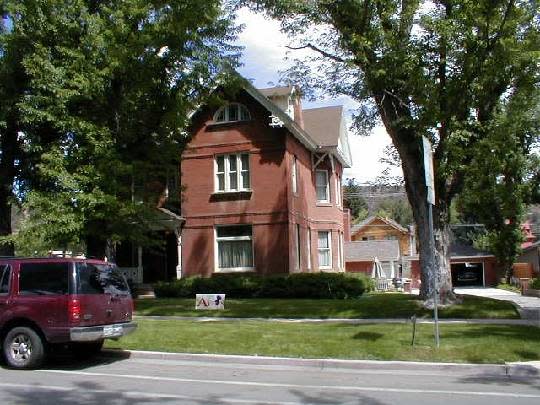 On the National Register of Historic Places in La Plata County, this brick Queen Anne sits on the corner of E 7th St and E 3rd Ave. Built in 1898 by grocer Walter Weightman, the home contains classic Queen Anne brickwork, oculus windows, gable trim, and spindle designs on the porch. Several sources refer to the home as the Fields Home, named after a sheep man who owned it.
The Gable House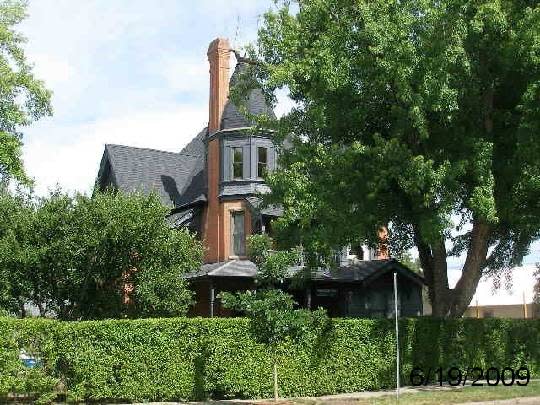 Originally built in 1892 for James Schutt- a real estate man, as well as the owner of a flour mill and mercantile store in Durango- and his wife Eliza, the home was turned into Durango's first private hospital in 1913. Known as the Ochsner Hospital, it operated here as a private hospital until 1942, when it was sold to the county and became the county's first public hospital before falling once again into private hands. Today, it operates as a Bed & Breakfast. This classic Queen Anne Victorian is located at 805 E 5th Ave.
The English Cottage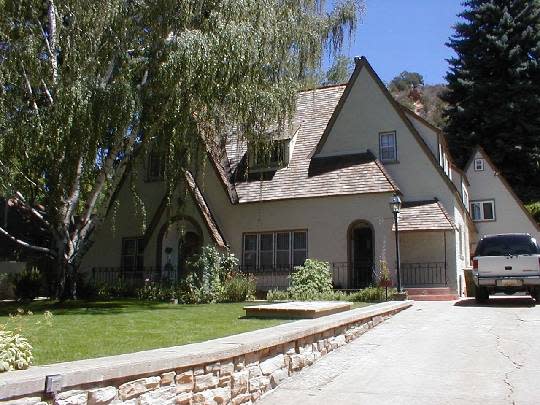 The stately home at 1412 E 3rd Ave is a beautiful Tudor/English Cottage style home built in 1898. The steeply pitched gabled roof, small dormers, asymmetrical plan, and solid stucco exterior, are classic Tudor/English Cottage elements.
The Mentzel House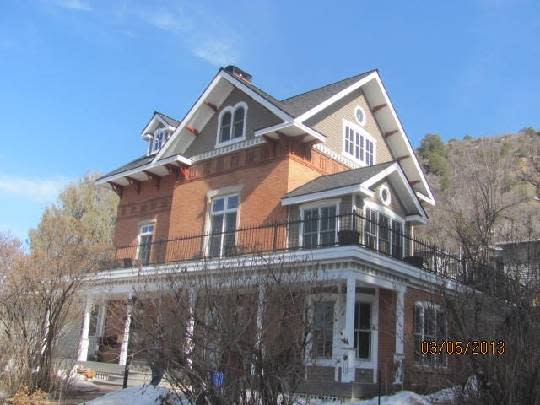 A Georgian Revival originally owned by Dr. Fritz Mentzel and his wife Marie, this home has stood on the corner of 3rd Ave. and Florida Rd since 1892. Fritz Mentzel was a metallurgist for the American Smelting & Mining Co. Marie was purported to be an opera singer. The home has been owned by many prominent Durango families since, including C.L. Taylor, co-owner of the Taylor Raymond Jewelry Company.
More architecturally unique historical homes:
377 13th St: Dutch Colonial Revival built in 1890

1154 E 4th Ave: Victorian built in 1881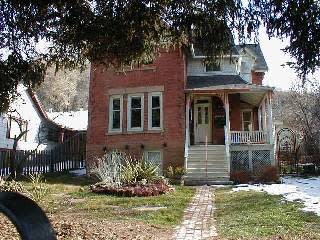 757 E 4th Ave: Victorian built in 1890


622 E 3rd: Victorian built in 1881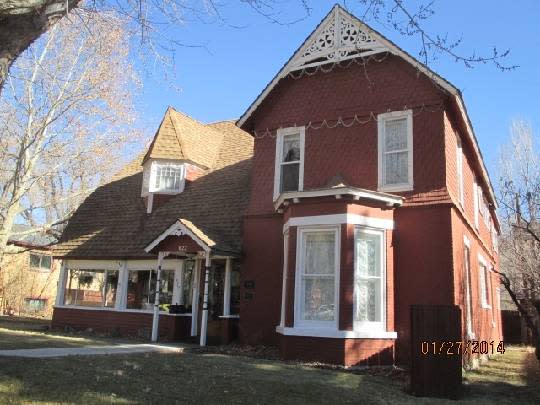 1404 E 3rd Ave: Vernacular home with a veranda built in 1896

2413 W 2nd:  Vernacular style built of limestone in 1892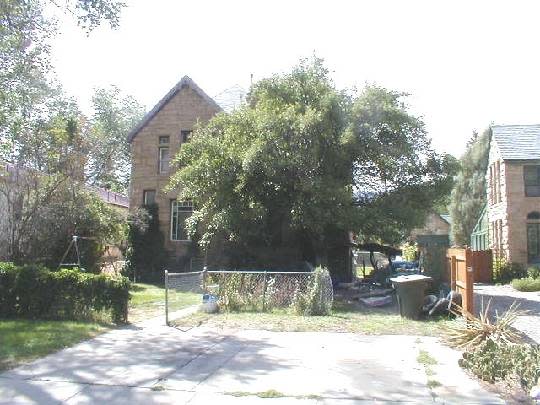 2421 W 2nd: Vernacular style built of limestone in 1895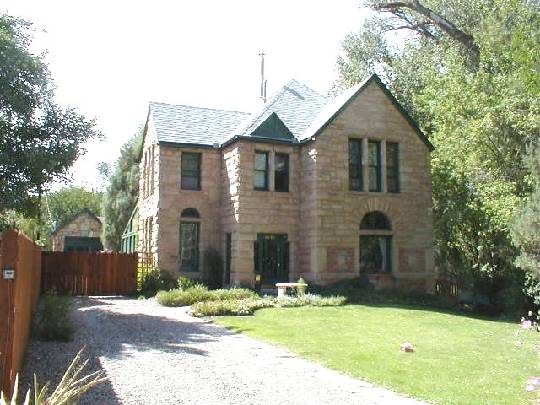 Sources:
La Plata County Archives 1911
The Colorado Magazine, May 1930
Center of SW Studies at Fort Lewis College website
The Gable House Bed & Breakfast website
National Register of Historic Places
Animas Museum website
Pioneers of the San Juan Country by Sarah Platt Decker