As tricky as it may be to imagine an Independence Day without fireworks, there is no place we'd rather be this year than Durango. While your favorite mountain town won't be lighting sparklers this 4th of July, we will most definitely still be celebrating. We're toasting to community, camaraderie, family, home and the world's most incredible Fire & Rescue team.
The 416 and Burro Fires serve as a testament to the strength and resilience of our community. Because it's more than the mountains that keep you coming back to Durango, we call you to join us in fighting fire with fellowship this 4th of July holiday. Durango isn't just open for business; Durango is ready for you to come home.
Read on to catch our own Party Itinerary for the week of Independence Day.
A float trip down the Animas
With this warm summer air and slow flow, it is prime time for some tubing and rafting down the Animas River. Whether you book a guided tour with one of the local rafting companies or rent a tube from a business nearby, it should be priority number one to spend some time on the water. Definitely make a stop at the "beach", and look out for Corner Pocket and Smelter Rapids! The best river trips are always followed by Mexican food, so be sure to stop in at local favorites' Macho's Fast Mexican Food or Tequila's.
You can even participate in Durango's own 4th of July River Parade! Mild to Wild will again be bringing their annual 4th of July parade to the river, featuring dressed-up guides all day (you're encouraged to dress up as well!), boats decked out in flags and fun 4th of July trinkets given away to all guests.
Get Your Craft Beverage Passport Stamped Around Town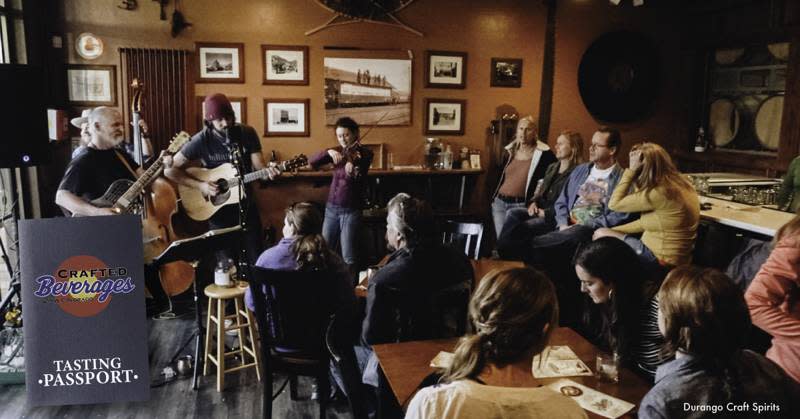 Before you go anywhere with a craft cocktail in mind, swing into the closest Welcome Center for your free Tasting Passport. It's a super handy pocket-sized book of information on all things craft in Southwest Colorado and can help guide your choices on where to enjoy your day during the holiday. Get your passport stamped at six different locations (easily done if you have two days in Durango!), then turn your stamp page in to the Durango Welcome Center for a free prize, and the chance to win a free return trip to Durango in 2019.
Catch Live Music at Buckley Park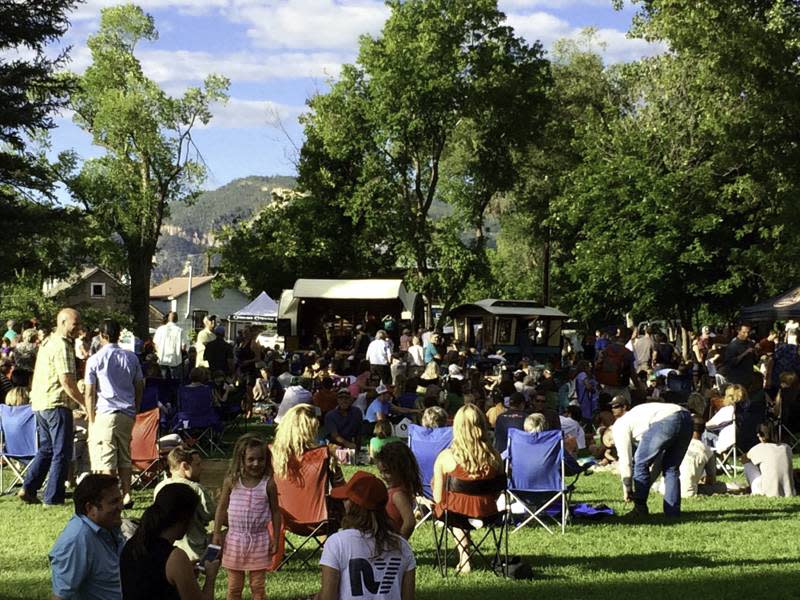 One of my all-time favorite stops during the summer, the free Concerts at the Park music series at Buckley Park is a great place to join the locals in the afternoon. Kick back with a coffee drink from 11th Street Station or join in the inevitable dancing on the grass every Thursday from 5:30 to 7:30 PM. The Pete Giuliani Band will be playing some acoustic favorites on the Fourth of July, followed by a Thursday jam with the Afrosonics on the Fifth! Other local Durango haunts will also be featuring live music on the 4th, including music by the Cannondolls at the Secret Garden at the Rochester Hotel.
Spend the Day in Downtown Durango
From an All-American Gourmet Breakfast to the annual 4th of July parade, downtown Durango will be alive with events to celebrate Independence Day! Start your day with breakfast, provided by the Rotary Club of Durango, then take part in the Freedom 5k and a free concert in the park, follwed by gourmet bbq, all located in beautiful Rotary Park. Durango's 4th of July parade will kick off at 5:00 pm, followed by a street dance and beer garden from 6:00-9:00 pm! For a full list of events, click here.
Take a SUP Boarding Picnic at Vallecito Reservoir
Throw some love at your favorite businesses by packing a local picnic and hitting the lake. The Vallecito Reservoir is a local favorite for SUP boarding, swimming, boating and fishing. The pace is a little slower by the reservoir, where you can enjoy a view of the mountains over the lake and bag some sunshine. Pile the whole family in the car and finish your day at the Vallecito Lake Country Market or Rusty Shovel Saloon. 
Compete in the Rock Lounge's Community Climbing Competition
Food, fun, prizes and the best community of climbers in all of the Southwest; these are just a few things you can expect to find at the upcoming climbing competition at the Rock Lounge gym. The event will take place at the gym on Wednesday from 6 - 9 P.M. Even if you've never checked out the gym before, you can trust you'll be welcomed with open arms and lots of route beta.
Bring on the Independence Day Barbecue!
You may not be lighting your own backyard smoker this holiday, but Durango's favorite barbecue joint definitely will be. Serious Texas Bar-B-Q is a local gem, adored by a lot more than the Texas transplants in town. Nothing beats a pile of their smoked-to-perfection brisket, pulled pork, turkey, ribs and sausage links doused in jalapenos and cranberry-habenero salsa. You'll find us on the front deck of their south location, enjoying the river views with an ice-cold Ska Mexican Logger in hand. There's even mini golf available for the kids!
Spectate at Carve Wars - a Chainsaw Carving Competition
A proper duel among artists, this chainsaw carving competition is sure to be as intense as it sounds. Carve Wars, a free event happening July 6th and 7th at Purgatory Resort, was inspired to #FightFirewithFellowship. The experience will benefit our First Responders, Southwest Colorado Disaster Assistance, and the Disaster Assistance Center.
Since Purgatory Resort opens for business on July 2nd, we'll be there to enjoy some brews, beach views and maybe even a trail ride through the National Forest. Stay for as long as you'd like but be sure to be there at 3 PM on Saturday, when a live auction of the chainsaw carvings will take place.
Hit up "Burger and a Band Night" at James Ranch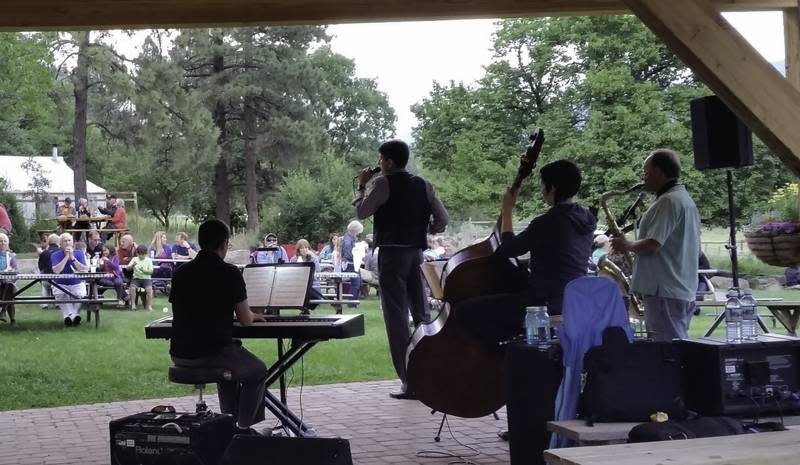 James Ranch is open and ready to celebrate - especially every Thursday night during the summer, when they host live music on the outdoor terrace. There may be some debate on which local joint grills the best burgers in Durango, but there's no question in our book that James Ranch will always be on the list. Add a good meal to their southwestern country vibes and farm style hospitality and you have an unforgettable community celebration.
Spend Independence Day at the Silverton Parade
A true party is measured by its attendees, not by the itinerary. The Silverton 4th of July Party and Parade always brings out the best of the best in Colorado. With or without fireworks, this annual celebration is always one for the books. It's a time when the normally sleepy mountain town of Silverton positively comes alive.
There will be several fun runs on Independence Day, ranging in distance from 2k to 3k to 5k. Following the workout, the games will begin! The Carnival in the Park, Block Party and irresistable rubber ducky Duck Race are all set to take place. Expect cold drinks, live music, lots of dancing and lots of laughs. Check out a full schedule on their website.
Join the Music in the Mountains Festival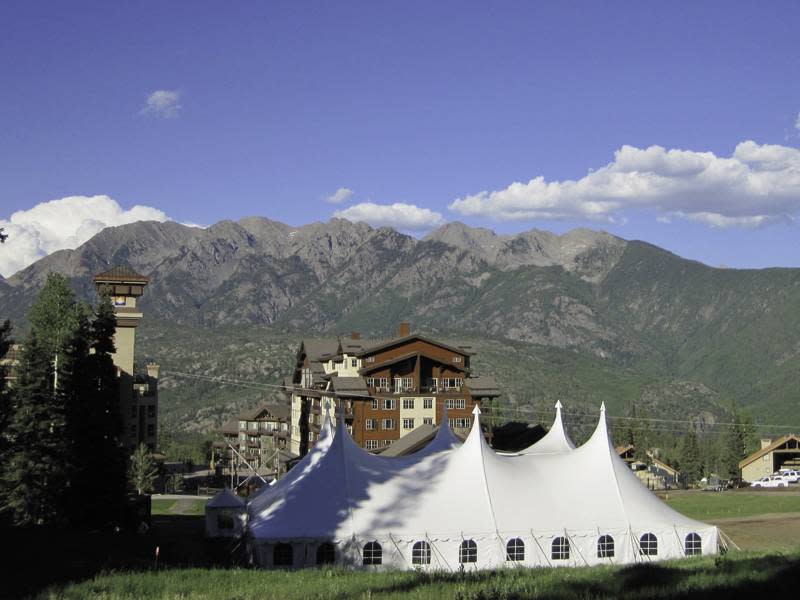 Durango's annual classical music festival, Music in the Mountains, begins its 32nd season the first Saturday in July. The kickoff starts with the Hunts, a seven-sibling indie-folk band from Chesapeake, Virginia. The show is playing at the Bayfield Performing Arts Center at 7:00 PM July 7th. A full schedule can be found here. Conveniently, a list of free events can also be found here.
Throw your Trust in a Dog's Paws
The Durango Dog Ranch has whipped up something special, and heartracing, for your inner adrenaline junkie. Dog lovers of all kind will enjoy renting a scooter and borrowing a professional sled dog for the ride of a lifetime. Plan to get dirty and expect lots of doggy kisses. If a scooter isn't your style, you can take a guided ATV tour pulled by a team of dogs. It's a definite bucket list item, best followed up by a delicious Mediterranean-style dinner at Kennebec Cafe.
Take it to the Trail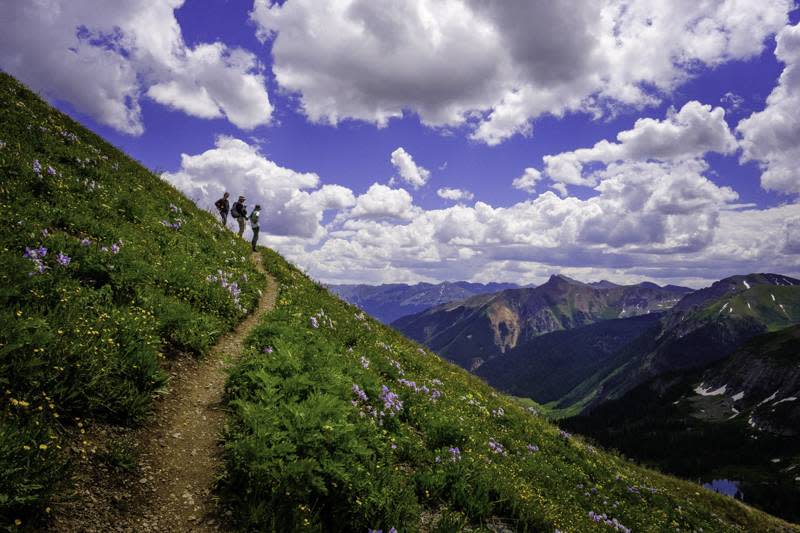 Photo: Kyle Ledeboer
The San Juan National Forest is officially re-opened! While some areas will remain closed or subject to closure, there are a few regions you can confidently get your hike or bike on this holiday. Of these, we include and recommend Mesa Verde National Park, Molas Lake, the Animas River Trail, the Vallecito Reservoir, and the Canyons of the Ancients National Monument. Follow the Durango Herald updates to stay up to date on this information.
Hop on the Train
The Durango & Silverton Narrow Gauge Railroad is currently offering diesel excursions to Cascade Canyon on the Cascade Canyon Express! You'll leave the historic Durango train station for a modern deluxe motorcoach ride to the Rockwood train station, where you'll board a historic train for a trip to Cascade Canyon. Experience some of the most jaw-dropping scenery in all of a Colorado, onboard one of Durango's oldest icons. For more information and updates on the train's summer schedule, visit their website.
Hug a Firefighter
We will be on the hunt all weekend for resting firefighters grabbing a bite to eat or beer to drink. If you see one, and chances are you will, be sure to join us in showing your gratitude for keeping our beautiful home safe. And please remember to follow all posted fire bans and restrictions!
Find more on our events calendar.