Our most memorable moments are those spent around food: Enjoying the aprés scene at Purgatory Resort with fresh tamales in hand, swapping adventure stories across the table at Eolus, sharing a summit sandwich atop Engineer Mountain.
For those of us who love food almost as much as the outdoors, there is one recreational activity we all unite for: Picnicking.
Once upon a time, picnicking was the cheap way to take in as much as possible. You slap some peanut butter on some bread, snag a bottom shelf bottle of champagne and a few camp mugs to throw in your pack, and of course buy a pack of peanut M&Ms at the gas station on the way. The older we get, however, the more glamorous we've discovered this activity can be. Packing the perfect picnic basket is an artform that requires knowledge of not only the trail and the right tools, but the best local to-go shops as well.
Wildflowers are blooming and the conditions are prime for an afternoon picnic extravaganza. Gather your friends and loved ones or impress your first date with this 100% local foodie adventure.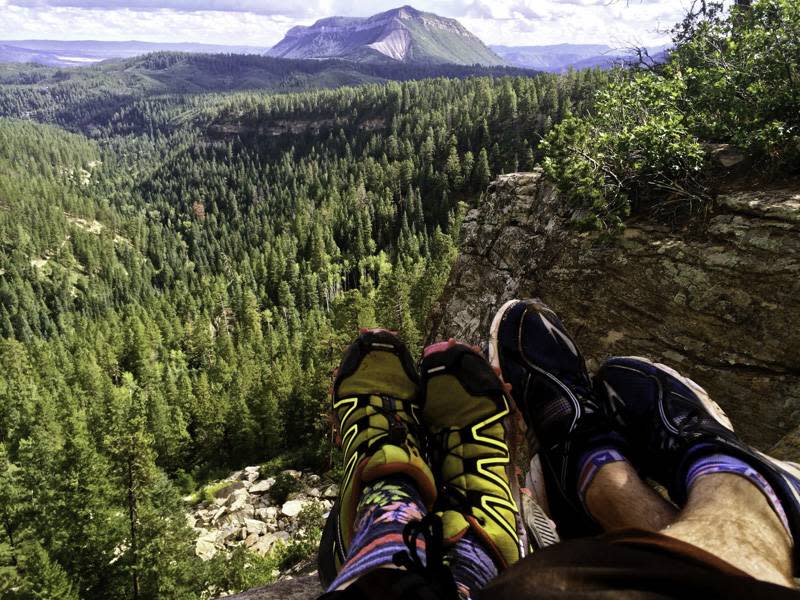 What you'll need:
First you must decide what caliber of adventure you're in for.
Choose a destination:
No Hiking Required: Drive out to the southern entrance of Lime Creek Road past Cascade Creek. Here, there is a massive meadow where camping and day use is allowed. You'll be blessed with epic mountain views, no matter the season. You can park your vehicle on the side of the dirt road and use it as a table for your picnic goodies.
Rating: ⭐⭐⭐⭐⭐
Easy Hike: For a quick and easy hike centered more around the food, you can stick to town and the Animas River Trail or take the short walk up to the Lion's Den picnic pavilion near Fort Lewis College. You can park your car right next to the pavilion on 2401 Rim Drive or take the winding switchbacks starting at the Chapman Ice Rink. Picnic tables are set up at the pavilion.
Rating: ⭐⭐⭐
Moderate Hike: Don your microspikes and climb to Gudy's Rest. The trail up the Colorado Trail plan your trip before you go. The roundtrip distance is approximately 8 miles, but if you're up for it, Gudy's Rest will reward you with a stunning panoramic view and a place to rest. There are plenty of good creekside spots to rest along the way.
Rating: ⭐⭐⭐⭐
Difficult Hike: See the best wildflowers on Engineer Mountain. Once you reach the meadow at the end of the hike, you're certain to find a idyllic picnic spot pulled straight from a fairytale. If you're looking for even more adventure, you can summit the mountain (which stands at nearly 13,000 feet) and be rewarded with sweeping views in all directions.
Rating: ⭐⭐⭐⭐⭐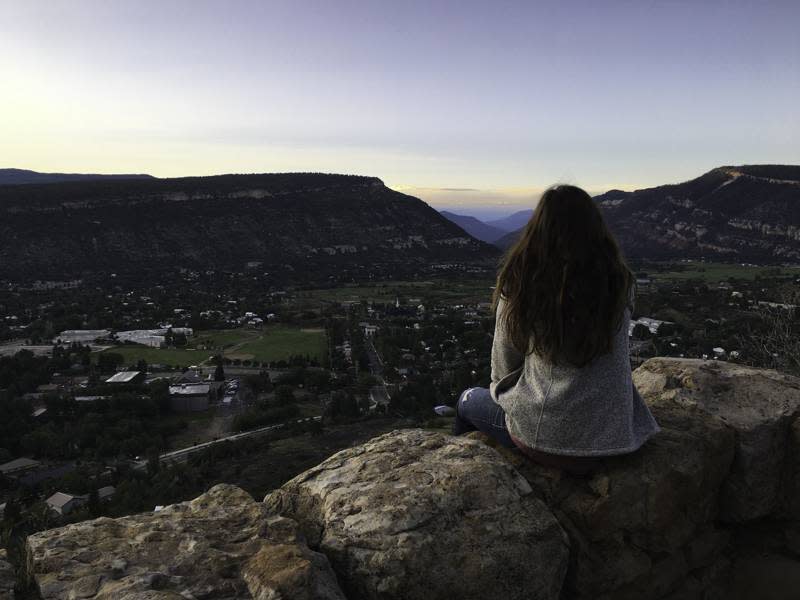 The Tools:
The Ingredients: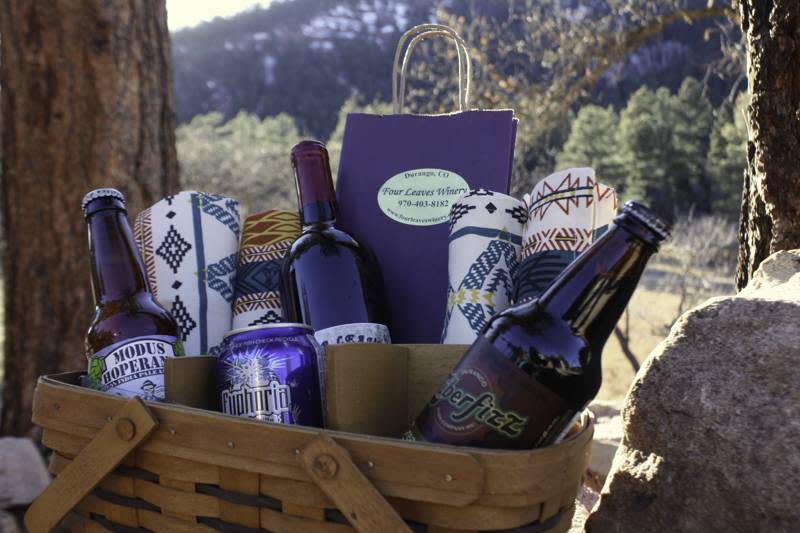 The proper Durango picnic basket is made up of 100% locally made (or sold) goodies.
Something Quick and Easy: A vegetarian or meat lovers burrito from Steaming Bean coffee shop on Main Avenue or a personalized rice bowl from Zia Taqueria at 3301 Main.
Something Sweet: A few Sow your Oats cookies from Bread baked goods.
Something Savory: A to-go order of sweet potato fries from Grassburger.
Something Salty: A jar of imported Italian olives from Guido's in-house marketplace.
Something Cheesy: A sample of James Ranch's grass-fed artisan cheese.
Something Alcoholic: A bottle of your favorite wine from the local Four Leaves Winery on 528 Main Avenue.
Something Non-alcoholic: Your favorite can of Zuberfizz soda pop, available at the local supermarkets or directly from the Durango Soda Company at 284 Sawyer Drive.
Something Fruity: A 9-piece truffle box from Animas Chocolate Company, including dried cranberries in a white ganache, mint-infused dark chocolate, blood orange infused white chocolate, and meyer lemon infused white chocolate among other treats.
Something Starchy: A loaf of sourdough bread from Bread baked goods.
Something Crunchy: A few bags of your favorite potato and tortilla chips from the local Chip Peddler, found at your local City Market.
Something Spicy: A jar of Durango Diner Red Southwest Salsa or Rez Meets Urban Salsa from Nature's Oasis
Something for the Journey: A to-go cup of Ramune Japanese soda pop from Rice Monkey.
Something for the Table: A bouquet of flowers from April's Garden flower and gift shop.