Taking the first frigid plunge into your local swimming hole is as good as any First Chair ski experience. The launch signifies the annual commencement of summer, a time for sun-bronzed skin, sore kayaking muscles, high mountain peaks, and big fish tales. 
This summer in Durango is extra special, as we celebrate the official opening of your new favorite recreation area, Lake Nighthorse, located less than 3 miles from historic Main Avenue. We've waited years to dip our feet into the cool water of the Lake Nighthorse reservoir and now that the day has come, we can start checking these items off our summer bucket list.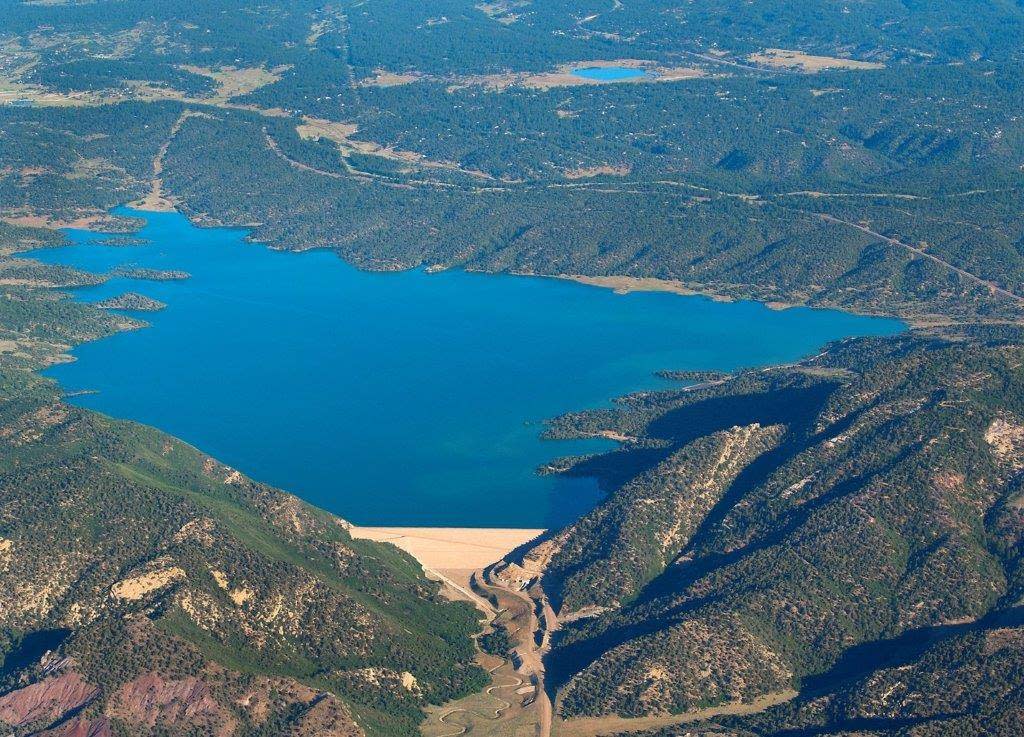 Catch a Freshwater Sockeye (Kokanee) Salmon
There are few justifiable reasons to wake before the sun on summer vacation. Of these include watching the sunrise, climbing a mountain top, and catching one of the biggest Kokanee salmon of your life. Lake Nighthorse, one of only 26 bodies of water in Colorado to hold Kokanee Salmon, has been closed to fishing for years. This means that the well-stocked supply of rainbow trout, brown trout and Kokanee salmon has only gotten healthier and happier over time. There's no telling what you'll pull out of this water, but chances are in your favor. I mean, any fin is possible if you don't trout yourself.
Navigate a Kayak shore to shore
Lake Nighthorse spans a little over 2 square miles, offering a hearty workout for any willing kayakers or SUP boarders. Every Monday and Wednesday at the lake is designated as a No Wake Day, meaning calm, undisrupted waters for all human-powered vessels. Aim to start your journey early in the morning when the water and wind are more likely to be still, and enjoy the reflection of peaks off the glassy surface.
Bike from the Animas River Trail
Rumor has it that the Animas River Trail may one day completely connect Lake Nighthorse to downtown. It's not official, but the thought gives us something to look forward to.
Even still, the lake today is easily accessible by road bike. Riding, as opposed to driving, offers the opportunity to take your time, enjoy the scenery, and skip the hassle of finding parking. There is also a slight money saving bonus: daily bike-in entry is $3, as opposed to the $8 entrance fee for vehicles.
Practice SUP Board Yoga under the cliffs of the Ridges Basin
If you've ever watched the SUP competition at the Durango Whitewater Center during Animas River Days, you have definitely craved a proper paddle board experience. Learn to get your sea legs by bringing your own aquatic yoga practice to Lake Nighthorse. For those looking to network, there are several groups around town for both new and avid paddlers, including the SUP Girls Durango. Their mission is to educate, empower and inspire others and build a community of women who love to SUP.
You can reserve and rent a stand up paddle board from lots of places in town, and pick up your gear on your way to the lake. Nearly all of the rafting companies provide rentals of some kind, including Southwest Raft and Jeep, Durango Rivertrippers, and Mild2Wild Rafting
Learn to Captain a Sailboat
There are more than a few places around town where you can rent gear to play on Lake Nighthorse. Peaks and Tides Sailing is the local sailing school, and offers regattas and sailing lessons on the lake. 4 Corners RiverSports also offers everything from fishing kayaks to canoes, SUP Boards, pedal drive kayaks and most importantly, sail boats! They're ramping up their fleet of aquatic rental equipment this year, which means you'll have the unique opportunity to play with blow boats on the water. Perfect your tack and jibe, and bring the flavor of the ocean to 6,000' above sea level.
Sunbathe on a Real Beach
Don't get us wrong - we love our winter apres beach, but to have easy access to the summer alternative just minutes from downtown sounds too good to be true (luckily, it's not!). Take a moment to be still and soak in the Vitamin D-- it's a necessary part of every summer. Besides, replacing palm trees and coconuts for mountain peaks and Zuberfizz seems like a more than sufficient trade off.
Build an Inner Tube Raft
Some of the most fun activities are the simple ones, and this requires no more than your favorite inner tube and some carabiners. Using your carabiner, clip the handles of your inner tube to your neighbor's and raft your way to bliss. Everyone knows the best time to catch up on each others' lives is when floating the cold water of your favorite mountain reservoir. Anchor the raft so as to not disturb any other parties and bring a floating cooler filled with water and soft drinks, so you can stick it in the middle for the perfect leg rest.
Find a Moment of Evening Quiet
Even in Durango, things can get a little too rowdy to handle. Since Nighthorse will be open until 8 P.M. during the summer, it will allow visitors a quick proximity escape from the hustle and bustle of downtown. The city has made a serious point to keep the experience here more mellow and enjoyable for folks of every age, preserving the stillness we love most about this region. We plan to kick our feet up in the camp chairs and propose a toast to keeping these corners wild.
Pack a Local Picnic Basket for the Perfect Canoe Date Trip
Four Corners RiverSports will rent you and your loved one a cozy canoe for the day, with paddles, life jackets and everything else you'll need. Load it up with a picnic basket of all your favorite local dishes and snacks. Go all out by filling a thermos with coffee or tea, along with a few blankets and pillows (unless you're worried about tipping over) for the perfect afternoon date. Click here for our full guide to preparing the perfect local picnic basket.
Make Sure to Recreate Safely
It's important to know that Lake Nighthorse serves as water storage for tribal and water right claim-holders along the Animas River. As such, it is imperative that we keep our water clean, unpolluted and protected from invasive species. Here are some important rules to understand before planning your trip. Always practice Leave No Trace principles when exploring Colorado's beautiful wilderness. Love your planet, and it will love you right back!
Fishing and Boating
As with all fishing areas, all anglers of 16 years of age and older are required to have in possession a Colorado Parks and Wildlife fishing license.
Bag limit is 4 trout per day and 8 in possession. Kokanee salmon limit is 10 per day and 10 in possession.
No fishing around boat ramp.
Dispose properly of fish entrails in bear proof containers and garbage cans.
To avoid risk of injury or incident, boats travel in a counterclockwise direction on the lake.
Abide by no wake zones and designated no wake days.
Motorized boats are allowed seasonally, from May 15th to November 14th. All simple and complex motorized boats are subject to inspection. Identify your vessel here to find out more.
Use of live bait is strictly prohibited. Read more here.
Recreation
Day Use Only
No off-roading or off-trail hiking
No alcohol or drugs are permitted on the premises, including marijuana
No glass containers, fires, drones, open-air-exhaust boats, houseboats, or off-leash animals
Disturbance of archeological resources is strictly prohibited
For more information regarding the rules and regulations, continue on at the City of Durango website here. A helpful brochure of extra information, including park entrance fees and hours of operation, can be found here.