It started with a pile of rugs. Rather, it started with a shipment of Pepsi-Cola traded for a pile of rugs. Back in the 1950s, H. Jackson Clark became a partner in the local Pepsi-Cola bottling company. Pepsi-Cola frequently took goods to the nearby trading posts on the Navajo reservation outside Durango, Colorado. The first day in his new position, Clark went out to collect on over-due bills. Though the traders who owned the trading posts didn't have money to exchange, they offered something better: beautifully ornate, hand-woven, pictorial rugs. Clark accepted these trades and sold the rugs in town. It was a win for everybody: the Pepsi-Cola bottling company, the trading posts, the weavers, and H. Jackson Clark.
Clark's relationship with the Navajo Nation was the beginning of something amazing. When both the supply of rugs and demand in town continued to grow, Clark opened a shop in downtown Durango. Today, his son, Jackson Clark II, his daughter, Antonia Clark, and their mother, Mary Jane, are celebrating 60 years of collaboration at what has become Toh-Atin Gallery.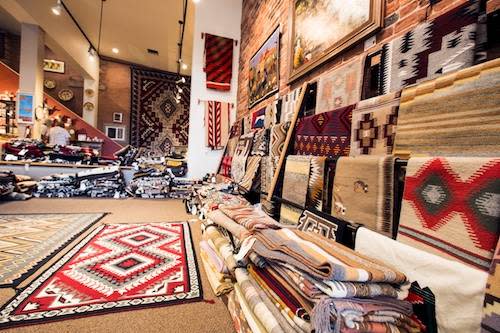 Toh-Atin is a mainstay in historic downtown Durango, preserving the tradition of authentic Navajo weaving practices and creating a sustainable relationship with the history of the Southwest. Strolling through Toh-Atin Gallery is like walking through time. Some of the rugs on display, though in perfect condition, are over one hundred years old.
The Clarks consider their artists as family, having worked with many of them for multiple generations. Weavers and artists come through the door of Toh-Atin all the time and it's not unlikely to meet and visit with the masters behind the artistry on any given day. Each rug can take six weeks or more to weave and is made with painstaking detail. They tell stories of celebration, trouble, love, weather, seasons and everything in between. Traditional pieces with borders feature spirit lines, a thin line of yarn connecting the inside of the rug to the outside world. To the Navajo, spirit lines are two-way paths of creativity. Weavers open themselves up to the creativity around them and send their own artistry out into the world.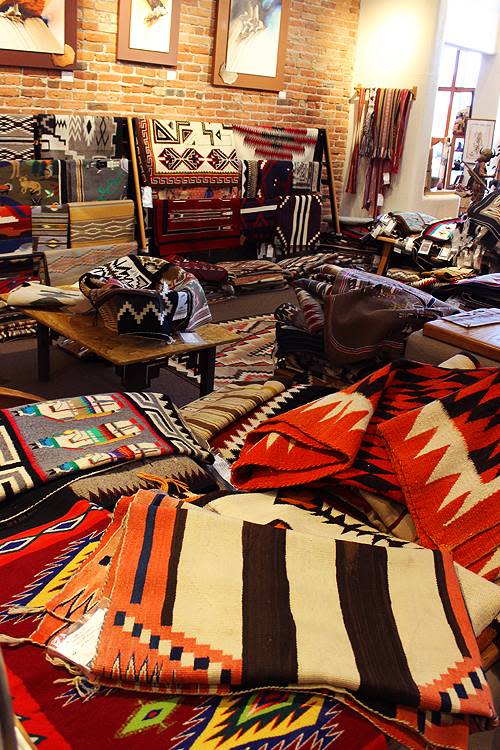 Very few galleries in the country offer as many traditional pieces as Toh-Atin. The gallery is nationally recognized for its diverse selection, featuring art from over twenty different tribes. Along with traditional rugs, Toh-Atin also offers baskets, jewelry, pottery, sculptures, paintings and more. In any given month, the Clark family and their team collaborate with dozens of weavers and artists.
Whether you're looking for a holiday gift for this season, the perfect piece for your wall or home, or a slice of history to always keep with you, Toh-Atin Gallery is an unbelievable place that can't be missed. When you make a purchase from Toh-Atin Gallery, you are supporting local artists and contributing to hundreds of years of storytelling. You are providing the means for a long-standing treasured tradition to continue forward. Stop by Toh-Atin at 145 W 9th Street in Durango.