Can a city of less than seven square miles really fill up your must-try cocktail bucket list? The answer is yes.
There's something mysteriously fantastic about life in Durango that draws in artists of every caliber, including our well-traveled and seasoned bartenders and mixologists.
The best of the best have made their home in Durango, where they serve up and shake down their life's work in stemmed crystal bowls, retro whiskey glasses, and herb garnished champagne flutes. From the simply classic cocktails to the Colorado-inspired craft fusions, a beverage poured in Durango does much more than quench your thirst. Here are some of our favorites, worthy of any bucket list.
What you're drinking: The Stella Dempsey
It doesn't get more Durango than this historical vodka and moonshine concoction. It's named after none other than "Stella Dempsey, sister of boxing legend Jack Dempsey [and] Soiled Dove who worked at the Strater Hotel" in the early 1900s. Her spirit lives on in what is perhaps the best cocktail on this list, a blend of Soiled Doves Vodka, Mayday Moonshine, Durango-grown Chokecherry Jam, Durango-made Ginger Ale and bada bing cherries.
What you're drinking:  The Thompson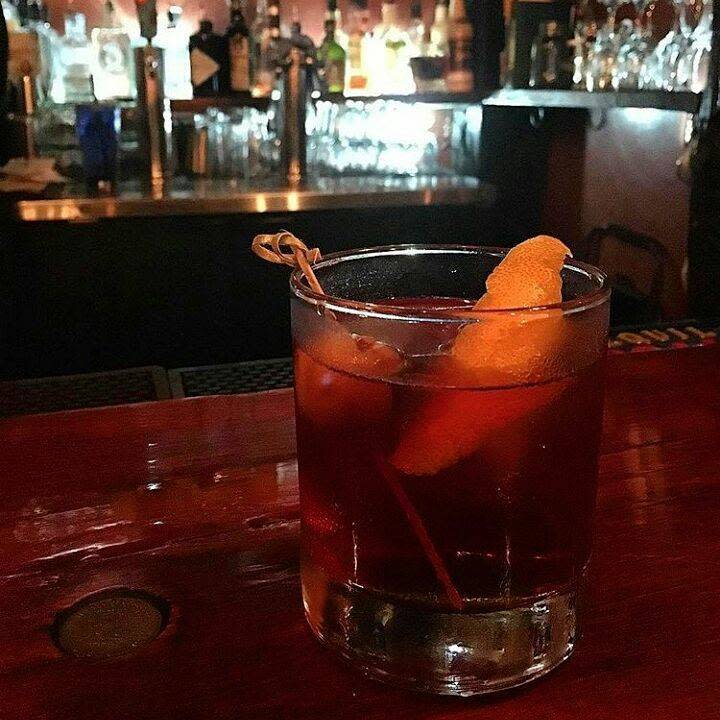 Soon to make its premiere on the Travel Channel's newest show "Frontier Tastes and Tales," the secret of what happens beyond the bookcase at Durango's favorite speakeasy isn't as hush-hush as it used to be. The Bookcase's leather bound cocktail menu is broken up into two chapters; the "Author" page with classic drinks named after famous authors who enjoyed them and the "Stories" page, crafted beverages invented and perfected by the mixologists behind the bar.
All of the menu items are out of this world, but we recommend the Thompson, because it's a simple classic that the bar has positively mastered. It's made with the perfect ratio of Wild Turkey bourbon, Barber's bitters, raw sugar and a lemon peel. A version made anywhere else is sure to disappoint.
What you're drinking: The Austin City Limits
Known for its unbeatable happy hour, the Office Spiritorium is a local favorite. So when it comes to the menu, it's easy to debate which cocktail is truly the best, a testament to the fact that you just can't go wrong.
A good place to start is the Austin City Limits, a Colorado spin on a Texas favorite. The Austin City Limits, named after the longest running music series in television history, offers a delicious, crisp complement to the musical vibes put out at the Office Spiritorium. It's made with Austin made Tito's vodka, black raspberry, sours and champagne. Order it on the rocks and pair it with an appetizer of Adult Candy: bacon wrapped, Gorgonzola-stuffed dates with a local honey drizzle that will have you drooling.
What you're drinking: The Snake Charmer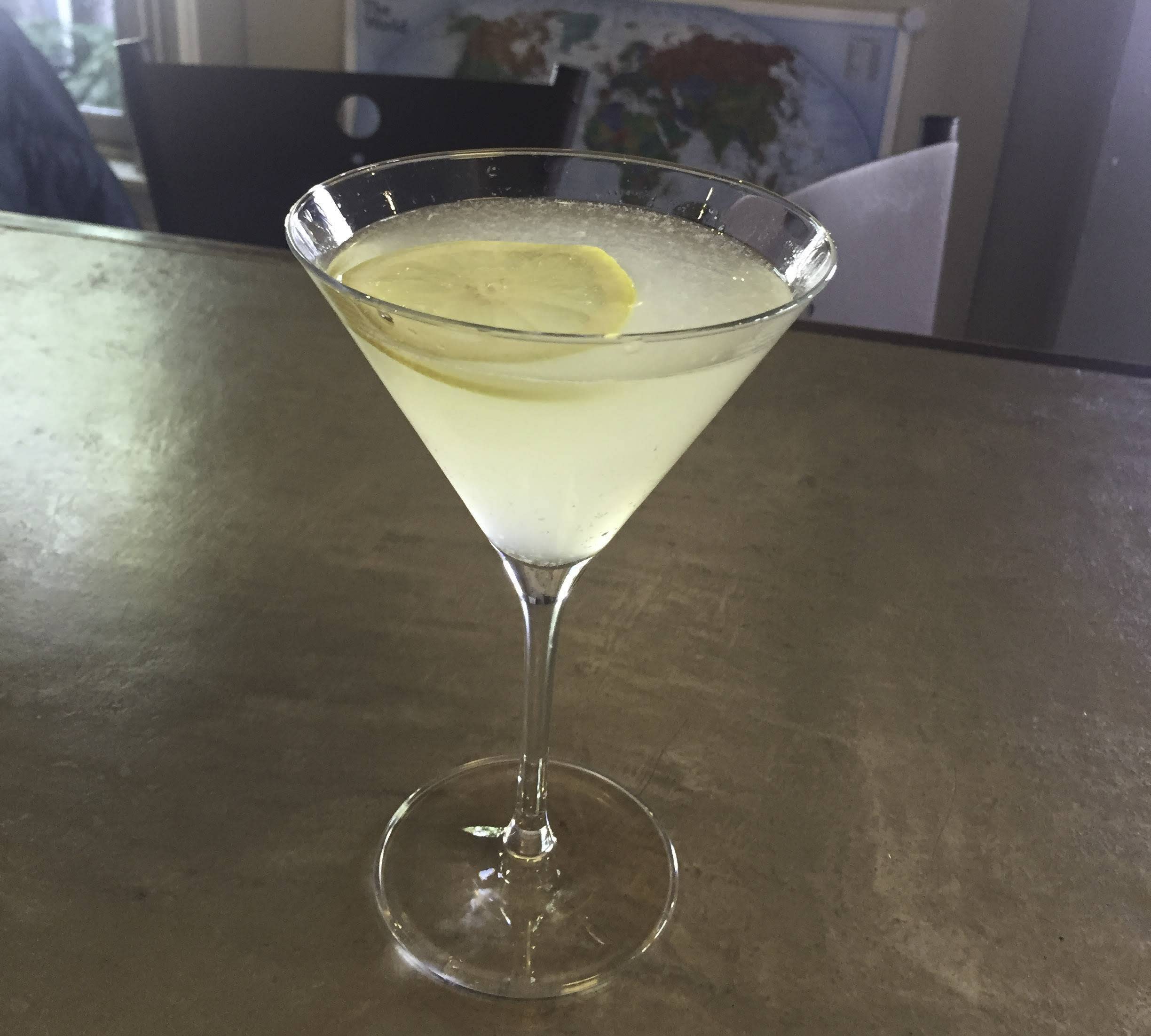 The Snakecharmer is a 2014 Taste of Durango winner, and for good reason. A mainstay on the Eno menu, this drink has just gotten better with age. It's served up with vanilla vodka, jasmine liqueur, St. Germain, and fresh lemons for a refreshing combination of tart and sweet. The Snakecharmer is like springtime in a glass, and when enjoyed from the quaint and quiet patio, it's a freeze-frame moment you'll savor for years.
Ore House, East College Drive
What you're drinking: Up in Smoke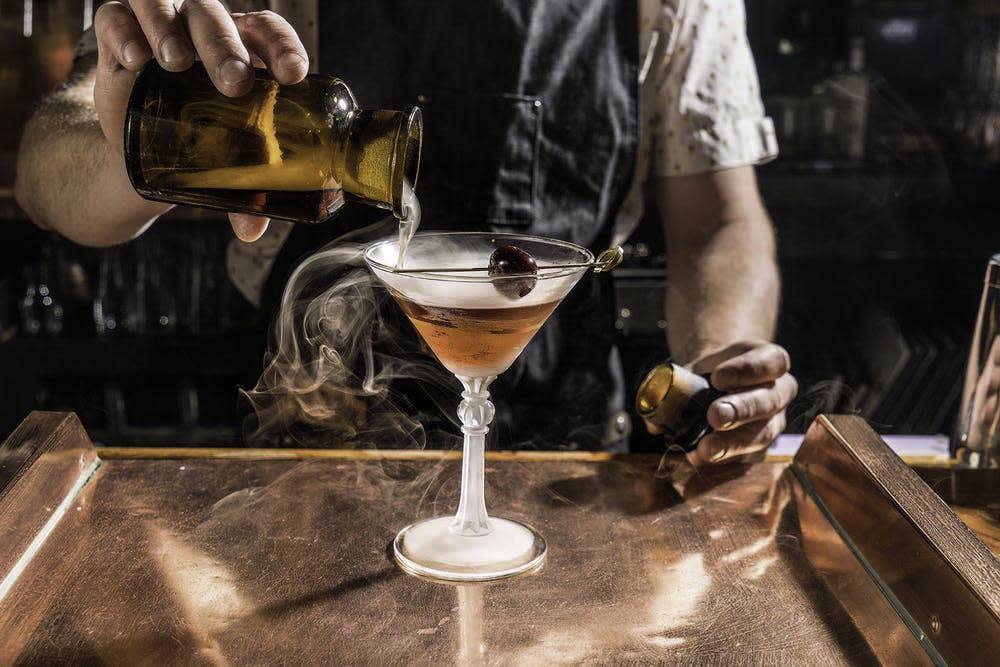 Put on a show when you order the Orehouse's best selling cherry wood smoked Manhattan. Made of Leopold Bros. small batch American Whiskey, cold cherry-wood smoke, cocchi vermouth, angostura bitters and a house brandied cherry, this show-stopping cocktail is more than you ever dreamed a Manhattan could be. It'll warm your core, lighten your head and pair perfectly with a hand cut steak or wild caught seafood. The Ore House has been around since 1972, making it one of Durango's oldest, finest and most loved restaurants for an intimate night out.
What you're drinking: The BLVD
Thank mixologist Nolan Robertson for this wild ride of a cocktail we just couldn't help but include. Picture this: Old Forester bourbon, benedictine, campari, Kahlua, fresh lemon juice, garnished with a lemon twist and served on the rocks in a bucket glass. If the sound of Kahlua paired with bourbon and lemon makes you squirm, fear not and trust the process. This drink is like a heightened Kahlua sour, well balanced with multiple dimensions of flavor. One sip and you're intrigued, but give it one more and you're hooked.
What you're drinking: California Waltz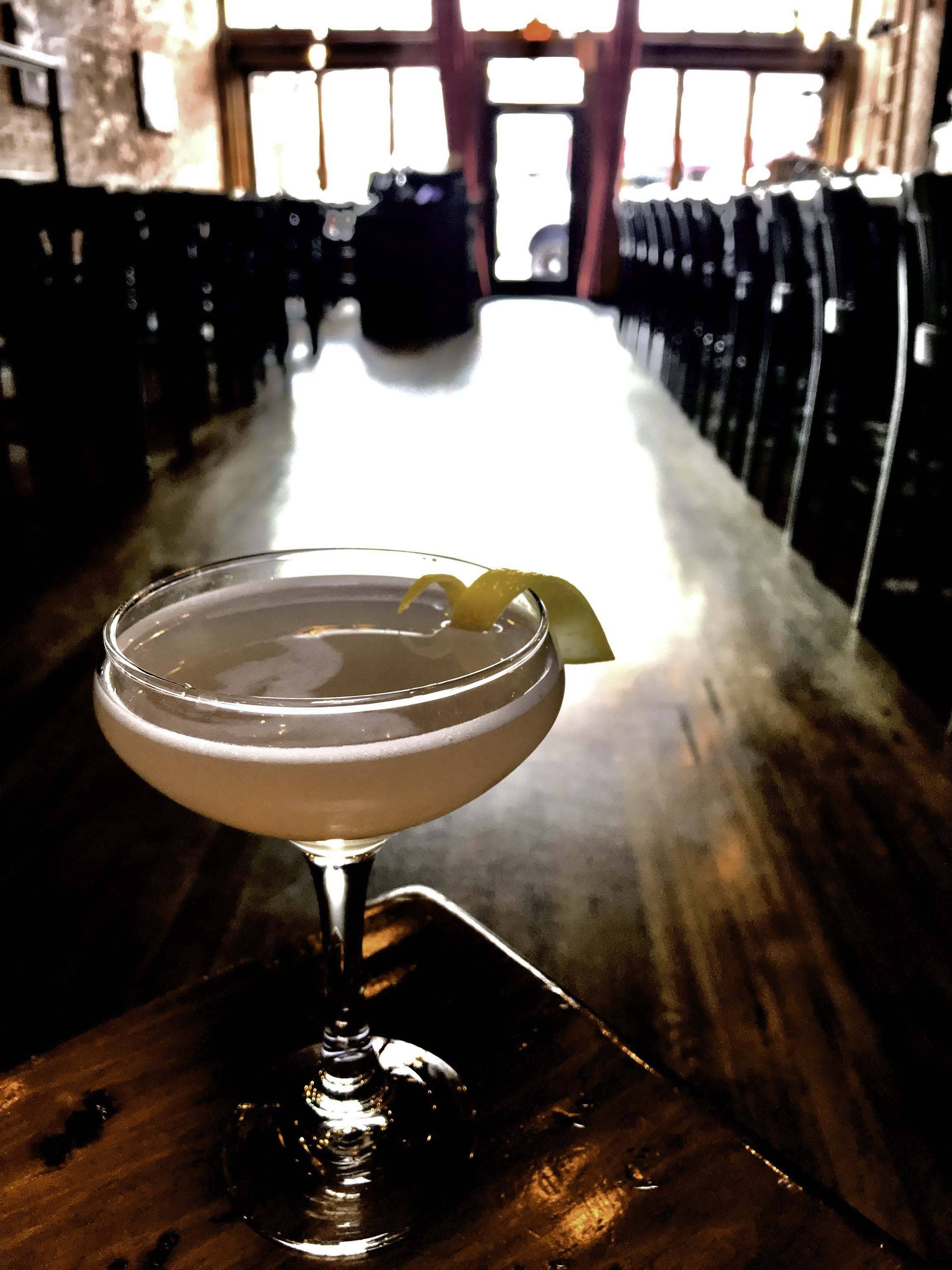 Food and beverage compatibility is an art, and nobody has perfected it quite like El Moro Tavern. Cocktails served here are as sweet and elegant as the space, an old saloon that has a lot of history and received a lot of love over the years. With such a refined menu, you can't go wrong with any recommendation. The California Waltz is quintessential El Moro, with its lavender infused Spring 44 gin, Lillet Rose, simple syrup and lemon juice served in a dainty coupe glass and garnished with a spiraled lemon peel.
What you're drinking: Pop Gin and Juice
Celebrate Durango's newest Asian bistro and bar, not only for owner Jimmy's unmatched food creativity, but also for what's been done to the classic gin & juice. Strawberries, mint leaves, simple syrup, gin and a splash of coconut water is what makes this refreshing drink great in any season. If you want to do it right, pair your cocktail with an array of tapas, from the Dynamite Mussels, Tako tiradito sashimi, Hamachi Supreme and Wasabi Honey Brie with sweet potato chips and fuji apples. Then, savor the ride to flavortown.
What you're drinking: Hawaii Five-O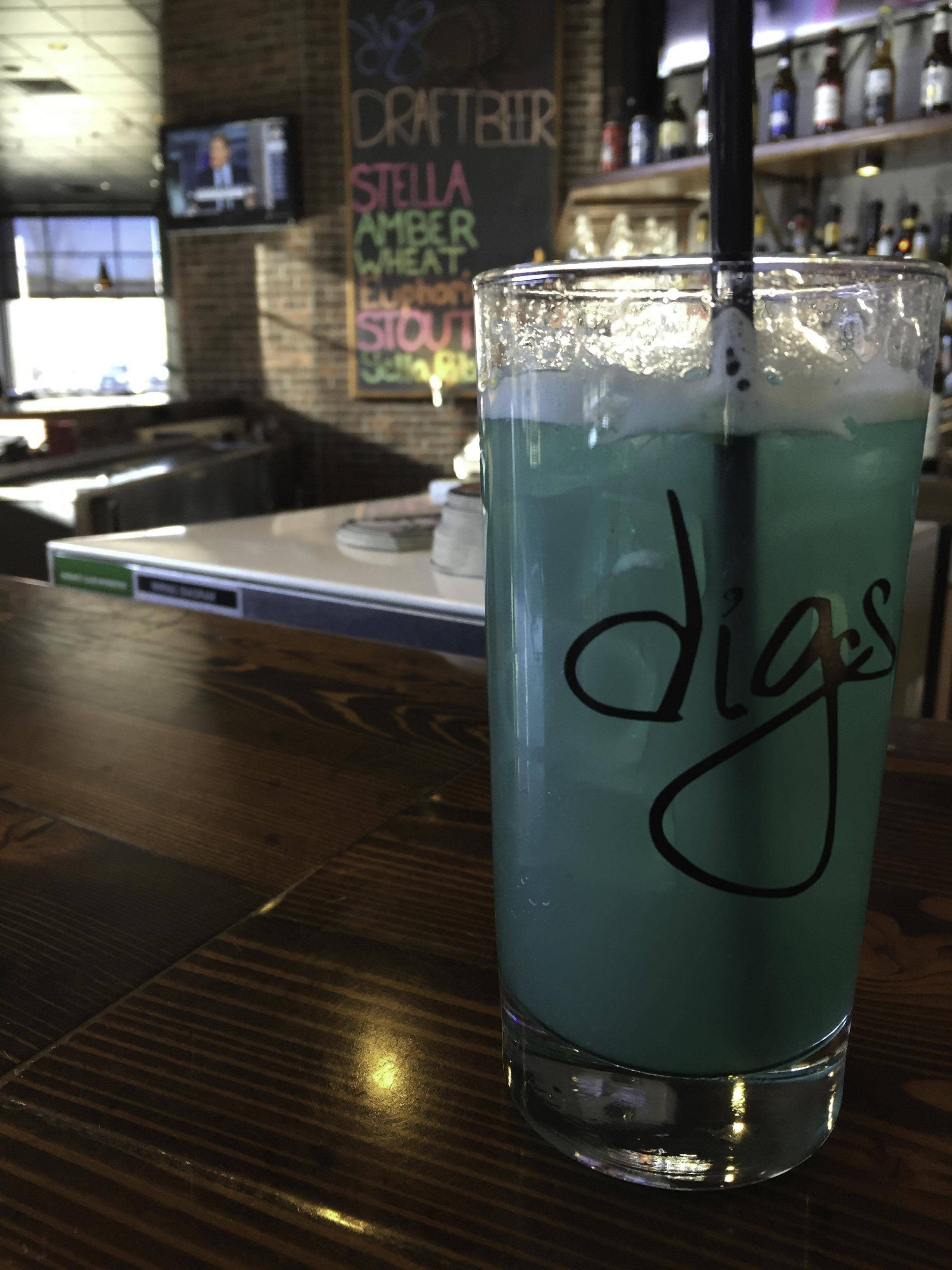 This local watering hole located in the Three Springs subdivision has its fair share of regulars, and you'll see why as soon as you kick back on the outdoor patio with your signature Hawaii Five-O. Made with Cruzan Rum, blue curacao, pineapple juice and a splash of in-house made sweet and sour, this vibrant drink will yank you right into summertime. It's dangerously well balanced, meaning it goes down quickly and is never too sugary. Pair it with your favorite burger or join for their Spaghetti Dinner, served every Tuesday from 4PM to close.
What you're drinking: Rory McIlroy
Durango's favorite Irish pub is 100% authentic, from the furniture, to the paintings, the glasses, the beer and the alcohol. It's all from Ireland! If you can pull yourself away from the Guinness for just one glass, the Irish Embassy serves up a variety of the best cocktails inspired by and brought from the homeland. Try something different and order up a Rory McIlroy, named after the famous professional Irish golfer. It's made from Killbeggan Irish whiskey, sweet vermouth and honey syrup. Pair it with fish and chips, because how can you not?
What you're drinking: El Diablo
We're still learning the full menu of Durango's newest Mexican cantina, a restaurant focusing on the more unique and creative side of Mexican cuisine. A dining experience that puts Tex-Mex to shame, Cantera loves spices, both in the foods and the drinks. The cocktail list makes frequent use of spices like cardamom, pink peppercorn, mint, star anise, lavender and saffron, and puts them in all the right places. Go bold with the unique El Diablo, made with Tanqueray gin, red bell pepper, lime juice, simple syrup and smoked rosemary for an herby concoction worth sampling at least once, or three times. We won't judge.
What you're drinking: Chocolate Thunder Tini
If any alcoholic drink required a warning label, it's the Snowdown award-winning Chocolate Thunder Tini from Ken & Sue's. Stoli vanilla, chambord, Bailey's, Godiva Chocolate liqueur, chilled with a touch of cream goes down too smooth, way before the sugar rush can catch up with you. Culinary entrepreneurs Ken and Sue Fusco have transformed this Main Avenue space into a place of affordable fine dining experience. Come in here to celebrate life's special moments, and make sure to treat yourself to an award winning favorite for dessert.
What you're drinking: Hard Basil Lemonade
All the fun of fancy drinks, less of the heightened atmosphere. You don't need to get all dressed up to enjoy unique cocktails at Fired Up, the place to be for wood fired pizzas. The name of the game is Basil Lemonade, a non-alcoholic craft beverage made in-house. Mix with hand shaken organic vodka for an adult twist. It's a simple, refreshing drink perfect for any day drinking event. Order it with a few slices of jalapeños to spice it up yourself, or pair it with the already heated Vesuvius pizza.  
What you're drinking: Elise
Everyone is flocking to 11th Street Station for the good food, good drinks, three daily happy hours and jamming live music at night. We're yet to order a bad drink from the pro mixologists behind the counter, and going off their recommendations is highly encouraged. Still, we can't get Elise out of our mind. Made with Cabrito tequila, Intense Ginger, rosewater, agave and lemon, this simple potion is light and sweet, with a bold zing of Barrow's Intense Ginger. Highly sippable and addictive, you can fear not when the buzz kicks in. Pair it with your favorite food truck snack, enjoy the live music, and perhaps opt for a walk home.
What you're drinking: Beet Around the Bush
A beet infusion and frothy egg white texture is what puts Derailed's gin cocktail a step above the rest. Slightly acidic and a whole lot of savory, it is blended with lemon and rosemary for the perfect foamy sip. Enjoy it while you watch your favorite sports game indoors or wind down your evening from the secluded back patio for a more heightened experience. This cocktail can be enjoyed in any season, but it's certainly summer done right.
Eolus, Main Avenue
What you're drinking: Sir Douglas Tompkins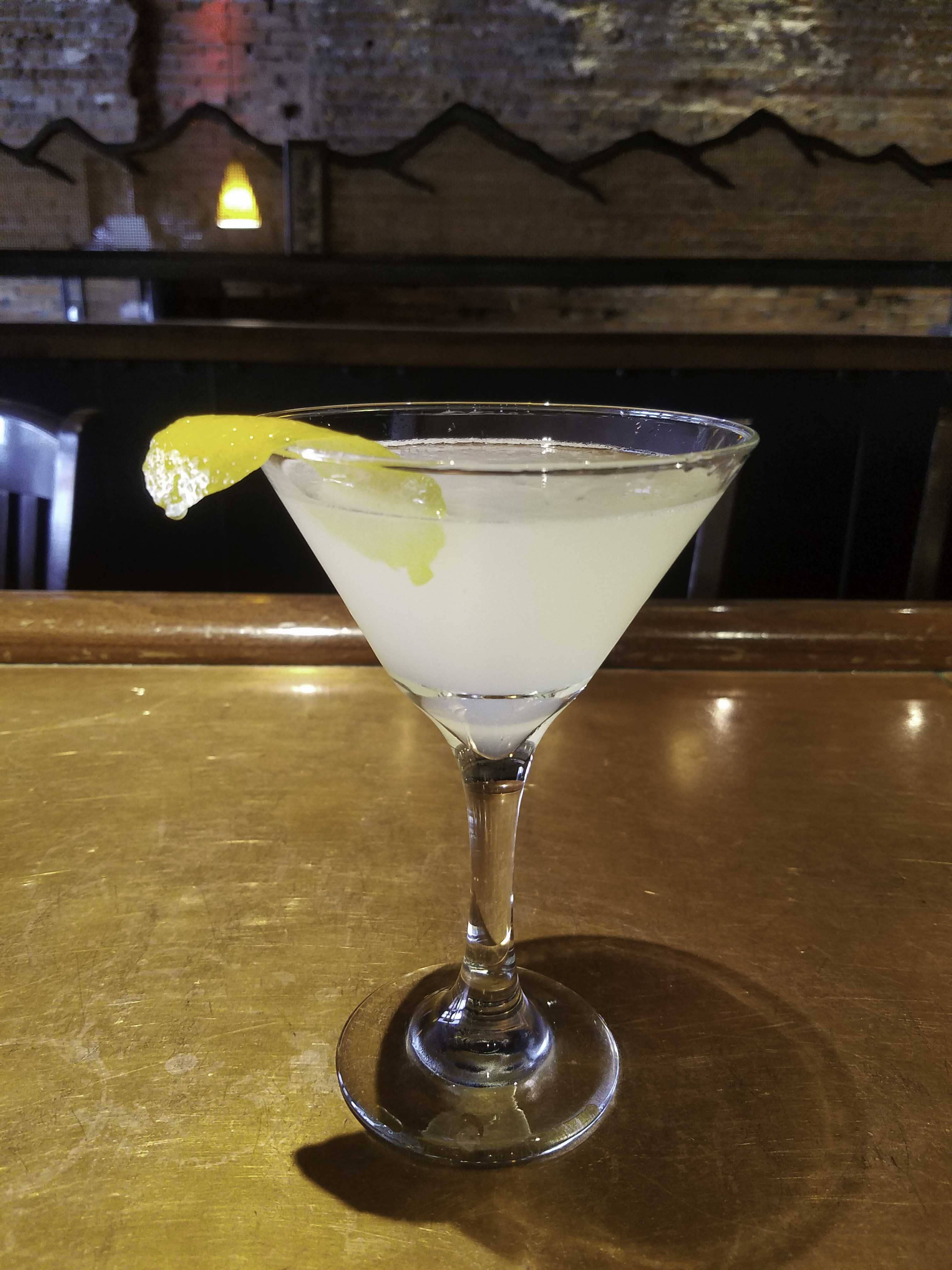 Inspired by none other than The North Face founder Douglas Tompkins, the Sir Douglas is a creative, fruit infused cocktail made in honor of conservation. The base of this cocktail is Trakal, a rare Patagonian spirit comparable to gin, and its 42% ABV is mellowed by pears, apples, native herbs and botanicals. Mixed in house with pear liqueur, ginger and fresh lemon, and shaken and garnished with a lemon peel, this slightly sweet martini has become a well loved mainstay at Eolus Bar and Dining.