If you were to plan a vacation to Colorado based solely on a geothermal map, your trip would lead you to the heart of the southwest corner of the state, and our beloved town of Durango. Southwest Colorado is a hotbed for hot springs and no matter what your schedule, it's easy to plan a trip to all three of Durango's nearby springs.
Below is our guide to the best Durango hot springs with tips on what to bring, when to go, and what to expect. Soak and swim in the natural waters of Colorado!
Depending on your interests, trip schedule and the time of year, it's easy to plan a trip based solely around visiting these mineral baths. If you'd like to extend your trip further, various springs line both the Million Dollar Highway going north and the road east to Pagosa Springs and beyond.
For the Sight-Seer: Pinkerton Hot Springs
Though there is little signage to go by, it's hard to miss this chromatic rock pile on the side of Highway 550. Make a point to pause on your early morning journey up to Purgatory Resort to take in a bit of history.
Pinkerton Hot Spring was discovered in the 1800s by explorer James Pinkerton, and quickly transformed into a resort and tourist attraction for all Americans to enjoy. Back then, hot springs were believed to possess life-changing healing powers, considered to be great for the skin, arthritis and potentially even longevity. It's said that even Marilyn Monroe made visits to soak in these healing waters.
Today, you won't find a pool or resort (it burned down a total of three times) but instead a unique, rare mineral feature. Back in 2001, the Colorado Department of Transportation altered the direction and flow of the spring by inserting a vertical pipe to protect the nearby vegetation and structures. Now the colorful, mineral rich rock pile builds upon itself indefinitely, creating unique formations, shapes and a kaleidoscope of colors.
Because there are no swimmable pools and the spring does not rely on snowmelt, this roadside attraction is an ideal destination year-round and serves as a great excuse to rest, stretch your legs, explore and take photographs. To enjoy Pinkerton, all you need to bring is yourself and good company.
For the Weary Traveler: Durango Hot Springs Resort and Spa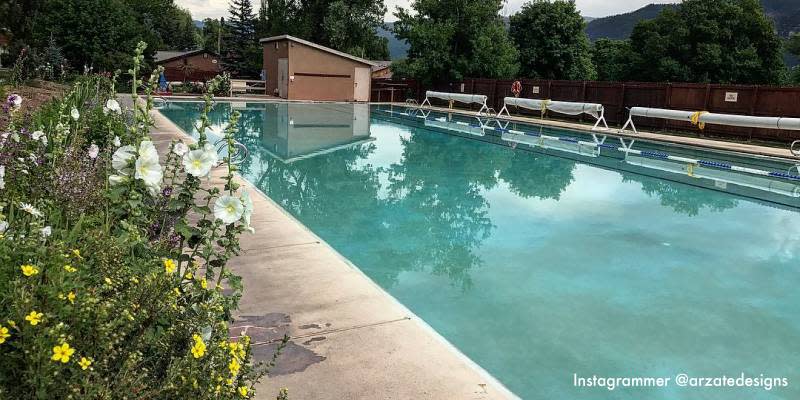 Nestled in the heart of the Hermosa Valley, just north of Durango, the Durango Hot Springs Resort and Spa (formerly Trimble Spa and Natural Hot Spring) serves as a place to rest your bones and heal your muscles. The pools are rich in calcium bicarbonate, sodium and iron, a combination said to support physical healing. Varying in temperature from 100 to 110 degrees, the pools offer a perfect rotation for soaking. In the summer and spring months, a vibrant garden surrounds the springs and visitors are likely to enjoy one of Durango's 300 days of sunshine. In the winter and sometimes the fall season, snowy conditions can create a winter wonderland feel, as snow dusts the neighboring forest and steam rises from the circulating waters.
As Durango's only resort and hot spring, Durango Hot Springs Resort and Spa will feature a heated pool (when construction is completed in 2020), two hot springs, a sauna and full spa. For after hour access to the pools, travelers can stay overnight at the guesthouse or romantic starlight room. During normal business hours, you may enjoy an onsite massage from the expert therapists.
Open 6 days a week (closed Wednesdays for cleaning), from 11:00 AM to 8:45 PM.
For the Road Warrior: Day trip to Pagosa Springs or Ouray
Both mountain towns offer an incredible selection of hot springs to sample. While not in Durango's immediate radius, they offer great day-trip options to see even more of what makes Colorado an incredible place to visit. If you're a beverage connoisseur, be sure to check out the Crafted Beverages of Southwest Colorado, which features the unique craft beverages of each of these areas. Enjoy a delicious craft beverage and soak in healing waters, while surrounded by the beauty of Southwest Colorado!
Here is a list of some of our favorite options in Ouray and Pagosa Springs (not all-inclusive)
The Springs Resort and Spa: This beautiful resort is situated right on the San Juan River in Pagosa Springs and offers a large selection of pools and temperatures.
Overlook Hot Springs Spa: Located in the heart of Pagosa Springs, this unique establishment offers 5 indoor pools set in a Victorian backdrop. You can also enjoy views of Pagosa Springs from their rooftop pools.
Ouray Hot Springs: This link does a good job describing the options in Ouray!
For the Adventurer: Find your own hidden hot springs in the middle of nowhere!
There are a handful of wild, natural hot springs in our corner of the state. Create your own adventure and find these locals' hidden gems yourself! Just remember to practice responsible tourism practices-- pack your trash in and out, respect trails and wildlife, and always be prepared for any and all weather!