Love is in the air and in the mountains of Durango, Colorado. Our alpine home is a nest for lovebirds of every variety: the adventurous, spontaneous, the aprés lovers and those just looking for a cozy escape from reality.
Whether you intend to celebrate your relationship with outdoor adventures or an intimate night of luxury, Durango is where the magic happens. Follow our four uniqe itineraries or mix and match the plans to create your own ultimate day of romance.
For The Spontaneous Couple
You're not one for written agendas or tight schedules. Booking a reservation is just too big of a commitment. We get it. There are plenty of activities and food options around town that require zero to minimal planning.
Where to Stay: A Bed and Breakfast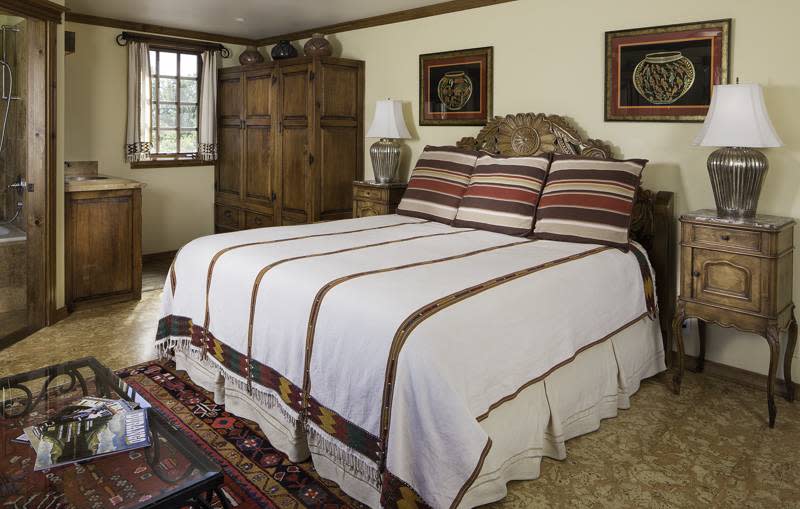 Blue Lake Ranch Bed & Breakfast
What's more spontaneous than spending the night in a 3-story historical Victorian home?
The Gable House Bed and Breakfast, just a five minute walk from the Durango Arts Center, will set you up perfectly for your day of exploration. While you're not guaranteed a room without a reservation, it's not the only bed and breakfast with lovers' wants in mind.
Breakfast: El Moro Spirits and Tavern
If you opt out of the B&B complimentary breakfast, run over to Main Avenue to check out El Moro. A bar by night and a breakfast-lover's paradise by day, El Moro is our iconic brunch destination, with their full list of benedictions, artisan cocktails and hangover-absorbing goodies. Despite its popularity, there is rarely ever a wait and a reservation is not required.
Morning Activity: Ski at Purgatory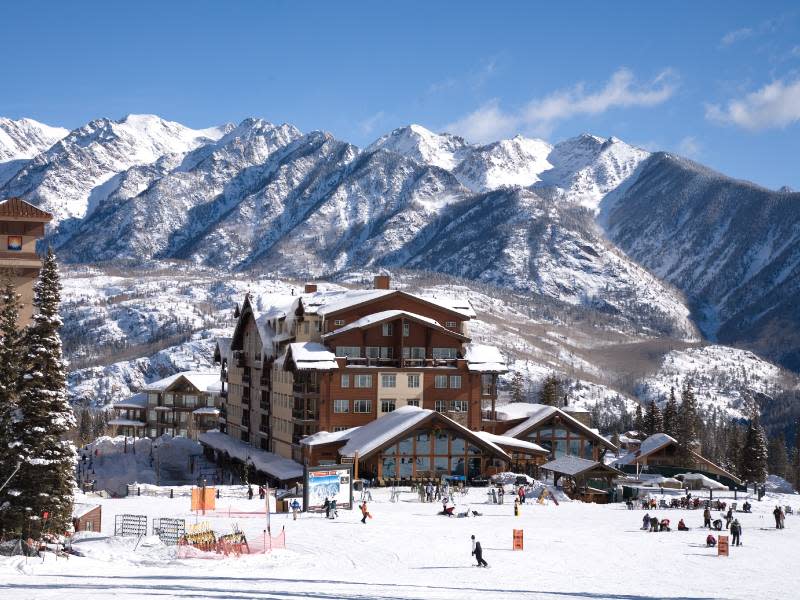 February skiing is a dream come true, from the short to nonexistent lift lines to the big snow base, and ideal winter conditions. Ski Purgatory in February and enjoy this sweet shoulder season between New Years' crowds and Spring Break. Purgy's will also be featuring a four course Valentine's Day Dinner from 6 - 9 PM (reservations are recommended for this).
Lunch: Mutu's Italian Kitchen
If you make your way back into town for the afternoon, sit down for a heavy or light lunch at Mutu's Italian Kitchen on Main Avenue. With its extensive menu, 5-star chef, and intimate Italian atmosphere, Mutu's offers a perfect midday pick-me-up for the traveling couple. Sample a grilled shrimp oreganta plate, caprese salad, and take the waiter's recommendation for the salmon champagne.
Afternoon Activity: Stroll Historic Downtown Durango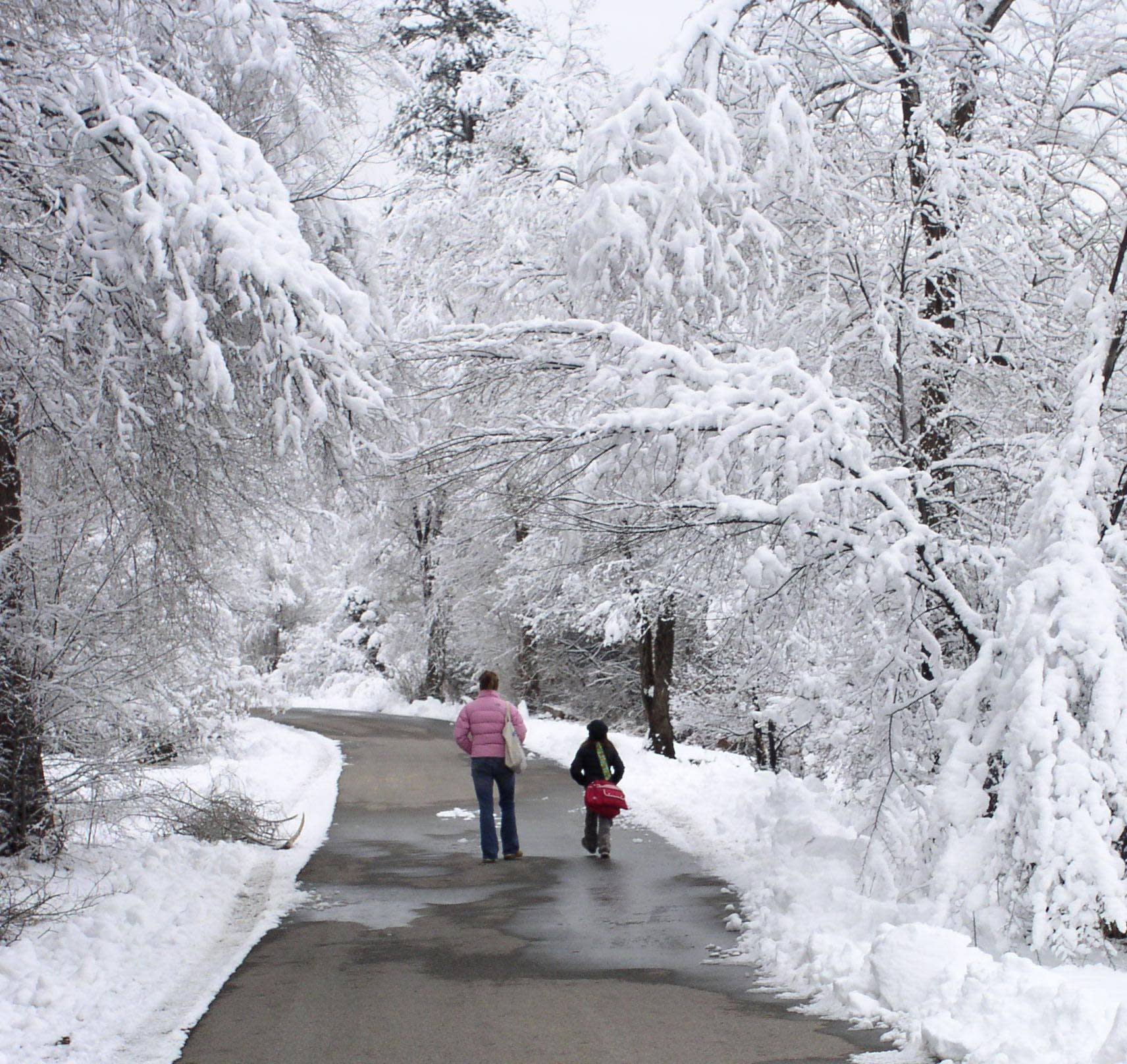 While you're in town, help your belly digest by taking a stroll in our historic downtown. Follow the Animas River Trail, feed the fish at the Fish Hatchery and sit together on a loveseat by the water. You can even shop for Valentine's Day gifts together at the extensive array of boutiques and shops on Main Avenue. Find a new fly fishing vest for him at Durangler's, a farm table candle for her from Urban Market, or a new cookbook from Maria's Bookshop for both of you to try new things together.
Dinner: Pop Sushi
Durango's newest sushi and tapas restaurant is a must-visit, whether you've been coming to Durango for years or are here for the first time. Rice Monkey owner Jimmy Nguyen launched Pop Sushi with intention to create classic sushi and Japanese dishes with a twist, making this a place renowned for fusions and specialty cocktails. Pop Sushi does not take reservations, so though you may face a short wait, it'll all be worth it once you taste the hamachi cure, with applewood smoked yellowtail, tossed with asian pear, tobiko, golden raisins and scallions.
For The Lavish Spenders
Spare no expenses when celebrating your love for one another. Nothing is too good for the love of your life and you're looking for the romantic, luxurious getaway to match. Enjoy evening strolls, romantic train rides and exquisite dining experiences at all the top places.
Where to Stay: The General Palmer Hotel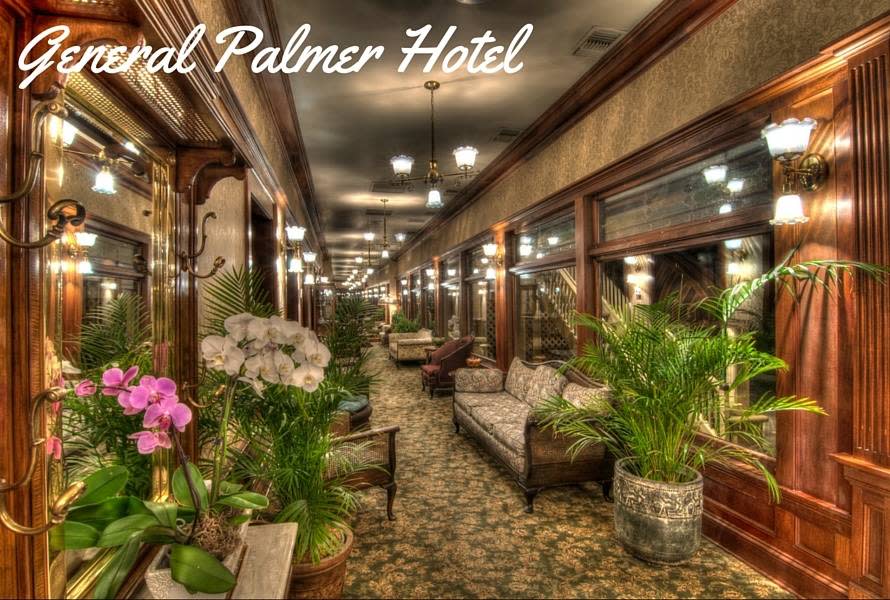 Vintage meets luxury at the General Palmer Hotel. With 39 luxury rooms, great views, and access to all of downtown, this Victorian hotel offers a magical look into our city's past. One of our favorite rooms for couples is the Presidential King Suite where you can enjoy a wetbar, jucuzzi tub, kitchenette, and beautiful views.
Breakfast: Jean Pierre Bakery
Just a few blocks away from the General Palmer sits the beloved French cafe known as Jean Pierre Bakery. The pastries are divine, the eggs bennedict is unmatched, and the mimosas are made to order with fresh oranges in the cafe.
Morning Activity: Take the Valentine's Day Special Durango Train Ride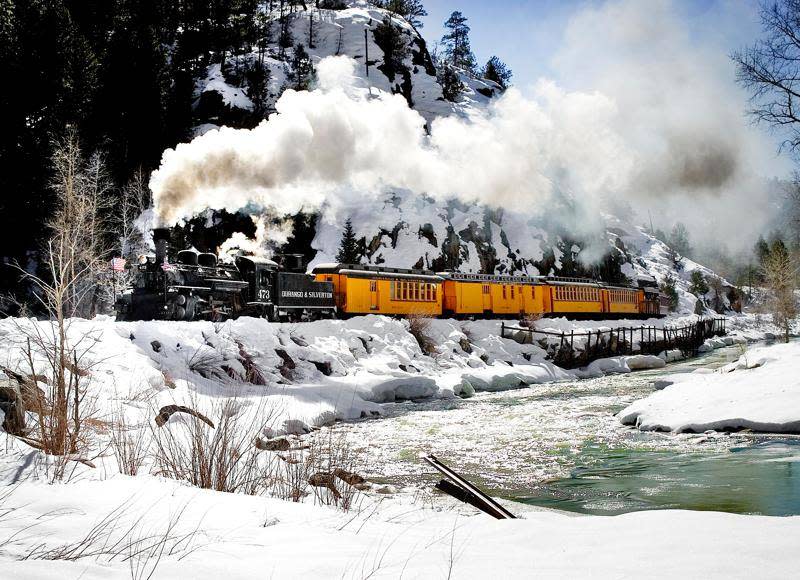 Experience true romance on the rails as a first class passenger on the Durango & Silverton Narrow Gauge Railroad. The pièce de résistance of your day includes a five hour exploration, complete with sweets and champagne, of Cascade Canyon via the Durango & Silverton Narrow Gauge Railroad. At Cascade, you and your loved one will enjoy hot chocolate in front of a crackling fire. The train departs at 9:45 am and returns at 2:45 PM.
 
Lunch: Chimayo Stone Fired Kitchen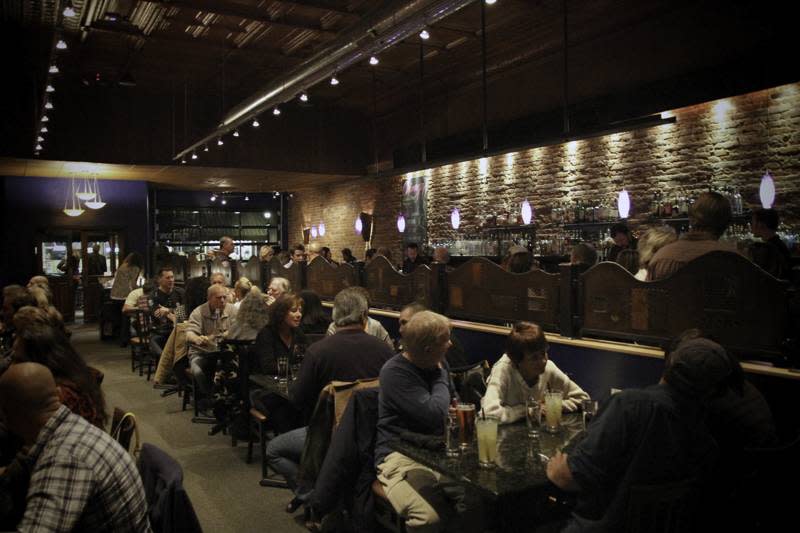 If biking really worked up your appetite, you'll love winding down at Chimayo Stone Fired Kitchen on Main Avenue. The fire-roasted jalapeño guacamole or housemade foccaccia bread with chipotle honey butter is to die for, and that's to say nothing about the butternut squash soup, found occasionally as a special on the menu.
Afternoon Activity: Take a Tandem Bike Ride of the Animas River Trail
Weather permitting, a bike ride down the 7-mile winding path of the Animas River Trail is a great way to see a lot of town at your own pace. 2nd Avenue Sports, located on 640 E 2nd Avenue, will rent you and your loved one a tandem for the day (if they have them in stock) and send you on your way. Cross over river bridges, travel down to the Whitewater Park, take your pup to the dog park or your children to the Jungle Gym, Durango's newest obstacle course gym. All of these things can be found along your way.
 
Dinner: Mahogany Grille at the Strater Hotel
As part of your package with the train station, your twilight trip into town will lead you back for a romantic, serenaded dinner at the Historic Strater Hotel. Choose from their special holiday menu and have everything taken care of for you.
For The Outdoor Fanatics
Play hard and love hard; take your partner on the adventure of a lifetime, with a romance-spin. Pack the champagne and Animas Chocolate Company chocolates, and enjoy all the epic outdoor activities of Durango as a team.
Where to Stay: A cozy cabin retreat
There are countless home rental and cabin retreat options around Durango, along with our array of hotels and bed & breakfasts. A cabin retreat will keep you close to the mountains and the person you love. The cozy riverside cabins at O-Bar-O are located on the Florida Road; here you can completely customize your stay with special packages. As part of the "I Do, Again" package, you will have one dozen roses and mugs filled with Rocky Mountain Chocolate Factory chocolate waiting for you upon check-in. Other packages include a full fridge fill-up, couples' massages, commemorative robes, charcuterie trays, s'mores and more.
Morning Activity: Snowshoe Molas Pass
Perhaps you've skied Purgatory Resort the last few days and want something more intimate for the big day. Grab your snowshoes or cross country skis and take them up to the crisp, snowy air of the alpine. Molas Pass, because of its expansive space and opportunity to customize your trip, is perfect for a morning excursion. Please pack out everything you bring and bring your own map. It can be easy to get off-trail in snowy conditions.
If you'd prefer not to worry about planning routes and packing food, Purgatory offers Alpenglow snowshoe tours in the evenings at the resort. They'll pack you hot chocolate, wine, beer, fruits and cheese and make sure you have the perfect outdoor experience.  
Lunch: Pack a picnic lunch for your journey
Animas Chocolate Company, Honeyville, and PJ's Gourmet Market are all located along the road going north. Pack a full basket of artisan wines, cheese and meats at PJ's, and couple the meal with special honey-infused jellies found at Honeyville and rich and divine sea salt chocolate from Animas Chocolate Company.
If you want to really go the extra mile, Tippy Canoe on Main Avenue sells backpack-friendly Pendleton picnic blankets and Urban Market offers a wide selection of camp mugs and glasses. Create a meal fit for a king and queen.
Dinner: Carver Brewing Company
After a full day of sweating and climbing, you deserve to wind down with a beer and good company at one of Durango's favorite microbreweries. Carver Brewing Company, known for its epic brunch list, is located on Main Avenue. Less popular but just as excellent is their eclectic and varied dinner list, which features everything from tacos, burgers, pizza and nachos, to spicy Korean pork noodles, scallops and prosciutto vegetable hash and beer braised beef tips. Close the deal by sharing a slice of Carver's peanut butter chocolate cheesecake.
When you're done and ready to return to the lovenest, make sure to fill up a growler of their award-winning beer on your way out.