Summer is the season of adventure in southwest Colorado, a time for mountain climbing, river rafting, and deep wilderness exploration. As one of the oldest, safest, and most convenient guide companies in town, few know adventure better than Durango Rivertrippers.
This summer, join the Durango Rivertrippers for a seamless vacation experience. Take the fuss out of trip planning and leave logistics to the experts. For a taste of what the ultimate three-day weekend in southwest Colorado can truly bring, check out this day-to-day itinerary with Durango RiverTrippers.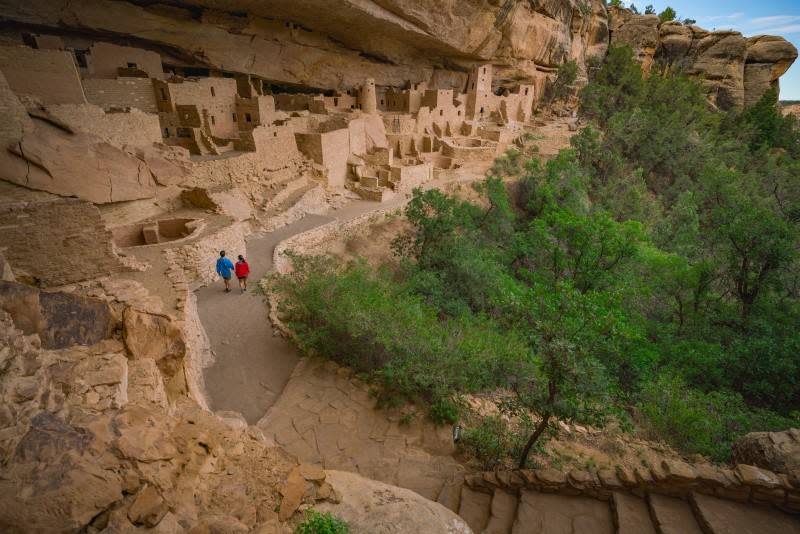 Friday: An All-Inclusive Tour of Mesa Verde National Park
Get an early start on your three-day weekend with a mid-morning tour of Mesa Verde National Park. Home to more than 5,000 archeological sites and some of the most well preserved Puebloan cliff dwellings in the nation, the park provides a rare opportunity to step back in time and experience the southwest as it was one thousand years ago.
On a Rivertrippers private VIP tour of Mesa Verde, you gain direct access to a wealth of information, skip the crowds and entrance fees, and gain intimate access to the park. Explore ancient ruins firsthand, fully customize your experience, and enjoy your own private tour of dwellings, kivas, and ancient houses. Each tour includes a personal guide, lunch, park entrance fees, guided ranger tickets, and transportation to and from the park.
At 8 AM, enjoy a convenient departure straight from your hotel. Kick back on a scenic 40 minute drive to the Mesa Verde visitor center. After arriving at the park around 9, you'll have free reign to spend as much or as little time as you'd like at every must-see sight. After a provided gourmet lunch from a local business, choose to keep exploring destinations like the Cliff Palace and Balcony House or hike the Point Lookout Trail Petroglyph Point Loop.
You'll arrive back in town around 3:30, giving you time to get refreshed before dinner. For the cherry on top of a perfect day, unwind for an indulgent meal at favorite restaurants like Mahogany Grille, Seasons, or Eolus.
Saturday: A Half-Day Whitewater Adventure
With 300 beautiful days of annual sunshine in Durango, hitting the whitewater is a local favorite pastime. Enjoy the sun on a 2-hour, 4-hour or half day rafting trip, or even a guided kayak trip with Durango Rivertrippers. A family-friendly activity, expect to get wet and rowdy on the Animas River where you'll find wild Class II and III rapids like Smelter, Sawmill, and Santa Rita.
The fun begins at 9 AM at the Durango Rivertrippers downtown location. Arrive 10 minutes early to check in, prepare for the required safety orientation, and get suited up for the river. Around 10 AM, you'll be cruising down the lower Animas river with an expert guide and paddle in hand.
Don't forget the sunscreen, water bottles, and GoPros. For three hours, you'll be launching in and out of rapids, flying through chutes, and sunbathing under the Colorado sun. Your professionally trained guide will point out all the big sights and wildlife you may see along the way, as well as provide a riverside snack on the beach.
After arriving back to the Rivertrippers headquarters around 1 PM, your guide will take care of everything. With the Family VIP Package, you can claim a set of action photos from your trip and shop the gift store after your arrival.
If you're famished from all the fun, head over to Main Avenue for a well-deserved lunch at Grassburger. Enjoy 100% USA grass-fed beef burgers and the best sweet potato fries around.
Sunday: A 4x4 Tour of the La Plata Mountains
After exploring ancient civilizations and tackling the wild Animas River, complete the adventure trifecta by taking a Sunday 4x4 Tour of the La Plata Mountains. Spanning from the lowest canyons to some of the tallest peaks, a weekend with Durango Rivertrippers brings the best of all Durango has to offer.
Beginning at 1 PM, this family-friendly excursion will take you up out of Durango and around some of the southwest's most rugged and scenic wilderness. The four-hour tour follows a jeep trail, climbing up to Kennebec Pass at 12,000' above sea level, and winding through the mysterious ghost town of La Plata City.  As the only guide company to offer access to their own private mining claim, the Rivertrippers Jeep Trail tour provides intimate access to the incredible history and spooky side of southwest Colorado.
As always, a professionally trained guide will be at the wheel and ready to answer all your questions. Don't forget the camera - With mountains, waterfalls, and wildlife filling the backdrop, the Durango Rivertrippers 4x4 tour is the piece de resistance of the ultimate outdoor weekend.
You'll arrive back home safely before 5 PM with enough time to prepare for your final dinner. A meal at the Ore House, Durango's favorite steakhouse, will likely convince you to extend your vacation just a little while longer.
--
Serving as Durango's premier rafting specialist for over 35 years, Durango Rivertrippers champions an untarnished safety record and unrivaled convenience. Celebrating a near-religious passion for adventure, the company delivers the kind of laugh-from-your-belly, smile 'til your cheeks hurt kind of fun you'll talk about for years. Whether you're conquering Class III rapids, climbing through rugged mountain passes, or gaining an intimate look at ancient Puebloan ruins and abandoned mines, Durango Rivertrippers transforms singular experiences into lifelong memories.
It's never been easier to book your vacation with Rivertrippers. For a seamless vacation with no-fuss planning, check out their website where you can choose from a number of outdoor adventures and package experience.
This post was sponsored by Durango Rivertrippers