Of all the decisions to make in life, the choice between cheap, fast, or delicious food and drinks shouldn't be one of them.
That's why the top chefs and bartenders in Durango have never settled. They're accommodating to a wide audience of college students, vacationing families and high-caliber athletes, and are always striving for the most creative infusions of locally grown ingredients at a fraction of the cost.
These are some of the top food and drink deals in Durango, including the dishes that do everything: serve the most bang for the buck, tingle the taste buds and never, ever break the bank. So cheat your diet and splurge a bit, because remember-- you burn more calories at our elevation.
Breakfast Deals:
Steaming Bean Coffee Shop offers a $7 burrito and coffee combo every morning at their location on Main Avenue. That may not seem like much until you hold the colossal tortilla-wrapped goodness in your own two hands. These heavy things are made fresh every morning and packed ready to go. With burrito options for both vegetarians and meat-lovers, the whole family will be set and fueled for hours of adventure.
Durango Diner, located on Main Avenue next to El Rancho, is highly regarded for its huevos rancheros, a dish legendary for its size, weight and pure deliciousness. You have to order it Christmas style, topped with both red and green chile, for the full experience. While it doesn't come at a discount, the prices at Durango Diner are reasonable, especially given the price to calorie ratio. If you'd like, you can even order your food from El Rancho next door, so you can couple your meal with the perfect cocktail.
Lunch Deals:
The gourmet all-you-can-eat buffet at Himalayan Kitchen is almost too good to be true. With body-warming, Nepalese dishes made specifically to fuel mountain sports, this quick and easy stop is a guaranteed win. For just $11.99 per person, you can dine on chicken tandoori, chicken tikka masala, curry, gulab jamun and countless other favorites until your heart is content. And bonus: Kids under 5 years of age eat for free!
Fathers Daughter Pizza, located on Main Avenue at the corner below the Balcony Bar and Backstage, is known for its Gigantor 26" pizza slice. Yes, slice. Their most appreciated dish may be the Durangotang, a college favorite with traditional cheese served with a PBR for only $6.
Zia Tacqueria puts any Chipotle burrito to shame and offers daily specials on a variety of dishes, with $8 chicken enchiladas on Monday,  $8 Chile Rellenos on Tuesday, and Thursday Carnitas tacos starting at $2.60.
Machos is another great option if you want a delicious burrito in a bag to go! 
Nature's Oasis Deli has an awesome assortment of salads, sides, sandwhiches and more. This is a great stop for the health-concious folks.
Happy Hours
A lesser-known fact outside of Colorado: happy hours were invented for the weary skiers who spent all day carving fresh turns. I totally made that up, but it's no coincidence that the 4:30 closing of the lifts at Purgatory is promptly succeeded by insanely delicious and decadent food and beverage deals back in town.
Guido's on Main Ave has a heck-of-a-deal on Wednesdays (all day): $1 glass of house wine, limit 3. That's right, one dollar a glass.
Olde Tymers Café at 1000 Main Avenue offers different deals every day, with $5.50 burgers every Monday, $2.50 pints on Tuesday, $2 tacos on Friday and more. Olde Tymers has an old school, rustic vibe and a great back patio for spring afternoons.
If Italian food is on your mind, Mutu's Italian Kitchen at 701 East 2nd Avenue offers half priced appetizers from 4:00 – 6:30 P.M.
11th Street Station has taken Durango by storm and is rocking it with their mimosa flights, specialty cocktails and beloved 'after work' happy hour from 4 – 6 P.M. with $1 off draft beers, wells and cocktails.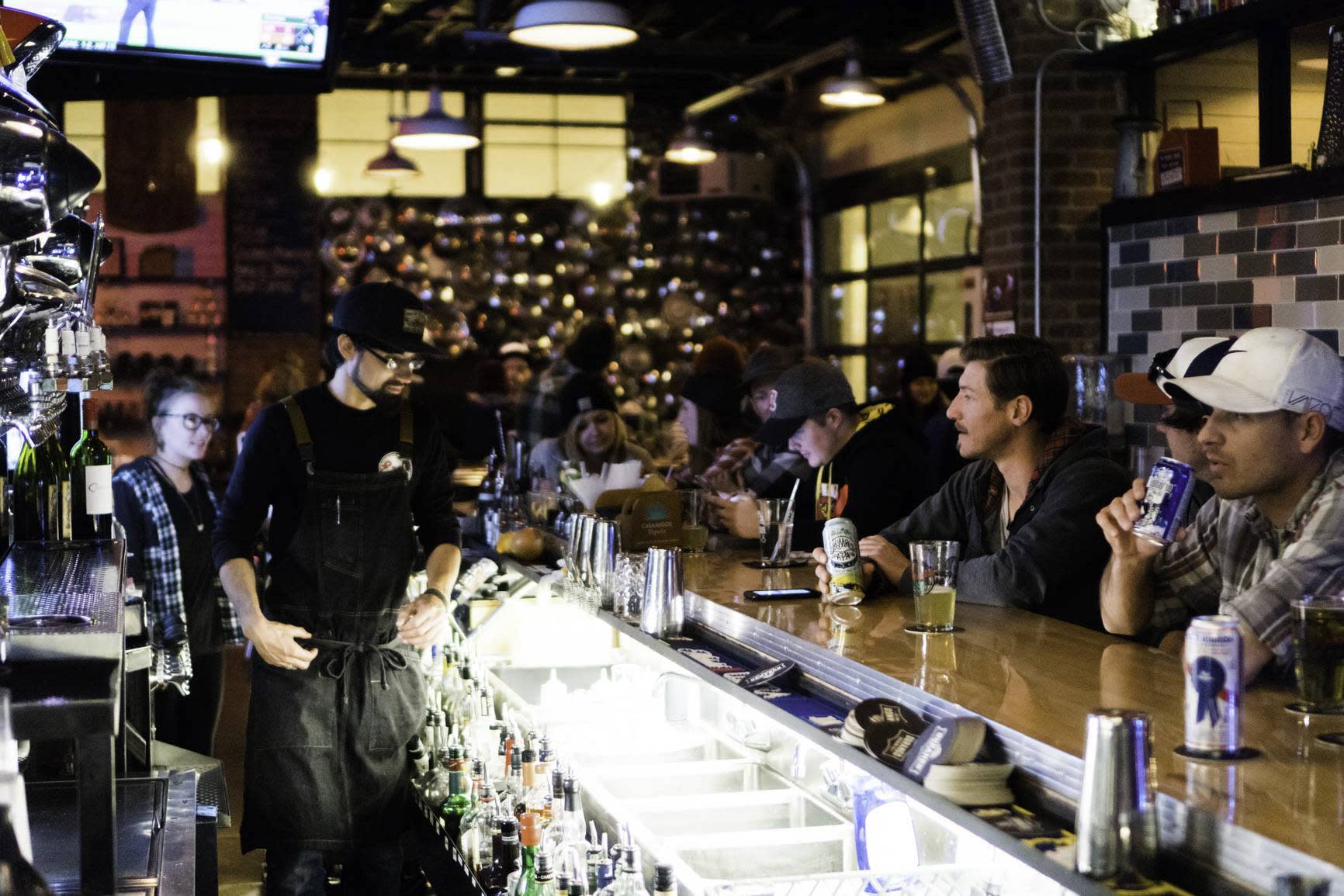 PC: Cole Davis
The Bookcase and Barber is a must-visit for any visitor, for the sole experience of having a cocktail in a prohibition-style secret bar. You'll need a password to find out what lies behind the bookcase, which is conveniently offered on their social media pages. Social media is also where they will share the passwords to $5 Manhattans on Monday.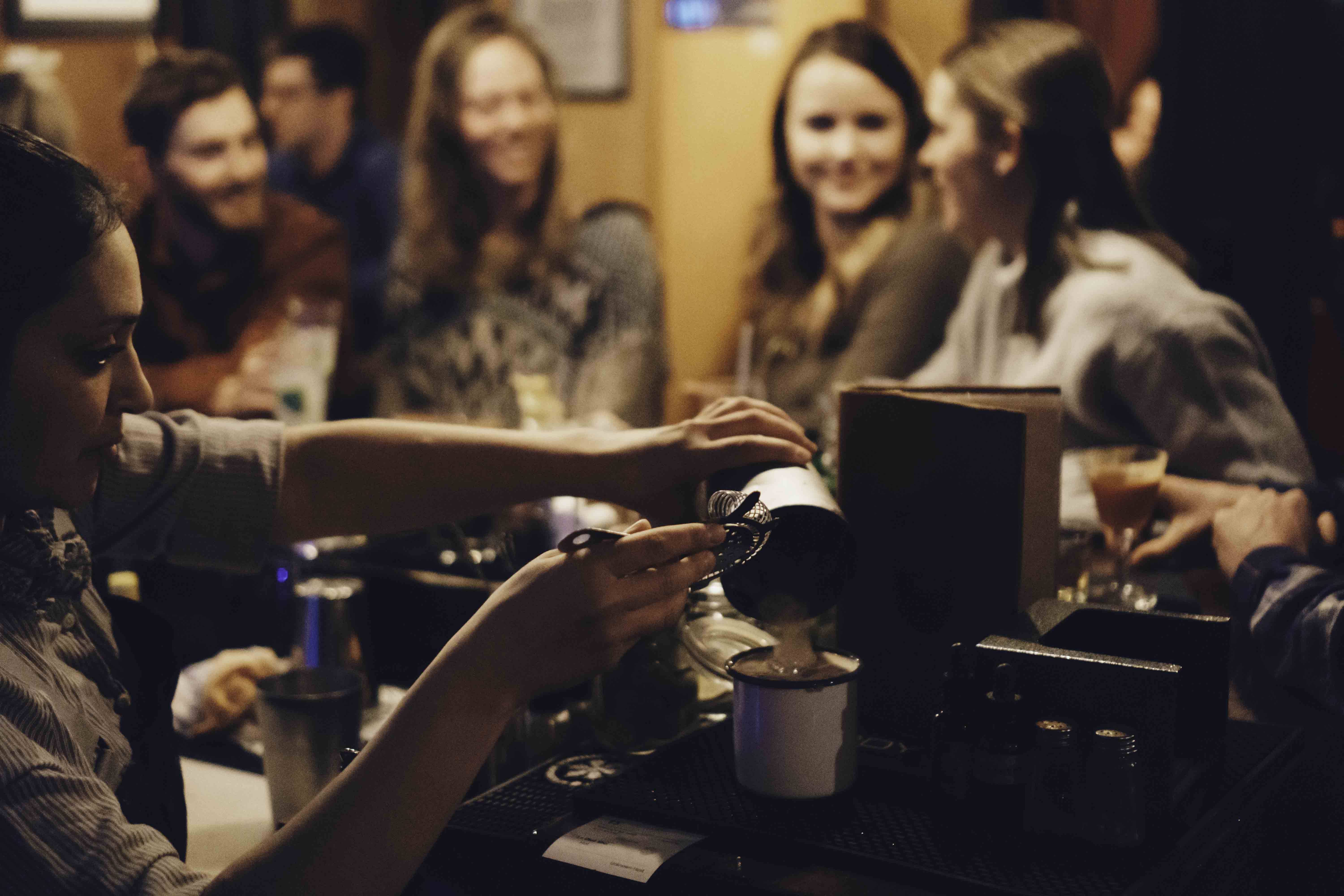 PC: Cole Davis
Highway 3 Roadhouse and Oyster Bar is located off of Main Avenue, at 955 Colorado Highway 3. This Cajun restaurant serves up the best happy hour for oysters on the half shell. Time your trip for a Wednesday, Thursday or Friday to earn an $8 half-dozen or $16 dozen of raw oysters. Each Wednesday is a Gentlemens' night with beef sliders for only $3.50, while Thursday's Ladies Night serves up $5 martinis, wine, and appetizers.
Durango Brewing Company may have stopped serving food for the time being, but their beer still stays top-notch. Happy hour runs daily from 2 – 5 P.M., with $3 pints of their local brews.
Happy Hour Yoga at Ska Brewing is an awesome way to earn your brew. Each Monday from 5:30 to 6:30 P.M., the brewery hosts a 1 hour yoga class upstairs for $10. As soon as class finishes, you'll receive one draft beer free! Additionally, each day of the week offers a new special with $2 pints on Monday before 5 P.M. and $1 off growler fills on Saturday, among others.
Brew Pub and Kitchen offers $2 off draft beers and wine and $1 off well drinks every weekday from 4 – 6 P.M.
Seasons Rotisserie & Grill's daily 2 hour 'happy hour' offers specialty mules, chardonnay and snacks for only $5 each.
If you're looking for a cozy dining experience closer to Purgatory Resort, Sow's Ear restaurant serves a $12 burger as part of their 4 – 6 P.M. happy hour that the locals swear by.
Attention all beer lovers, stop everything you're doing and plan to visit Steamworks Brewing Company during their happy hour. Enjoy $3 pints every day from 3 – 6 P.M, $3 pints all day on Thursdays, and $1 10oz & $2 20oz beers from 3pm-5pm on Fridays. This award-winning brewery was the first in Colorado to brew a beer from 100% Colorado ingredients (the Colorado Proud Pale Ale), with barleys from Alamosa, yeast from Woodland Park and even water from the San Juans. Each day hosts a new different special, with $11 pitchers all day Monday, 2 for 1 drinks after 9 P.M. Tuesday, a Ladies Night on Saturday, and even a Sunday Bloody Mary for $4.25. A place where the locals go, you can enjoy fast service and delicious entrees to go along with your deals.
Dinner Deals:
Rice Monkeys, at 1050 Main Avenue, offers a special happy hour menu from 5:00 to 6:30 with $2 off hot sake, specialty drinks and martinis. Everything on the menu runs from $4 - $11, with all hand rolls only $4 each!
The Office Spiritorium at the Strater Hotel is a true local's favorite. Happy hour runs daily from 4 – 6 P.M. with well drinks, wines and cosmos for $4, along with $3 draft beers from Durango Brewing and appetizers starting at $4.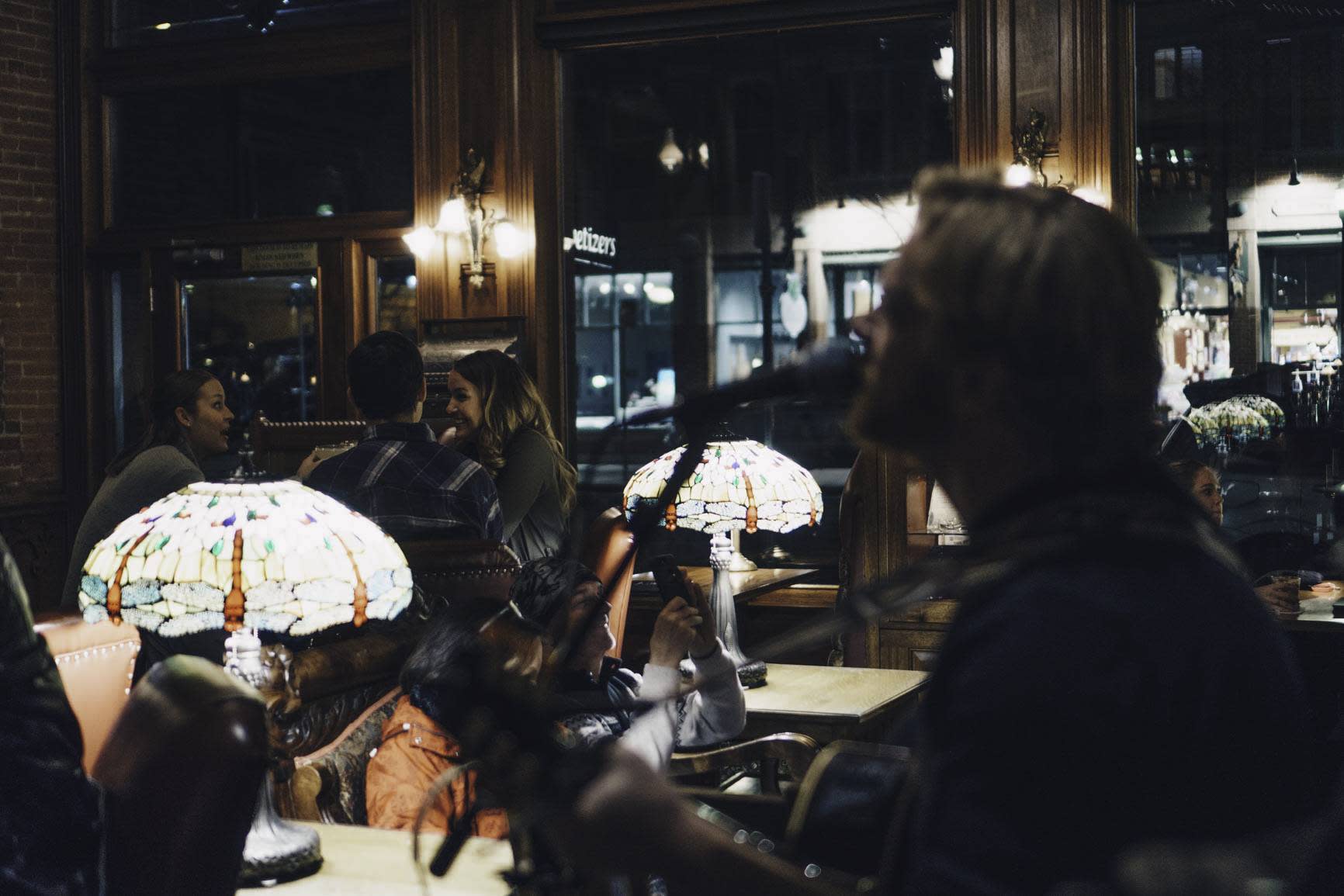 PC: Cole Davis
Celebrate your birthday at the Ore House, where you'll receive your age % of a discount off on your meal.
Eolus Bar and Dining, a recipient of the award of excellence from Wine Spectator, holds a solid happy hour every evening with $3 draft beers and a unique Thai Tini for $5 among other options. With discounted sushi rolls and appetizers ranging from $6 to $9, this intimate restaurant offers a nice reprieve from the hustle outdoors, for a discount of the price. Happy hour runs from 5 – 6 P.M.
Derailed Pour House probably offers the most plentiful options as far as happy hours go. From 3 – 6:30 P.M, you can expect a dollar off drafts, $6 appetizers, and $4 wine among other specials. Each day is a different celebration, with Wednesday's Taco and Margarita Night being the real local's favorite, serving house smoked pork tacos 2 for $6.
Carvers Brewing Company hosts a happy hour from 3 – 6 P.M., an ideal time to try a flight or pint of their beloved beers, with $3 pints. The brewpub hosts a Sunday brunch that is to die for, with perhaps the most delicious bloody mary in town.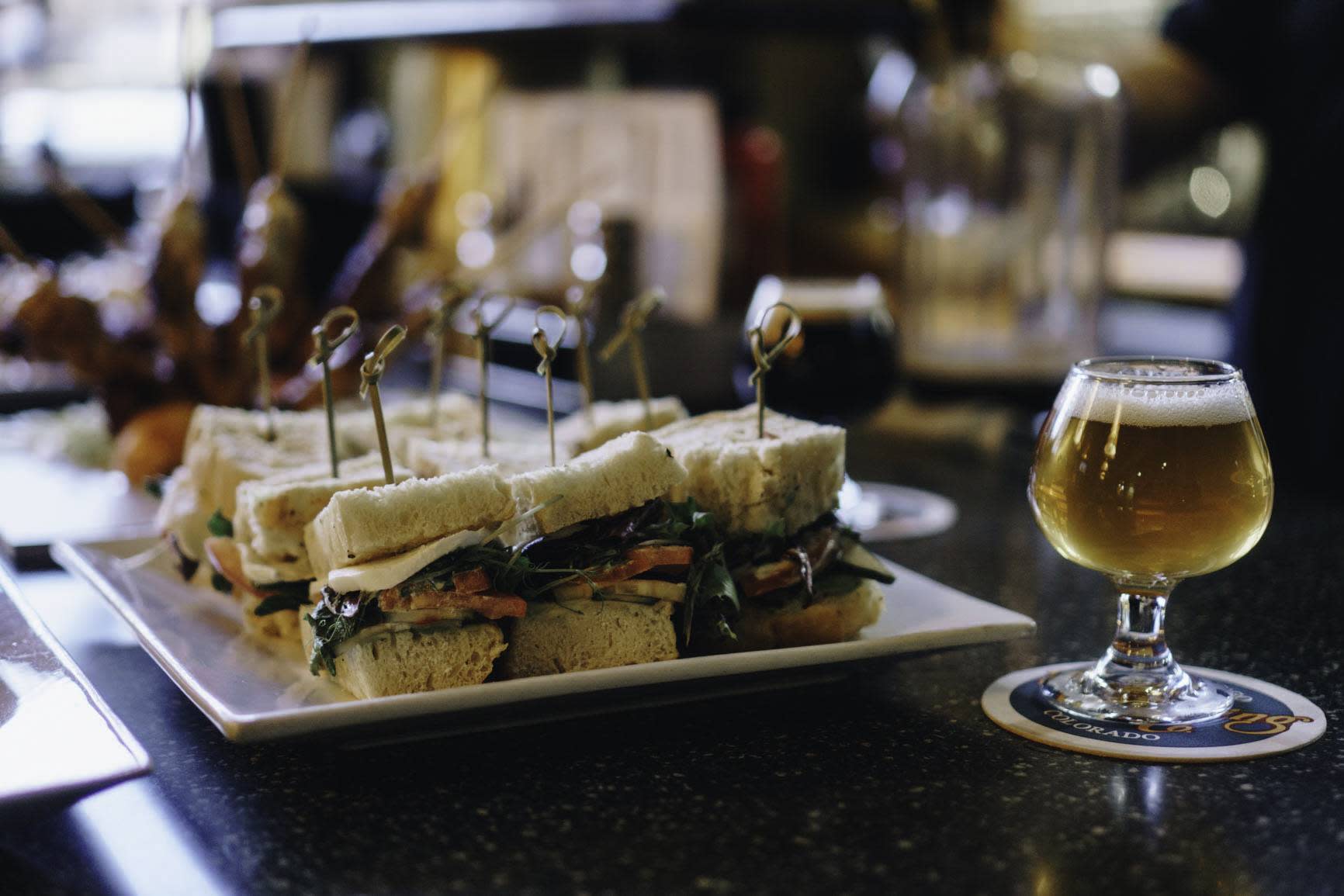 PC: Cole Davis