As Durango, Colorado enters into the Winter season, many of us start to look inward for ways to help those around us. Winter is frequently seen as the season of giving and charity and this month's Business of the Month is an organization that focuses on exactly that: giving back to the Durango and La Plata County community in the most essential ways.
This month we celebrate the hard work and dedication of Manna Soup Kitchen that has assisted and uplifted families and individuals across the County.
An Introduction to Manna Soup Kitchen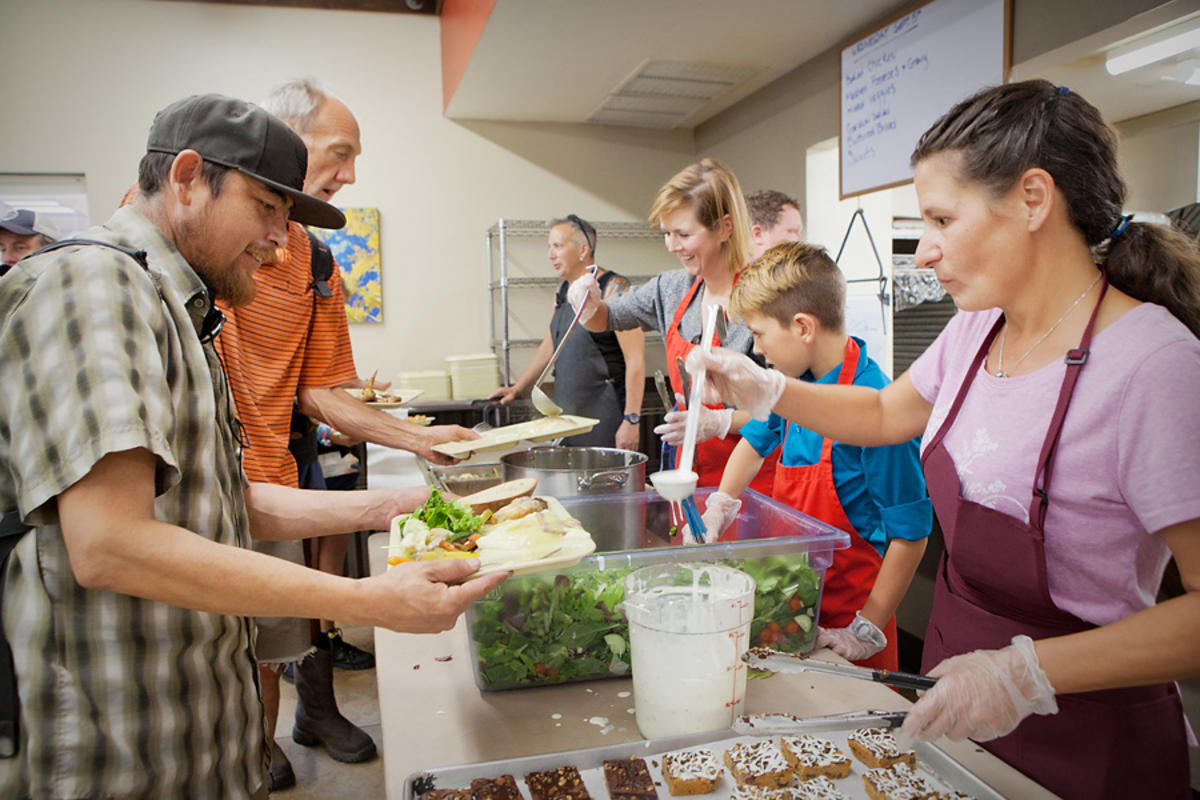 Founded in May 1985, Manna Soup Kitchen was founded to provide regular meals and groceries to those in the community who were experiencing hunger and other hardships. 
Besides daily meals, Manna Soup Kitchen also provides take-home meals for local students, bulk-grocery deliveries, on-site gardening, and one-on-one assistance for individuals to obtain IDs, job skill training, prescriptions, transportation, and much more.
A Short History of Manna Soup Kitchen:
In the Winter of 1984, a woman was found dead due to starvation at the La Plata County Fairgrounds. Struck by this tragedy, a small group of churches began organizing to feed food-insecure populations throughout the community the following Summer in 1985. 
For 15 years, Manna Soup Kitchen operated out of a food truck and church basements. By 2000, plans began to build a facility capable of serving over 150 people hot meals, groceries, and other assistance while being safe from the elements. The new building opened in 2002 with a modern kitchen, a large dining hall, and laundry and shower facilities.
In the late 2010s, Manna Soup Kitchen expanded its footprint and services by building an on-site garden and a second building to host culinary training classes.
The Mission of Manna Soup Kitchen
While the community kitchen is the core of the organization, Manna Soup Kitchen's mission is to provide more than just assistance with daily meals and groceries. 
Their team is focused on providing, in the spirit of faith and love, nourishing meals, and supportive services in an atmosphere of acceptance and caring for those in need in the local Durango community.
What Manna Soup Kitchen Does for the Durango Community
Manna Soup Kitchen serves various populations throughout La Plata County by offering low-barrier access to nutritious foods, and other assistance, whether temporary or long-term. 
Helping Anyone in Need
Many individuals throughout the County depend on Manna Soup Kitchen's services for relief and assistance to uplift them from difficult situations. 
Their patrons come from all walks of life and include:
Local families

Individuals seeking necessary assistance

School-aged children

College students

Spanish-speaking residents

Seniors

People experiencing homelessness
Ultimately, Manna Soup Kitchen's resources are available to anyone in the Durango and La Plata County community, no questions asked.
Daily Meals
The service Manna Soup Kitchen is best known for is providing free, in-house daily meals to community members through generous donations from local grocery stores, restaurants, and individuals. Food is prepped, cooked, and served by volunteers seven days a week providing thousands of meals per month to those in need. Since the onset of COVID-19, Manna Soup Kitchen has consistently distributed anywhere from 9,000-11,000 meals per month.
With COVID-19, Manna Soup Kitchen has transitioned to a grab-and-go model where people can pick up hot meals every day between 9-11 AM.
Grocery Pick-Up and CSA Program
For those looking for grocery assistance, Manna Soup Kitchen offers grocery pick-up that includes donated produce, produce from their on-site garden, dairy, meat, and shelf-stable non-perishables.
The garden team also operates a low-cost CSA through the Spring and Summer seasons to ensure that people across the socioeconomic spectrum have access to healthy, locally grown foods.
Take-Home Backpacks and Food Deliveries
Manna Soup Kitchen's "Take-Home Backpack Program" provides weekend meals to students using free and reduced lunch programs. Every Friday, students in Durango School District 9-R and the Boys and Girls Club of the Southern Ute Indian Tribe take-home bags containing: 3 dinners, 2 breakfasts, 2 lunches, and 2 snacks. 
Manna Soup Kitchen recently began distributing these same provisions to Fort Lewis College's on-campus food pantry: The Grub Hub.
Manna Soup Kitchen also helps facilitate community food distribution. Through the help of Manna Soup Kitchen's partners, daily meals are delivered to the Purple Cliffs Homeless Camp and weekly bulk grocery deliveries to communities served by Companeros and the La Plata Family Centers Coalition.
Additional Assistance
Beyond daily meals, food-service, and groceries, Manna Soup Kitchen also provides supportive services to their clients. These one-on-one meetings can help people obtain IDs, get necessary prescriptions, enroll in SNAP, receive transportation assistance, and much more. 
And lastly, Manna Soup Kitchen operates a culinary program that provides training for interested individuals to gain employment. The program prepares people for jobs in the food industry through skill training and has helped many people escape the cycle of poverty while increasing their self-worth and happiness along the way.
How You Can Help Manna Soup Kitchen
Like many other non-profit organizations across the country, COVID-19 has thrown a wrench into normalcy- Manna Soup Kitchen was affected as well! 
Fortunately, thanks to their incredible team and partners, they were able to pivot and adjust their services to be "COVID-friendly."
That being said, Manna Soup Kitchen is always looking for support from the community to continue its mission of providing support for those in need throughout La Plata County.
Here are a few ways you can help Manna Soup Kitchen:
Donate
While most think donating money is the best way to assist a non-profit, there are a few other types of donations that are just as important. Besides donating money, Manna Soup Kitchen also accepts food donations, canned or perishable; camping gear; hygiene supplies; and clothing. 
All donations are tax-deductible and can be dropped off outside of their location at 1100 Avenida Del Sol, just south of downtown Durango.
If you're still looking to donate money, visit www.mannasoupkitchen.org/donate.
Volunteer
Volunteering at Manna Soup Kitchen is a great way to help their team provide better service to those in need. Unfortunately, volunteer opportunities are closed for the rest of the year due to COVID-19 precautions. However, they aim to open up volunteer opportunities in early 2021.
Learn more at: www.mannasoupkitchen.org/volunteer-new/.
To be added to the volunteer crew in 2021, please contact Marissa Hunt via email at:
services@mannasoupkitchen.com
Share Their Stories
Manna Soup Kitchen interacts with amazing locals, volunteers, businesses who all have a common interest in helping those in need. If you happen to see or hear a great story of someone being helped by Manna Soup Kitchen's services or a member of the community helping the organization out, share the story via social media and your neighbors. Don't forget to tag Manna Soup Kitchen!
With so much going on in the world, we could all use a little good news!
You can follow Manna Soup Kitchen on Facebook and Instagram using the provided links.
Conclusion
As Durango moves into the colder, Holiday months of the year, many local residents are looking for ways to help those in need. This month's "Business of the Month," is an organization full of people just like that. Through generous daily meals, groceries, and one-on-one assistance, Manna Soup Kitchen has changed the lives of Durango and La Plata County's most-vulnerable for the better. 
We congratulate Manna Soup Kitchen for all of their hard work, sacrifice, and dedication to the community.