Whether you're a newcomer or a local, this guide will be sure to offer some fresh tips. Durango is known for some of the best cross country skiing in Colorado; With an abundance of trails and numerous groomed nordic centers, Durango is the perfect spot for pros and beginners alike. 
Gear Rentals and Shops
Durango has a handful of friendly, local gear shops known for legendary service and a strong passion for the outdoors and the Durango community. Whether you just need some wax for your skis or a whole rental setup, any one of these options will serve you well. 
Durango Nordic
The Durango Nordic Center at Purgatory offers miles of groomed trails and all the gear you need available to rent for a whole day and includes a pass to access the trails. They offer nordic and skate skis along with a pass for around $35. 
Pine Needle Mountaineering
Located in the heart of Durango's downtown, Pine Needle offers gear and rentals for all types of sports, as well as Nordic and skate skis for a whole day. The staff at Pine Needle offers decades of expertise and advice about gear and awesome areas to explore.  
Ski Barn
With around 40 years of experience and a notable reputation in the Durango skiing community, Ski Barn will make sure you have the proper gear you need to have a successful and memorable cross country skiing experience. They have two locations and currently, 3533 Main Avenue is the only location that carries Snowboards, XC Skiing, and Snowshoe rentals. 
Groomed Trails and Nordic Centers 
Groomed trails and nordic centers are a great spot for when you're really looking for a workout more than anything, or just don't have all day to explore areas that might be a little further out there. They give you the ability to lap certain trails while having your car and some amenities nearby. 
Purgatory Nordic Center
Located just across the road from Purgatory Resort, this Nordic Center boasts huge views of the San Juan Mountains along with 20 kilometers of groomed nordic trails. Enjoy a picnic along the trails, or on the deck of our beautiful new Community Center building.
They regularly hold races and clinics there. Races include several nordic events, as well as snowshoe 5 and 10K's. Ski clinics are open to all levels and include a women's only event.
Hillcrest Golf Course
Hillcrest Golf Course is without a doubt the most accessible place to ski on this list. With no entrance fees (donations are appreciated as it is maintained by volunteers) and located in the middle of Durango, Hillcrest is a great spot to get some laps in when you don't have all day, or just want to make sure a good cup of coffee or hot chocolate is always nearby. The Hillcrest parking lot is located at 2300 Rim Drive on the Mesa near Fort Lewis College and overlooking the town. 
Vallecito Reservoir
Another volunteer maintained trail system, the Vallecito Nordic Club is open to the public throughout the winter and is free to use, donations are accepted at the trailhead. You will find around 15 kilometers of nordic trails groomed for classic and skate skiing along the beautiful shores of the lake. Parking for this perfectly groomed corduroy can be found at Forest Rd 603 & Ellington Ln. 
Unmaintained Trails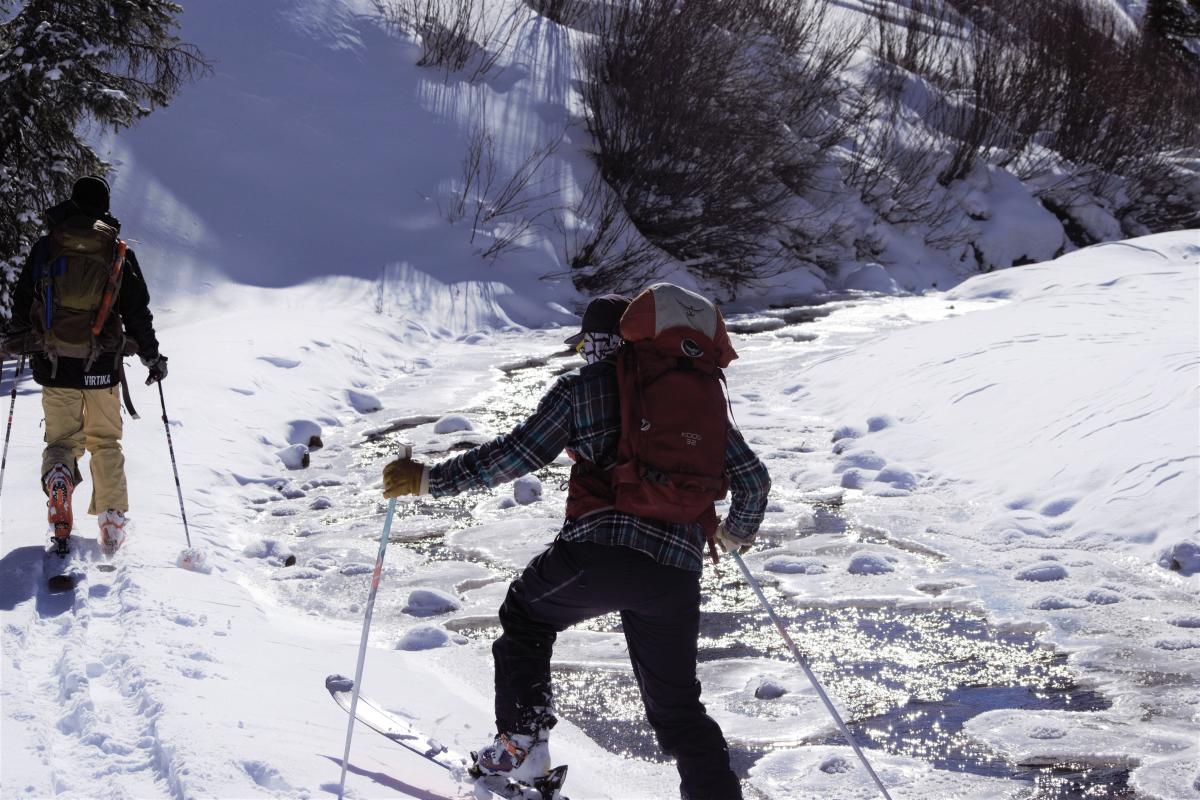 San Juan National Forest
Covering almost 2 million acres of land, the San Juan National Forest is one of the most beautiful and scenic places to ski free XC skiing, if adventure and wandering is more your style. For high alpine trails and maps click here.
Molas Pass - Colorado Trail Segment 25
Possibly the most scenic of all the routes on this list, the Colorado Trail starts in Denver and runs all the way down to Durango. This segment located off the summit of Molas Pass passes by beautiful high alpine lakes and meadows of snow in the middle of the towering San Juan Mountains. Parking can be found at the scenic overlook at the summit, the trail starts just across the road. 
Old Lime Creek Road
This road is perfect for snowshoeing and cross country skiing. Located above Cascade Canyon, just after Purgatory Resort, this mellow out-and-back road offers views of the San Juans and the canyon below. 
Andrews Lake
Located about halfway between Durango and Silverton, Andrews Lake has diverse terrain for nordic skiers to explore. Though no trails are groomed, leave it to other visitors to break trail, or if you're feeling up to it, break a new trail of your own. The area is located on Highway 550 about a mile from Molas Pass, look for a small parking lot on the east side of the highway.
La Plata Canyon
La Plata Canyon is a popular multi-use Winter recreation area, from alpine skiers, snowmobiles, XC skiers, and snowshoers, there's something for everyone here. The top of this road reaches the Colorado Trail (at high country) on the top of Kennebec Pass and runs about 10 miles with 3,000 feet of elevation gain. It is often groomed for a few miles before becoming unmaintained. This road is also much closer to Durango than many options, only 5 miles on CR 124 towards Hesperus. 
Bolam Pass
Bolam Pass is part of the Hermosa Creek Trail system, To access Hermosa Creek Northern parking area: From Durango, take highway 550 north from Town and turn left at Purgatory Ski Resort. From Purgatory, follow Hermosa Park Road up to the Hermosa Creek Campgrounds where you'll cross a small creek. There is a parking area here for most access to Hermosa Creek area trails. Bolam pass can be taken all the way to Rico (near Telluride) if you have the time and energy. 
Conclusion
Durango and its surrounding areas are a paradise for nordic skiers and Winter enthusiasts, but the number of trails and places to go for nordic skiing can be a little overwhelming. We hope our guide will help narrow down your plan on what to see and where to go during your Winter visit to Durango