Durango is one of the best places in the United States for a vacation. No matter what you want from your trip, you'll find it. Whether that's getting out and active in the mountains, mountain biking, taking one of the best-preserved narrow-gauge railways in the country, or even seeing ancient archaeological wonders in the Mesa Verde National Park.
One of the fastest-growing sports in the world right now is stand-up paddleboarding. 
In this post, we'll take a look at the best spots for paddleboarding in Durango.
What is SUP?
Stand-up paddleboarding is one of the fastest-growing board sports in the world. It's often shortened to the acronym SUP. The name explains it just like it is really – you stand up and paddle! Think of it as a more chilled out version of surfing. You can do it in waves, but many people enjoy also paddling on still and calm waters such as lakes, rivers, and canals. You can even do it in a swimming pool if you can find one big enough.
The board is pretty large – usually between 10 and 13 feet in length. However, you can get an inflatable SUP which you can just throw into your backpack and take wherever you want.
As well as being great fun, SUP is a great workout for the core and it's a lot easier to stay on the board – great news for beginners. While its popularity is growing now, it's been around a lot longer than you might have thought. It's thought that ancient Polynesian culture saw people using these boards in the 16th century to get from A to B. 
Here are some beautiful places in and around Durango where you can take your first lesson in SUP. May it be the first of many!
Where to Paddleboard in Durango?
There are several locations in Durango that can be used for water sports. Not only SUP, but rafting, kayaking, and canoeing too. Here are five of the best!
Lake Nighthorse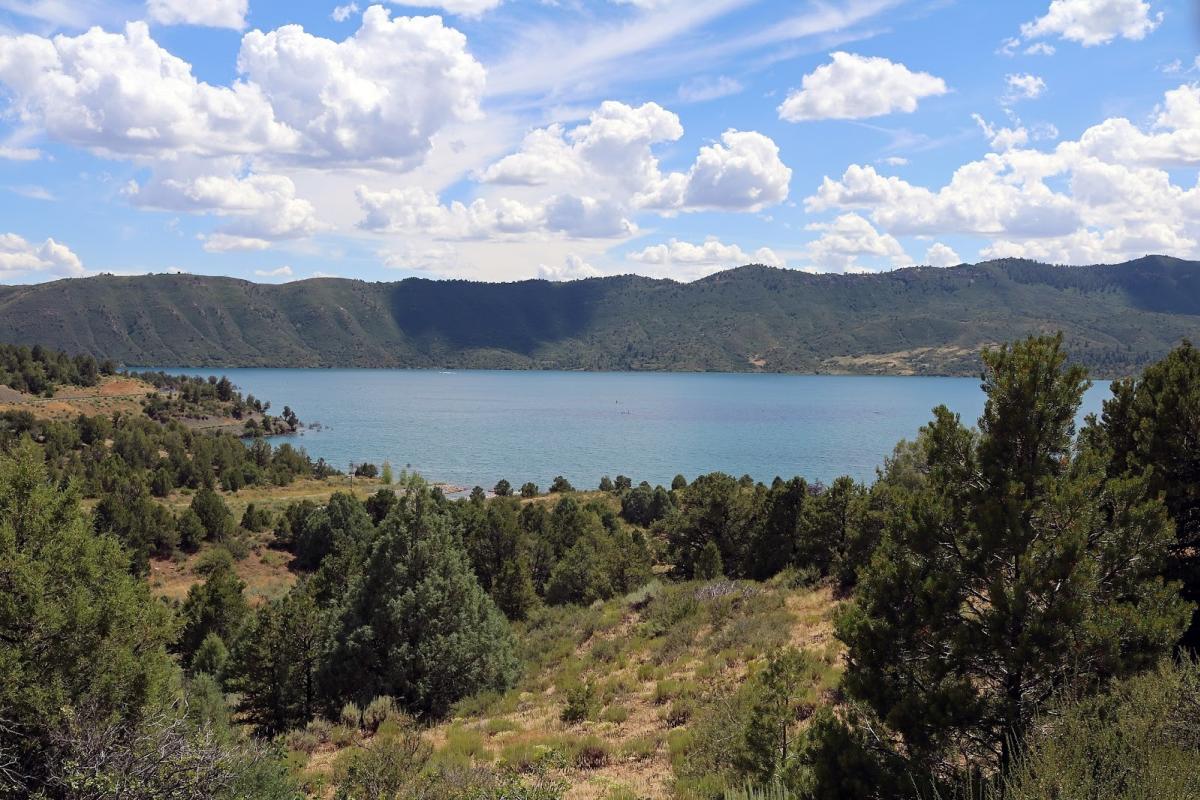 Lake Nighthorse has only been open to the public since 2018, but it's already one of the top spots for water sports in Durango. It's right in the heart of Durango, so you don't need to rent a car to get there. There are several places in town where you can rent a SUP, and even some on the lakeshore. Not only can you get a workout navigating the cool waters of the lake, but you'll also be able to practice SUP Board Yoga to the backdrop of the Ridges Basin. Lake Nighthorse has varying hours from April – mid-November. You can check them out here.
Animas River

The Animas River is the go-to place during summer in Durango. It offers rafting, kayaking, tubing, and of course, stand-up paddleboarding. You don't need to be scared by the thought that you can raft here – it's not all white water and rapids. There are several tranquil spots that are great for a beginner paddleboarder. You can use them to get your balance as a beginner and move from laying down or sitting to standing up.
Be aware- the Animas River flows very fast during the early Spring months. The best time to paddle-board the Animas River is during late Summer: July through October.
Vallecito Lake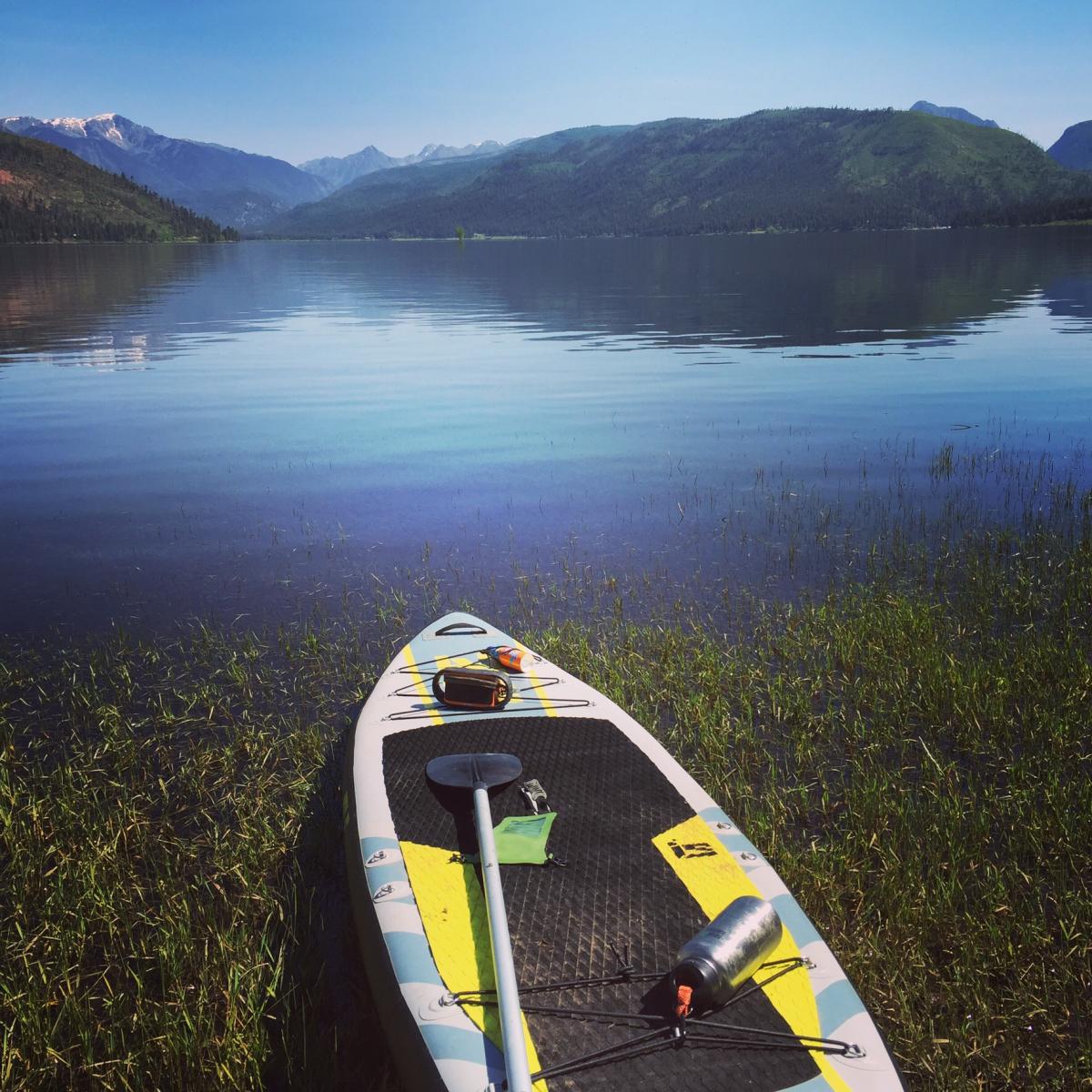 The highest large body of water in Colorado, Vallecito Reservoir sits northwest of Durango. It's a half an hour drive along a stunning mountain road to get here. You can find the lake in a gorgeous valley, you just don't let the views of the San Juan National Forest distract you too much from staying on the board. There are several restaurants and places to stay around Vallecito Lake, with several activities on top of stand-up paddleboarding.
So, you can really make a vacation at the lake alone! Wouldn't that be exciting?
Twilight Lake
If you want to try stand-up paddleboarding as a family, Twilight Lake is a great place to do so. It's just across from the entrance of the Purgatory Resort and is open for boarding and fishing only. It may be small, but there's enough at this lake for plenty of activities and adventures. And it's to the backdrop of the 13,000-foot mountain peaks of the Needle Mountains. If you plan on staying at the Purgatory Resort, you can get a free shuttle to Twilight Lake.
Spud Lake

You need to hike to Spud (also known as Potato Lake) to get to it, but it's a beautiful place to SUP. Said to be one of the best day hikes in Colorado, you can head through aspen groves and beaver ponds from the Lime Creek Road to get to this stunner at the base of Potato Hill. Spend the day on your board admiring reflections of Engineer Mountain, Grizzly Peak, and Twilight Peak in the crystal-clear water.
Where to Rent a Paddleboard in Durango
Durango Rivertrippers is located on Main Avenue in town. You can rent SUP for a full or half-day, and you can get all the safety equipment too. That includes a helmet, wetsuit, paddle, PFD, and pump.
4Corners has the biggest selection of paddlesport rentals in Durango. As well as renting SUPs, kayaks, and canoes, you can get SUP instruction for beginners with 4Corners. There are two shops to choose from – one on the shores of Lake Nighthorse and another on Camino del Rio.
Southwest Raft and Jeep have a selection of inflatable and hard boards in a range of sizes. Choose between half, full, or multi-day reservations. You can get some of the top models here too. Southwest's rentals include your board, paddle, pump, and a bag to carry everything in.
Along the brilliantly named Million Dollar Highway, you can find Durango Board and Boat. It's best for renting boards, kayaks, and pedalos to take out onto Twilight Lake. Their sumo paddleboard can take kids, dogs, or an extra passenger. Or you can take it out ourselves and enjoy yoga or fishing!
Offering river-delivery, Roll brings the paddleboards to you! Simply park at designated spots on the Animas River and Roll will deliver your rentals to you. Rentals include delivery and pick-up of your paddleboards. See their website for more details and how to reserve a paddleboard for your next outing.
Final Thoughts on Paddleboarding in Durango
Whether you're a beginner at SUP or you've been doing it for years, you'll find plenty of places that you can enjoy this fun and exciting sport in Durango. And it just so happens that on your rest days, there are loads of great activities to do in Durango too. It's the perfect place for a short break or a longer vacation!