The rumors about Durango are true. From the easy flowing loops to the downhill classics and dangerously addictive alpine hairpins, our town is home to hundreds of miles of delicious singletrack. And, it's some of the best.
Mountain bikers have come from all around the country, and sometimes the world, to ride the southwest. Often times they never leave, meaning your dirt addiction isn't just accepted here, it's celebrated. Planning a trip to Durango? Bring a bike, because these seven trails are ones for the books.
A Taste of Durango: Horse Gulch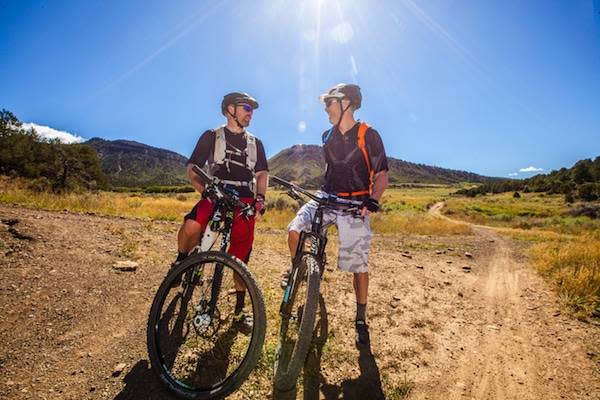 If you're just coming into town and looking for a few hours of playtime, the Horse Gulch trail system is your spot. You'll find miles of well-marked trails ranging in difficulty from easy to advanced, each offering its own take on the unique landscape of valleys, meadows, scrub oak, switchbacks and creek beds. Get a mouthful of all the action at the Grandview Ridge Trail or sink your teeth into some of the grit at the .7 mile Anasazi descent or full Raiders Ridge technical loop.
To get the Full Desert Experience: Phil's World, Cortez
Comparing Durango to Moab is apples to oranges, but that doesn't mean the two don't share a few similarities. To get your fill of Southwest desert, head over to Phil's World in Cortez. The sixty miles of maintained trails are groomed specifically for mountain biking, meaning the jumps, downhills, uphills, rhythm and bank rides are really savory.
The infamous and beautifully flowing "Rib Cage" is reason enough to keep looping the park, but make sure you take time to get a little taste of everything.
Beginner-friendly Ride: Spur Line Trails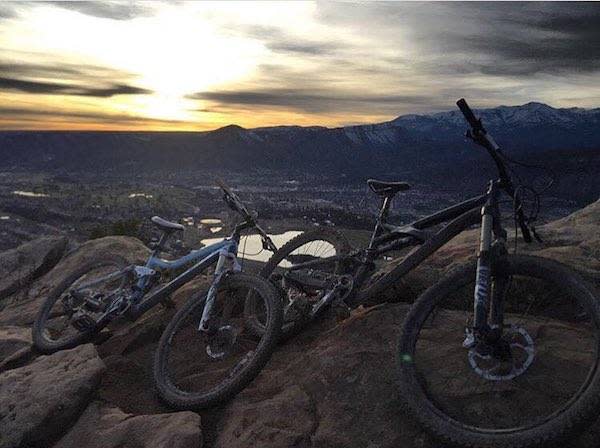 The best part of Durango is the inclusivity. It really doesn't matter if you've never touched handlebars before, because we have the best professors and everything is teachable.
The Animas River Trail is a totally safe first option, especially for families who would like to rent bikes for the day and stay close to town. But if you're looking for a tip outside of the box and certain to be on dirt, check out the Spur Line Trails at Three Springs. From a very amateur standpoint, the trail is self-educating. It knocks you down a bit, but lifts you back up. The grade isn't nearly as unforgiving as some other rides and the two loops are extra flowy, so it's a great place to find your own rhythm and control your own pace. It's only an added bonus that all of Durango is so scenic and 100-percent family friendly.
Do It for the Views: Section Bike the Colorado Trail
Often the magic comes from the perfect, non-stop flow. Other times, the bike serves as a vehicle to sights unseen. Along the Colorado Trail, you get a rich combination of both.
As you probably know, the Colorado Trail serves as a thru-hike connecting Durango to Denver. Since we don't want you accidentally pedaling to the front country, make a plan of exactly what pieces you want to do beforehand. Dry Forks is a solid choice ranked highly with mountain bikers because it makes an easy loop of Colorado Trail section 28 and 4 miles of private, winding trail time.
Another, especially scenic option would be to ride Section 25 from Molas Pass to Engineer Mountain (see below). You'll find wildflower panoramas, a fortress of peaks to frame your ride, and maybe even an elk or sixty. It's perfectly acceptable to replace your morning coffee with the inevitable adrenaline injection you'll receive on some of the cliff sides. Make a point to pack a summit sandwich and extra water for this lung burner, because you will certainly earn it.
Epic Descent: Engineer Mountain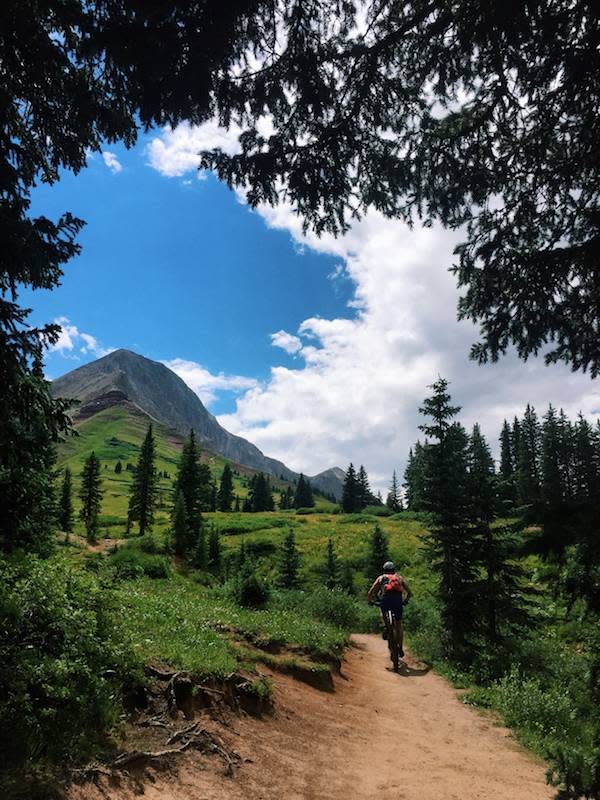 You may share the road with a trail runner or day hiker from time to time, but it's totally worth it for a ride up and around the skyline-dominating Engineer Mountain. Park your car at the Engineer Mountain Trail and make it an out-and-back to the top for the satisfaction of burning your quads all the way past tree line.
Or, if you're really in for a carnival ride, start the journey from higher up at the Pass Creek Trail on Coal Bank Pass. With a monstrous 4,000 feet of descent in a ten mile ride, this high-difficulty, fast-reaction terrain is something you'll be swapping stories about for months. Plan ahead and park your partner's car down at Engineer Mountain Trail where the trail ends or use your new adrenaline stoke to bum a ride back up to your vehicle.
Earned Turns: Hogsback Mountain Trail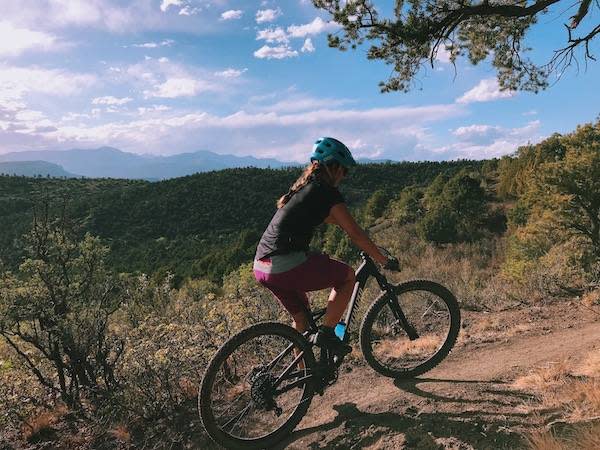 "What comes up, must come down," but you may not believe me if you're halfway up the prominent Hogsback in Durango. It's part of the Overend Mountain Park outside of town, a system rich with intermediate rides you can play with all day. As short as it may be at 1.7 miles, Hogsback is unforgettable for the richly-earned summit. After nearly 700 feet of climbing, the 600 feet of drop tastes like dessert.
Bike with the Pros: Purgatory Mountain Resort
Whether you're new to mountain biking or just want to ride some reliably perfect turns, Purgatory Mountain Resort is home to not only a primo system of mountain biking trails, but the only clay-based soil in the Rockies. Home to the 1990 World Mountain Biking Champion track, the seven miles of advanced killer singletrack is lung busting; 1,200' of uphill, 1,000' feet of well-deserved downhill. You can chew the whole thing or just ride a piece of the descent by taking the Purgatory lift up and Digglers trail back down. Repeat until satisfied.
Other Considerations:
If you're road-tripping to Durango, we hope you've strapped your bike on the back.
For those who understandably want to shut off the brain and ride, there are several companies in town who offer guided tours. Durango Mountain Bike Tours provides half day trips ranging from 2 to 4 hours and can accomodate every skill level. As an added bonus, they love taking pics of their clients! For the long-stay adventurer, Rim Tours offers both a 4-day/3-night intermediate ride and a 5-day/4-night advanced ride along the Colorado Trail, with rental camp equipment available.
Though Durango may be small, our biking community is mighty and resources plenty. Some of these resources include San Juan Cycles, Mountain Bike Specialists, 2nd Avenue Sports, the Trails 2000 nonprofit, Durango Cyclery, and Purgatory Resort.
If you've come to Durango with mountain biking or road cycling in mind, make a point to visit Bread at 42 County Road. Owner Rob is a huge bike guy and it shows. The small but mighty cafe-style bakery, with more bike parking than car, serves as a hub and meeting ground for the cycling community. It's where we find the carbs and where we plan the next adventure.