This month's Business of the Month is Twilight Toys!
This magical, well-curated shop has two locations. The flagship store is located at Purgatory Resort and its newest location is in the heart of downtown Durango, Colorado. 
Created by local entrepreneur and mom, Cristiana Dalle Grave, Twilight Toys is filled with fun games, hobbies, and activities for all ages.
Let's learn more about Cristina and the shop Durangoans didn't know they needed. 
An Introduction to Twilight Toys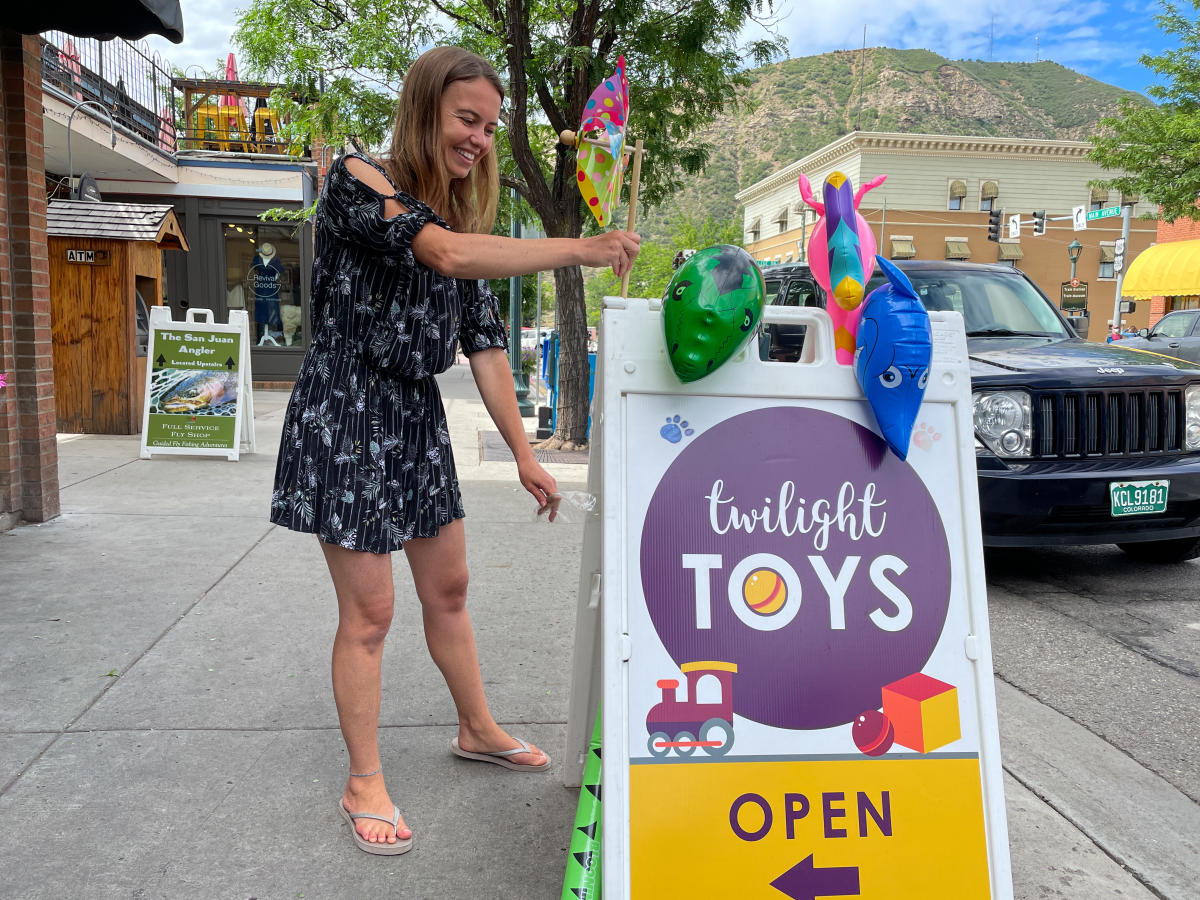 Meet Cristina Dalle Grave, the Owner:
Cristina Grave cut her teeth in the business working retail within the ski industry at Purgatory Resort. But after spending years there she recognized a strong need for a toy store in the Purgatory area. 
Families needed games, toys, and other interactive entertainment to tide them over the long breaks between snow seasons and the odd day off the slopes. It was then Twilight Toys was born, and she decided to create a fun-filled shop right there in the resort's shopping district. 
She continues to own and operate that storefront, and opened up another Twilight Toys in the heart of downtown Durango.
What Does Twilight Toys Do?
Grave identifies her stores' main clientele as two different types of shoppers: tourists, who are seeking games to keep their kids occupied, or souvenirs for themselves, or gifts for loved ones back home. 
The other type of shopper is Durango residents who prefer to find fun toys and gifts locally, rather than shop online or at chain stores.
Grave also prides herself in her curated selection of toys that are hand-picked and unique compared to the big box stores. 
Twilight Toys carries an eclectic variety of unique toys, board games, puzzles, family leisure activities, books, arts and crafts, hobbyist items (model rockets and vehicles), candy and ice cream, souvenirs, and plenty more!
Why Durango?
Like many people who move to Colorado, the Grave family was inspired by the beauty of the mountains. They wanted their two smaller kids, who already had a strong affinity for the outdoors, to have plenty of opportunities to freely explore their passions. 
Their hobbies include biking, hiking, and swimming. Grave's first job working in ski retail at Purgatory Resort. 
After a few years of operating Twilight Toy's flagship location, Grave noticed Durango locals had been traveling all the way to Purgatory to meet their toy, game, and hobby needs. Downtown Durango lacked a toy store of its own at the time, and she seized the opportunity and opened the second location. 
Once they moved to Durango they fell in love and "found Durango to be the perfect place to raise [their] family." 
What is the Twilight Toys Philosophy?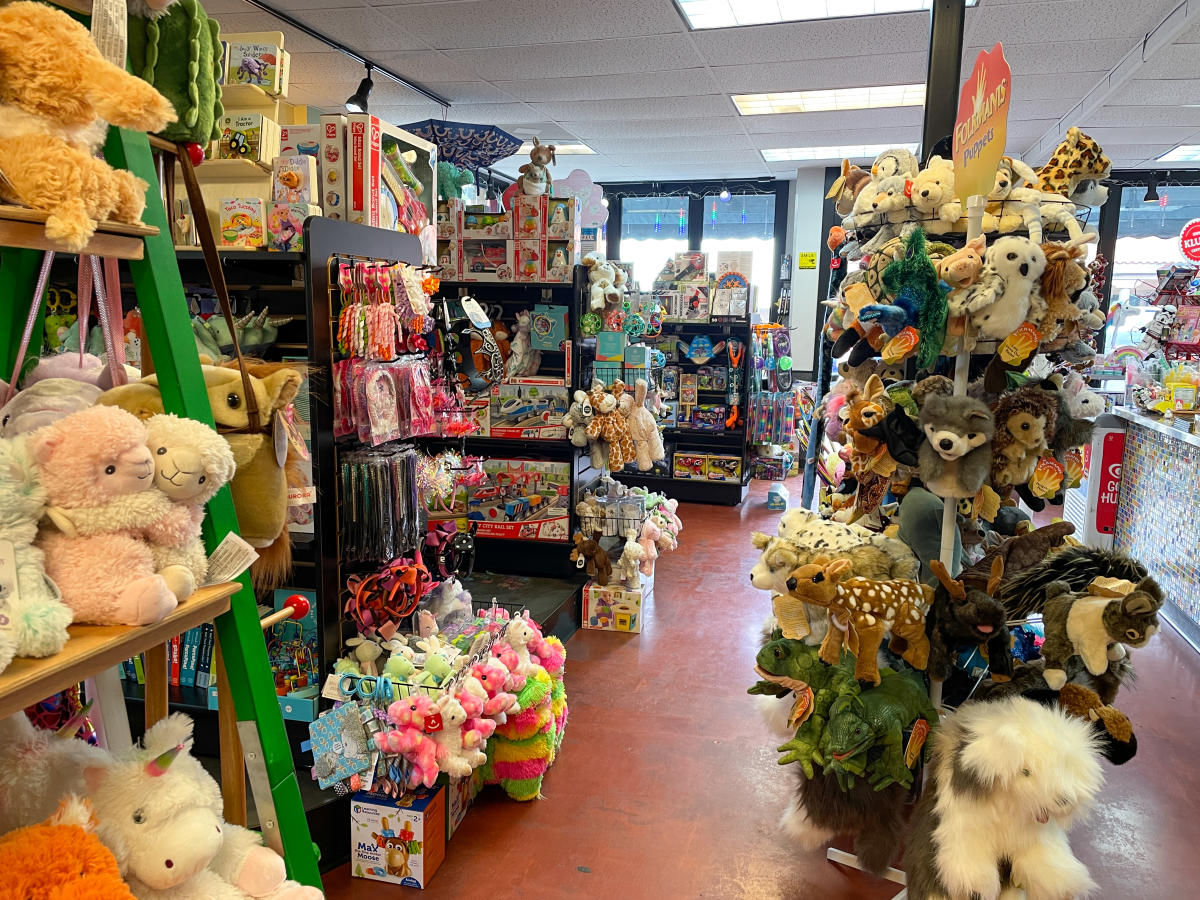 A few guiding principles have shaped the Twilight Toys direction. The first is meeting customers' needs in as many ways as possible. They strive to help their customers in person, over the phone, and through email, offering assistance, quotes, and fulfilling orders. As noted above, even opening up the Durango store was done in an effort to be more conveniently located for locals who lived near downtown.
The second is grassroots support. They seek to include small-print run toys, mom-and-pop manufactures, and to incorporate goods hand-made right here in Durango. Further, rather than competing with other Durango businesses, they found an unfulfilled niche and figured out how to best meet that demand. 
And lastly is inclusivity across all ages. Toy stores are magical havens for children, and "quality toys are important to a child's development," shared Grave. However, these stores are frequently less enticing for teens and grown adults, as they are not the target demographic. Most toy shops do not go too far out of their way to line their store shelves with toys and gadgets that older kids and even adults would enjoy. This is a shame because everyone likes to have fun! Twilight Toys aims to provide a wide range of fun stuff for just about everyone. 
From the smallest child to the grumpiest adult, everyone can find something here to relax with and cherish. This is important to Twilight Toys, because the whole family being able to play together both indoors and outdoors is a precious thing and always time well-spent.
How You Can Support Twilight Toys 
Stop in, of course! This is first and foremost above all other things. The owner and her knowledgeable staff would love to see you come browse their selection first-hand and can help you find or order whatever you are looking for. 
They do offer a variety of ways to help you get the perfect gift for loved ones and friends including issuing gift certificates, providing quotes, discussing purchasing decisions, and others. They are happy to do this in person, over the phone, or through email.
Learn more about their operation, follow, and share content from their website and Facebook page:
If you have any questions, want to put in an order, or get a quote, you can reach them at  Twilight Toys' Durango location:
(970) 403-5562

durangotoys@gmail.com
Conclusion
If you are a local, we hope you already know about this amazing shop - and if not, check it out! As for visitors, we invite you to take some time and stop by Twilight Toys.
Whether you need a nice gift for someone back home, a souvenir to remember your trip by (souvenir is French for memory), or you just need something small to keep everyone entertained on the plane or car ride home, they will surely have something to bring a smile or laugh to you and your loved ones. 
Want to Nominate a Business?