A brief introduction to the Colorado Trail 
The Colorado Trail (CT), completed in 1987, spans 567 miles through the heart of the southern Rocky Mountains. The trail travels from Denver to Durango and is considered one of the nation's most beautiful and varied long-distance hikes. It is estimated that 150 people complete the CT each year. The trail attracts recreationists of all kinds from hikers, backpackers, mountain bikers, and horseback riders. 
Most users choose to hike the CT in sections rather than thru-hiking the entire trail. The CT is split into 28 segments, plus the five segments of the Collegiate West alternative. Segments were established around convenient access points to the trail.
Covering dramatic topography and alpine ecosystems, the CT crosses eight mountain ranges, six national forests, and countless streams and rivers. The majority of the CT is above 9,000 feet, where snow can cover the trail for a greater portion of the year, usually persisting through June along high ridges or in shady ravines. It is important to carefully consider the time of year for your trek, especially for thru-hikers. Winter returns to the high country in October, so hikers should plan to finish their trek before September ends.
Follow along with more tips from the Colorado Trail Guidebook.
How to Get to the Trailhead and Access Points
The CT's southern terminus is located about 4.5 miles from downtown Durango. If you are starting your journey on the Colorado Trail in Durango, this segment, also known as Segment 28, begins at the Junction Creek Trailhead. Parking can be found at Junction Creek Trailhead, but due to its small size and high demand, it is not advised to leave vehicles there for extended periods of time. 
Junction Creek Trailhead - (2-wheel drive accessible)  
To reach Junction Creek Trailhead drive on north Main Avenue in Durango to 25th Street and turn west. After a couple of blocks, the street veers right and becomes Junction Creek Road (La Plata County Rd 204). Follow the road for 3 miles and take the left branch. Continue another 0.4 miles to a cattle guard and a San Juan National Forest sign. The trailhead will be on the left including a 19-car Forest Service parking lot and a toilet. This is the southern terminus of The Colorado Trail. The road continues as FS Rd 171. In about another mile there is a switchback with seven more parking spaces and a 100-yard-long trail connector to the CT.
Kennebec Trailhead - (4x4 recommended)  
To reach Kennebec Trailhead from Durango, drive west on US Hwy. 160 about 13 miles (0.5 miles beyond the village of Hesperus). Turn right on La Plata County Rd 124 (paved), which eventually becomes FS Rd 498 (gravel) and then FS Rd 571 (4WD), until reaching the Kennebec Trailhead. The last 2 miles are rough and steep, a section where a four-wheel-drive vehicle is strongly recommended.
Sliderock Trail Access Point (2-wheel drive accessible)
The CT can be accessed by two-wheel-drive vehicles at mile 2.4 of this segment. From the Junction Creek Trailhead previously described, continue on the gravel improved Forest Service Rd 171 for 17.5 miles to a side road on the left. Turn left and proceed 0.7 miles on this more rugged road to where the CT crosses. To the right, uphill, the CT leads 1.7 miles to Kennebec Pass via the Sliderock portion of this segment. To the left, downhill, the CT leads to Junction Creek Trailhead, 19.1 miles away.
Segment 28 from Durango:– What to Expect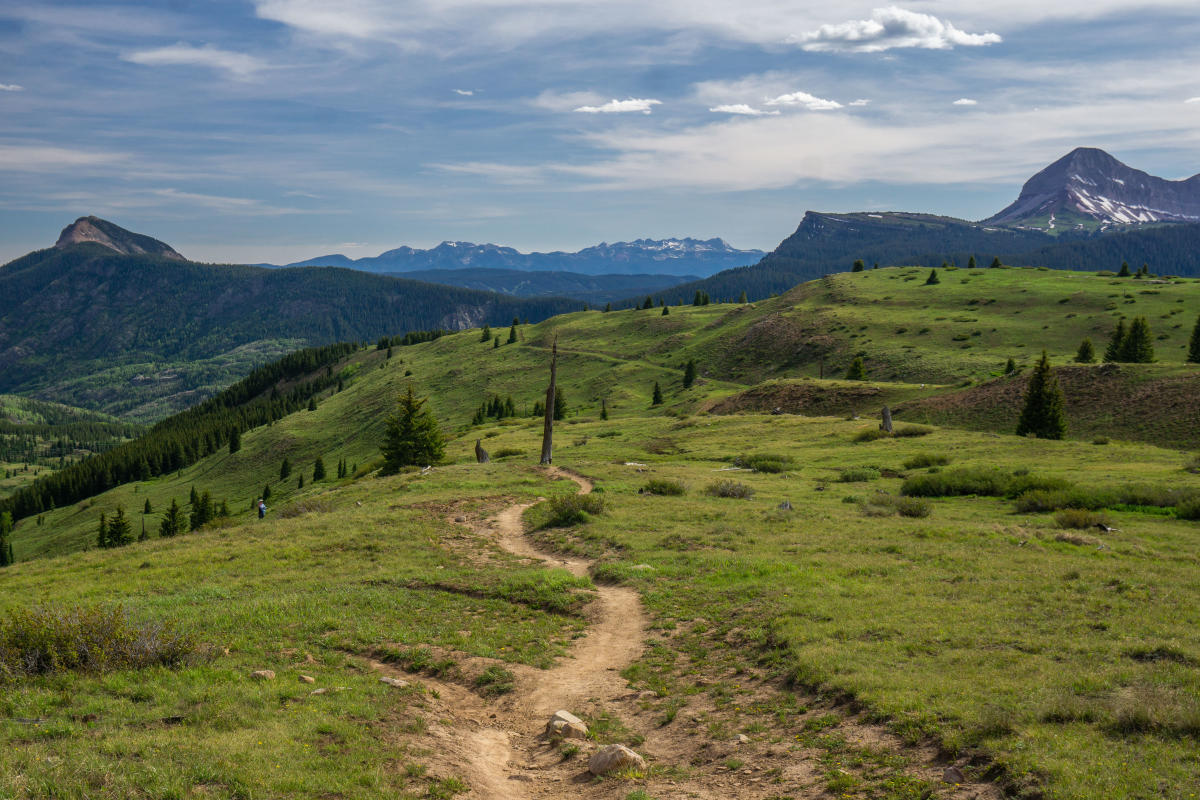 Distance: 21.5 miles 
Elevation gain: Approximately 1,897 feet
Elevation loss: 6,557 feet
Jurisdiction: Columbine Ranger District, San Juan National Forest 
Although Westbound hikers usually set out in early June, Eastbound hikers shouldn't take off from Durango until July because of the lingering snow at higher elevations of the trail.
This segment of the Colorado Trail is the most vertical travel of all 28 segments, climbing from around 7,000 feet in elevation to more than 12,000 feet in the first 23 miles. Because of this quick ascent, hikers should be acclimated to higher elevations and in good physical condition if they wish to start in Durango.
The conditioning gained while hiking east to west can help hikers better handle the more strenuous western half.  
This segment is incredibly diverse, from alpine basins to spruce, fir, and pine stands. Campsites are limited in this section so be sure to plan your trip up this section accordingly.
Services, Supplies, and Accommodations in Durango  
Durango is an old railroad town and is now the commercial center for southwestern Colorado. Numerous lodging options can be found along Main Avenue and near West 25th Street. In addition to buses, the city also operates a trolley through downtown Durango and along Main Avenue. 
Transportation services: Durango Bus Transit Center 
Groceries: City Market (several) 
Gear: Backcountry Experience, Gardenswartz Outdoors, Pine Needle Mountaineering 
Post Office: Durango Post Office
Safety First 
The key to enjoying the Colorado Trail is preparedness. When planning a trip on the Colorado Trail, whether day hiking or thru-hiking, always start with the "ten essentials" as your foundation. The ten essentials include food, water, emergency shelter, extra clothing, a first aid kit, flashlight, map and compass or GPS, matches or a firestarter, pocketknife, and sunglasses, and sunscreen. 
The CT traverses a wide range of life zones from the hot foothills of the Front Range to the harsh alpine tundra of the high peaks. Effective good-quality clothing and other gear can be the difference between a safe, enjoyable day to an unpleasant or even potentially dangerous experience.
Along the more isolated portions of the Colorado Trail, assistance may be hours or even days away. The Colorado Trail Guidebook reminds travelers to keep the following things in mind: 
Be aware of weather conditions- weather can change quickly 
Start early- summer afternoon thunderstorms are common in the high country, plan to be off exposed ridges before storms roll in
Don't travel alone- it's safest to hike with companions 
Be in shape- get in condition and acclimatize to the altitude before starting your journey 
Use sun protection-  UV radiation in Colorado can be intense, wear sunscreen/a long-sleeve shirt and a hat
Carry and use your map, guide, or GPS- the CT is generally well marked but you should always carry these items with you and know how to use them
Carry a satellite messenger - consider taking one, in part for its function to alert search and rescue in the case of an emergency 
Learn more about Care for Durango here!
Conclusion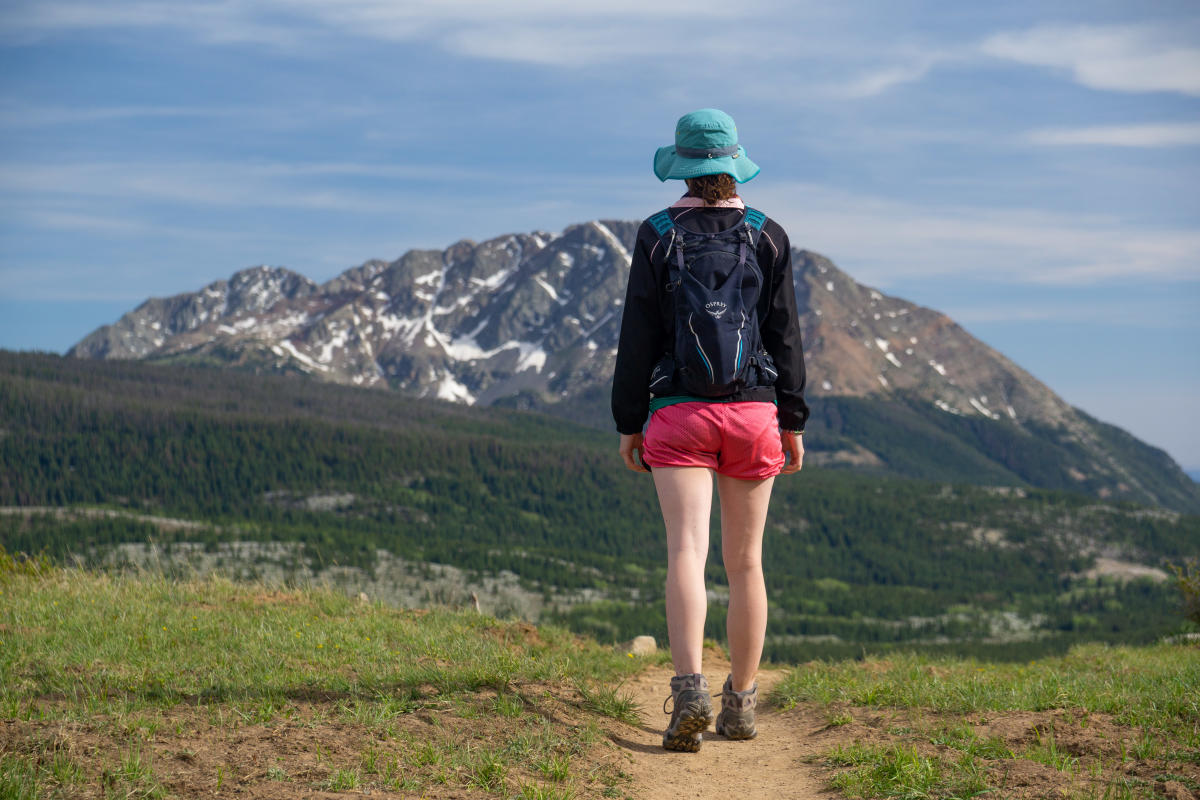 It will stir the imagination with its geological observations, creating a desire to know more of the area's ancient history, Gudy Gaskill, the "Mother of the Colorado Trail" said. "The CT provides a living history lesson as it crosses the paths of the area's earlier inhabitants, from American Indians to nineteenth-century miners and railroad barons." 
Whether you're attempting a day hike, a section, or a thru-hike, starting the Colorado Trail in Durango is certainly an adventure. Durango is a great place to explore before you start your journey eastward and into the neighboring mountains. Take in the history at the Animas Museum, check out one of Durango's many art galleries, or grab a drink at Ska Brewing Co. But before you plan to set out onto the trail be sure to do your research. A good experience on the Colorado Trail takes time and preparation but will be more than worth it when you reach the end.
Readers can learn more about the CT and planning their hike in the Colorado Trail Guidebook from Colorado Mountain Club Press here.