At quick glance, it's easy to see why Budget Travel named Durango one of the 10 Coolest Small Towns in America. Where else can you climb a mountain, surf rapids, ride along a historic railroad, and fine dine al fresco all in the same day?
But it takes more than pretty trails and great restaurants to be considered the best of the best. We're looking at all the small things that set Durango apart from the rest, from its Southwestern history to its unbeatable community and never-ending bucket list of activities. It's the little details that we celebrate most, and it's what makes Durango so unreplicable and unchangeably perfect.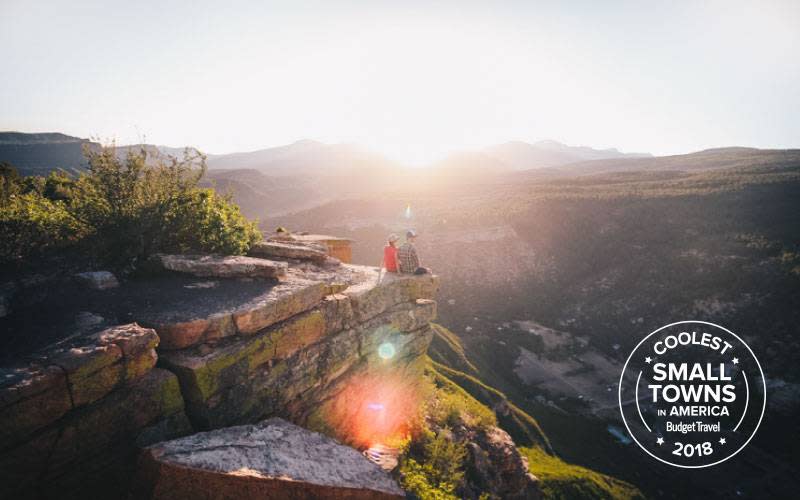 Photo: Cole Davis

10. The Outdoor Culture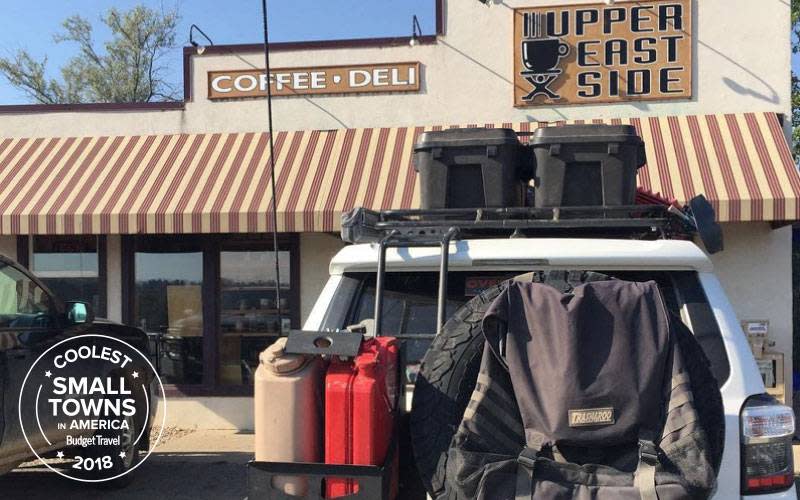 Photo: Instagrammer @overlandfamilyexpeditions
It's one thing to live close to nature. It's another when your entire town thrives on the culture of getting outdoors. In Durango, home to more than 300 days of sunshine, you'll rarely ever find reason to spend your time inside. Whether you're eating at one of our many top outdoor balconies, catching a concert in the park, or bringing your pack out for some weekend camping, it's paradise.
Because the community is so outdoor centric, it's just as easy to come to Durango with a plan than not. Take a spontaneous weekend trip and find out all you need to know from the Welcome Center or outdoor gear shops. Ask a local for a tip and you can trust you'll have a great time and be better off for it. Durangoans are living proof that the more time you spend outside, the happier you'll be.
 
9. The Food and Beverage Scene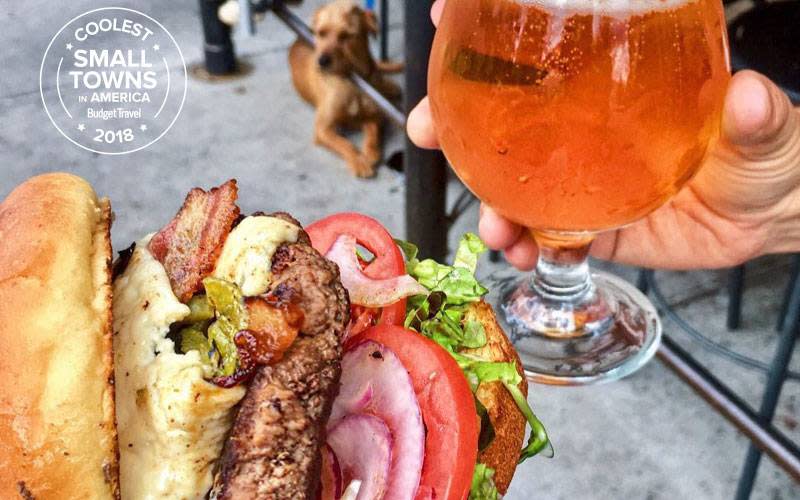 Photo: Instagrammer @Grassburger
Every week it seems I discover a new and marvelous food addiction in Durango. One week, it's the apple, caramel, and walnut crepes from Master Chef Michel Poumay at Michel's Corner. The next, I've eaten my way through a pound of blistered shishito peppers served by my favorite waitstaff at the Ore House. I discovered the herbaceous patagonian spirit TraKal from none other than Eric behind the bar of Eolus Bar & Dining, in the form of their unbeatable "Sir Douglas Tompkins" cocktail. Visit Durango has even designed an entire itinerary around the best craft beverages in the area!
There are always new and exciting things being invented and transformed within the restaurant walls of Durango. While the fight for "the best burger" is never ending, I can confidently say the best Pho comes from Rice Monkeys and the best short rib tacos from Mountain Taco. With no lack of inspiration or creativity, this foodie trend seems to just keep growing. Just this summer, Ska Brewing Company celebrated 23 years with a Moscow Mule-inspired ale, the Moska Mule.
 
8. The Historical Significance
You could spend an entire day just exploring the history of Durango. At every corner, small nuances shed light onto what life used to be like for our small mining town. Put on the map to serve the San Juan mining district in 1880, Durango has never let go of its heritage. The historic Durango & Silverton Narrow Gauge Railroad, a must-ride in town, is the first example that comes to mind. Chugging up steep mountain grades over raging rapids and sheer cliffs is a stunning experience for the young and old. But it isn't the only way you can or should study our history.
The preserved historical significance of our region dates back thousands of years before the 1800s. Historical sites such as those found at Mesa Verde National Park, Chimney Rock National Monument, Canyons of the Ancients National Monument and Yucca House National Monument are all a day trip away from Durango. Each celebrates the geological and cultural significance of indigenous people, communities that once stood thousands of years ago.
A quiet walk through the Animas Museum is just as necessary as browsing the wall of framed newspaper clippings at the Toh-Atin Gallery. Taking a historic walking tour feels just as special as sipping your morning coffee in the Steaming Bean, once the Colorado State Bank in 1907. Just as you laugh with new friends at the Bar D Chuckwagon or ride your 4WD through the mining-era ghost towns above nearby Silverton, share some curious whispers about the mysterious rumored underground tunnels beneath historic Main Avenue.
 
7. The Pet-friendly Mentality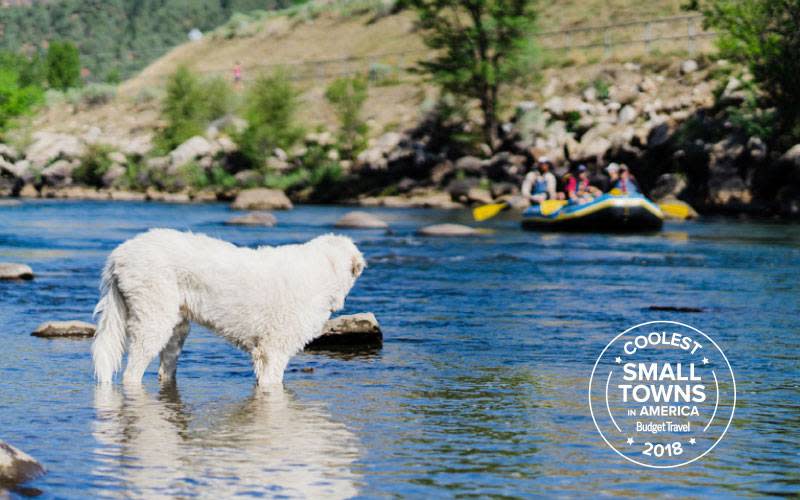 Photo: Cole Davis
Where there are wide open spaces, there is a welcoming committee for your family's best friend. Durango has always prided itself on being a dog-friendly town, with many businesses keeping water and dog treats at the ready. You'll find the Durango Dog Park just south of town where your dog can let loose off the leash, as well as plenty of mountain hiking trails to keep up the pace. The Pet Haus is a great stop for any last-minute food supplies, as are the outdoor gear shops like Gardenswartz on Main Avenue who keep RuffWear gear always in stock.
 
6. The Unmistakable Feeling of Being at Home
Some folks love everything to feel new on a vacation. Others like to find a familiar place to reset each evening. Because the community of Durango is so varied, there are many different types of accommodations to choose from. Stay at a cozy bed and breakfast, a historic hotel, a tent, a family-owned cabin in the middle of the woods, a yurt or a hut on a mountain. Rest your bones at Trimble Hot Springs or rest your eyes at a lakeview cabin on Vallecito Reservoir's Pine River Lodge. Reset with a facial at the Spaaah Shop & Day Spa or get your fix of sunshine therapy on the Animas Mountain trail. Bring a blanket under the stars for all we care. Just get here and you'll see that no matter how you do it, Durango will always feel like home.
5. The Art, Music, and Theatre Scene
From Music in the Mountains' classical music festival to the city's smallest art gallery, our art scene is a creative blend of Southwestern culture, progressive productions, and mountain-inspired architecture. Make it a point to tour Durango's top ten art galleries, and plan your trip around one of our many annual festivals. Cinema lovers will love Durango's annual Independent Film Festival, just as the budding artist will appreciate a clinic or workshop at the Durango Arts Center.
 
4. The Shift to Mountain Time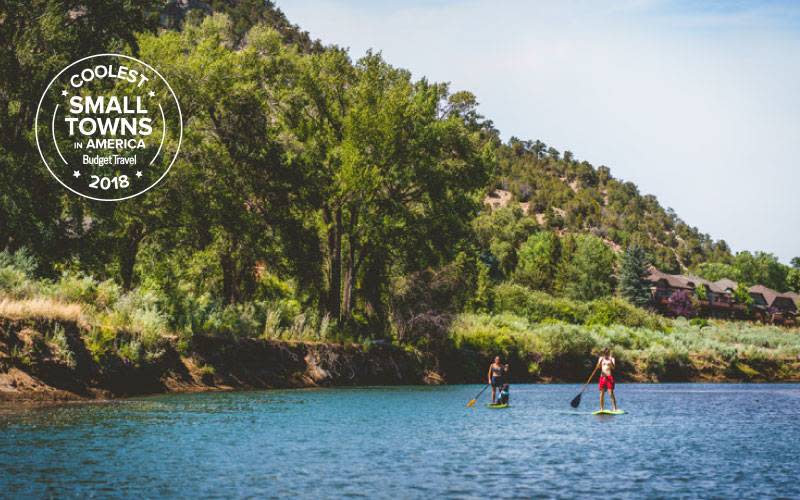 Photo: Cole Davis
The pace of life is different wherever you go. In a city like New York, you'll find yourself inevitably hustling, bustling and caffeinating with the rest of them. In a small Alaskan town, you may find that the isolation and ruggedness has caused time to stand nearly still. In Durango, we live on mountain time, a happy medium that permits everyone to breathe and move on your own schedule.
The 9:00-5:00 grind exists in Durango, but the diversity of our workforce and the uniqueness of being both a college and tourist town has created something else. Durangoans are no stranger to the 3 A.M. summit alarm or 2 A.M last-call at concerts at Animas City Theater. You can work from home or from the trail, your office or your van. Being able to find the perfect balance of work and play sets Durango apart from the rest.
 
3. The Affordable Luxury
When succulents are your most popular and trending form of home decor, it's only fitting to spend time in the Southwest desert. Luxurious living doesn't need to be synonymous with lavish spending, nor does your dream vacation. Durango has successfully emblazoned itself as a bucket-list mountain town, while fully avoiding any pretension that may go along with that. Likewise, it's an incredibly affordable town by Colorado standards, both to visit and to live in.
 
2. The Locals Who You'll Meet
I am on a first-name basis with nearly every barista, chef, waiter, waitress and guide in this town; not because I spend so much time with these folks, but because they all care about their profession and what they do. Any and everyone who works here takes pride in Durango, where every day is celebrated with near holiday-like enthusiasm. From the minute you set foot into town, you'll be treated like an honorary local, and you'll discover that it's truly all of the people who live here that make Durango the special place it is. 
 
1. The Creation of a New Bucket List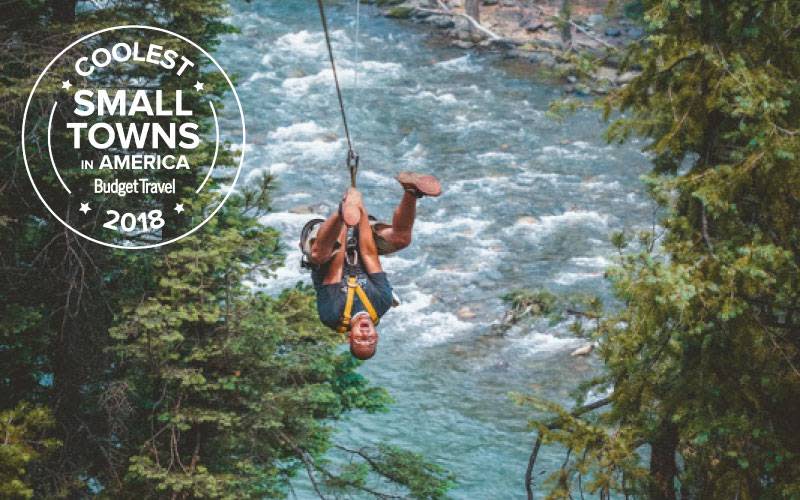 Photo: Cole Davis
It took me two years to cross all the original Durango bucket list items off my list. But by then, the list had tripled and looked unrecognizable from the first draft. You will probably never explore every trail in our neighboring San Juan National Forest, but that hasn't stopped any of us from trying. The ability to simply check a site on Google Earth and hike to it is a gift unto itself. Do you want to zipline through the trees, conquer whitewater on a SUP board, race sled dogs on a scooter, finally win at pub trivia, see entire mountainsides covered in gold leaves, or just spend some well deserved hours with your loved ones? Make it happen in Durango, Colorado.