A picture may be worth a thousand words, but it simply can't do justice the marvel that is Mesa Verde National Park. To truly experience it, you must see it firsthand.
The park is like a puzzle, spanning 52,485 acres and protecting nearly 5,000 known archeological sites and 600 cliff dwellings within its boundaries. Visitors have the rare opportunity to act as adventurers, in a place where new discoveries can be made every day.
What you will discover within and beyond our continent's largest, most well-preserved cliff dwellings, we can't completely say. But these eleven tips may give you a head start.
You can purchase your ranger-led tour tickets up to 48 hours in advance at the Durango Welcome Center, located on Main Avenue in Durango, or at the Mesa Verde Visitor Center located at the park entrance, and head off into the desert, where the site of some of America's biggest mysteries reside.
1. Take a sunrise tour of Balcony House
What could be more intimate than spending your summer solstice as the Ancestral Puebloans did a thousand years ago? Greet the day from the Balcony House at Mesa Verde National Park, where the tour starts at 5:15 A.M. sharp.
There are only four of these 90-minute tours offered throughout the year, two during the summer solstice (June 21st and 22nd) and two during the fall equinox (September 22nd and 23rd), making this experience highly coveted, despite the early hour. You'll crawl through tunnels, climb ladders, and ascend a massive staircase of stone, just as the Ancestral Puebloans did. To experience life as it was is what makes this tour so unforgettable. Book your reservation online at www.recreation.gov or by phone, at 1-877-444-6777.
2. Bike and hike through the Wetherill Mesa
The Wetherill Mesa Bike and Hike adventure, hosted by the National Park Service, provides a longer, 4.5 hour excursion, for the curious traveler. Your trip will take you 9 miles through the desert and provide an exclusive look at the deeper, more wild side of the park. Spectacular views aside, you will visit three isolated dwellings, the Long House, Double House and Nordenskold #12. Enjoy Southwest Colorado's perfect weather, without the crowds or noise pollution. This tour is offered every Wednesday, from May 30th to September 5th. Book your reservation online at www.recreation.gov or by phone, at 1-877-444-6777.
3. Find the best spot for viewing wildlife
Ask any ranger and they'll tell you, Prater Ridge Trail is your best chance to get acquainted with the local fauna. The trail is a 7.8 loop and broken up into the north and south section. Plan your hike for the early afternoon to experience the golden hour, that perfect time just before sunset that photographers love to capture. Bring a pair of binoculars and a camera, where you may find mule deer, coyotes, foxes, turkeys, bobcats or other wildlife any time.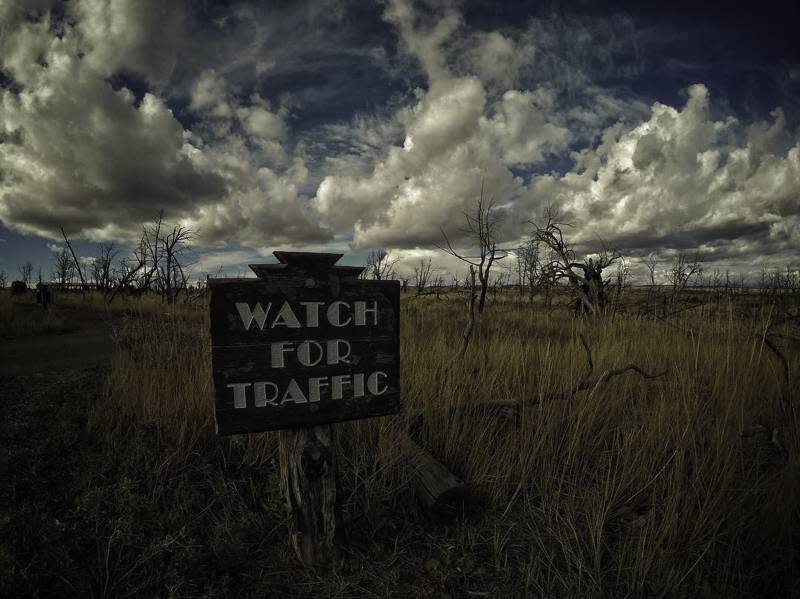 Photo: Instagrammer @gypsy_minded
4. Take a private tour with a real archaeologist
What better way to learn about the past than to hop in the car of a real archaeologist? Thanks to one of Durango's own guide companys, Durango Rivertrippers and Adventure Tours, you can do just that. It's the ultimate VIP treatment, where you'll be picked up and dropped off by one of the world's best. You will spend a full day experiencing the park in a more intimate way, doing exactly what you want for however long you'd like. Learn the ins and outs of the park, from the cultural significance, to the history, geology and anthropology of the region. At the end of the day, your guide will drop you off right where you started in town, with more than a few great local tips on where to spend your evening.
Other Durango outfitting companies also offer great tours of Mesa Verde. Be sure to check out Mild to Wild Rafting and Jeep Trail Tours and Mountain Waters Rafting, Jeep Trail Tours, and Adventures for additional Mesa Verde tour options!
5. Visit the Yucca House, just outside the park
Despite more than half a million visitors-worth of foot traffic, the National Park Service has kept the ruins of Mesa Verde remarkably pristine. Nowhere else in the country can you find such well-preserved dwellings, which makes a visit to the Yucca House National Monument that much more fascinating.
Unlike Mesa Verde, this sister site has remained largely untouched and more importantly, unexcavated. It is believed that the Yucca House served as a village center from 1150 to 1300 A.D. but not much else is known. The integrity of this massive archeological site also preserves its mystery, so its reasonable for your imagination to run wild with the wind.
6. Discover ancient rock carvings via the Petroglyph Point Loop
Binoculars are a must-bring on any trip to Mesa Verde. Scanning the horizon and cliffside, there is no telling what features, carvings or geological markings you may stumble upon. That's the thrill of the adventure. But to guarantee yourself an up close and personal look at the words and pictures of past civilizations, you'll want to visit aptly named Petroglyph Point Trail. This 2.4 mile hike, though moderately strenuous, will pull you even deeper into the lives that made up this ancient civilization. Scraped through the sandstone rock varnish, you'll find remarkable details in the images, a small glimpse into what everyday life might have been like. Bring a guide booklet, available for purchase at the visitor center, which points out 34 notable points along the trail so you won't miss a thing.
7. Piece together the past from within the actual ruins themselves
Given the significance of such a large scale preserve like Mesa Verde, you would expect that most exhibits can only be viewed only from afar, or a safe distance so as not to damage anything. But at Mesa Verde, visitors have the rare and incredible opportunity of exploring the ruins themselves, and standing right where the Ancestral Puebloans stood. Explore dwellings and kivas, underground ceremonial spaces that were reachable only by ladder. While Spruce Tree House, which allowed visitors access into kivas, remains closed due to rock falls, you can still view ancient kivas from above in other cliff dwellings. These religious and social centers are rooted, literally, in the culture. Tradition says that the kiva is the portal from the primordial underworld where the first ancestors emerged from.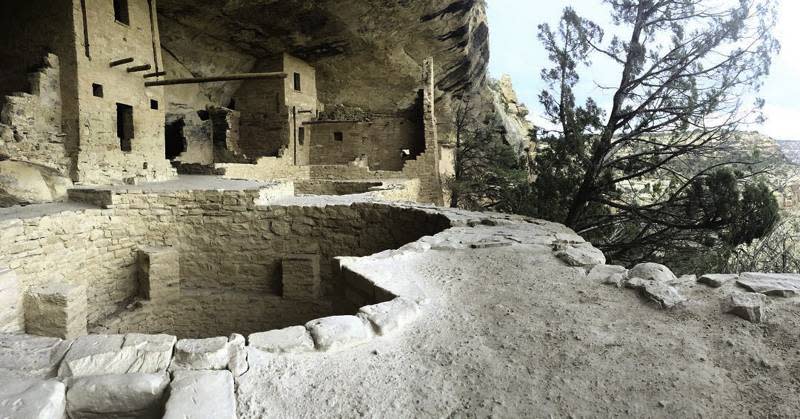 Photo: Instagrammer @curtincaitlin
8. Watch the sunset from Point Lookout Trail and spend the night at the Morefield Campground
With the fall of the sun, the entire landscape changes. That's why many people make a point to spend at least 24 hours in each of our nation's parks. Whatever mysteries still float through the air of this region, they're sometimes best contemplated under a sea of desert stars. Point Lookout Trail, just 1.5 miles from the Morefield campground, is one of the best places to close out your evening and offers some of the best views of the park. To really top off this experience, visit on the evening of the July 4th for literally the best view of fireworks from the nearby city of Cortez.
9. Marvel in the architecture of Square Tower House
The park, more than a century in age, has only been open to backcountry exploration since 2013. The National Park Service offers a series of guided backcountry tours, each with its own reason to attend. Simply for the unique and intimate look, we recommend the short but extremely strenuous hike to the Square Tower House, where you will find the Crow's Nest. Plan for two hours for this 1 mile round trip that descends more than 100 feet. You'll pass stomach-churning drop offs, cut through switchbacks and even descend a 20 foot ladder. For every thud of your heart beat or bead of sweat dropped, you'll be reminded that for this civilization, travel like this was simply everyday life.
10. Take a moment to take in the continent's largest discovered cliff dwelling
If you've ever seen a photograph of Mesa Verde, chances are you've seen Cliff Palace, the Glacier Point of Mesa Verde National Park. AirBnB has nothing on this appropriately named palace in the rocks. It's like something straight out of a children's novel, with its tower formations, bright windows, multiple levels, 150 rooms and 23 defined kivas. A true testament to the time and commitment devoted to this place, you can't visit Mesa Verde without experiencing Cliff Palace. Purchase your required ranger-guided tour tickets at the Durango Welcome Center at 802 Main Avenue in Durango, or at the Mesa Verde Visitor and Research Center, located at the park itself. Note that tickets must be purchased in person, and can only be purchased up to 48 hours in advance. Tour tickets sell out quickly! For a description of available tours, click here.
11. Pause on the 360-degree vista and see all 4 surrounding states, at the park's tallest point
The long, winding drive to the Visitor Center offers stunning views, but not enough people know when to get out of their car and take it all in. On your way into or out of the park, look for the sign to Park Point, the highest elevation point in the park. From here, you'll find a jaw-dropping 360-degree view of not only the Montezuma Valley, but Utah, Arizona, New Mexico and Colorado as well. Take in the view on a summer mid-afternoon and watch as the storms come rolling in on the valley.