Nestled beneath the San Juan mountain range resides a town forged from history. Durango, Colorado – with its Southwestern charm, Wild West tendencies, and preciously guarded past – seems impervious to the stress and chaos of today's outside world.
Wandering the vibrant streets of Durango's historic district, visitors find a community raised to celebrate and respect the influences of yesteryear. Eager to share, smile, and experience life together, locals grant visitors time to do the same, to breathe deeply the clean mountain air, and explore with the curiosity of a child.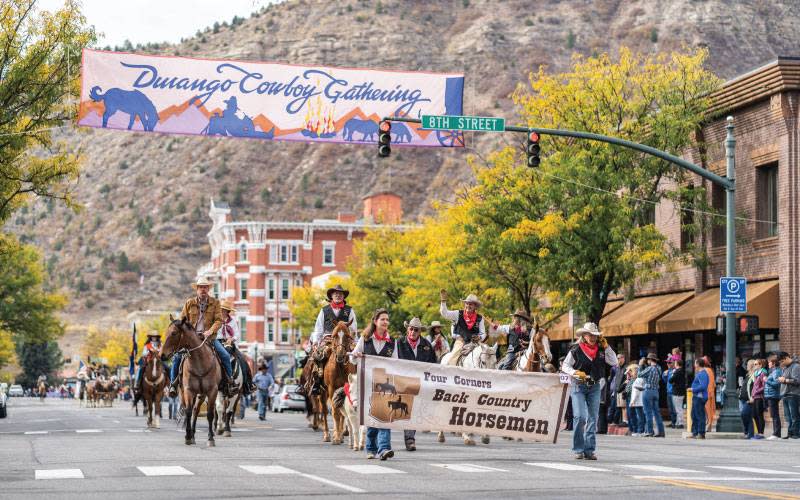 It takes just a small moment to discover the details these locals work tirelessly to preserve. In a town where each day begins with the whistle of a 137-year-old train, experiences are as accessible as they are magical. From the warm brick buildings older than our most senior residents to the ancient dwellings of Colorado's earliest humans that stand just next door, we invite you to explore this site of living heritage known as Durango, Colorado.
The Historic Downtown District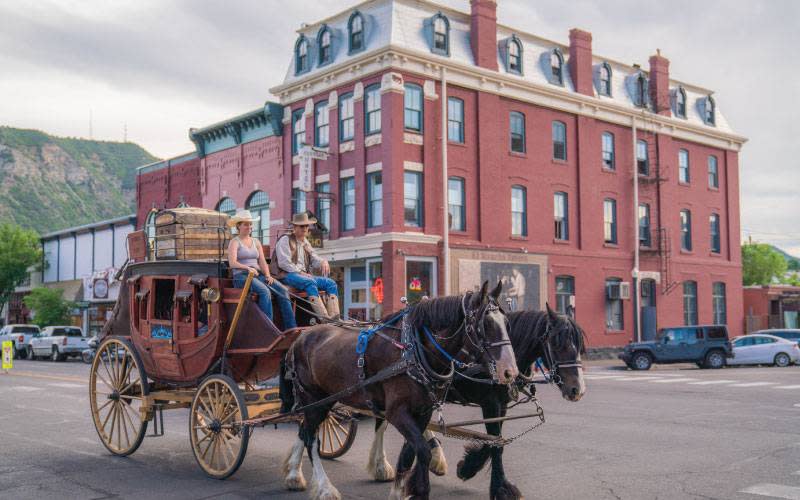 I always encourage that each first visit to Durango begin with a walk. Along Durango's 34 acre historic district, it's easy to eat, breathe, and even sleep history. Park alongside Main Avenue and stroll the shops and boutiques that live in Durango's oldest buildings. Listen to the hum of coffee shop music and enjoy the wafting smells of fresh baked treats from Jean Pierre's bakery, Michel's creperie, and Durango Bagel.
You'll find pieces of history, both big and small, at every corner - the bullet hole in the drawer at the Diamond Belle Saloon, the secret, removable brick at El Moro, the crushed purple glass, rumored to indicate the site of an old opium den,  in the manhole covering by El Rancho Tavern. If you know where to look, there is so much to find. Whether you're spectating a old west shootout, donning period clothing for a family portrait, or riding a horse-drawn carriage through the neighborhood, you may quickly lose sense of time.
Art and Culture: As you stroll, make a point to visit Durango's oldest art gallery, Toh-Atin. A family-owned tribute to Durango's deep Native American roots, Toh-Atin features art from over twenty different tribes. Inside, you'll find handwoven rugs, pottery, jewelry, sculptures, paintings, and a wall of framed news clippings gathered from 60 years in operation. Honoring the work of generations of local artists, this iconic landmark is part of Durango's living history.
The Animas Museum: Likely, your curiosity may draw you beyond the streets of Main Avenue to the quaint and unchanged neighborhoods along 2nd and 3rd Avenue. At 2nd Avenue, stop in to the Animas Museum, a historical society center with a number of exhibits and galleries based around Durango's Native American, wild west, mining, and geographic past. Browse through thousands of artifacts, photographs, and archives put on display or attend an event. The museum hosts a number of partnered events throughout the year, including a monthly Distillery Tour and History Talk with Durango Craft Spirits, a train ride to the Tacoma Power Plant with the Durango Train, and even an "Atomic Pub Crawl," celebrated in the bars of Durango that once served as bomb shelters in the Cold War.
The Animas River Trail: Exploring the natural history of Durango, visitors can enjoy the easily accessible, paved Animas River Trail that lives at the heart of downtown. Stretching nearly seven miles through Durango's Animas River Greenway, the trail is a great option for families with kids in tow. Along the trail, you'll find Animas City Park, Schneider Park, fly fishing, and spectating sites for whitewater rafting. Tour the Fish Hatchery & Wildlife Museum, the oldest state-owned fish hatchery in Colorado, for free admission and feed trout in the raceway.
The Strater Hotel: At night, rest your head at the Strater, a four-story, grandiose Victorian hotel with history dating back to 1887. Each of the 93 guestrooms are individually designed to reflect the Victorian charm of the past. Over the years, the Strater has hosted guests such as Louis L'Amour, Gerald R. Ford, John F. Kennedy, Marilyn Monroe, Steven Spielberg, Robert Redford, and many more.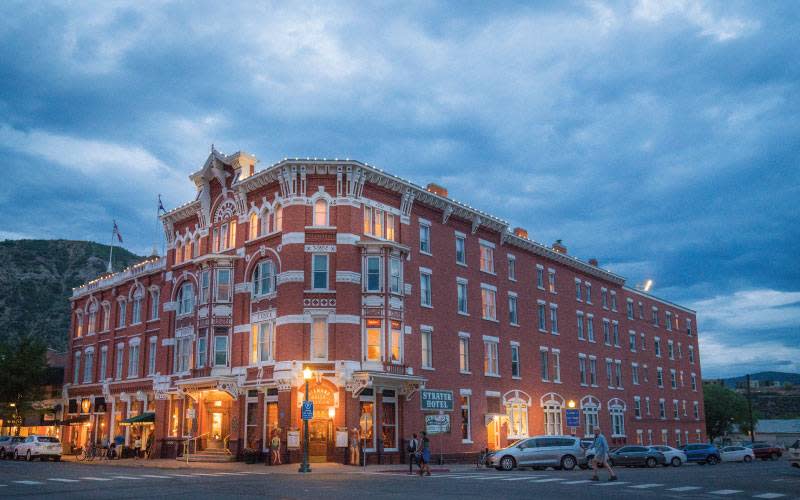 A Town Shaped by Rail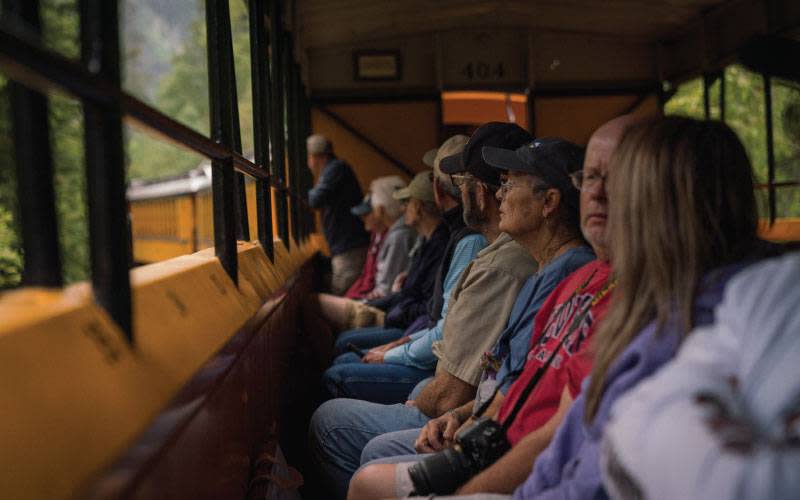 The Durango Train: Winding through the stunning canyons and remote wilderness of the San Juan National Forest, the Durango & Silverton Narrow Gauge Railroad offers an unforgettable year-round adventure. Hopping aboard the historic train is the number one recommended activity in Durango, and the Train Depot and Museum both serve to celebrate this experience. Book your ticket to ride and arrive early to explore the free museum with artifacts, maps, miniature trains, and an ever-changing list of exhibits. Now a National Historic Landmark, the Durango Depot stands proudly unchanged since its construction in 1882.
From May 13th to October 10th, visitors can ride the historic narration coach, where they'll learn all about the historic significance and scenery from real characters in history. Narrators will join you on the ride dressed in period clothing and share the life story of their character. Learn from pioneers, railroad builders, homesteaders, ranchers, miners, and New York socialites as you chug along the most scenic landscape in Colorado. 
Today, America's longest continuously running cycling event challenges cyclists to race the train. The Iron Horse Bicycle Classic, now in its 48th year, attracts the world's best professional athletes to climb two 10,000' mountain passes in 50 miles from Durango to Silverton.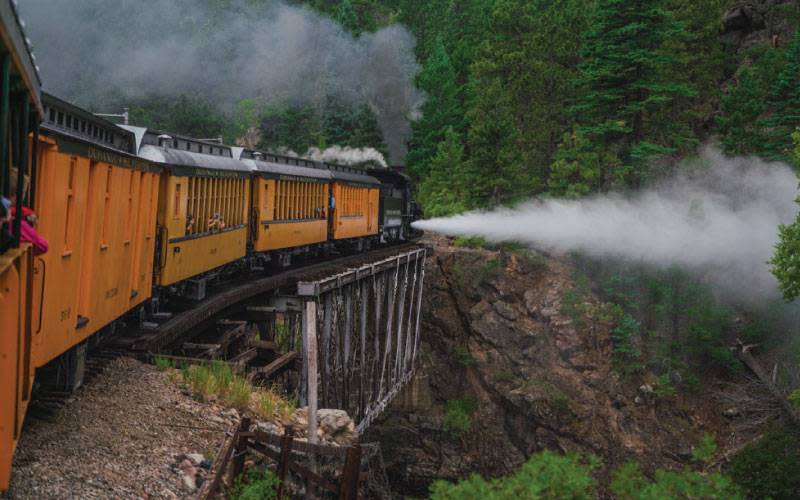 Beyond Town
The Million Dollar Highway: A scenic drive through the San Juan mountains is an irresistible part of anyone's Durango stay. The Million Dollar Highway, named one of the best drives in Colorado, winds for 236 miles through old mining towns, stunning scenery, and sweeping mountain views. You'll discover waterfalls, hot springs, ghost towns, and the opportunity for winter skiing and summer hiking.
Mesa Verde National Park: Just 35 miles west of Durango lies some of the nation's most well-preserved Puebloan cliff dwellings. Mesa Verde National Park, a UNESCO World Heritage, attracts visitors, researchers, and scientists from across the globe. More than 5,000 archeological sites expand over the park, where you can interact with these stunning feats of architecture on private or group tours. Explore the park with nearby hiking, lodging, camping, cross-country skiing, and biking.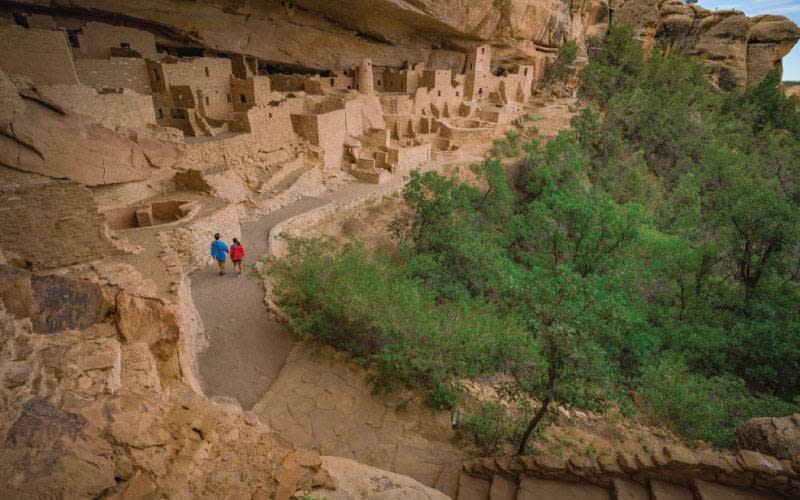 The Center of Southwest Studies: Up the road from downtown Durango at Fort Lewis College, the Center of Southwest Studies serves as a bridge between community education and the preservation of history. With one of the most comprehensive collections of Four Corners history, the museum features pottery, sculptures, baskets, paintings, and artifacts. The exhibits are always changing and have included subjects like Ben Nighthorse Campbell, the Treasures of the Southwest, Frontier Blues, and the Electrification of Colorado's Western Slope.
Chimney Rock National Monument: The unmissable sight of Chimney Rock from US 160 begs visitors to visit and learn more. Covering seven square miles and preserving 200 ancient Puebloan homes and ceremonial buildings, this sacred archeological site is remarkably well-preserved and open to guided tours.
Southern Ute Cultural Museum: Championing the lives and history of the Southern Ute Indian Tribe, the Southern Ute Cultural Museum is filled with interactive galleries, presentations, artifacts and exhibits. Learn more of the Ute people, from prehistory to modern times, in an engaging, welcoming environment fit for all ages.
The Bar D Chuckwagon: A favorite experience among locals and tourists alike, the Bar D Chuckwagon offers a true western experience, complete with a chuckwagon supper, and live music of and comedy from the Bar D Wranglers band. The ranch is a playground for activities, including a tractor-pulled hayride, shooting gallery, gold panning site, roping, and a nature trail.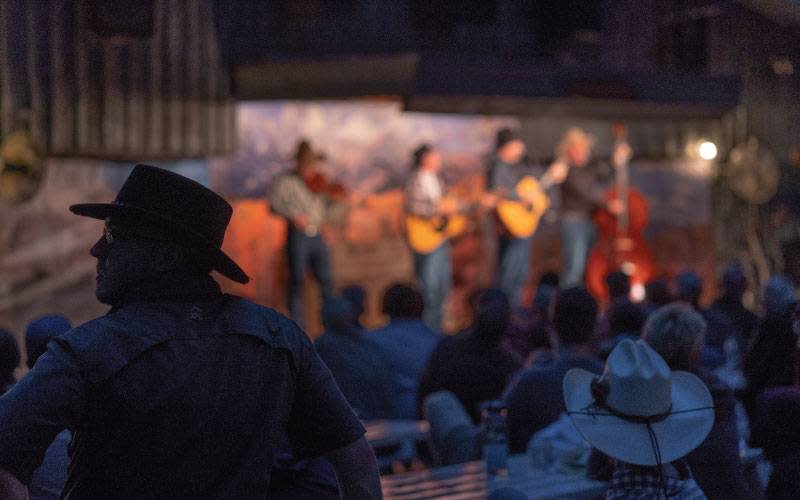 With so much to see and do, Durango emanates an authenticity unrivaled by any destination. It's not completely fair to say Durango has brought history back to life. Rather, it's one of the few towns left that never let it die.