Biking is one of the best ways to spend quality, active, and fun time with your young children, all while getting into the great outdoors. Whether you've been biking for years and want your little ones to love it the same way you do, or you're a new parent just looking for a new activity, biking really is one of the best ways to spend your days as a family.
Put simply, Durango is a biking town. Between quiet mountain highways, Animas River Trail, beautiful views of the La Plata Mountains and nearby mesas, and miles and miles of mountain biking trails, Durango has something for everyone.
Whether you're a local "Durangatang" getting into biking or a seasoned pedaler bringing the little ones biking for the first time, we've put together this intro guide to give you everything you need to know about biking with kids in Durango. 
Getting Your Child On The Bike
The very first thing you need to consider is how you're going to get your toddler along for the ride. And what you go for really depends on what type of biking you want to do around Durango, as well as your budget. 
Child bike seats are great for getting children on a bike to enjoy the experience with you. They're usually very affordable, usually costing $50-200.  Be careful, though, bike seats aren't compatible with every type of bike!
If the thought of your child sitting up high on a bike is too much to bear, a bike trailer may be the better option. Considered to be safer because of articulating arms and safety roll bars, bike trailers are a lot more expensive-, costing $200-1,300. They're especially handy if you have two children or want to take a picnic along with you, but not as easy to enjoy the experience with them.
If you're looking for a gentle bike ride and pedal along smooth, flat paths (like the Animas River Trail) then a trailer or rear-mounted seat will work perfectly. But if you're after something more thrilling, front-mounted seats are the ideal way to throw the bike around some of Durango's more mild mountain bike singletrack trails. 
Safety On The Trails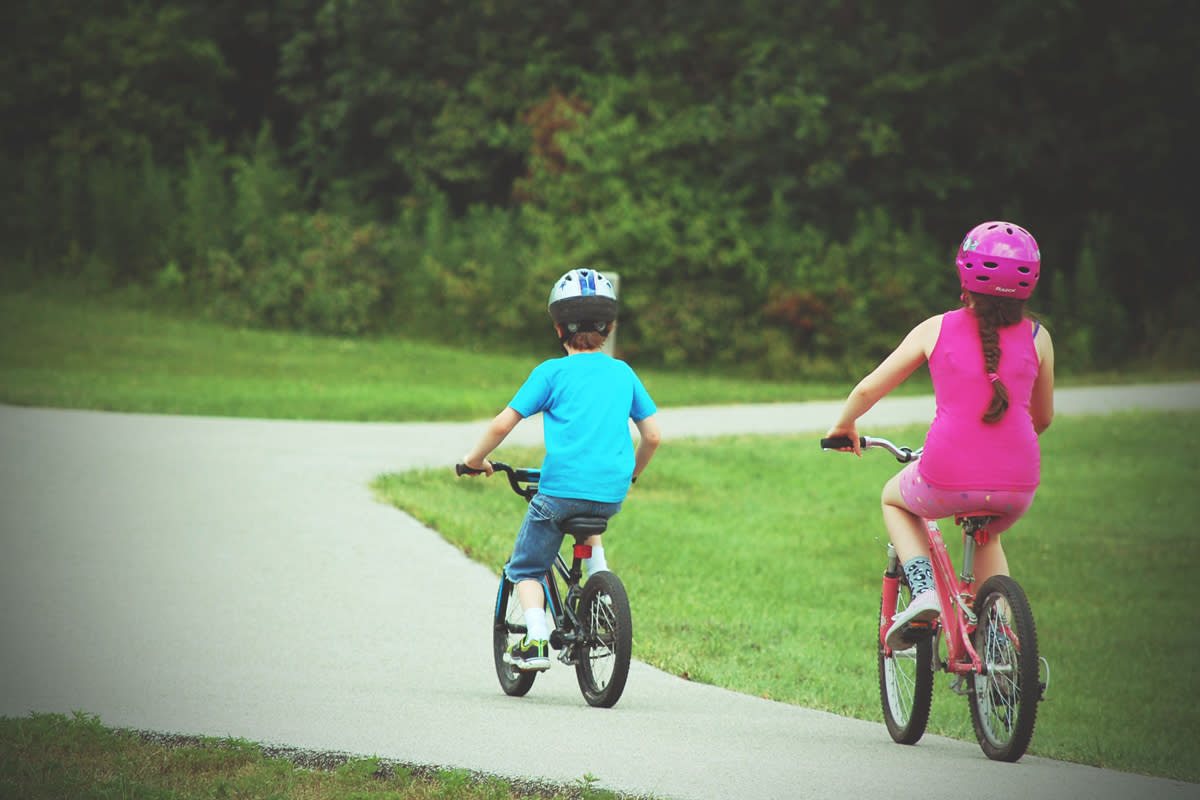 Naturally, a helmet is a must for any child on a bike ride regardless if they're riding the bike themselves, on a ride-along bike, sitting in a trailer, or on a seat. Getting the size right can be just as important as even wearing one. 
Here's a quick breakdown of how to measure and fit your child's helmet:
Place a fabric tape measure roughly an inch above their eyebrows

Take the measurement, ensuring the tape is level all the way around the head

Choose the helmet and place it on their head

Ensure the helmet sits roughly an inch above their eyebrows

Ensure the chin strap is snug but not tight

Ensure the straps form a tight V-shape underneath the earlobes

If the helmet drops too low or can wobble easily, it's too big. If it sits on top of the head with more than one inch of forehead visible, it's too small
Once you've got the helmet and the seat sorted, you're ready to plan your route around Durango.
Pick Your Biking Route Around Durango
Taking an impromptu ride around Durango with no specific destination in mind is one of the many wonderful things about biking. However, bringing your child along for the ride is a different story. You want them to fully enjoy every minute of the experience, so riding too long runs the risk of them getting bored, tired, hungry, or thirsty. Planning your biking route in advance gives you the flexibility of taking provisions for a quick drink and something to eat or stopping at a cafe along the way. 
To help you out, we've picked out a few of our favorite family-friendly routes that Durango has to offer:
Animas River Trail
This seven-mile-long bike and pedestrian pathway follows alongside the stunning Animas River and downtown Durango. You can start either north or south of downtown to ride the whole route, following the Animas River the whole way. 
The route snakes around downtown Durango, which is ideal for a stop-off point on the way back. Grassburger and Steamworks Brewing are great for quick bites and even bigger meals, while the Cream Beanery, Fuzziwig's Candy Factory, and Rocky Mountain Chocolate Factory are the best for sweet treats. The whole Animas River Trail is nice and flat making it ideal for a relaxed, leisurely bike ride for the whole family. 
Circling Fort Lewis College Via Rim Drive
The Rim Drive is a short and gentle loop east of downtown Durango with amazing views of the entire downtown area, Hogsback Mountain, and the La Plata Mountains in the distance. Circling Fort Lewis College campus via a paved road, there are plenty of spots to put the brakes on and take in the wonderful views. 
You can either ride it as a 2.7-mile loop, starting from the intersection of Fort Lewis Dr. and Rim Dr. or start in town and make your way up via College Drive and Geoglein Gulch Road. 
The Flat Trails Next To The Church Camp Trail
Just a 20-minute drive from downtown Durango, this trail offers an easy and flat ride in the valley between Highway 205 and the established Church Camp Trail. Although it's flat, there are a few bumps to give your kid a few thrills and expose them to the world of mountain biking. It also has incredible views of the red cliffs and pine-covered mesas on either side of the valley. 
There's no established trail, so your best bet is to take the largest one you can find and ride for a mile or so before turning back. If the return journey is too tough, you can always hop onto Highway 205 and ride the road's shoulder back to the car.
Engage And Encourage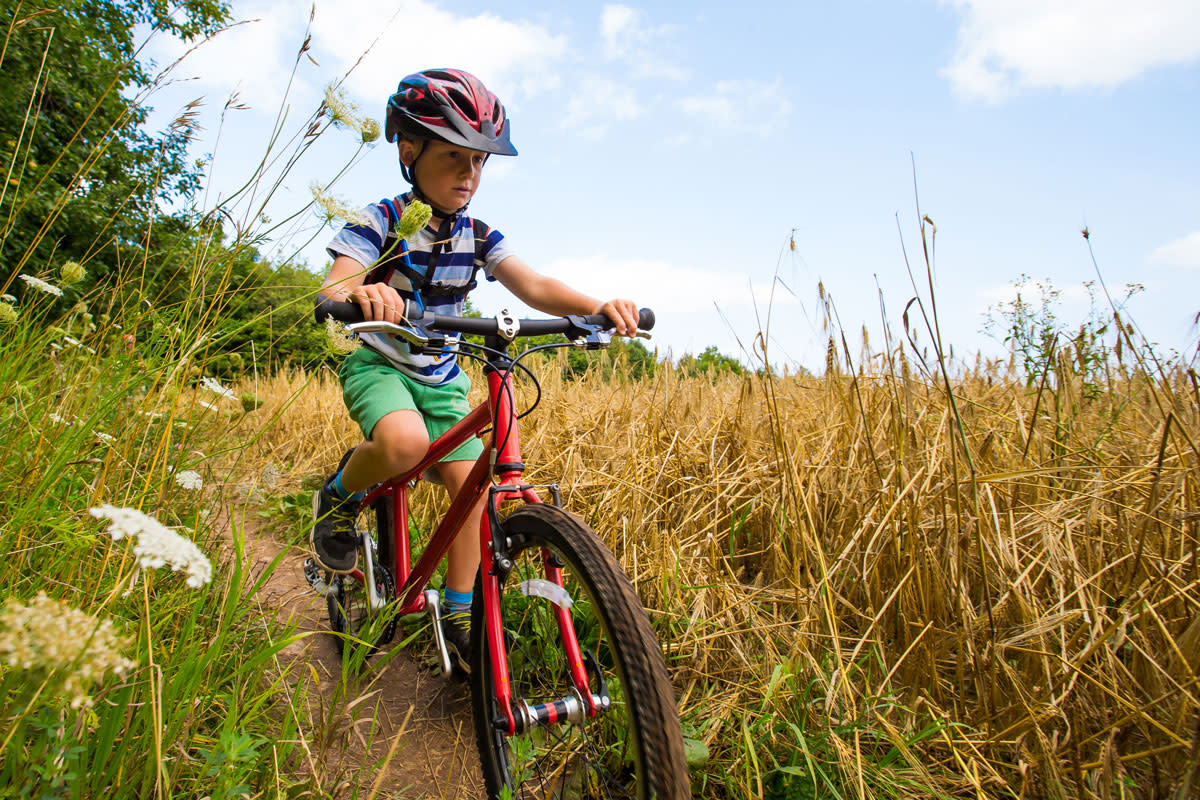 This might be the most important point of all. Biking is an amazing hobby, and you want your children to fall in love with it! But they're only going to enjoy biking if you really engage with them (that's a major plus for front-mounted seats). 
Here are some simple ways to engage with your child while biking:
Talk to them about the bike ride, the trail, and the views 

Tell them when a fast bit is coming up and ramp up your excitement

Poke fun at yourself for being tired after a little uphill section

Ask them what they enjoy about the ride and what they're not so keen on 
All of these tips will help you pick the best biking route next time and make the experience all the more enjoyable for them. 
Conclusion
Whether you want a gentle bike ride on the Animas River Trail or trying your luck on a flat, easy, and wide trail, Durango is a wonderful place to get out on the bike with the kids. But before you decide to bike with your little one, consider how you seat your child, how to keep them safe during the ride, where you're going, and how you can help them fall in love with biking. 
Keep all of this in mind and you'll have an amazing bike with your little one!