Our town is home to some of the best gravel biking routes in the country. With its stunning mountainous terrain, miles of dirt and gravel roads, and picturesque landscapes, Durango is a gravel biker's paradise. From challenging climbs to thrilling descents, riders of all skill levels can find a route that suits their needs. The town is surrounded by several national parks and forests, providing bikers with countless options for scenic gravel routes. With a rich cycling culture, several bike shops, and gravel biking events held throughout the year, Durango is the perfect destination for gravel bikers looking for a fun and adventurous ride.
If you're looking to explore Durango's scenic trails in a new way, gravel biking might be just the thing for you. Let's dive into some of the best spots to go gravel biking in and around Durango and what to expect when you hit the trails.
Our Favorite Gravel Biking Guides and Outfitters around Durango
Several bike shops in Durango offer gravel bike rentals and gear for purchase. These shops can help with bike fitting and route planning and provide information on local trails and conditions. Some shops also offer guided gravel bike tours and events for riders of all skill levels.
Pedal the Peaks
Pedal the Peaks is a top-rated bike shop in Durango, Colorado, offering a wide range of gravel, mountain, and road bikes. The shop is located in the heart of downtown Durango, making it a convenient stop for locals and visitors. They offer rental bikes and have a knowledgeable staff to recommend the best bikes and gear for each rider's needs. In addition to bike sales and rentals, Pedal the Peaks also offers bike tours in collaboration with Durango Mountain Bike Tours. Whether you're an experienced rider or just starting, Pedal the Peaks is an excellent option for all your gravel biking needs.
Mountain Bike Specialists
Mountain Bike Specialists (MBS) is a bike shop located in Durango that provides high-end bikes and accessories for biking enthusiasts. They carry a wide range of gravel bikes from top brands like Specialized, Salsa, and Surly. In addition to sales, MBS offers bike repairs and services to get you back onto the trail in no time. They also offer bike fitting services to ensure that riders are comfortable and safe on their bikes. The staff at MBS are knowledgeable and experienced in gravel biking and are happy to offer tips and advice to help visitors make the most of their rides.
2nd Ave Sports
2nd Ave Sports is a locally owned and operated outdoor gear shop in Durango, Colorado, that offers a wide selection of gravel biking equipment. Their inventory includes top-of-the-line bikes, helmets, apparel, shoes, and accessories from leading brands like Specialized, Cannondale, and Trek. Their experienced staff is passionate about gravel biking. It is always eager to share its knowledge and expertise with customers, helping them find the perfect equipment for their skill level and riding style. They also offer repairs and maintenance services to keep your gear in shape. With their commitment to quality products and personalized customer service, 2nd Ave Sports is a go-to shop for any gravel biker in Durango.
Our Favorite Areas to Go Gravel Biking around Durango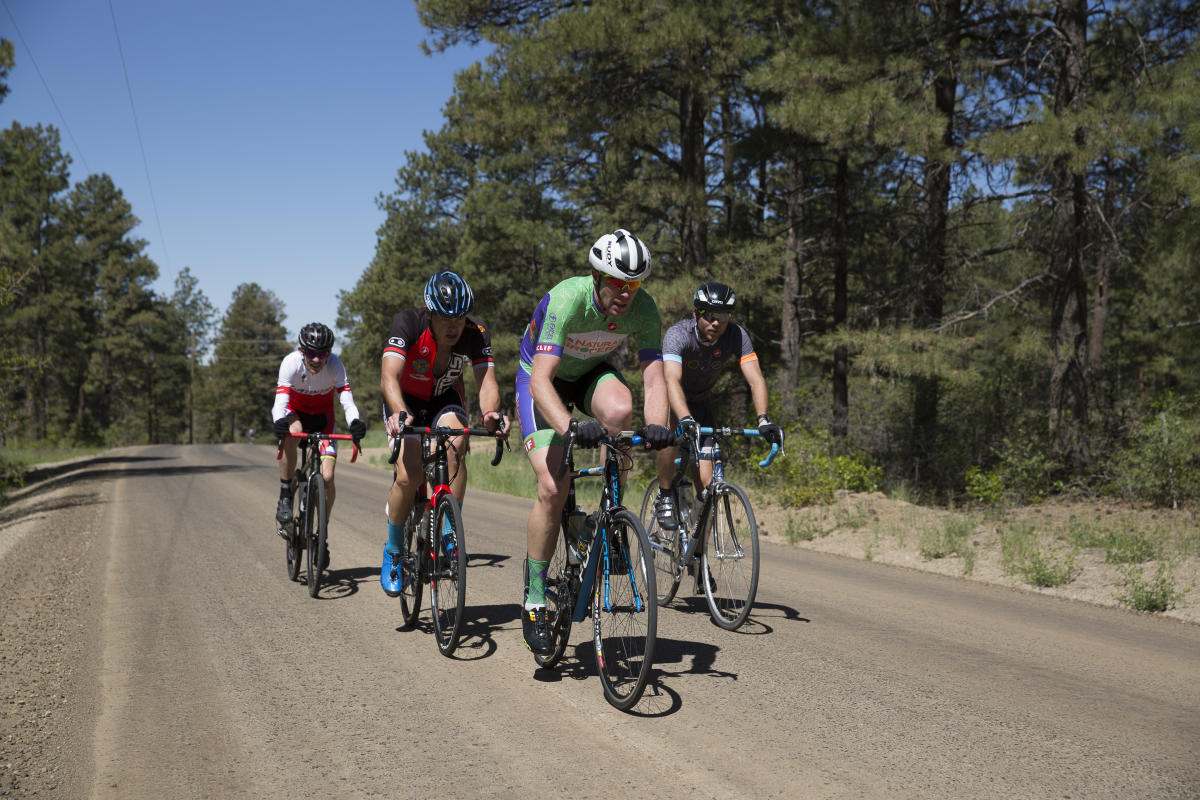 Durango, Colorado, is home to some of the best gravel biking trails in the country. With its varied terrain and breathtaking views, it's no wonder that gravel biking enthusiasts flock to this area. Here are some of the best spots to experience the beauty of Durango's trails on two wheels.
Missionary Ridge
Missionary Ridge Trail offers an exhilarating gravel biking experience with scenic views of the Animas River Valley. The 9-mile trail suits intermediate to advanced riders due to its steep inclines and technical sections. The ride begins with a gentle climb, followed by a series of switchbacks that take you to the ridge. You can enjoy a breathtaking panorama of the Animas River Valley, the La Plata Mountains, and the San Juan Mountains. The descent is fast and thrilling, with loose gravel and tight turns. Riders should be cautious of hikers and other bikers on the trail.
La Plata Canyon to Kennebec Pass
The 9-mile ride from La Plata Canyon to Kennebec Pass is an iconic gravel biking route near Durango. Starting at an elevation of 8,900 feet, the climb to the Kennebec Pass summit at 12,000 feet is a challenging but rewarding experience. The route offers stunning views of the surrounding San Juan Mountains, including the 14,000-foot peaks of Mount Wilson and El Diente. Riders will encounter rocky and technical terrain, steep climbs, and descents. The descent from the summit to Junction Creek is fast and thrilling, with wide-open views of the Animas Valley. This route is best attempted by experienced riders with proper gear and preparation.
Sauls Creek
The 5.4-mile Saul's Creek Trail can be a challenging and scenic gravel biking route. The ride features steep climbs, rocky terrain, and spectacular views of the San Juan Mountains. The route, which can sometimes be hard to find, runs in a loop with some steep sections, but the effort is worth it for the stunning vistas of the surrounding peaks. The descent down Saul's Creek is technical and thrilling, with plenty of rocks and obstacles to navigate. The route is great for intermediate to advanced riders looking for a challenging and rewarding ride.
Bolam Pass Area
From Purgatory Resort, Bolam Pass is a fantastic destination for gravel biking enthusiasts. The route takes you through a challenging climb, and the stunning views make it all worth it. Riders will enjoy the serene wilderness of San Juan National Forest. The trail also features steep, technical descents, which provide an extra challenge. The 25.1-mile ride is best suited for experienced bikers and requires good physical conditioning. Bolam Pass is a popular destination, and you will likely encounter other riders. However, the breathtaking scenery and thrilling ride make it a must-visit for any gravel biker.
Vallecito Reservoir Area
Vallecito Reservoir offers a picturesque setting for gravel biking enthusiasts. Combining Forest Road 501 with 603, you can get a full, 12-mile ride around the reservoir, providing riders with stunning views of the San Juan Mountains, lush forests, and clear water. The ride is suitable for intermediate riders, and the route is well-maintained, making it a relatively smooth ride. Riders can stop at the reservoir's beach area for a picnic or a swim before returning. This ride offers an excellent opportunity for gravel bikers to enjoy nature's beauty while getting a good workout.
Gravel Biking Safety and Care for Durango Tips
It is essential to stay safe while gravel biking. Taking precautions can minimize the risk of accidents and injuries while enjoying your gravel biking adventure. 
Wear Your Helmet
Wearing a helmet while gravel biking is critical for safety. In a crash, a helmet can significantly reduce the risk of head injury. A properly fitting helmet should sit level on your head and cover your forehead. Replacing your helmet every few years is essential, even if it has not been in a crash. Over time, the foam inside can deteriorate and become less effective. Additionally, always ensure that your helmet meets safety standards and has been certified by an accredited testing organization. Wearing a helmet can make all the difference in staying safe while enjoying gravel biking.
Check Your Weather Conditions
Checking weather conditions before heading out on a gravel biking trip is crucial for ensuring a safe and enjoyable experience. Knowing the forecasted temperature, the chance of precipitation, and wind speed is essential to dress appropriately and bring the necessary gear. Additionally, thunderstorms and lightning can be dangerous for outdoor activities, so staying alert and prepared to seek shelter is crucial. Extreme heat or cold can pose risks, so planning your ride around the most favorable weather conditions is vital to safe and enjoyable gravel biking.
Pack the Right Clothes, Food, and Water
Packing the right food, clothes, and water is crucial for a safe and enjoyable gravel biking experience. Cyclists should always carry enough water to stay hydrated throughout their ride and snacks or energy bars to maintain their energy levels. Packing appropriate clothing for the weather conditions and dressing in layers to regulate body temperature is also essential. Cyclists should also bring a basic repair kit, including a spare tube, tire levers, and a pump, in case of unexpected flat tires or other mechanical issues. Proper preparation can help prevent accidents and ensure a successful gravel biking trip.
Conclusion
Our town is a fantastic destination for gravel biking enthusiasts of all levels. With a variety of trails, stunning scenery, and top-notch bike shops, there is something for everyone. From the challenging climbs and technical descents of Missionary Ridge and Bolem Pass to the scenic route of Vallecito Reservoir, Durango offers a diverse range of gravel biking experiences. However, safety should always be a top priority when hitting the trails, whether wearing proper safety gear, checking weather conditions, or packing necessary supplies. With the proper preparation, gravel biking in Durango can be an unforgettable and safe adventure.