While Durango is known for its mountains, it also offers great stand-up paddleboarding opportunities. With local rental shops providing everything needed for a day on the water, stand-up paddleboarding is an accessible activity for everyone, from beginners to experts. Paddleboarders can enjoy a peaceful float through the heart of downtown Durango or venture further downstream for more solitude. Whether you're looking for a relaxing paddle or an adventurous workout, stand-up paddleboarding in Durango is an excellent way to enjoy the beauty of the area.
Whether you are looking to explore the calm waters of a lake or challenge yourself on a river, Durango, Colorado, offers a variety of stand-up paddleboarding opportunities for all skill levels. Here's a guide to some of the best spots to paddleboard in and around Durango.
Our Favorite SUPing Guides and Outfitters around Durango
There are several places in Durango where you can rent or buy stand-up paddleboarding gear. Some outdoor stores and sporting goods shops have a selection of boards and paddles for sale or rent. Additionally, there are also several outfitters and tour companies that offer guided stand-up paddleboarding tours on nearby rivers and lakes. These companies typically provide all necessary gear and equipment, as well as instruction for beginners.
4Corners Riversports
4Corners River Sports, located in Durango, Colorado, is a premier destination for outdoor enthusiasts and river adventurers. They offer various equipment, gear, and services for kayaking, rafting, stand-up paddleboarding, and more. With their extensive knowledge and expertise, they provide top-quality products, gear rentals, guided trips, and comprehensive instruction for all skill levels. 4Corners River Sports has many rental Inflatable and Whitewater SUPs from Badfish, Hala, SOL, Boardworks, SofTech, and NRapart. They also rent SUPs on-site at Lake Nighthorse, and their exceptional service and love for the outdoors make them an awesome choice for any river-related adventure in Durango.
Mild2Wild
An exceptional adventure company, Mild2Wild specializes in providing thrilling and unforgettable outdoor experiences. They offer many activities, including whitewater rafting, jeep tours, zipline adventures, and more. With highly skilled guides and top-notch equipment, Mild2Wild ensures the highest standards of safety and enjoyment for all participants. Mild2Wild offers not only SUP rentals but also instructional courses with expertly trained staff to ensure your safety. Their passion for outdoor exploration, dedication to customer satisfaction, and the stunning landscapes of Durango make Mild2Wild a go-to choice for adventure seekers looking to embrace the beauty and thrill of Colorado's outdoors.
Purgatory Resort- Twilight Lake
Purgatory Resort offers an unforgettable SUP experience at its very own Twilight Lake. Through their rental partner,  Durango Board and Boat, you can paddle amongst stunning 13ers and breathe in the crisp mountain air. The resort also offers a variety of food and lodging options for those looking for a longer staycation, including high-quality restaurants and vacation rentals. Guests can travel across Million Dollar Highway at their leisure and with their own watercraft, too. Whether you're looking to improve your skills or just enjoy a peaceful paddle, Purgatory Resort - Twilight Lake is a great option.
Roll Durango
Roll Durango is a locally-owned bike and paddleboard rental shop located in Durango, Colorado. They offer a variety of stand-up paddleboarding gear for all experience levels, including inflatable and hardshell boards, paddles, personal flotation devices, dry bags, and ankle leashes. Interestingly, they also offer an EBike and SUP rental package, which comes with a gourmet lunch on the Animas River. Roll Durango offers delivery and pickup services for customers who want to explore the beautiful waterways of Durango without the hassle of transporting their own equipment. With quality gear and friendly service, Roll Durango is a great option for anyone interested in stand-up paddleboarding in Durango.
Southwest Raft and Jeep
A popular outdoor adventure company offering stand-up paddleboarding gear rentals and guided tours, Southwest Raft and Jeep in Durango is a team of experienced guides that provide paddlers with an unforgettable experience, as they navigate the pristine waters of the Animas River and surrounding lakes. Southwest Raft and Jeep offer a variety of boards from top-of-the-line watersports companies, including NRS, Glide, and Bote. The company provides paddles, personal flotation devices, and other necessary safety gear for a safe and enjoyable paddleboarding experience. Southwest Raft & Jeep will also provide their list of off-the-beaten-path SUPing spots.
Our Favorite Places to Go SUPing around Durango
There are a variety of beautiful lakes and rivers perfect for stand-up paddleboarding, in Durango, Colorado. Here are some great locations to explore on your next paddleboarding adventure here.
Lake Nighthorse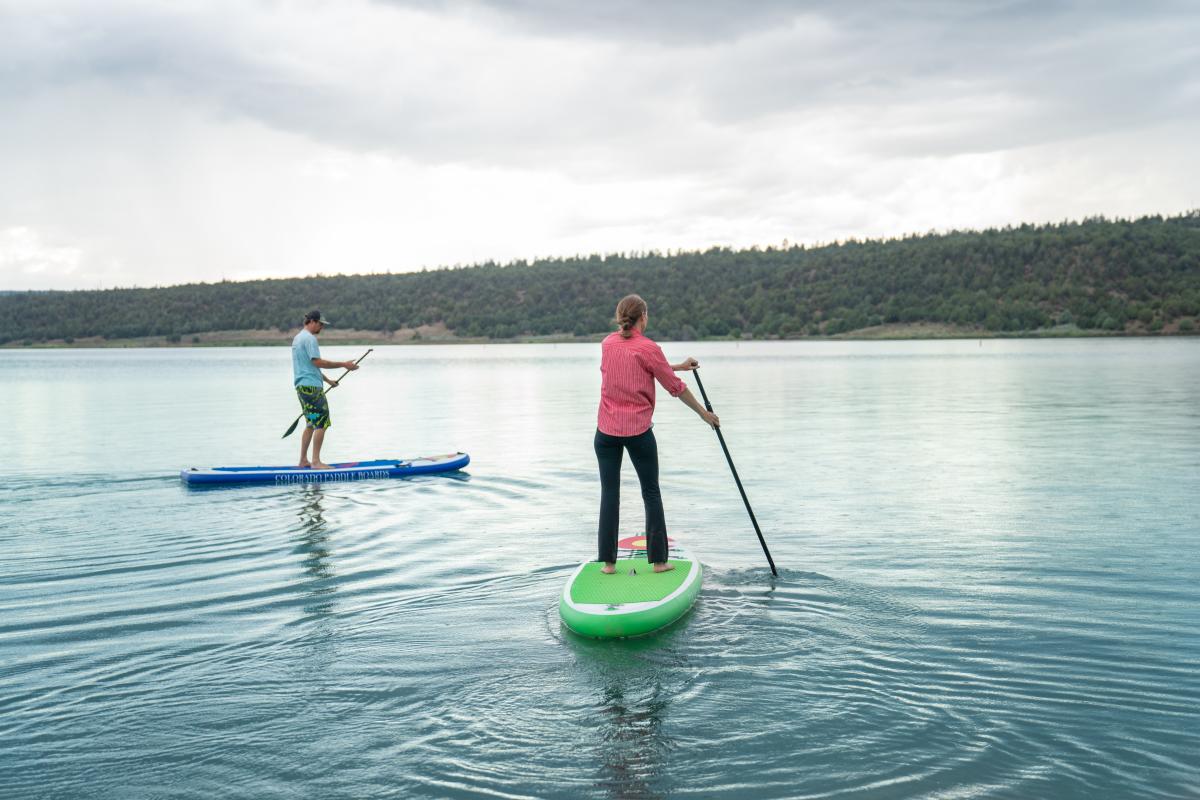 Since it opened in 2018, Lake Nighthorse has become a popular destination for stand-up paddleboarding in Durango. With clear blue waters and a stunning mountain backdrop, the lake offers a serene and picturesque setting for paddleboarders of all skill levels. The lake is open to the public and provides a range of recreational activities, including stand-up paddleboarding, kayaking, fishing, and swimming. Visitors can rent stand-up paddleboards and other equipment from local outfitters and enjoy a day on the water. Lake Nighthorse is also conveniently located near downtown Durango, making it a great option for a quick and easy paddleboarding excursion.
Oxbow Park and Preserve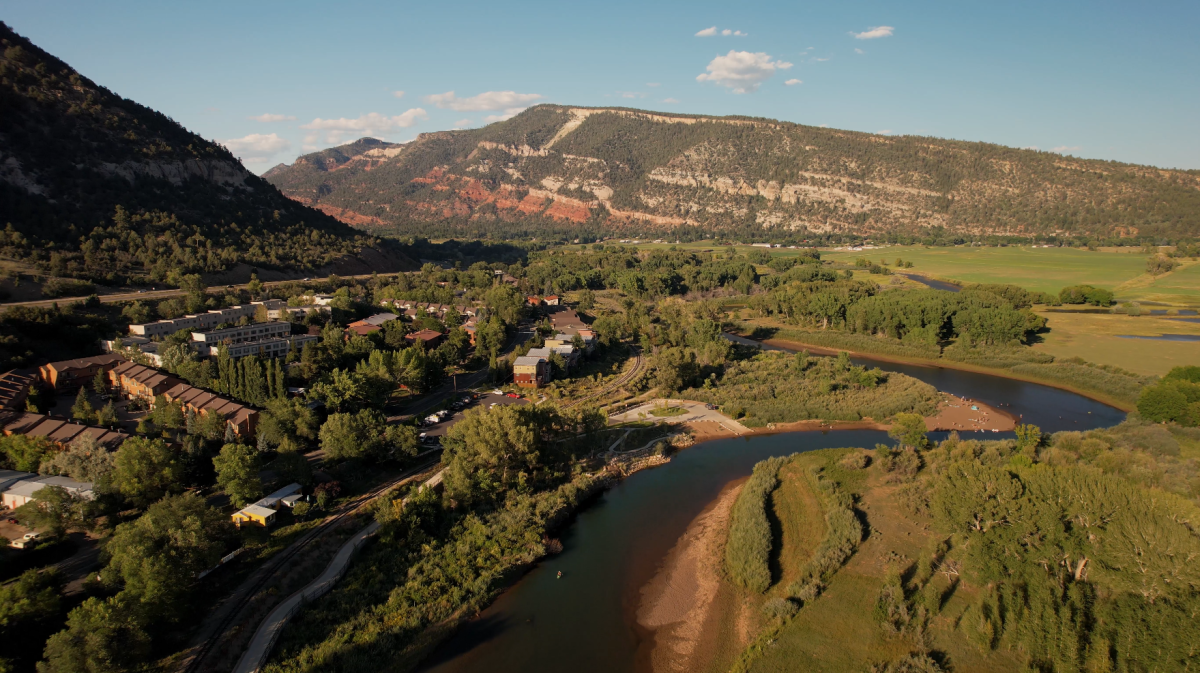 Located just a few miles from town, Oxbow Park and Preserve is a hidden gem for stand-up paddleboarding enthusiasts. This scenic park offers easy access to the Animas River, making it a great spot for beginners and experienced paddlers alike. The river here is calm and shallow, with plenty of opportunities to explore the surrounding nature and wildlife. The park is also home to a small lake, which is perfect for paddleboarding on calm days. Oxbow Park and Preserve is a must-visit destination for those looking for a peaceful paddleboarding experience surrounded by the beauty of the Colorado landscape.
Haviland Lake
Located in a mystical alpine valley, Haviland Lake offers a tranquil stand-up paddleboarding experience. The lake is surrounded by the San Juan National Forest, providing stunning mountain views and a peaceful atmosphere. Paddleboarders can leisurely explore the lake's calm waters, taking in the beauty of the surrounding scenery. The lake is also popular for fishing, and visitors can rent paddleboards from nearby shops or bring their own. With its serene surroundings and crystal clear waters, Haviland Lake is the perfect destination for those looking for a relaxing stand-up paddleboarding experience.
Vallecito Reservoir
Vallecito Reservoir, located about 25 miles northeast of Durango, is a scenic location that offers fantastic opportunities for stand-up paddleboarding. It's a popular spot for locals with its array of nearby restaurants and amenities. Paddling around the lake allows for stunning views of the San Juan National Forest and the surrounding wilderness, and it is also large enough to provide opportunities for longer paddleboarding excursions. There are several areas around the lake to launch paddleboards, and visitors can bring their own gear or rent from local outfitters.
Lemon Reservoir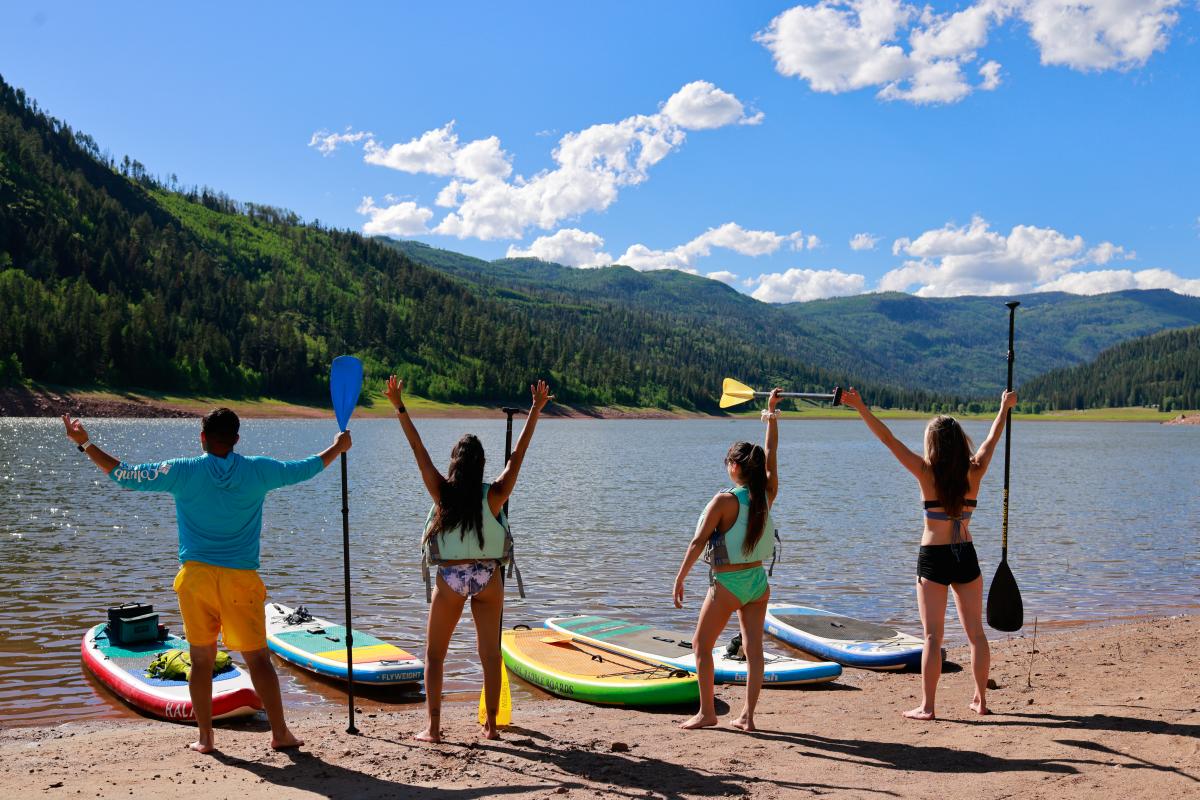 Further west, Lemon Reservoir offers stand-up paddleboarding opportunities in a picturesque mountain setting. The reservoir also boasts clear, calm waters that are perfect for paddleboarding, and its secluded location provides a peaceful and serene experience. Paddlers can take in stunning views of the surrounding San Juan Mountains as they glide across the water. The reservoir is also a great place for viewing wildlife, such as deer and elk. With its tranquil setting and stunning scenery, Lemon Reservoir is a must-visit destination for paddleboard enthusiasts in the Durango area.
SUPing Safety and Care for Durango Tips
Stand-up paddleboarding is a fun and relaxing activity, but it's important to be mindful of safety to prevent accidents and injuries. By taking safety precautions seriously, paddleboarders can enjoy their time on the water while minimizing the risk of accidents.
Wear Your PFD
Wearing a personal flotation device (PFD) while stand-up paddleboarding can help reduce the risk of injury and increase overall safety. A well-fitted personal flotation device (PFD) is essential for all paddlers, regardless of skill level. It can help keep a person afloat in case of an accidental fall in the water. A properly fitting and comfortable helmet can also provide additional protection in case of impact with obstacles in the water. Additionally, proper footwear can provide good traction on a slippery board and protect against sharp objects in the water. Wearing appropriate clothing can also help protect against exposure to the sun, wind, and cold water.
Check Your Weather Conditions
Checking the weather before stand-up paddleboarding is crucial to ensuring a safe and enjoyable experience. Sudden weather changes can pose a significant risk, including high winds, lightning, and thunderstorms. It's essential to monitor the local forecast and check for any warnings or advisories. Additionally, it's crucial to understand how weather patterns can affect the body of water you'll be paddling on, such as high currents or waves. Always wear appropriate gear for unexpected weather changes, such as a wetsuit or rain jacket. Ultimately, taking the time to check the weather beforehand can help prevent accidents and injuries.
Pack the Right Clothes, Food, and Water
Before heading out for a stand-up paddleboarding (SUP) adventure, it's important to pack the right gear to ensure a safe and enjoyable experience. A well-stocked backpack with appropriate clothing, sunscreen, and plenty of water is essential, especially during the hot summer months. Additionally, bringing energy-boosting snacks such as nuts or trail mix is important to keep energy levels high during long SUP sessions. Packing a dry bag or waterproof case to keep electronics safe from water is also a smart idea. Lastly, don't forget to pack a first aid kit, whistle, and navigation aids in case of emergencies.
Conclusion
As you embark on your stand-up paddleboarding adventure in Durango, Colorado, you'll discover a world of excitement and natural beauty. Whether you choose to paddle through the heart of downtown Durango, explore the serene waters of Lake Nighthorse, or venture further to Haviland Lake or Vallecito Reservoir, the possibilities for exploration are endless. Durango offers a range of rental shops and outfitters like 4Corners River Sports, Mild2Wild, Purgatory Resort, Roll Durango, and Southwest Raft and Jeep that provide top-quality gear, expert guidance, and a passion for outdoor adventure.
Remember to prioritize safety during your paddleboarding excursion by wearing personal protective equipment, checking weather conditions, and packing the right gear and provisions. By following these guidelines, you can fully immerse yourself in the awe-inspiring landscapes of Durango while enjoying the tranquility of the water.
Whether you're a beginner or an experienced paddler, Durango offers something for everyone. So grab your paddleboard, head out to the sparkling waters, and let the thrill and serenity of stand-up paddleboarding in Durango take you on an unforgettable journey. 
Embrace the area's beauty, challenge yourself on the rivers, and create memories that will last a lifetime. Durango awaits, ready to be explored one paddle stroke at a time.