Who says paradise is always tropical? Whether you're a beginner or an advanced sportsman looking for the next big competition, Durango is your Winter multisport heaven.
From downhill skiing to snowmobiling and ice climbing, Durango has it all. We're sharing all the best trails, guide services, rentals, and resources for our most popular winter sports.
To help plan your outdoor adventure and visit in Durango this Winter, here's an introduction to Winter sports and activities to do in Durango:
Downhill Skiing

Forbes Magazine named Durango as one of the top ten ski towns in the nation, and for good reason.
Purgatory Resort offers more than 1,600 acres of skiable terrain over 99 different trails. Known best for its great value lift tickets and family-friendly setting, you could spend your entire winter season just right here.
Hesperus Ski Area, though smaller in stature than Purgatory Resort, offers quick access to downhill adventures for skiers and tubers. Visit if only for the unique experience of skiing at night, as the hill is occasionally well lit for touring from 9:00 AM to 9:00 PM. Dates and hours of operation are subject to change, so check the website before you go.
Hesperus is located just minutes from downtown, making it perfect for those times when you just need a quick downhill fix.
Snowmobiling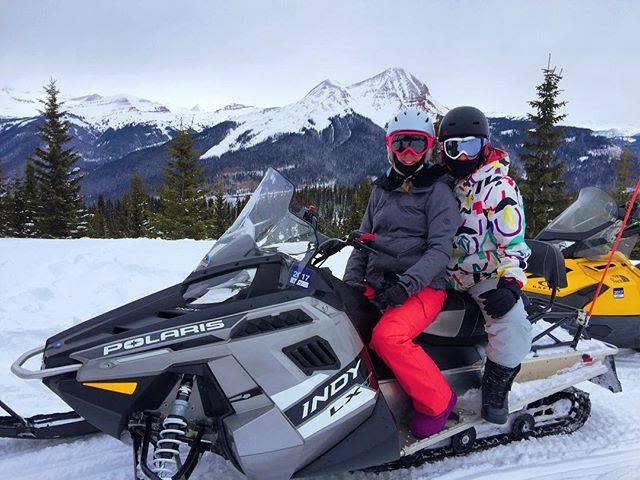 Thanks Instagramer @mell423
If you don't believe snowmobiling is a workout, you've clearly never been on one. Get ready to sweat and flex on the adventure of a lifetime through the beautiful San Juan National Forest. With more than 35,000 acres of traversable terrain, snowmobiling offers a radical, unique way to explore our wilderness.
Guided tours are offered by both Snowmobile Adventures and Ice Pirates. Packages range from 2 hours to sunset rides to full-day excursions.
Ice Climbing

Just a few short miles from our beloved Purgatory Resort are prime ice climbing conditions. Cascade Creek, located at the foot of Coal Bank Pass, boasts 10 climbable falls through the winter months. It's a great place to learn and practice your ice climbing skills, with routes ranging in difficulty from easy to moderate.
Kling Mountain Guides offer guided trips into this section of the National Forest for parties of 1 to 4 people. An AMGA Certified Alpine Guide will teach you everything you need to know about reading the routes and hitting the climbs. It's a great, safe way to test the ice on this addictive winter sport.
Nordic Skiing

There is a reason Outside Magazine calls nordic skiing one of the most grueling workouts of all time. Earn your aprés by flying through the National Forest, navigating technical terrain, traversing glaciers or...just kidding, we can take this slow.
Durango has plenty of resources for skiers of all skill levels, so whether you prefer to bomb through the forest or glide through a meadow, the adventure is what you make it.
The Durango Nordic Center provides many resources for beginners, including multiple clinics, classes, and a Masters Nordic Program. You can bring your own gear or rent equipment onsite, where there are over 20 kilometers of trails to explore. You can follow the relatively easy North Loop trail or pack a picnic for a full afternoon (technical) excursion to the Boyce Lake overlook.
Of the Nordic Center's many events, one of the most anticipated of the year is the Full Moon Howler on January 31st and March 1st. Expect an unforgettable evening of roaring fires, s'mores, brews, hot chocolate, pastries, and more from local vendors in town.
If you're looking for more explorable terrain and unique forested trails, the Vallecito Reservoir Ski Area is where it's at. This ski area features miles of groomed terrain and is 100% maintained by volunteers. Show your community support by joining us on the trails and respecting this radical place we call home.
Snowshoeing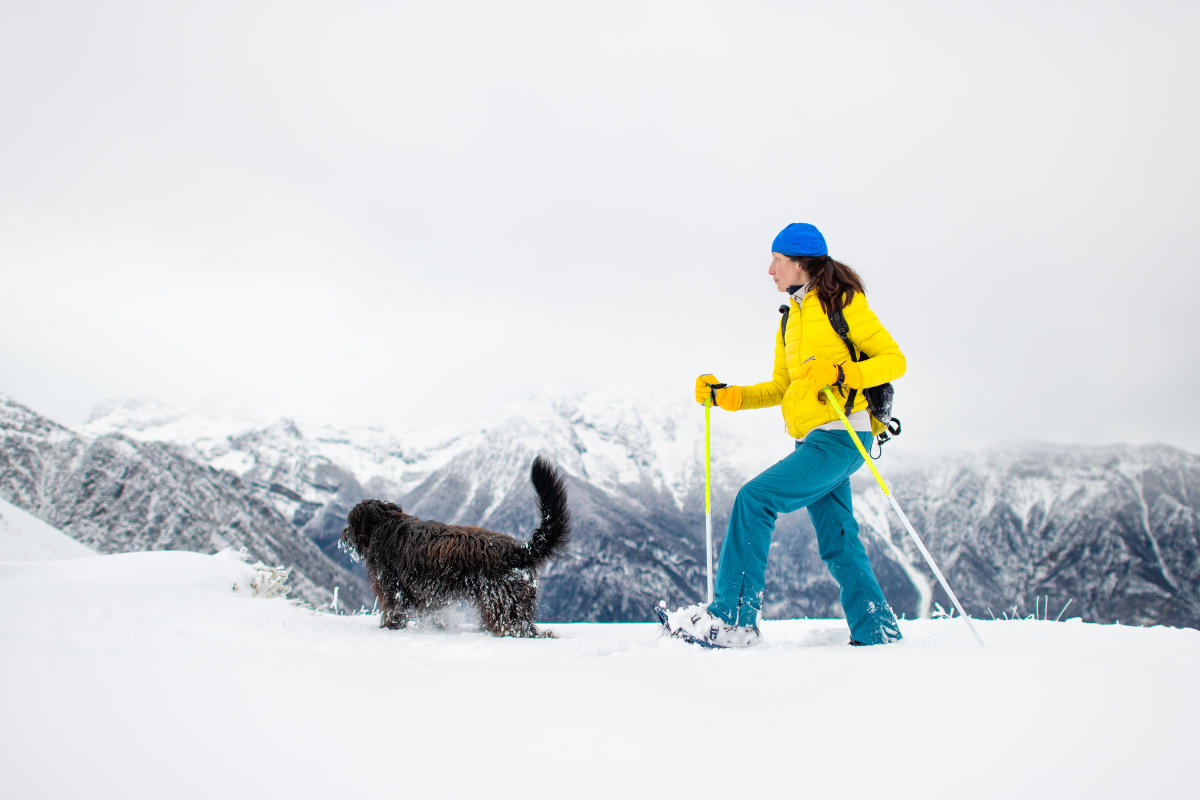 Never let the snow stop you from exploring your favorite trails. Snowshoeing is a great workout that allows you to tour many destinations inaccessible by board or ski.
During the winter months, Purgatory Resort offers snowshoeing tours twice daily. For a truly memorable experience, they also offer the occasional Alpenglow Snowshoe Tours, which include a sunset picnic of hot cocoa, wine, beer, fruit, and cheese.
If you'd like to travel on your own but aren't ready to make an investment, the equipment can be rented from Performance Sports near Purgatory Resort.
Some of our favorite winter trails include:
Lime Creek Road: The south entrance to Lime Creek Road is located on Highway 550, right after the hairpin turn over Cascade Creek (roughly 29 miles from town). Turn right onto a dirt road and let the adventure begin. This 4wd road is generally used for off-roading adventures during the summertime, but once the snow falls, the road is perfect for snowshoeing and cross country skiing. Approximately 2 miles from the south entrance of the dirt road is the official trailhead for Spud Lake. This 3.1-mile loop is a perfect moderate route for the winter explorer.
Cascade Creek Trail: Right across from Lime Creek Road is the national forest road leading to the Cascade Creek Trail. Known mostly for its perfect ice climbing conditions, Cascade Creek is also great for snowshoe touring. Explore frozen waterfalls and water features as you follow the creek upward.
Engineer Mountain: You've probably seen Engineer on your way north up Highway 550. Just a little north of Cascade Creek and Lime Creek Road is the summit of Coal Bank Pass and the trailhead for this prominent peak. While it's not recommended to the summit without proper winter equipment and training, the 5 miles round trip to the base is a perfect way to find a little quiet time with nature this winter season.
Fat Biking
If burning lungs and quadriceps are your thing, there is a sport for that. Don't retire your mountain bike just because of snowfall. Bring out the gnarly, oversized off-road tires and plow on through.
If you're new to fat biking, your greatest resource is the local Nordic Ski Center, which occasionally opens its trails to the heavy wheeled sport. They offer plenty of tips and education on trail etiquette and how to determine if a trail is fit for fat biking. The Ski Center also hosts the annual Coke Race Series, where fat bikers and nordic skiers go head to head in distance racing. Competitions take place this year on December 23rd, January 6th, and March 3rd.
Beyond the Nordic Center, fat bikes can be rented from several businesses in town, including the Durango Bike Shop and 2nd Avenue Sports.
Ice Skating
Where there are freezing temperatures, there are freezing lakes with an epic backdrop. But finding somewhere safe, smooth, and solid ice can be tricky. The Chapman Hill Ice Rink is open as long as the weather permits, typically starting sometime in December. Folks love it for its proximity to town and the Chapman ski hill. Trade your skis for skates or vice versa in this little multisport haven. Skates can be rented onsite.
Winter Trail Running
In the winter months, it can be difficult to convince your body to pursue a trail running routine. Blistering wind, frozen trails and slogged conditions make us want to just stay indoors.
But for the more disciplined characters who understand that trail running hath no season, you could check out these trails.
Animas River Trail: The closer to town, the better the conditions tend to be. The Animas River Trail, while more of a pathway, stretches nearly 7 miles around town. It's great for biking and running most days of the year, but it's best to wait for the afternoon when ice has thawed. The Animas River Trail's proximity to town means you'll have plenty of places to duck for cover if the weather turns south.
Sailing Hawks Loop: Let's not bust our butt on the ice this season. Because of the moderately low elevation change on this loop, Sailing Hawks trail is a decent all-season route. The trail is typically used by rock climbers, so be respectful as you wind through the massive boulder field. It's only 3.22 miles in total, meaning you won't ever be far from the road in case of emergency.
Colorado Trail: For the really aggressive runners who are in it to win it, the Colorado Trail remains open. The route from the trailhead to popular vista Gudy's Rest is an 8-mile out-and-back, so you can take your workout as far as you'd like. However, there are some steep sections on this trail with some higher consequences for a fall. Consider snowshoeing or hiking this route first to scout it out. Depending on the conditions, it can be great for elevation training or incredibly dangerous.     
For more advice, seek out the pros at the Durango Running Club. This nonprofit hosts group runs every Saturday at 9:00 AM through December and January.
Swimming
I'm not recommending you take a polar plunge. I'm simply mentioning that there are plenty of locales to continue your lap swim routine in Durango. The Durango Community Recreation Center has an 11-lane lap pool and multiple aerobics classes available throughout the week. Their calendar and hours of operation can be found here.
Likewise, the luxurious Durango Hot Springs has an outdoor Olympic-sized distance pool heated to about 80 degrees F, and two soaking pools fed by natural hot springs, which are perfect for post-workout rejuvenation. Don't let the cold weather stop your training routine.
Conclusion
Winter in Durango is a paradise for any outdoor enthusiast! There are so many activities to do- you won't be able to do them all in one trip! Hopefully, our intro guide to Winter sports in Durango will help narrow down your plan on what to see and do, and where to play during your Winter visit in Durango.