As part of Southwestern Colorado, Durango is an incredible place to experience the change of seasons. Fall in Durango is a magical place where the mountains and mesas landscape shift from bright green to golden yellow.
With so many places to explore around the area, it's hard to determine where the best place is to view Durango's Fall colors.
For those looking for a little "leaf-pepping" adventure this season, consider checking out some of the places on our list. These hidden gems take a little bit of effort and time to get to but are well worth it.
Here are some hidden gem spots to see Durango, Colorado's Fall colors:
#10 La Plata Canyon
West of Downtown Durango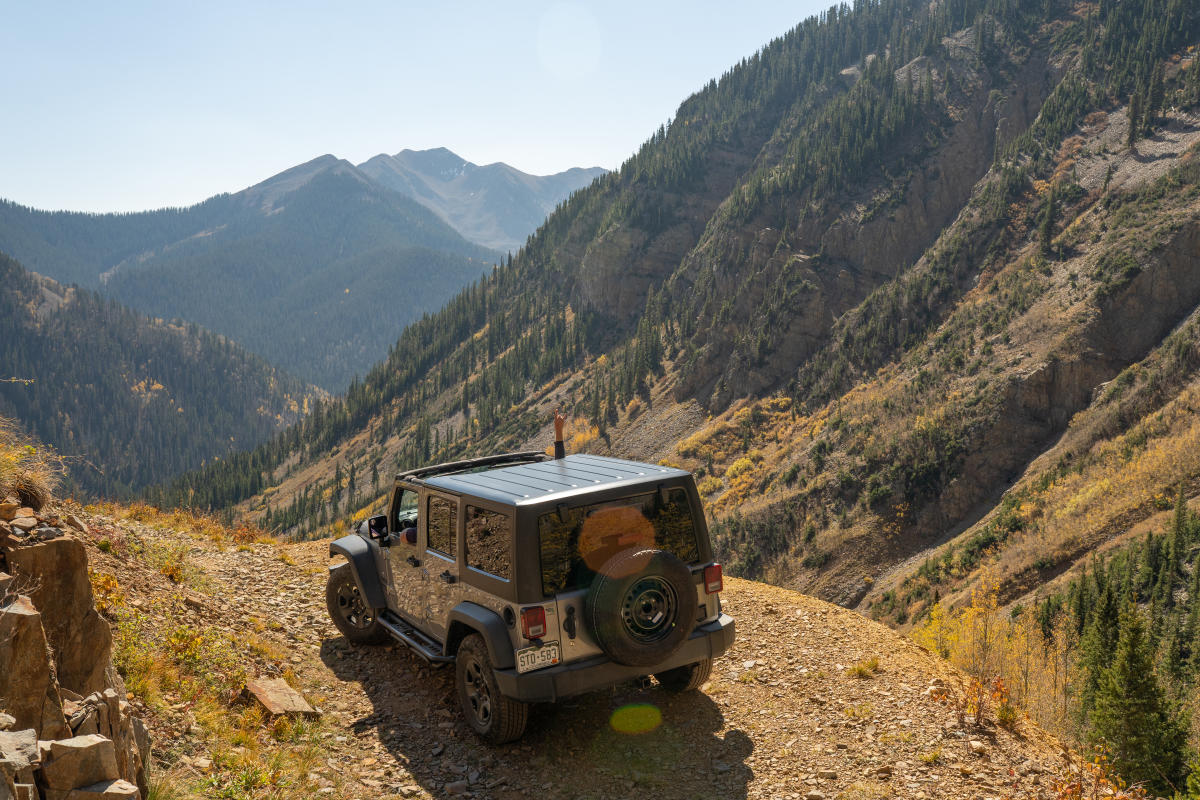 La Plata Canyon is a long, narrow canyon that has been cut by the La Plata River. Home to Durango's mountain range, the La Plata Mountains, this area is often looked over as a great place to view fall colors.
While it's only 30 minutes away from downtown Durango, La Plata Canyon feels like you're in a whole new world compared to the mesas surrounding Durango. Compared to other places on our list, La Plata Canyon is easily accessible via the forest service road: Country Road 124.
When you arrive at La Plata Canyon, we suggest parking your car on one of the many pull-offs and find a trail down to the La Plata River. Along the river, you'll have incredible views of golden aspens against the towering 13,000-foot peaks in the valley.
#9 Emerald Lake Basin
Northeast of Vallecito
One of Durango's best-kept secrets, the Emerald Lake Basin is an incredible place for leaf-pepping in the fall. Because the hike-in is nearly 20 miles (round trip), this is one of the bigger commitments on our list. That being said, you're likely going to be the only party at Emerald Lake when you're there.
Located Northeast of Durango and north of Vallecito Reservoir, the Emerald Lake Basin features a green-blue alpine lake (obviously) that is surrounded by pine and aspen trees- all ripe during the fall season.
It's best to plan 3-4 days to experience the area and try to visit Emerald Lake Basin before Thanksgiving to avoid snowfall.
#8 Hermosa Park
West of Purgatory Resort
For the car campers, RVers, and van-lifers looking to explore Durango during the fall, Hermosa Park is the place to be!
Located just north of Purgatory Resort, this area takes you deep into the mountains surrounding Durango. Hermosa Park is a series of forest service and county roads that branch off from Highway 550 and take you up a large basin between the official Purgatory Resort jurisdiction and a series of mountains.
Most people start their journey into Hermosa Park via Forest Service Road 578 (also known as Hermosa Park Road) and then branch off from there. Some places to explore include:
FSR 577

FSR 40 to FSR 564

FSR 578 to Bolam Pass and Tin Can Basin
Regardless of what route you take and where you explore, you're bound to see incredible landscapes of 13,000+ foot peaks, golden aspens, and wide-open alpine basins.
#7 Box Canyon
Near Mancos - West of Durango
A small community west of Durango houses a great hidden gem to explore this fall. Box Canyon is a steep basin (not really a "canyon") that runs parallel to Forest Service Road 561 near Mancos State Park.
With a series of trails to explore, including the Box Canyon Trail, Coyote Park Trail, and the Box Canyon Spur Trail, you can spend a few days hiking around the area and not get bored.
Box Canyon sits at the foot of La Plata Canyon's most-westerly mountains so you'll have views of mountains the entire way. This area is known for its groves of aspen trees, ospreys, and eagles - so make sure you have your camera ready!
#6 Missionary Ridge
North of Durango
Despite being relatively close to Durango, this hidden gem is seldom used throughout the fall season. Durango Trails states that this area is "an unknown gem even to most locals!"
A very steep climb will take you to the summit of Missionary Ridge - a mesa that overlooks the La Plata Mountains to the west and the Needle Mountains to the north.
There are a lot of unnamed, but established trails in the area so it's hard to recommend some specific trails to explore this fall. However, most people will drive up Forest Service Road 253 (also known as Missionary Ridge Road), find a pull-off, and start hiking from there.
The further uphill you travel, the bigger/better the views of the neighboring mountains are!
#5 The Cape Horn Area
Junction Creek Area - North of Durango
Cape Horn is a little "bump" in elevation Northwest of Durango near Junction Creek and the Colorado Trail. It sits adjacent to Forest Service Road 204 just past the dispersed camping area known as "Rands Point."
Because of the serious bushwhacking involved, most people don't climb to the top of Cape Horn. The area around Cape Horn is spectacular on its own. Along Forest Service Road 204 you'll see more aspen trees than you can count - all turning golden yellow during the peak of the fall season.
Before venturing out, it's best to check with the San Juan Forest Service to get the status of the road. Forest Service Road 204 closes around November.
If the road is closed, you'll be able to drive about a mile past the Animas Overlook Trailhead - which still has amazing views of the aspens and mesas to the west of the road.
#4 North Cascade Creek
Near Purgatory Resort - North of Durango
Not to be confused with Cascade Canyon and the famous Lower Cascade Creek waterfalls, north Cascade Creek sits on the north end of Highway 550 (as opposed to the more popular spots on the south end).
Drive up Forest Service Road 783 as far as you can before getting out and exploring. Most people will hike the main trails (unnamed but established) that follow along the riverbank of Cascade Creek. The further you hike along the trail the more the area opens up revealing a series of mountains in all directions.
Even if you don't make it where the views open up, hiking along the aspen-lined trail is one for the memory book.
#3 Vallecito Creek 
North of Vallecito Reservoir - East of Durango
The Vallecito Creek Trail is Vallecito's most trafficked trail - but not during fall! This area tends to see less travel outside of the summer season so you'll likely have the place to yourself.
Vallecito Creek cuts a deep channel into the landscape producing a valley nearly 1,000 deep in certain parts. This area is known for its steep cliffs and breathtaking views of the Needle Mountains including Amherst Mountain and Irving Peak.
You can hike as far as you'd like on this trail. In fact, you can access the Chicago Basin via the Vallecito Creek Trail. Just make sure you pack plenty of gear for your 35+ mile trip into the heart of mountain country this fall.
#2 The Chicago Basin
North of Downtown Durango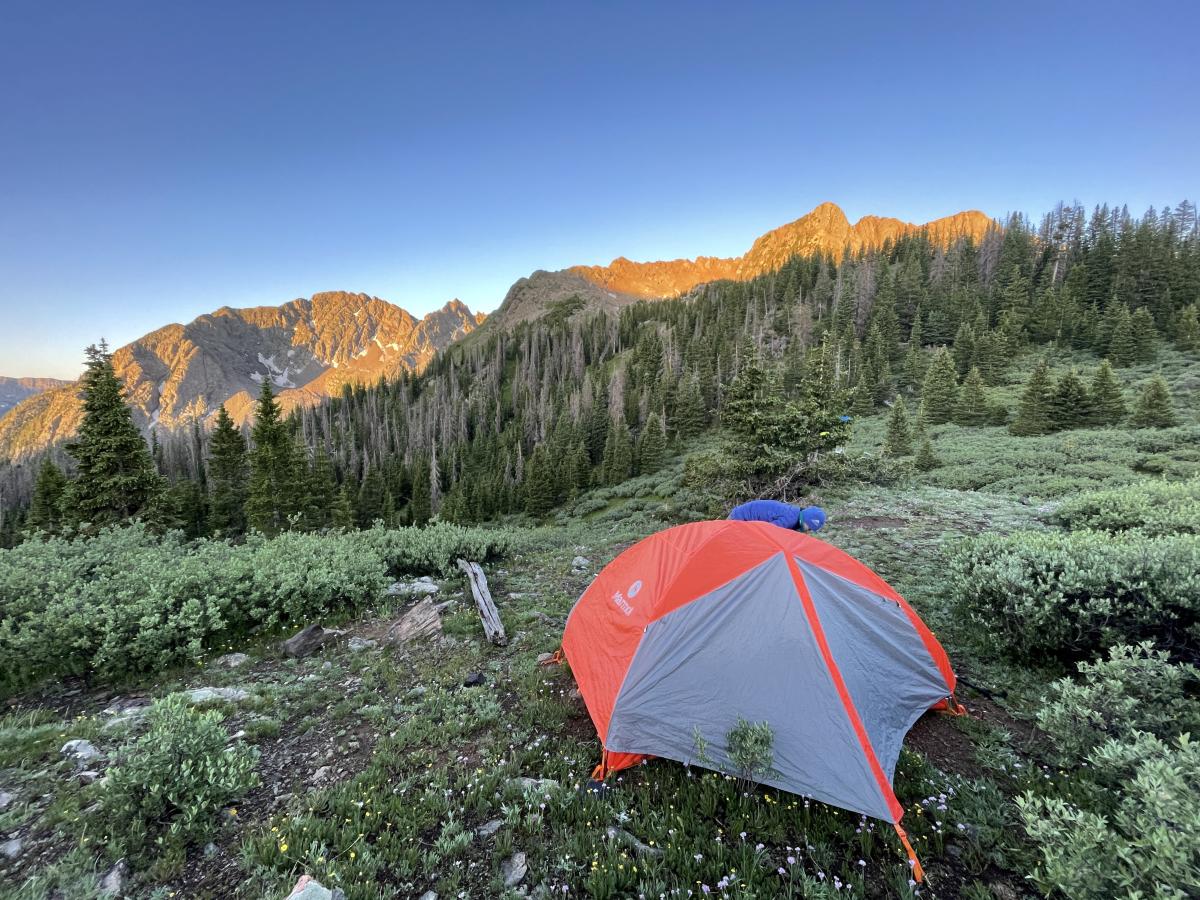 A favorite area amongst backpackers, peak-baggers, and backcountry skiers alike, the Chicago Basin lies Northeast of Durango in the Weminuche Wilderness. While only 10ish miles as-the-crow-flies from Purgatory Resort, the Chicago Basin is not an area that you can just roll upon.
The Chicago Basin can only be accessed in three ways: hiking in from Purgatory Flats trailhead, hiking in from the Columbine Pass (via the Vallecito Basin), or via the Needleton Flag-stop by taking the Durango & Silverton Narrow Gauge Railroad.
Any way you slice it - this area is an adventure to access it alone! However, the easiest and quickest way to get into the area is via the Durango & Silverton Narrow Gauge Railroad.
Once you get into the Chicago Basin, you'll be greeted with the crystal clear Needle Creek, acres and acres of towering ponderosa and aspen trees, mountain goats, and over a dozen peaks; including four 14ers.
During the later months of fall, the mountains will receive snow - turning up your fall mountain views to "11."
#1 Crater Lake
North of Durango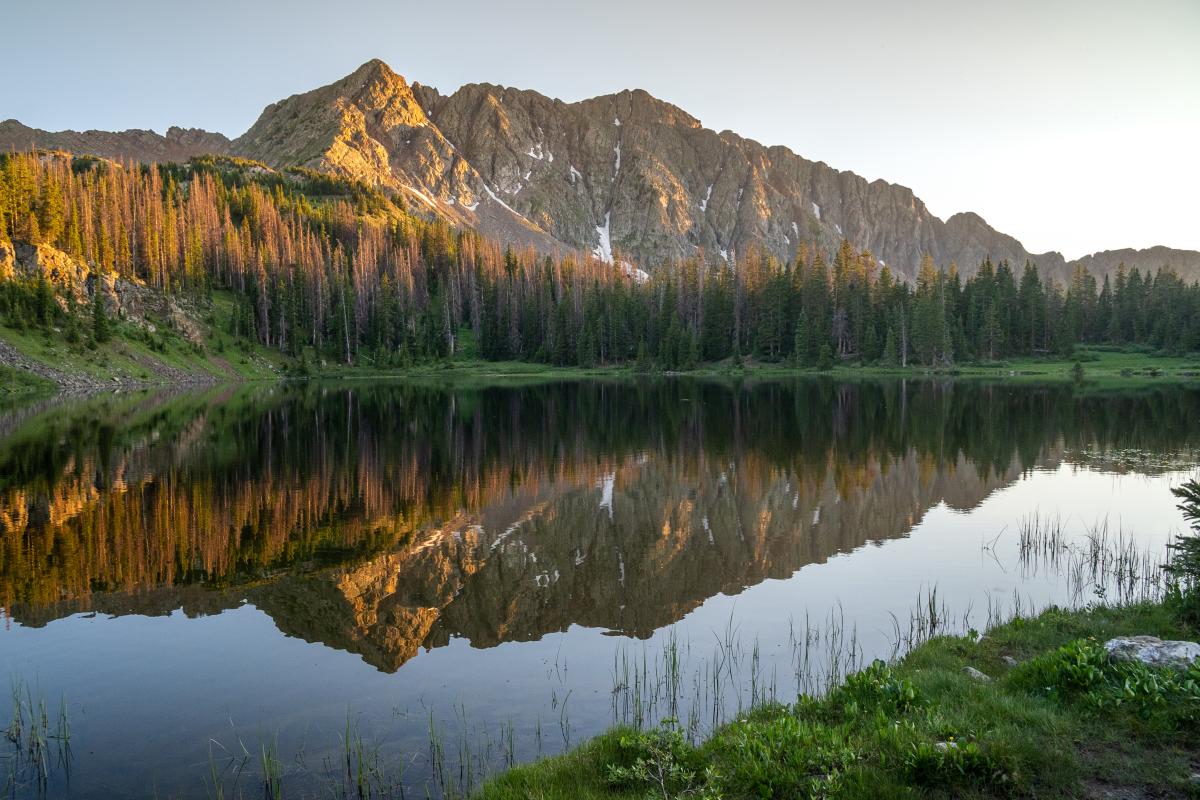 Sitting at the foot of the towering 13,000+ foot peak North Twilight Peak lies a small alpine lake known as Crater Lake. This lake is fed from the snowmelt and runoff from nearby Crater Creek which produces a series of small babbling brooks throughout the year.
Unlike some other spots on our list, backpacking to Crater Lake takes only a few hours and makes the perfect two-day fall trip. Along the way, you'll go through a series of alpine forests with views of Durango's most northerly mountains including Snowdon Peak, Engineer Peak, and north Twilight Peak.
When you get to the actual Crater Lake make sure you explore the upper lake and overlook just east of the lake. You'll peer down into the basin carved by the Animas River with nearly a 360-degree view of mountains, waterfalls, and high alpine tundra.
The area around Crater Lake is really a Colorado-fall paradise and something that everyone should experience in their lifetime.
Conclusion
It's no surprise that Durango, Colorado is a fall paradise. There are hundreds of miles of trails, forest service roads, and county roads at your fingertips - allowing you to explore endlessly this Fall season.
If you're looking for a little more adventure as you leaf-peep around the area, hopefully, you pulled some spots off our list and added them to your Durango fall colors bucket list!