Soak Your Worries Away this Season 
If you were to plan a vacation to Colorado-based solely on a geothermal map, your trip would lead you to the heart of the Southwest corner of the state, and our beloved town of Durango. Southwest Colorado is a hotbed for hot springs and no matter what your schedule, it's easy to plan a trip to all of Durango's nearby hot springs.
Below is our guide to the best Durango hot springs with tips on what to bring, when to go, and what to expect. Soak and swim in the natural waters of Colorado!
Depending on your interests, trip schedule, and the time of year, it's easy to plan a trip based solely on visiting these mineral baths.
If you'd like to extend your trip further, various springs line both the Million Dollar Highway going north and the road east to Pagosa Springs.
Nearby mountain towns offer an incredible selection of hot springs to sample. While not in Durango's immediate radius, they offer great day-trip options to see even more of what makes Colorado an incredible place to visit.
Here's a short guide of the hot springs around Durango, Colorado:
Durango Hot Springs
North of Durango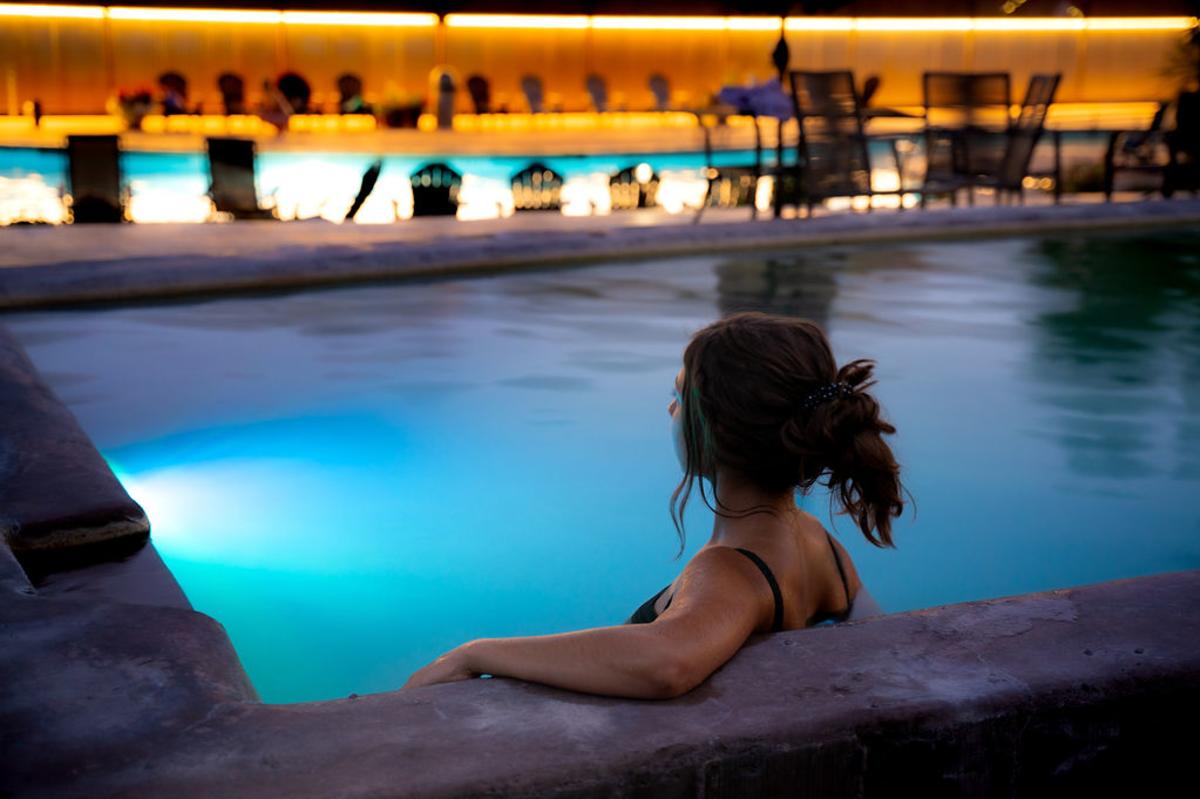 Having recently undergone a significant redesign, you will be enamored by Durango Hot Springs twenty-six different outdoor pools, rock-garden aesthetic, and many signs of the resort's long history here in this location.
A large saltwater pool sits front and center, and more than two dozen lush green smaller pools and tubs populate the gorgeous property, all bubbling up a rich blend of 21 different healing minerals and range in temperatures from 95 degrees to over 105.
Late into the evening, once you are finally ready to hop out of the hot water, you can indulge at the resort's signature restaurant and full bar, complete with live music on Saturday nights. 
Durango Hot Springs pride itself on being the first and only natural hot springs in the world to use their AquaGen system, which infuses nanobubbles into its waters, boosting its clarity, mineral effectiveness, and provides antimicrobial properties. 
Massages and skin treatments are available at the spa. Reservations are required. 
The Springs Resort and Spa
Pagosa Springs
Traveling east to Pagosa Springs, you'll find breathtaking sights of the rugged San Juan mountains in every direction. Along the scenic drive, you will find The Springs Resort and Spa.
Purchasing a day pass to enjoy their geothermal pools is strongly encouraged. But for those of you looking to spend the night at the resort's stunning lodge, you will be treated to 24-hour access to their myriad soaking pools.
Additional features include Aqua Yoga, Flow Yoga, River Walks, Forest Bathing Hikes, and Guided Meditation, plus massages and other spa treatments. Enjoy live music by the pools every Tuesday and Saturday starting in the late afternoon. 
With 25 pools to discover, some located along the San Juan River, there are plenty of ways to relax.
Oh, and in case you get so relaxed that you need to add some tension back into your life, there is a gigantic set of lawn chess for you to pit all [you think] you learned from The Queen's Gambit up against friend and foe and fellow guests alike. 
Overlook Hot Springs Spa
Pagosa Springs
Have you ever people-watched from a rooftop hot spring in the midst of a bustling small-town city district with a beautiful mountain vista? If you have, it was probably at the spectacular Overlook Hot Springs Spa! 
Featuring 100% hot mineral water sourced straight from the earth, guests get to unwind in a rooftop pool at this cozy spa with breathtaking views. 
Alternatively, unlike some of the other spas on this list, The Overlook also has indoor pools and whirlpools that offer a bit more privacy and boxed-in-steam for an extra detoxifying experience. This is particularly satisfying during the winter months. Shuffling between pools in sub-freezing temperatures is not for everyone, but the inner halls and courtyards of this hot spring spa make it bearable for most. 
Wiesbaden Hot Springs & Lodge
Ouray
All their pools are sourced by 100% natural and refreshed hot spring water, ranging in temperature from 78 to 108 degrees. In addition to the soaking pools, the Wiesbaden boasts unique alternatives, such as the subterranean Vapor Cave or large outdoor pool. There is also the more exclusive Lorelei, a private and secluded pool inspired by the Norse Goddess of the same name. 
Come for the hot springs but stay for (at) the resort! Stay at their Modern American Frontier-style resort and be close to multiple breweries and distilleries, as well as a variety of restaurants. There is even a dessert shop just down the street.
The resort is also less than a 5-minute walk from Cascade Park and just one mile away from Ouray Ice Park. If you are looking for more of an adventure, a few blocks away are Ride-N ATV Adventures and San Juan Scenic Jeep Tours, which are guaranteed to satisfy every thrill-seeker.
Orvis Hot Springs
Ouray/Ridgeway
This "clothing optional" hot spring is a bit more secluded than the others we have listed, sitting not in town limits, but rather a few miles outside of Ridgeway, CO.
The Orvis Hot Springs will leave you in awe, as it is nestled between sweeping mountain views and Western plains. 
Each pool has a unique design and temperature, providing a different experience with the pool. Crater-fed hot springs that funnel mineral water up to 114 degrees (in the aptly named Lobster Pot) and up to 127 degrees in their Island Pool!
The pools are serene and somewhat separated from one another offering a degree of privacy for guests. However, the well-maintained gardens, walking paths, and ubiquitous wood-and-rock Zen Garden keeps things bound together in a continuous tranquil experience. 
The resort itself is a bit on the small side, offering only 6 rustic guest rooms. Guests are also welcome to enjoy a night out under the stars and can set up a tent on site. 
While planning your trip here, again, just keep in mind… "clothing optional."
Conclusion
This is the region for all your hot springs plans within the continental U.S. - and we listed only a tiny fraction of all the hot springs near Durango. There are even those naturally formed pools available to those willing to go out and find them. But with the list, we have provided you, all you must worry about is scheduling your visit and let the healing waters take it from there.