Planning a camper van trip is hard! 
You don't want to spend your time in the car driving from place to place. Instead, you want to enjoy Durango's local activities and sightseeing while also knowing the best places for camping, restaurants, groceries, and, of course, showers.
This itinerary has everything you need for an epic four-day camper van road trip through Durango, Colorado.
It includes outdoor adventures like hiking and biking along with cultural activities like museums, art galleries, as well as some of our favorite local-Durango attractions.
Here's a day-by-day look at where to stay and what to do in Durango, Colorado with your camper van:
Day 1
As you're rolling into Durango with your camper van, it's important to get your supplies sorted out for hiking, snacks, and any essentials that you'll need over your four-day visit.
Groceries/Supplies
For groceries, we recommend some of Durango's artisan grocery stores like Durango Natural Foods Co-op, Natural Grocers, or Nature's Oasis.
If you're balling on a budget or looking to save some cash for more of Durango's attractions and activities, consider City Market or Albertsons.
Fortunately, all of the grocery stores around Durango are within a 10-minute drive of downtown Durango. We recommend stocking up before heading out to your campsite.
Camping: United Campgrounds of Durango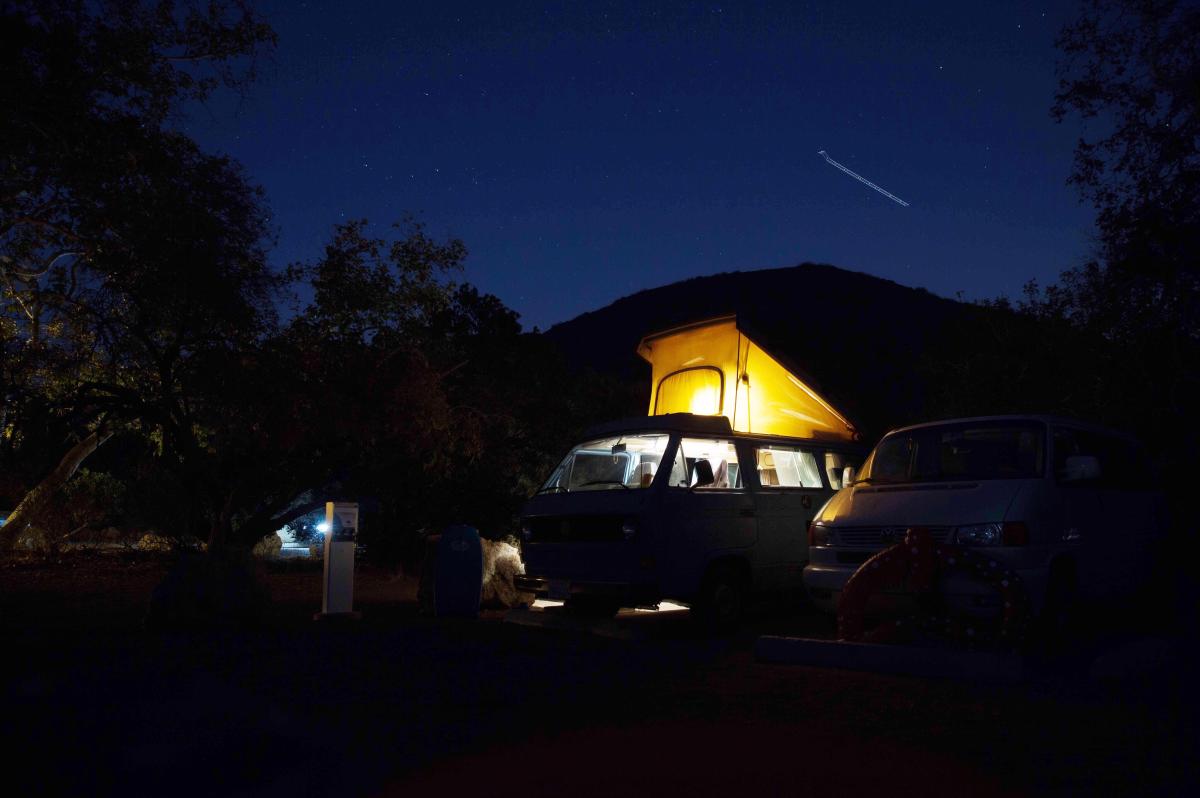 Before you go out and play for the day/night, we recommend getting your camping situation figured out.
For the first night of camping with your van, we recommend staying at the United Campgrounds of Durango just a few miles north of downtown Durango. 
We recommend calling ahead for reservations!
Rates are reasonable and you'll be greeted with huge views of the Animas Valley and Animas River as you gaze from your van's steps. They have showers, a heated pool, a laundry room, free internet, and full hookups. There is also access to the Durango Trolley- the public transit system if you're looking to not use your van for visiting the restaurants or trailheads around the area.
Day Activity: Hiking
The Durango Area offers plenty of activities to keep van lifers busy!
Since you're in the northern part of town, take a stroll on the Animas City Mountain trail to experience great views of the entire valley and town of Durango.
For those looking for a little more hiking time, consider driving up to Junction Creek to explore the Colorado Trail.
Dinner: A Mexican Restaurant
Mexican dining is always a good choice in Durango. For a casual dine (assuming you haven't showered yet), consider Taco Libre on the north end of Main Avenue in downtown Durango. For a more authentic Mexican experience, Nayarit Restaurant (North) is a slam dunk.
After they're finished with their day's outing, campers can head back to United Campgrounds of Durango for a night under the stars.
Day 2
The second day on your Durango camper van trip is going to be a long one! Today is going to consist of the Durango and Silverton Narrow Gauge Railroad.
Grab and Go for Lunch: Bread
Before heading to breakfast, grab a sandwich at Bread to eat on the Train's rest-stop in Cascade Canyon. We recommend their mozzarella, olive tapenade, pesto sandwich- it's out-of-this-world!
Breakfast: Michel's Corner Crepes
A camper van trip through Durango isn't complete without eating at Michel's Corner Crepes. With a menu that includes tasty breakfast, lunch, and dinner options, this is the perfect spot to fuel up before heading out on your daylong trip on the Durango Train.
Day Activity: Cascade Canyon Express on the Durango and Silverton Narrow Gauge Railroad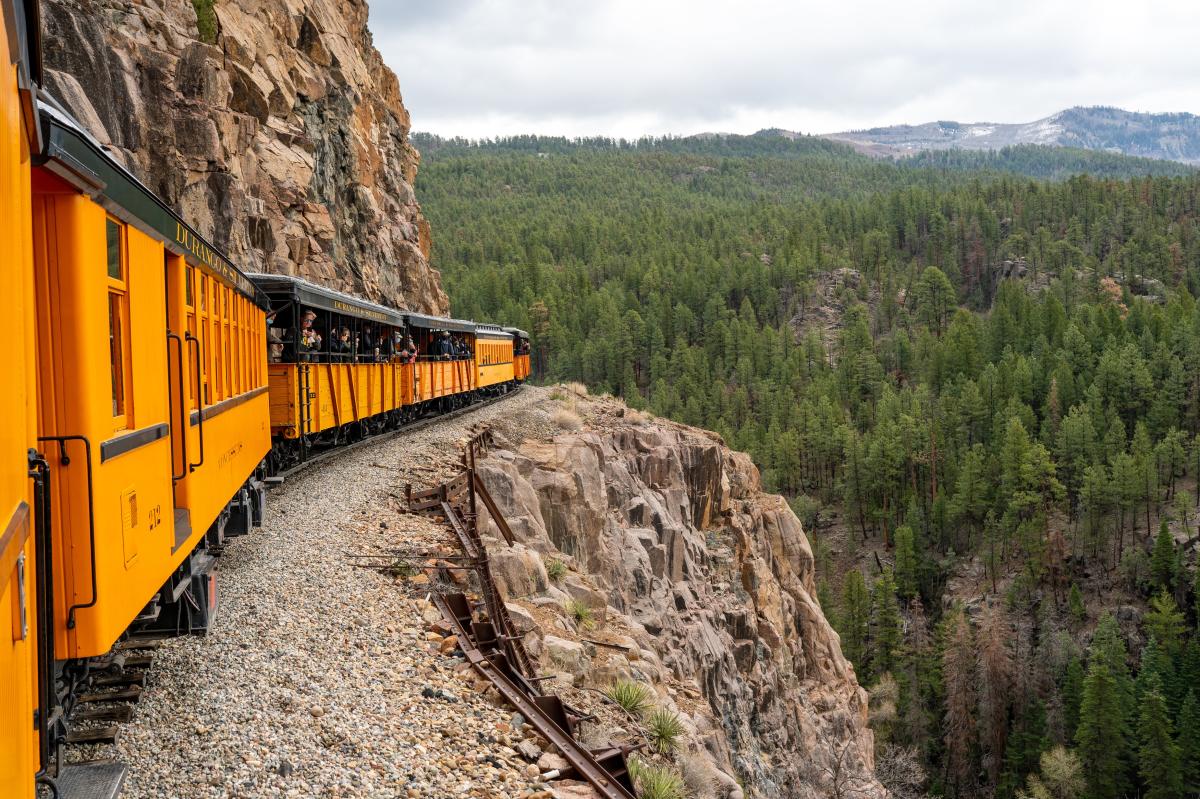 The Cascade Canyon Express will take you through some of the most spectacular scenery in Colorado. Compared to the longer trip to Silverton, the Cascade Canyon Express is a half-day excursion on the Train. Along the way, you'll be greeted with views of the rolling mesas of Durango, rushing rapids of the Animas River, and the towering peaks of the Needle Mountain range.
Lunch: Sandwiches at Cascade Canyon
There will be a 45-minute lunch "rest-stop" at Cascade Canyon where you can eat your sandwich from Bread and enjoy views of the rugged canyon walls and the confluence of the Animas River and Cascade Creek- right at your feet!
Day Activity: Window Shopping in Downtown Durango
Surprisingly, the half-day trip on the Train will wear you down! Take this as an opportunity to window shop and explore the heart of Durango: Downtown.
With over a mile of boutique clothing, gear, and specialty gift shops, there's something for everyone's taste!
While you're strolling downtown, make sure you stop in one of the dozen art galleries!
Dinner: Kennebec Cafe
A local secret spot: Kennebec Cafe sits on the outskirts about 10 miles west of Durango. Since you'll be camping on this side of town, it's the perfect place to grab dinner!
The decor is rustic tapas-style, with live music on certain nights. Enjoy their great menu, wine selection, and incredible lemon mousse cake to cap off another busy day of adventuring in Durango!
Camping: Lightner Creek Campground and Cabins
This camper van destination is one of Durango's best-kept secrets. Tucked away in between two mesas on the west part of Durango, you'll get views of a pine-lined canyon and the bubbling brook of Lightner Creek right on the edge of the campground.
The Lightner Creek Campground has great accommodations for another night in the camper van.
We recommend calling ahead for reservations!
These accommodations include showers, a laundromat, grills for late-night cooking (fire restrictions pending), and full hook-ups.
They also claim to have the best coffee in all of Durango- a claim you'll have to confirm for yourself!
Day 3
Day 3 of your camper van trip around Durango is going to be focused on the historic side of the area. Prepare to be wowed by the incredible sights of Mesa Verde National Park as you explore via a guided tour of the cliff dwellings.
You'll begin your day by driving from your campsite at Lightner Creek Campground and heading towards the small town of Mancos- due west of Durango. You'll be grabbing breakfast in Mancos.
Breakfast: Absolute Bakery & Cafe
Absolute Bakery & Cafe has a menu that's filled with breakfast favorites- from vegan french toast to eggs benedict- perfect for making sure you have enough "fuel" for your big day at Mesa Verde National Park.
Day Activity: Guided Tour of Mesa Verde National Park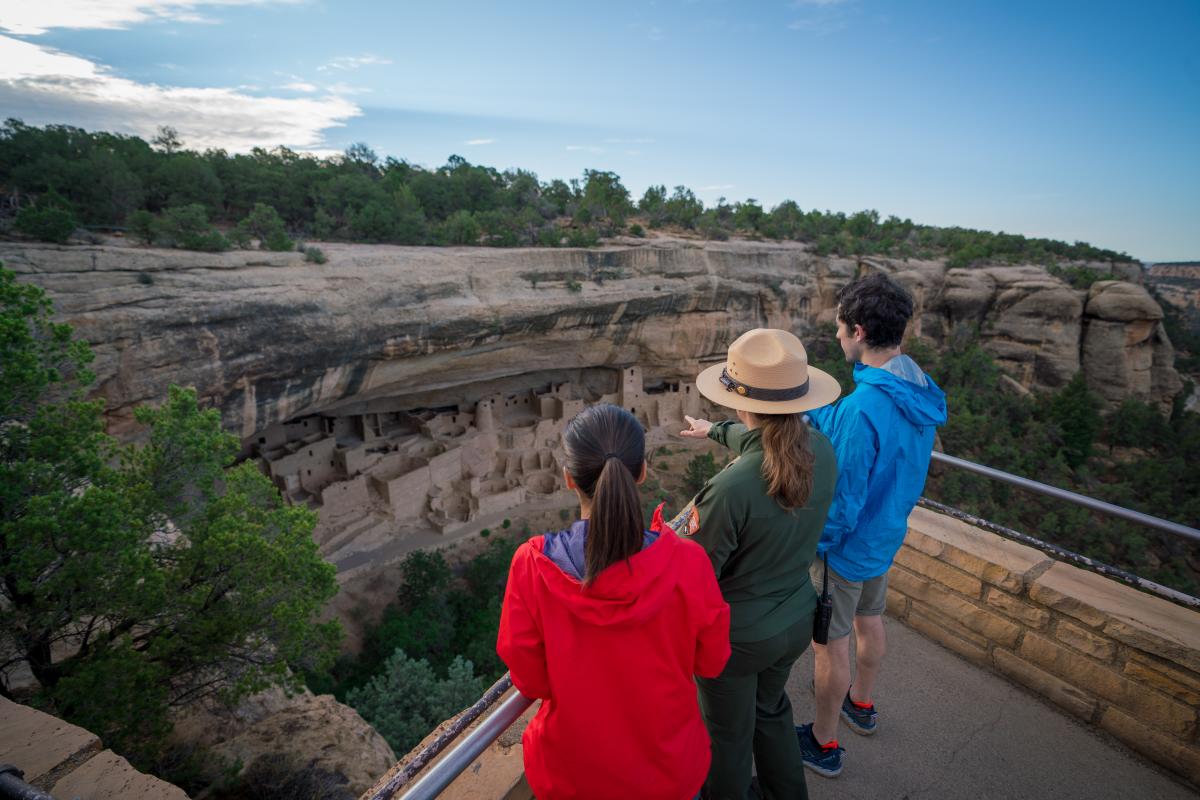 The main activity that will occupy you today is a guided tour of Mesa Verde National Park. Guided tours of Mesa Verde National Park are a unique way to experience the cultural sites and cliff dwellings of the park.
Before heading to the park, buy your tickets online via this link:
https://www.nps.gov/meve/planyourvisit/tour_tickets.htm
After driving through the park entrance of Mesa Verde National Park, stop at the main Visitor's Center to for maps and additional information.
A ranger-guided tour will make it easier for visitors to view cliff dwellings at their own pace with amazing facts and information provided by the rangers along the way.
You'll explore the "crown jewel" of Mesa Verde National Park: the Cliff Palace, the largest cliff dwelling in North America. Built around 1,000 AD, The Cliff Palace was home to over 100 ancestral Pueblo people. 
They were skilled engineers and artists, as evidenced by the dwellings called Cliff Palace that stand near Durango in present-day southwest Colorado.
After your guided tour of the Cliff Palace, feel free to hop back in your van and explore more sites of Mesa Verde National Park. We recommend checking out some of the other cliff dwellings including the Balcony House, the Wetherill Mesa, and the Chapin Mesa.
Lunch (Late): The Yellow Carrot
Heading back into Durango, you're going to have a late lunch at the famous Yellow Carrot- on the north end of town.
The Yellow Carrot is a quaint little café with seasonal dishes, and they make for an excellent lunch stop after touring. The Yellow Carrot offers great dishes that are clean and local with vegan and gluten-free options as well. We recommend the pot roast sandwich with applesauce, or their signature Grilled Cheese Sandwich if you're feeling extra hungry!
Sit back and enjoy your lunch in this restaurant full of antique decor from Durango's mining era.
Night Activity: Ice Cream and Sunset at the Lion's Den
A long day of exploring deserves a little relaxation. Tonight's activities include watching the sunset with some local ice cream!
Grab a cone or cup of ice cream to go from the Cream Bean Berry, located in the heart of downtown Durango.
From here, hop back in your van and head to the lookout adjacent to the Hillcrest Golf Course: the Lion's Den. The Lion's Den sits on top of a mesa that overlooks the entire Durango area. Watch the sunset behind the La Plata Mountains as you dip into your sweets.
Camping: Riverside RV Park
After the sun sets behind the mountains, hop back in your van and head out to the Riverside RV Park for your final night stay in Durango.
Located to the east of downtown Durango, the Riverside RV Park has great amenities including a heated pool, camper store, and laundry.
Day 4
For your final day in Durango, you're going to explore the neighboring town of Silverton and its famous mining culture.
Breakfast: Oscar's Cafe
A favorite spot for breakfast: Oscar's Cafe. Their incredible huevos rancheros certainly don't disappoint and are a solid start to a big day! The atmosphere is cozy and comfortable with a throw-back to the old dining days of the 50s. Enjoy your meal while you sit at the counter watching the line cooks hustle and bustle orders in between your bites. That alone could entertain for hours!
Day Activity: Road Trip to Silverton, Colorado
Head north from downtown Durango on scenic Highway 550. Along the way, you'll go over two mountain passes: Coal Bank Pass and Molas Pass. You'll have views of the snowcovered San Juan and La Plata Mountains. It is an incredible one-hour drive and one of the most beautiful scenic highways in the entire country!
Lunch: The Pickle Barrel
Stop for lunch at one of Silverton's best eateries - The Pickle Barrel. Their menu includes both vegetarian and meat dishes that are made from scratch all day long. You can't go wrong here, but if you have a sweet tooth after getting some fresh air then try their baked goods or homemade ice cream flavors!
Day Activity: Guided Tour of the Old Hundred Gold Mine
Located 20 minutes northeast of downtown Silverton lies the Old Hundred Gold Mine. You'll explore a real gold mine via a guided tour! The guided mine tours will bring you underground into the heart of a mine from the 1930s where you'll witness firsthand- mining equipment as well as minerals and crystals in the hand-blasted tunnels of the mine. It is an incredible way to be "thrown back in time" and explore the history of an actual mine in southwest Colorado.
Depart Silverton and Continue On Your Merry Way
After exploring the Old Hundred Gold Mine and fueling up in Silverton, your four-day camper van itinerary in the Durango area has come to an end! From this point, continue on your camper van trip wherever the road takes you next!
Conclusion
Durango, Colorado is a beautiful place to visit-so much so that we even wrote an itinerary for you and your camper van. The four-day route covers some of our favorite camper-van-friendly campgrounds, restaurants, and attractions. 
Although this four-day itinerary includes incredible things to see and do, you won't be able to check all of Durango's attractions off your list. Next time you're looking to buckle up and explore Colorado via your camper van, you're always welcome back in Durango!