Fall is a transformative season in southern Colorado. The temperature drops, the colors change, and with every breeze, aspens shimmer like pure gold. To catch sight of this amazing season is reason enough to visit Durango in the fall. No matter what your vacation plans, make time this fall to witness Durango at its best from these 7 perfect vistas.
Animas River Trail
Rated: Easy
As the days get shorter and our trees catch less and less sun, the leaves' green hues fade to reveal those beautiful gold and yellow colors. If you're on the hunt for aspen groves, look no further than the Animas River Trail.
The Animas River Trail is located just a short walk from downtown Durango and is an easy, family-friendly walk. The trail follows along the Animas River for 7 miles but you can begin and end your hike from anywhere you choose. The trail is great for sightseeing, photography, family time and biking.
For a truly incredible view of the aspens on the river, check out the bridge next to Rotary Park and the Fish Hatchery.
Great for: Short hikes, photography, river, downtown, history, running, bicycling, fly fishing, dogs
Vallecito Lake Reservoir
Rated: Easy to Moderate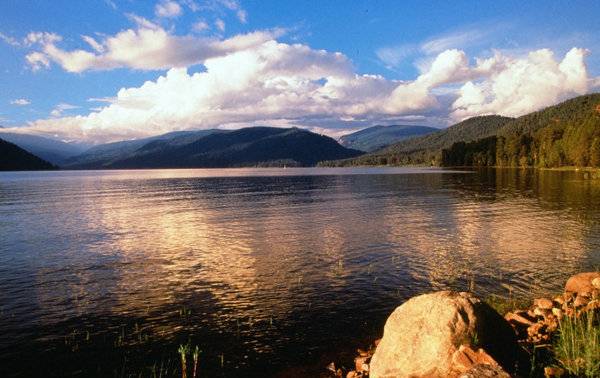 Peak foliage around Durango typically falls within the last two weeks of September. If you find yourself with a full day to explore during this golden window, drive the short and scenic 22 miles to Vallecito Lake Reservoir.
There are miles of trails to explore in this region and plenty of parking areas along the lake. Look for the Walking Path signs that follow the water's edge and be sure to make frequent stops for photos.
Great for: Families, short and long hikes, full day activities, water sports, photography, fly-fishing, dogs
Animas City Mountain Trail
Rated: Moderate
The Animas City Mountain Trail is a moderately rated trail located just off of 4th Avenue and 32nd Street near town.
The 5.9-mile loop climbs the edge of Animas Mountain, granting hikers a birds-eye view from a variety of angles. After climbing 1,500 feet in elevation, you will have earned an unforgettable view of Turtle Lake and the Falls Creek area below. Count the clumps of aspen groves in the distance and watch as birds of prey soar directly at eye level.  
If you're looking for a shorter hike in the area, start from the same Animas City Trailhead but keep left and stay left. Hike for ten minutes and eventually you will come to a section of mesa-edge cliffs that tower over Junction Creek and the Sailing Hawks climbing area, where on most clear days, you can see the Lightner Creek area off in the distance. This is a great place to stop, rest and pull out the picnic supplies.
Great for: Moderate hikes, families, photography, sunset, running, mountain biking, bird watching
Colorado Trail: To Gudy's Rest from Trailhead
Rated: Moderate
Durango is home to the terminus of the Colorado Trail, a 486-mile trail that winds all the way to Denver. But you don't need to plan for a thru-hike to experience some incredible fall views around here.
The route to Gudy's Rest is an 8-mile out-and-back that climbs a little under 1,000 feet in elevation. The first 2.5 miles follow along Junction Creek, which is a perfect area for fishing and photography nearly year-round. Once you cross the footbridge at mile 2.5, there are several switchbacks that will take you quickly up to Gudy's. After hiking through thick trees for 1.5 miles, you will be well rewarded by a panoramic mountain scene. There is a bench here where you can rest and take in the scene, so be sure to pack a good lunch!
Great for: Moderate hikes, families, photography, sunset, running, mountain biking, half-day, thru-hikes, section hikes, fly-fishing
Colorado Trail: To Lime Creek from Little Molas
Rated: Moderate
If you just can't get enough of section hiking the CT, we understand. Little Molas is located off of Highway 550 on the way to Silverton. The out-and-back to Lime Creek is only 5 miles, but it's easy to spend an entire day here exploring the area.
Looking for an incredible vista without all the hiking? Pull off at the larger Molas Lake Overlook on the other (right) side of the road. It's not unusual to see artists set up here with their easels and canvas. See for yourself and you'll understand why.
Great for: Moderate hikes, families, photography, half-day, camping, section hikes, fly-fishing
Cascade Creek Trail
Rated: Moderate
Just below Engineer Mountain is the start of Cascade Creek Trail. To get there, travel north up Highway 550 for 2.3 miles past Purgatory Resort. Here, you'll turn left up a dirt road that leads to the trailhead. You will need a high clearance or 4wd vehicle to get to the official trailhead, but there are more easily accessible parking spots along the way to the trail.
This moderately trafficked trail starts at a red gate and travels up for 3 miles along the cascade creek. On many days, it's likely that the only other hikers you will pass are fly-fishers in the area. While it's easy to spend hours meandering slowly through the alpine meadows and river crossings, stick with the trail and push through to catch the best view. At the end of the trail is a massive 150-foot waterfall!
Great for: Moderate hikes, photography, half-day to full-day activities, fly-fishing
Million Dollar Highway
Rated: Easy
Ready for a full day to relax and take in the scenery? You've never truly experienced fall in Colorado until you've driven along the San Juan Skyway. Traveling north up Highway 550 towards the historic town of Ouray, this scenic road was named one of "America's Best Spring Drives" by Travel & Leisure Magazine, and for good reason.
Keep going past the small mining town of Silverton and you'll reach the Million Dollar Highway, a 25-mile section of road that takes you all the way to Ouray. Nationally acclaimed for its historical significance and scenic features, folks from all over the world have come here to drive this winding way.
The best places to stop along the Million Dollar Highway are the high points. The road will take you over three prominent mountain passes: Coal Bank (10,640'), Molas (10,970') and Red Mountain (11,018'). Be sure to stop at each for unbelievable photo opportunities! 
Great for: Photography, road trips, day trip, historical significance, motorcycles, adventure
For a unique perspective you could check out rentals from Silverton Rock Pirates:
Now offering the Polaris Slingshot, a 3-wheel on-road motorcycle pilot program, Rock Pirates packages include half-day and full-day rentals, perfect for visitors who ride the Durango and Silverton Narrow Gauge Railroad or plan to cruise the historic byway, which runs through Durango, Silverton, Telluride and Ouray.