As the sun creeps further towards the southern hemisphere, the world around Durango, Colorado, begins to change. We're seeing less of our hot summer days and more of the star-filled skies that brighten our historic town. Soon, the vibrant green forests will turn vivd gold and that first gust of winterly wind will herald what we've all been waiting for: autumn in Durango.
Fall welcomes a unique kind of gold prospecting, the autumnal hunt for the richest secret aspen groves and views that reveal the shimmering colors of seasons changed. Last year we talked about the seven best places to see Durango's fall colors. Now we're back, discussing the best dirt miles to set under your feet. Whether you plan to drive, ride, or hike your way to paradise, these are the top trails we suggest you explore.
Fall Drives around Durango
The Million Dollar Highway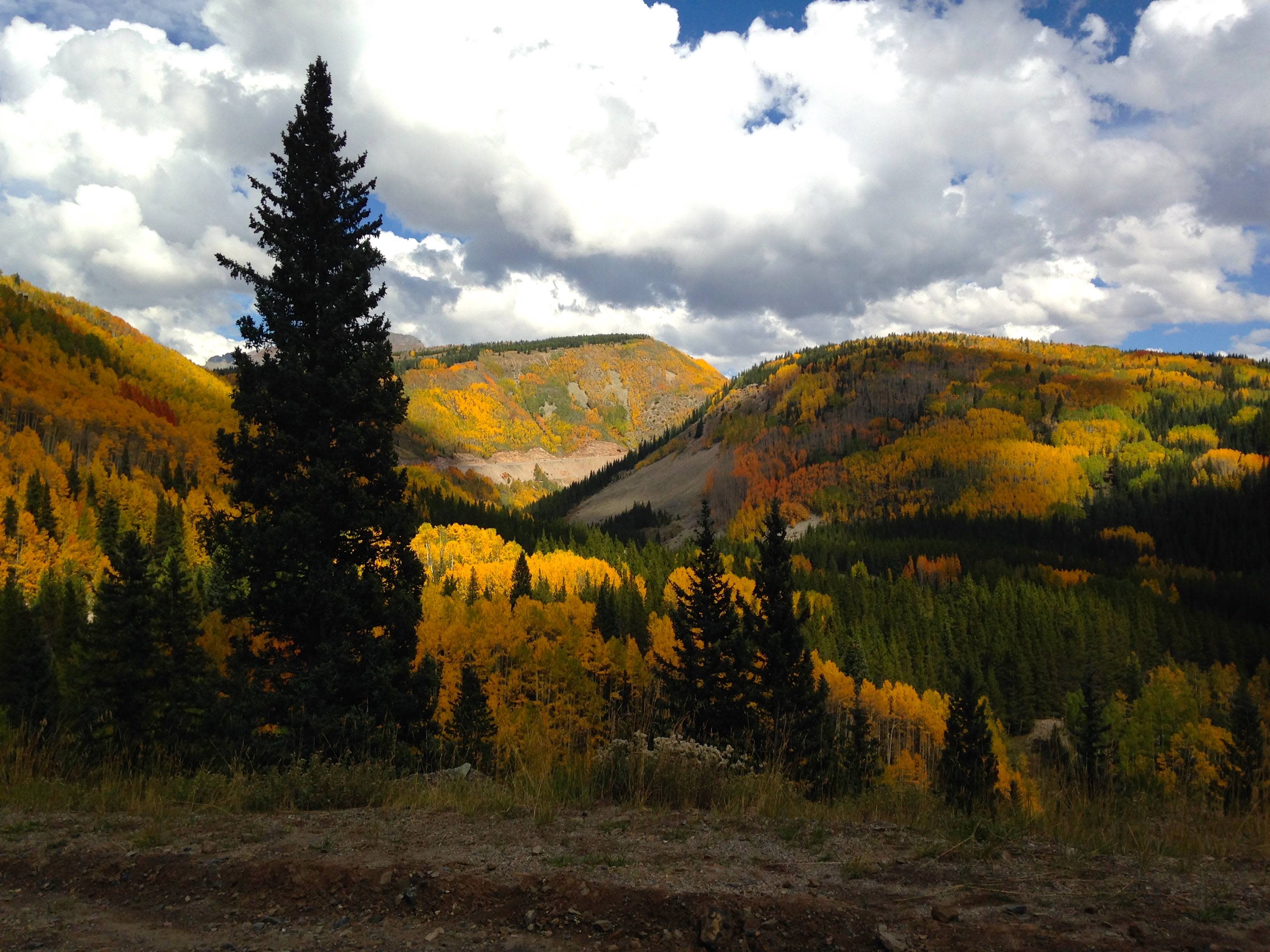 If you've spent any amount of time in Southwest Colorado, you know the usual suspects. The Million Dollar Highway, along with Cascade Creek and Lime Creek Road are must-experience adventures when it comes to driving in the fall. We couldn't resist at least one mention.
The Million Dollar Highway is the 70-mile strip of blacktop between Durango and Ouray. The road climbs up and over three separate passes: Coal Bank, Molas, and Red Mountain Pass. If you can relax through the hairpin turns and steep drop-offs, you'll be rewarded with some of the most breathtaking views in the country. Make a point to pause at each of the mountain pass summits and pay attention to the "Scenic Overlook" signs as you drive. Spend at least a full day enjoying this journey, which is always especially colorful in late September through October, and be sure to check out this Insider's Guide to the Million Dollar Highway.
La Plata Canyon
Rugged, rough, pristine, and wild, La Plata Canyon is Durango's favorite nearby 4WD trail. Located less than 20 miles west of town, this glacially-carved ravine is famously known for its route to the Notch, where you'll find a sweeping vista of the Junction Creek drainage and mountain peaks on the horizon.
No matter what time of year you steer towards La Plata Canyon, you'll discover rivers, waterfalls, and an abundance of wildlife. But plan your visit around the season change and these grand views will be painted gold. Even if you don't have a 4WD accessible vehicle, there are several ways you can still experience this ride. Several businesses around town rent vehicles or you can book a private, guided tour, where you can learn about local secrets and historical facts all along the way.
Hermosa Park Road
If you like Purgatory Mountain Resort in the wintertime, you'll love discovering the dirt roads tucked behind the ski hills this fall.
Like driving through a winding maze of gold, orange, red, and yellow, consider Hermosa Park Road the starting point of your most spontaneous adventure. Like the branches of aspen, the dirt road that began as Hermosa Park will split again and again. Follow the widest road or the path less traveled to discover private, secluded views to savor all to yourself. There is no wrong answer for which way to turn; you'll find riverside campsites, abandoned mines, historic log cabins, and trout in every stream crossing, each picture-perfect scene hugged by its own grove of aspen trees.
Fall Hikes around Durango
Last year, we celebrated the Animas River Trail, Animas Mountain Trail, and the Colorado Trail out-and-back to Gudy's Rest as some of the best fall hiking trails to experience close to Durango. Looking beyond the perimeter of downtown, these three trails will take you up, out, and around some of the longest strips of quintessential, autumnal Colorado.
Purgatory Flats Trail

The out-and-back Purgatory Flats area can serve as a day hiking destination or the jumping-off point of one of the best backcountry trips in the San Juan National Forest. This 10.3-mile trail leads all the way to the Chicago Basin trail and ultimately the Chicago Basin, a backcountry camping area with access to four peaks over 14,000 feet in elevation.
Whether you spend one day, one night, or a whole week out of Purgatory Flats, you'll enjoy a vivid array of colors, complemented by the pristine blue waters of the Animas River and vivid green grass of alpine meadows.
Goulding Creek Trail
Besides offering some of the best-secluded aspen grove views found near Hermosa Cliffs, Goulding Creek also provides access to one of the most frequented elk summering grounds this side of Colorado. It's one of the best shots you'll have if you want to experience wildlife, so please be respectful of this area that must have been pulled straight out of a fairytale. There are 32 switchbacks to the top of this 6-mile hike, each one well worth the effort. As if it couldn't get any better, you'll find that the Trimble Hot Springs Resort is just a hop and a skip away from this romantic trail.
Elbert Creek Trail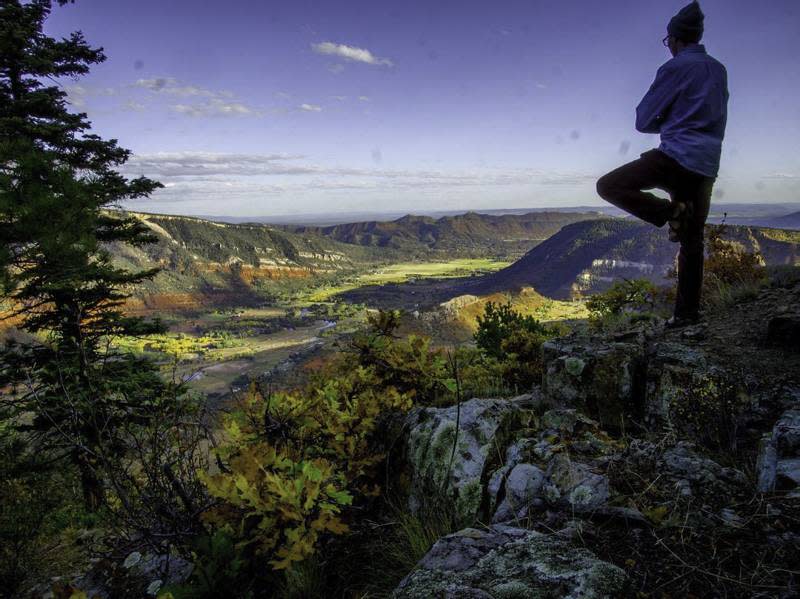 If only every hike in the world could begin and end with an ascent through the aspens, they'd be more like Elbert Creek. This trail, beginning at 8,500' feet in elevation, boasts one of the best overlooks of the Needles range and Twilight Peak. The views of the Animas River Basin are similar to those found at the more frequented Animas Mountain Trail, but more often than not, the 9.7 mile Elbert Creek Trail remains fairly secluded. You don't need to hike the entire out-and-back to enjoy autumn views, but know that the pièce de résistance is the Purgatory Cliffs overlook, unmissable at the top of the switchbacks.
Fall Mountain Bike Rides around Durango
Engineer Mountain Trail
If the trail begins anywhere near Coal Bank Pass, you can bet we're spending a fair amount of time there this fall. Engineer Mountain, the looming beast of a peak unmistakable from Highway 550, is easy to access when you put your wheels to the dirt. The total trail is 12.7 miles and climbs forgivingly up to the wide meadow at the base of Engineer Mountain. The trail will take you through the forest floor, past mountain ponds and herds of deer to a grand view of the mountains at your back.
Logchute Trails
Log Chutes I, II, III, and the Westview Loop are secret gems best used for mountain biking, tucked above the Colorado Trail terminus. Continue up Junction Creek Road for four miles to find this singletrack system that seems to wind itself naturally around every must-see view. It's often overlooked, which means don't be surprised if you spend the entire day without seeing another human soul.
Haflin Creek Trail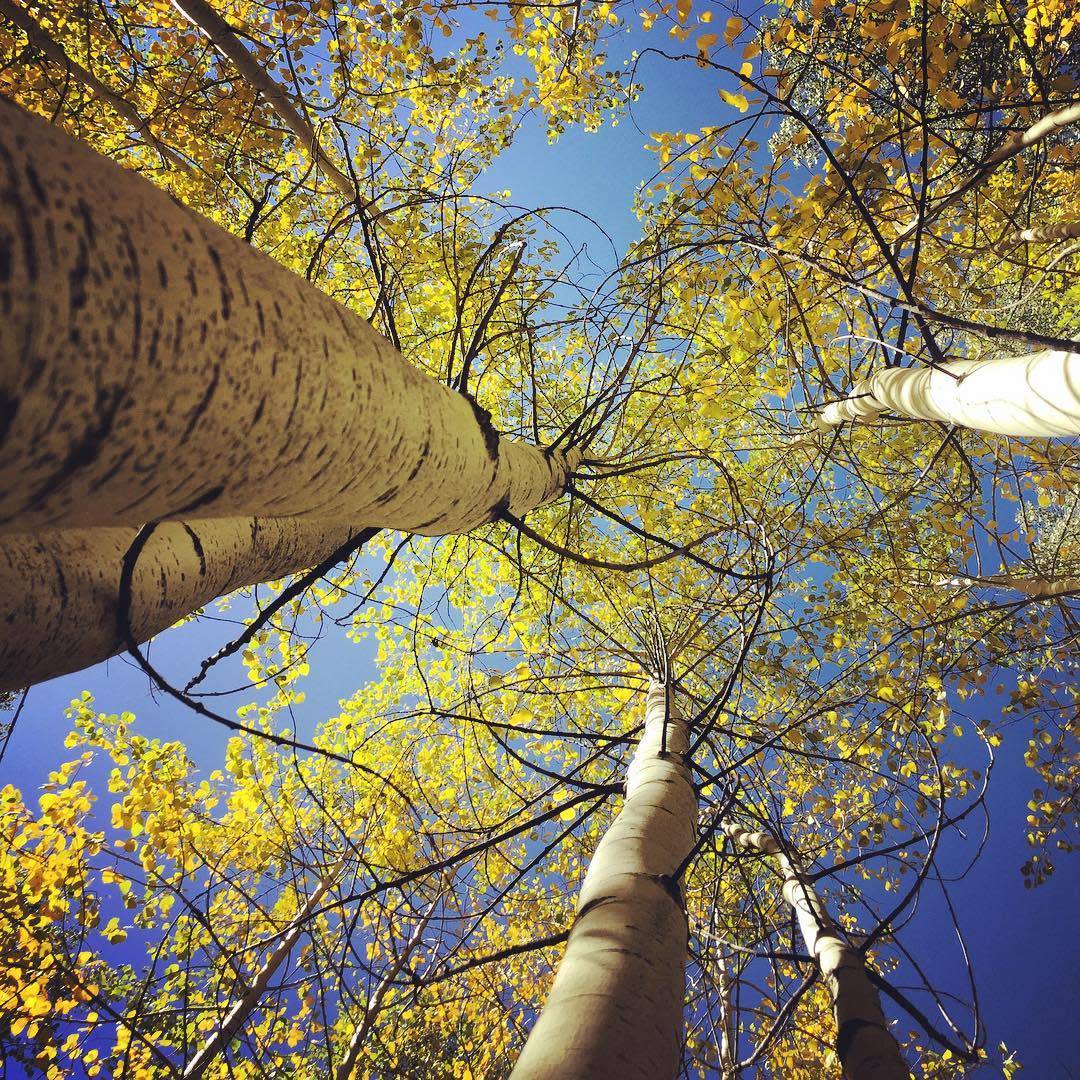 A wildfire burn from several years back has granted Haflin Creek its distinct biodiversity, where you'll find an incredibly vivid budding aspen grove. The trail is considered difficult for both mountain biking and hiking, climbing nearly 3,000 feet in less than 8 miles, but if you stick to it, you'll enjoy a variety of different perspectives on your favorite fall foliage. From the forest floor to the rocky slopes above the Animas Valley, this trail is nothing less than rewarding, ending with a colorful view of Baldy Mountain.