Taking a rest day from the mountain doesn't mean missing out on the action. When your sore muscles are begging for a break, take advantage of the countless other activities Durango has to offer. From ice fishing and dog sledding to soaking in the hot spring and dining under the alpine sky, it's easy to experience a dozen vacations in one.
These are our 10 favorite events, activities, and things to do this Winter when you're not skiing or snowboarding in Durango:
#1 A Jam-packed Live Music Schedule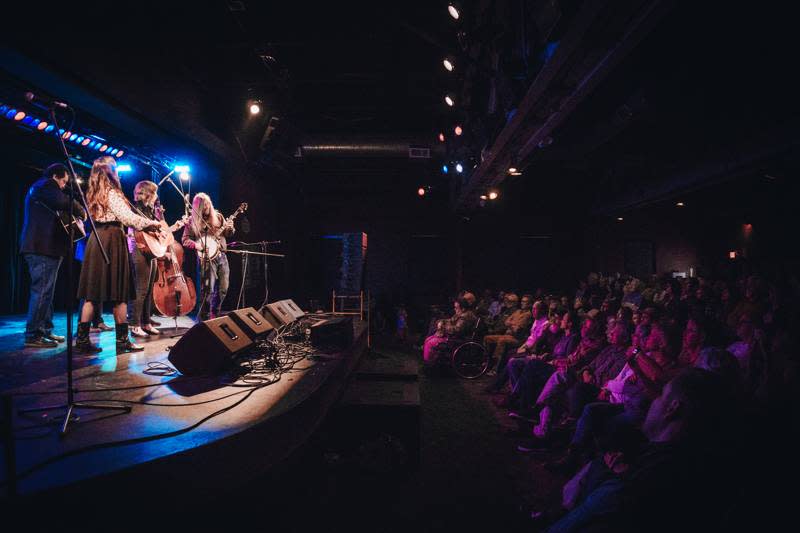 Photo: Cole Davis
Durango's music scene is as rich as the gold mines in Silverton. With 9 live music venues to explore and a number of song-loving eateries, there is always somewhere to go to enjoy the tunes. This February, our community concert hall will be packed with artists of every genre and background. From the Metropolitan Opera on February 2nd and Southwest Civic Winds Concert on the 3rd to the Pump and Dump Comedy Show on the 6th, Forever Tango Dance Show on the 12th, and Infamous StringDusters concert on the 17th, there are a number of exciting ways to rest your ski muscles.
#2 The Annual Durango Independent Film Festival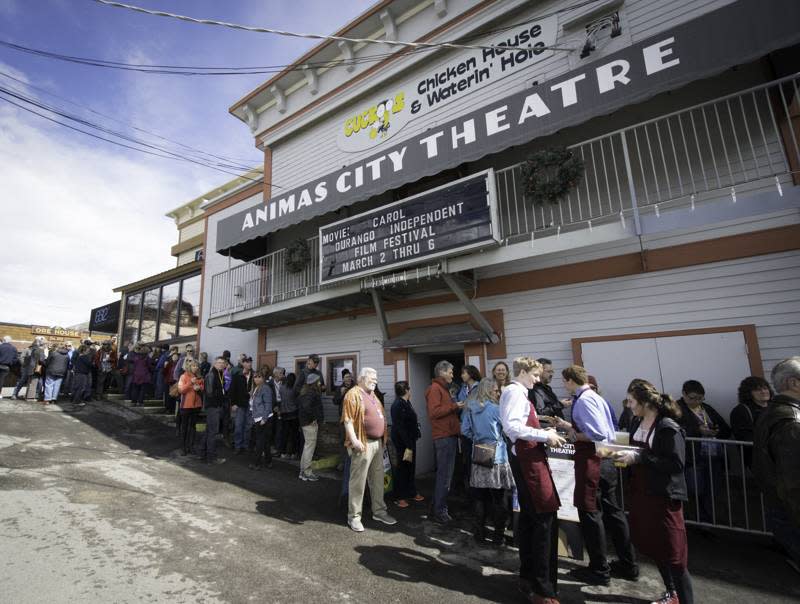 Photo: Katie McCranie
There's no better way to kick back after a hard day of skiing than with a good movie. It's why we love the annual Durango Independent Film Festival. Bringing filmmakers and movie-goers together for one great 5-day, multi-venue event, this year is sure to be even more entertaining than the last. Watch movies in the Animas City Theatre, Gaslight Twin Cinema, and newly renovated Stadium 9 theatre.
The event kicks off February 27th and runs through March 3rd, offering a number of showings and evening mingling events worth checking out.  
#3 The 41st annual Snowdown Festival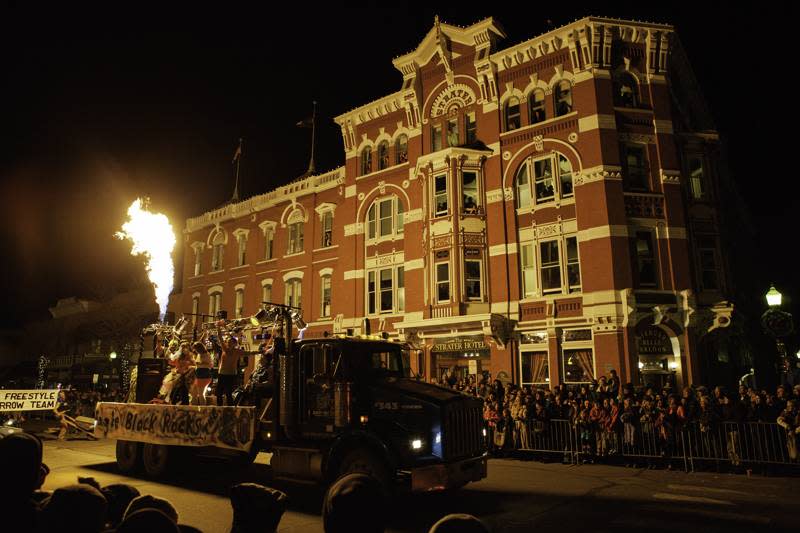 Photo: James Orndorf
The beginning of February marks the midway point of Durango's favorite week-long festival. Visitors should take advantage of the huge event list spanning venues all across town. Dress up in your best comic-con costume and let the party carry you away. The much-anticipated Balloon Rally and Mass Ascension will take place on February 2nd, and you can even snag tickets to spectate by train. You won't want to miss the Snowdown Light Parade planned for the last day, a special culmination of fun and hard work by our community members.
#4 A well-deserved Spaaah day
Give your achy ski muscles a break with a trip to the Spaaah shop on Main Avenue. With a full boutique of every skincare and wellness product, you'll need, it's worth visiting if only to shop. Their expert staff offers a number of treatments in the luxury spa area, including facials, massages, mud wraps, hot stone rubs, and so much more. Reward your body for all its hard work with some muscle-rubbing love.
#5 A scenic snowcat ride and dinner
Spending an evening aboard a giant snowcat may not seem like the most romantic of excursions, but at Purgatory Mountain Resort, it can be one of the best decisions you'll ever make. Share a private five-course dinner with loved ones with breathtaking views of the San Juan National Forest. You'll enjoy the sunset and alpenglow above the mountains in total quiet, with champagne or mulled wine to start and a sophisticated menu of hors d'oeuvres, soup, salad, a main course, and dessert.
#6 Vallecito Lake Ice Fishing Tournament
If you've ever been curious about ice fishing, now is the perfect time to try. With the lake frozen over and conditions prime, the Vallecito Ice Fishing Tournament on February 9th is sure to attract some of the best competition around. First-place winnings set at $750 for the heaviest trout, so expect a full lake of ice shanties and fishing folk to keep you company. Novice sportsman can find a wealth of resources and support at our local fishing shop, Duranglers.
Even if you're not interested but would love to spectate, set up a base camp at the lakeside Rusty Shovel Saloon, grab a cocktail, and enjoy the energy of the fishing tournament.
#7 Drive a team of sled dogs through the forest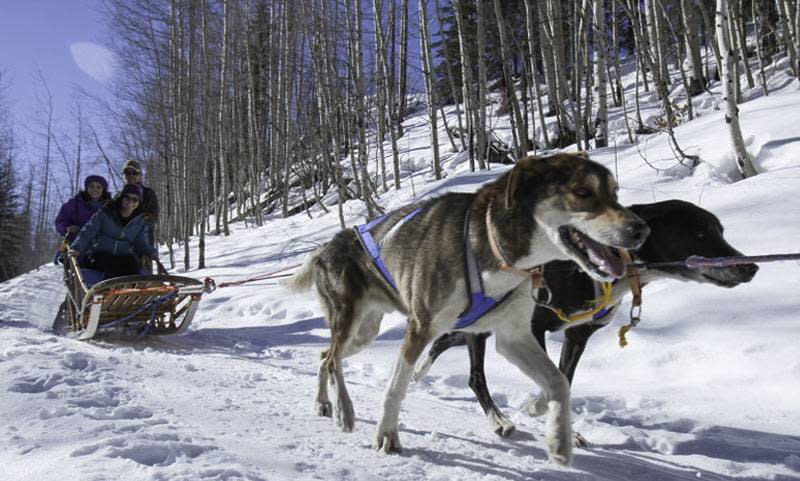 Photo: Purgatory Resort
Joining the expert guides at the Durango Dog Ranch for an hour or half-day excursion is one of the most exciting, unique activities you'll find here in Durango. Experience what it's like behind the sled of a professional team of sled dogs, travel miles through the forest, and love on some of the friendliest four-legged creatures you'll ever meet. With snacks and hot drinks provided, you're sure to enjoy the full ride.
#8 Purgatory Deck Party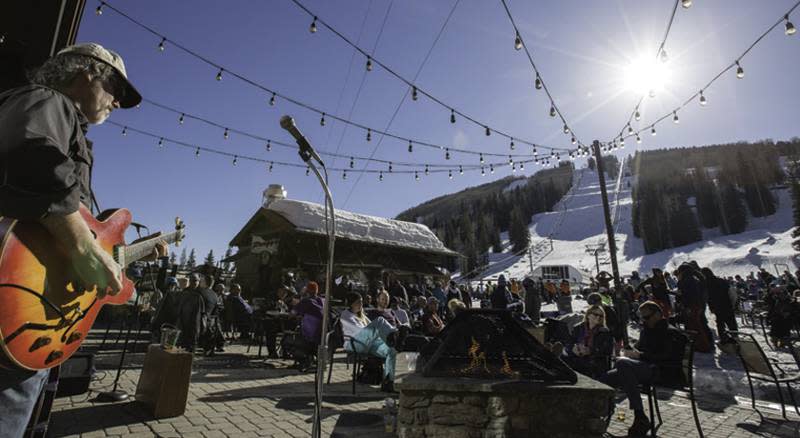 Photo: Purgatory Resort
If even on your rest days, you just can't seem to escape the mountain, we completely understand.
At the Powderhouse Deck Party on February 16th, you'll have every reason to pop off the skis, enjoy the music, beer, and killer giveaways.
#9 A Getaway Retreat at Durango Hot Springs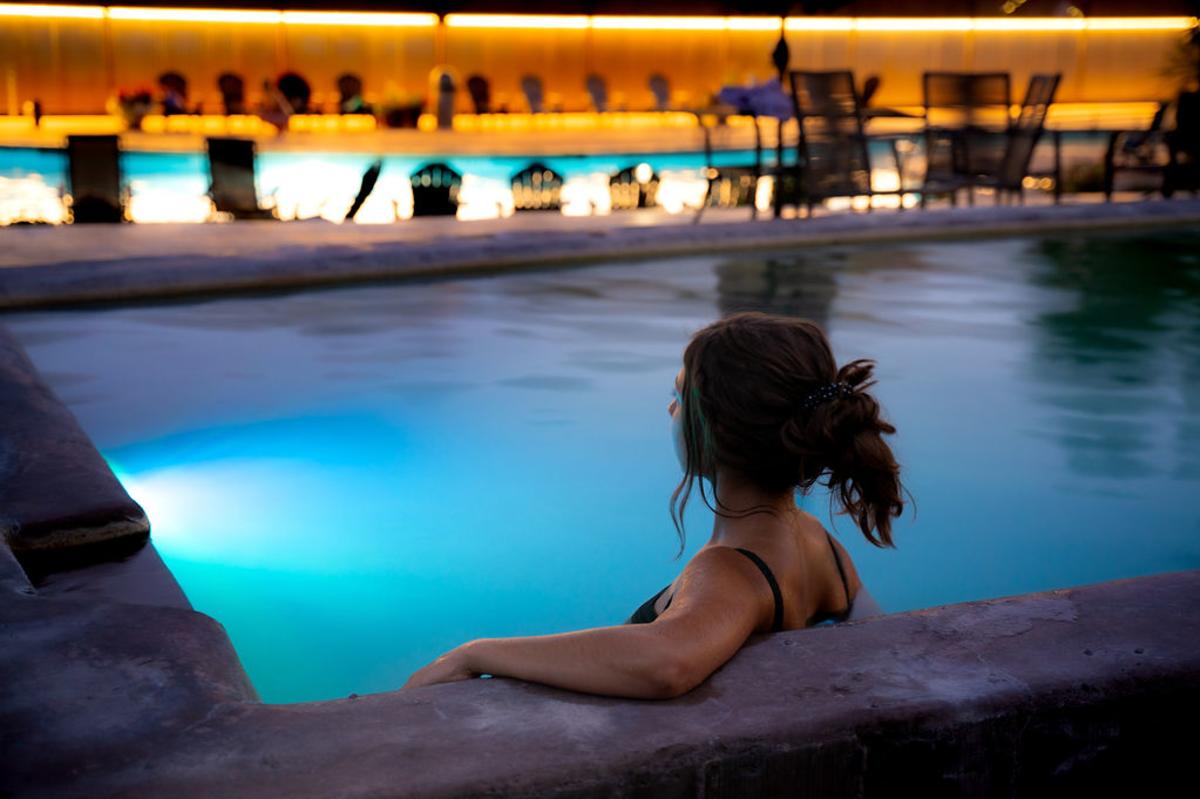 With February bringing the season of love, take advantage of one of the many romantic packages offered in Durango. Unwind with a soak and stay at the Durango Hot Springs, just outside of downtown Durango.  Enjoy a couples' massage, soak in the natural healing waters, and purify your body in the private sauna.
Discover more options with our 12 love-filled ways to spend the holiday.
#10 The 10th Annual Silverton Skijoring Event
If there was ever a reason to venture beyond the resort, the Silverton Skijoring race is it! After a one-year hiatus, this rowdy ski racing event is back and will take place on February 16th and 17th, Presidents Day weekend. Located north of Durango in the cozy mountain town of Silverton, the Skijoring race is a radically fun event to spectate. Racers are pulled by a horse and are required to navigate a series of snow ramps, jumps, and obstacles right through town. It's fast-paced, high-energy, and a bucket list experience you won't want to miss.
Conclusion
If you're looking to spend your day off from skiing and snowboarding in Durango, consider some of the things to do on our list. Because above all, you need to spend as much time unwinding and relaxing in Durango, as you do carving the slopes underneath your feet.