With wide open roads, big western skies, and spacious bike lanes, Durango is more than a bike-friendly town. Here, cycling is a way of life where you'll find more bikes than cars and hundreds of paved miles to explore. Home to Olympians, world champions, and one of the largest bicycling events in the nation, Durango is a utopia for both recreation and training.
Whether you're a daily commuter, road cruiser, or competitive racer, Durango offers bike routes of every distance and difficulty. Come ride with the pros, where every grueling climb is rewarded with epic views and thrilling descents, and discover why the very best call it home.
Favorite Routes
Sitting at the intersection of Highway 550 and 160, Durango cyclists enjoy short access to both the mountains and the desert. From the easy cruises to the most quad-burning hills, these are some of Durango's best routes.
Baker's Bridge Loop
Distance: 30 miles
Difficulty: Intermediate
Features: With the Animas Valley as your backdrop, this ride brings you past Honeyville and over the famous bridge where Butch Cassidy and the Sundance Kid launched into the Animas River
Note: A shorter version of this ride can be done by cutting through Dalton Ranch and crossing highway 550.
To Pagosa Springs
Distance: 60 miles one way
Difficulty: Hard
Notable Features: Climbing nearly 3,000 feet on the road to Pagosa Springs, riders enjoy Colorado farm views on a two-lane road. Don't miss the view of Chimney Rock National Monument on your way and reward your sore muscles with a dip in the Pagosa hot springs.
Durango to Silverton
Distance: 50 miles one way
Difficulty: Hard
Notable Features: Climbing over two mountain passes and following the route of the famous Iron Horse Bicycle Classic, the Durango to Silverton out-and-back is one of the most brutal yet scenic rides around. Highway 550, with its wide bike lanes and hefty climbs, is a playground for cyclists. Stop at Purgatory Mountain Resort for some cross-training or dine on much deserved pizza from the Olde Schoolhouse on your way home.
To Mesa Verde National Park
Distance: 35 miles one way
Difficulty: Intermediate
Notable Features: From the mountain town of Durango, through the desert, and to Mesa Verde, you'll be cycling straight to a place of history. Upon arrival, explore Ancestral Puebloan cliff dwellings and panoramic canyon views.
Elmore's Loop
Distance: 26 miles
Difficulty: Intermediate
Notable Features: Climbing 1,100 miles with a maximum elevation of 7,400, Elmore's loop brings riders along a circular loop to the east of town. Turn right at Florida Road and follow the scenic Florida River.
Famous Events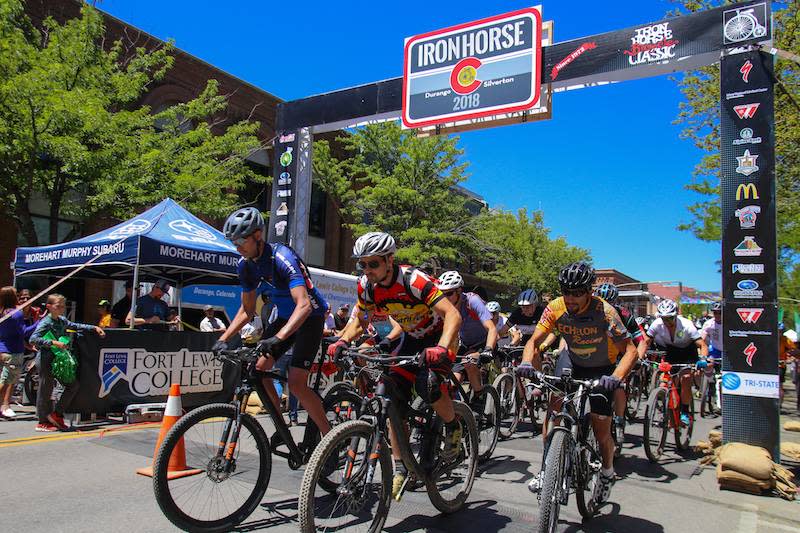 Iron Horse Bicycle Classic: As one of the largest and longest run cycling races in America, the Iron Horse attracts professional athletes from all across the globe. An event like no other, athletes are pitted against machine in one dramatic race against the Durango train.
For the 50 miles between Durango and Silverton, racers climb a whopping 5,700' vertical feet and two mountain passes over 10,000'. Even if you don't compete, you can still celebrate at the Silverton Finish line party.
The Death Ride Challenge: The Toughest One Day Ride in the USA lives up to its name. Beginning in Durango, the DRC follows the entire 225-mile San Juan Skyway. Passing through Silverton, Telluride, and back, this limit-testing adventure is unbeatable and grueling. Proceeds from the Death Ride support the ALS Therapy Development Institute and Blazeman Foundation.
Squawker Classic Road Race: Known as one of the toughest weekends of collegiate racing, the Rocky Mountain CC Conference weekend hosts a Team Time Trial and Road Race Circuit for Colorado rival universities. Fast-paced and buzzing with activity, the races are fun and easy to spectate. Cheer on your alma mater at the Zia Taqueria Neighborhood Criterium, as it winds past historic homes behind Main Avenue.
Bike to Work Week: The road traffic in Durango really thins out from June 22nd to 27th. The Clean Commute Week challenges locals and visitors alike to keep out of the car and opt for greener transport.  A number of events take place during the week, including a free tune-up station, free coffee station, and local business competition.
Weekly Community Rides
A number of local organizations host weekly and daily group rides. Check for updates and news from the Durango Wheel Club, Pedal Durango, and local bike shops (all weekly events are subject to change).
Sunday: A long, social ride hosted by the Church of the High Pines runs from 11 - 4 PM and begins at Bread.
Monday: 2nd Avenue Sports group ride will begin from the shop on Main Avenue at 6 - 7 PM
Tuesday: At least every other week, Purgatory Sports hosts a 6:30 - 8:00 PM shop ride for mountain bikers. All abilities are welcome and you can even rent a bike on site. Meet at Purgatory Sports on Main Avenue.
Wednesday: Pedal the Peaks hosts a shop ride from 6-8 PM beginning at their location on Main Avenue. Durango Wheel Club Social Ride is on the first Wednesday of the month
Thursday: 2nd Avenue Sports hosts a ladies ride from 5-6 PM beginning at their shop on Main Avenue. All abilities are welcome.
Friday: Durango BMX hosts a weekly Race Night for just $10 a person. See where you stand against competitors on the local tracks. More info.
Renting a Bike
If you need to rent a bike or are looking for a quick repair, there are several locales where you'll find what you need. The Pedal the Peaks bike shop rents townies, road bikes, hardtail mountain bikes, kids bikes, and even ebikes and GoPros. You can rent easily through their website online. If you are looking for another option ROLL is local bike shop where you can rent electric bikes - also known as eBikes. ROLL provides door-to-door delivery services for solar powered eBikes making it easy for you and your crew to hit the road. ROLL offers eBike delivery to your hotel, vacation rental, VRBO, Airbnb or any residence within 10 miles of Durango. 2nd Avenue Sports offers a number of full suspension, hardtails, and road bikes. For a full list of their selection and more information, check here. If you're looking for more action on the mountain or support outside of town, the Purgatory Cycle Works Bike Shop can provide repairs and mountain bike rentals. Their location downtown has Rocky Mountain, Evil, and Felt bikes available for rent.
Top Cyclist Eateries
Food is fuel for the active cyclist. In Durango, these restaurants know how to nourish and replenish their athletes.
To read about the best mountain biking trails in Durango, check here.