Durango is a hiker's paradise, and we're not just talking about human hikers. Four-legged adventurers adore the Durango area because there's plenty of room to roam and new things to explore. But before you head out into the wild with your best friend, there are some safety precautions to take. 
Here are five tips for hiking with your dog in Durango:
#1 Keep an Eye on the Altitude
Durango sits about 6,500 feet above sea level, but some hikes can take you and your pet above 10,000 feet. That's where your dog may exhibit altitude sickness. The symptoms are similar to what people experience and a sign your pooch needs time to adjust to the altitude before attempting the more physical activity. If you've arrived at Durango from a lower elevation and your dog seems tired, pants a lot, or isn't interested in eating, he could have a touch of altitude sickness. More-extreme symptoms can even include vomiting.
If you believe your dog (or you for that matter) is experiencing altitude sickness, it's important to keep hydrated. You may also want to let your pet rest for a day and adjust to the altitude. It can take anywhere from a day to a few weeks, depending on the dog. But like people, dogs that are athletic and fit are more likely to adapt to the altitude faster.
#2 Keep Your Dog Hydrated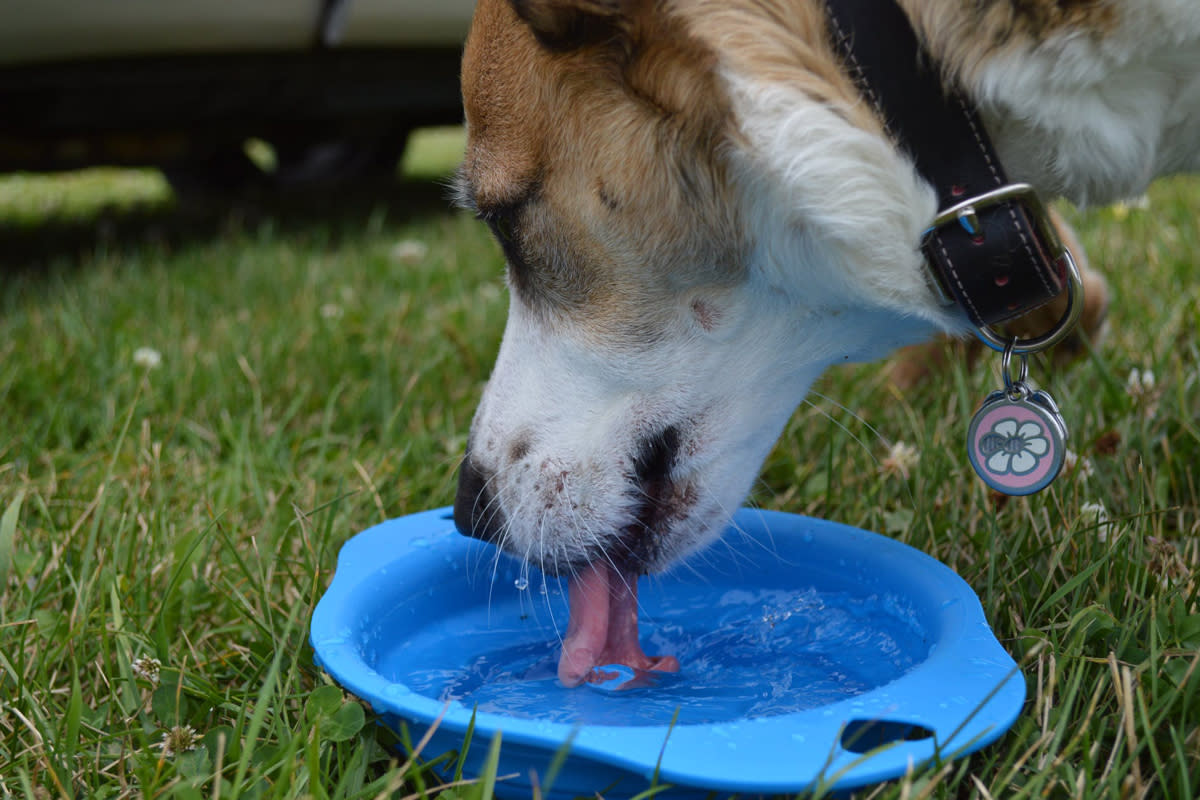 Summertime high temperatures typically get into the high 80s, but even if it's a mild day, your dog is going to need water. Durango and the Four Corners area are where the high desert meets the high alpine country. The result? The air is dry. 
Dogs need about an ounce of water a day per pound of weight, and more than that if they're exerting themselves. Bring along a portable dog water bowl and make sure Bella or Sam has plenty of chances to slake their thirsts as you make your way through the Durango wilderness.
#3 Follow Durango's Leash Laws
Durango ordinance requires you to keep your pup on a leash within city limits. But there are places in and around Durango where your dog can roam leash-free. 
Inside Durango city limits, the Durango Dog Park is 5-acres of off-leash fun. But there's only one accessible parking space about 300 feet west of the entrance. You're encouraged to walk with your pup to the Animas River Trail, on the south side of Highway 160, and west of Highway 550. Outside city limits, dogs can be off-leash in La Plata County, the San Juan National Forest and Weminuche Wilderness Area, as long as they are in sight and under voice control.
#4 Keep the Trails Clean
Dog poop is a guaranteed way to turn off the locals or other visitors to Durango. Don't leave that souvenir behind! And don't believe some of the myths around dog poop: It's not harmless, it's not good fertilizer for the nearby plants, and it's actually a biohazard. 
Durango's city ordinance is clear: "Any owner or person having custody of any dog shall not permit said dog to defecate on any school ground, public street, alley, sidewalk, treebank, park or any other public grounds or any private property within the city, other than the premises of the owner or person having custody of the said dog, unless said defecation is removed immediately."
Bottom line: Come prepared to pick up the dog doo and dispose of it properly.
#5 Know the Trails and Know Your Dog's Limits

Durango loves dogs!
You won't have a hard time finding a trail perfect for you and your hiking buddy, whether you're looking for an easy stroll or something more rigorous. Users on AllTrails recommend the San Juan National Forest — four of the five top-ranked trails are located there. They include the Church Camp Meadow Trail (ranked "easy"), the Haviland Lake Trail, Castle Rock via Elbert Creek Trail, and the No. 1 ranked Animas Mountain Trail (all ranked "moderate"). Purgatory Trail in the Hermosa Creek Wilderness area also gets a thumbs up from hikers and their pups. But keep in mind that's a 10.3-mile trail; while it's also rated "moderate," it's probably best for a fit, high-energy dog.
One more word of warning: During the summer monsoon season, afternoon thunderstorms are common. Sudden temperature drops of 20 degrees or more are also common, especially in winter. Bring at least an extra layer and a rain jacket, just in case.
Conclusion
Durango is perfect for man and beast, with lots of activities to accommodate dogs. Just play it safe. Remember the air is dry, and the elevation is higher than you and Daisy may be used to. Follow the rules, and don't push yourself or your four-legged best friend too hard out there and you'll both have the time of your lives.
Bringing Your Dog to Durango?
View our Dog-Friendly Hotels