Winter in Durango, Colorado, is known for its stunning scenery, making it a popular destination for those who love to explore the great outdoors. Several scenic winter drives in the area provide breathtaking views of the surrounding mountains, forests, and valleys covered in a blanket of snow.
Don't take our word for it. On your road trip to Durango, you will find almost any road here is scenic in its own right.
For your convenience, we laid out our top five picks for your viewing pleasure. 
#1 Durango to Molas Pass
It's not only pretty during autumn. The scenic drive from Durango, Colorado, to Molas Pass provides a year-round driving experience that is as beautiful as it is long. It covers approximately 40 miles along Highway 550 and takes about 45 minutes to an hour, depending on traffic and road conditions. 
The route snakes through gorgeous mountain terrain, with snow-capped peaks like Engineer Mountain (12,370 ft) and Twilight Peak (13,163 ft). It passes through the San Juan National Forest and offers views of scenic, snow-laden forests and valleys. The route includes steep climbs and descents, tight curves, and switchbacks, so caution is advised when driving. 
Molas Pass is a scenic place at an elevation of over 10,800 feet and offers stunning panoramic views of the surrounding winter landscape. 
#2 Durango to the Town of Vallecito
If you want to let your mind wander as your weave through tight winter forests and glens, then the drive from Durango to Vallecito is the scenic drive for you. Spanning approximately 22 miles and taking around 30 minutes, the route follows Highway 160 out of Durango, then turns left onto County Road 501.
The drive offers scenic views of the surrounding mountains and forests, with several pullouts and overlooks along the way. The road is generally well-maintained, but caution should be taken during winter due to potential snow and ice on the roads.
As you arrive at Vallecito Reservoir, you will find an enchanting frozen lake with many opportunities for camping, ice fishing, and snowmobiling. 
It's worth your bucket list, too: it's the highest-altitude manmade reservoir in the State of Colorado.
#3 Mesa Verde National Park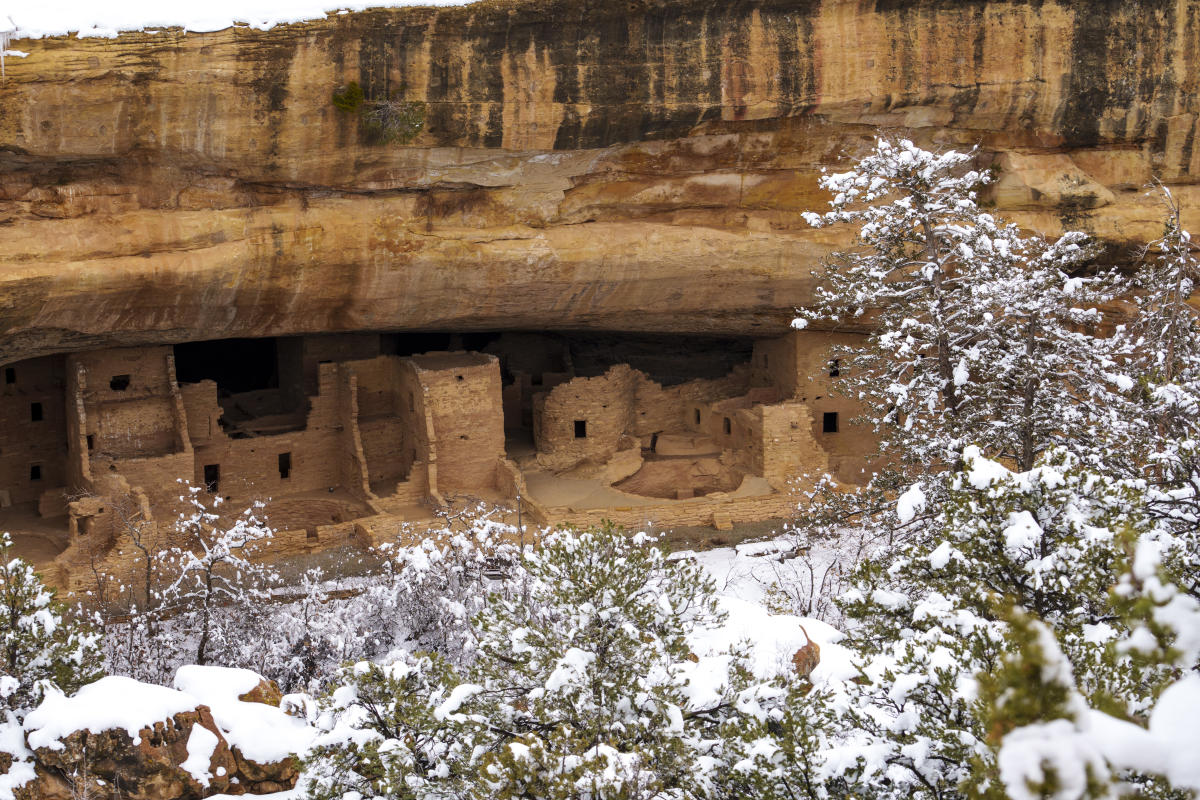 A wonder of the West, Mesa Verde National Park is an enchanting place internationally renowned for its beauty, cultural significance, and natural history. It is also a favorite Durango driving spot for locals. Driving in Mesa Verde National Park during the winter can be a scenic and enjoyable experience, but it requires caution and attention to the surroundings. 
The park's main road, the Mesa Top Loop Road, is a winding, two-lane road with steep drop-offs and tight curves. It provides access to several of the park's major archaeological sites, but visitors should be prepared for slow speeds and limited passing opportunities. Additionally, some sections of the road may be closed during winter due to snow and ice.
Visitors should also know about wildlife, such as deer and elk, which may wander onto the road.
Visitors can also download "A Pueblo Perspective" on Mesa Verde audio tour for an Indigenous take on the land and listen along on their drive.
#4 Durango to Lake Nighthorse and Back Through Wildcat Canyon
If you're looking for a shorter winter trip, the loop that runs through Lake Nighthorse and Wildcat Canyon is a prime route. It features stunning, elevated views of a frozen Lake Nighthorse and the snow-covered ravines in Wildcat Canyon. This is a fantastic drive for winter enthusiasts who want more viewing distance, as the terrain will flatten as you climb. 
To take this route, you would head east on Highway 160 for about 5 miles. Then, you would turn right onto County Road 210 and continue for about 6 miles until you reach the lake. From there, turn right onto CR140 and continue till you reach CR125. 
Eventually, you'll reach Hesperus, Colorado, and return to Durango through Highway 160. 
The drive should take approximately 25-40 minutes, depending on traffic and weather conditions.
#5 Tracks Across Borders Byway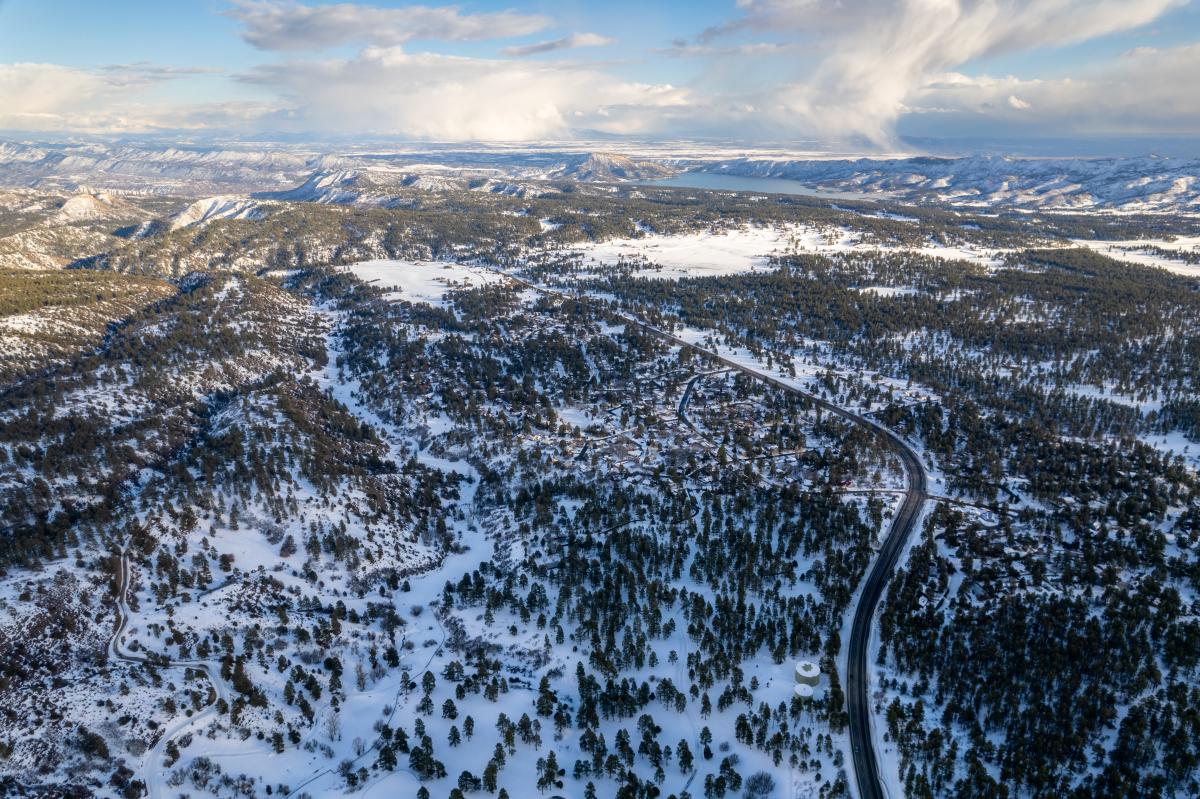 Visitors looking for a long, history-filled drive should consider the Tracks Across Borders Byway. It's a fantastic driving experience from Colorado to New Mexico, following the path of historic railroads that once linked the two states. The route passes through picturesque winter landscapes, including deserts, mountains, and canyons. The byway spans 89 miles and takes about four and a half hours to complete.
It features several historic sites and attractions related to the railroads and the region's history. Notably, it shadows Colorado's first narrow gauge railroad system—the Denver and Rio Grande Railroad (D&RG). It is known for its rugged terrain, especially in the winter season, and can provide a unique driving experience.
Conclusion
We didn't list all the scenic places to drive through in the area. There are hundreds of magnificent routes to explore during your road trip to Durango. 
However, it's important to note that winter driving conditions can be challenging and hazardous, so it's essential to exercise caution and take appropriate safety measures while on the road. 
If you take the proper precautions, you'll find driving in Durango, Colorado, in the winter can be an excellent experience. The city and its surroundings are known nationwide for their stunning natural beauty, especially when covered in pristine snow.