As the aspens groves turn to gold and the crisp fall weather descends upon Durango, it is time to slip into your favorite sweater and enjoy all the wondrous adventures this mountain town has to offer! 
Here are our favorite attractions, restaurants, bars, outdoor activities, and events we think you should experience this fall in Durango: 
Attractions to Explore the Fall
Durango & Silverton Narrow Gauge Railroad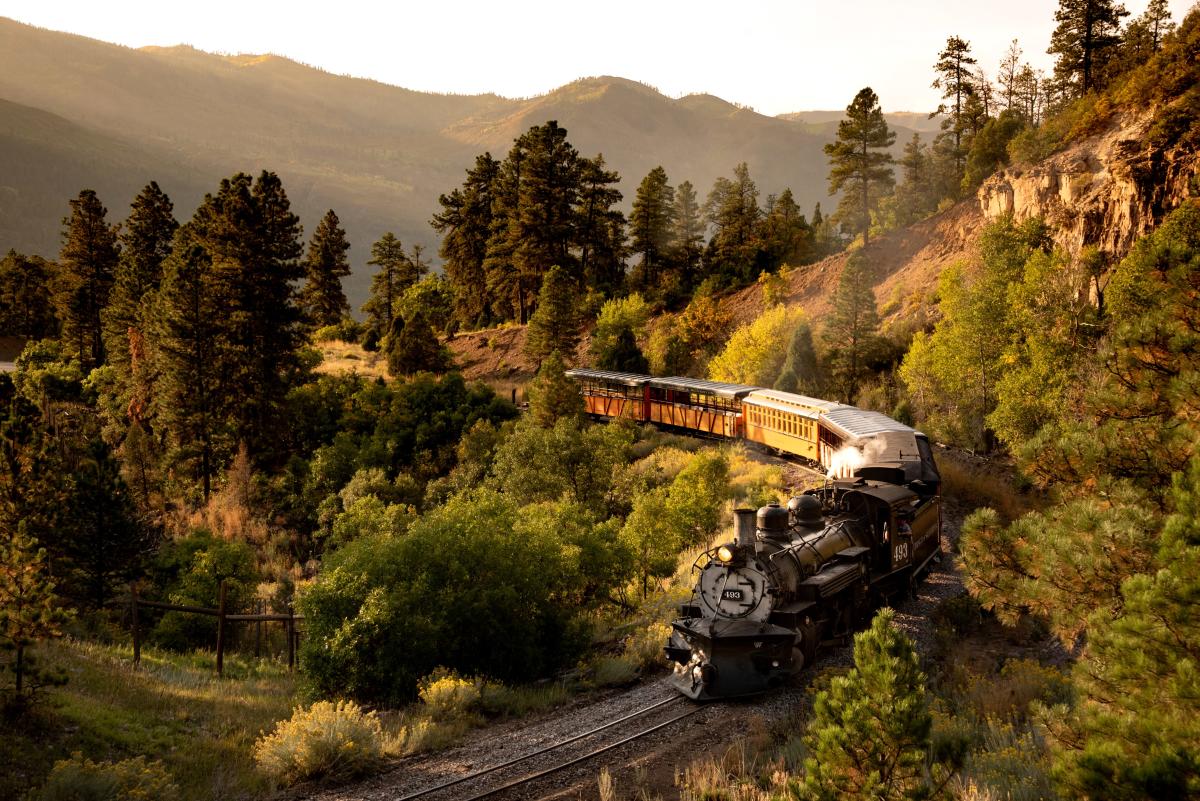 Enjoy unparalleled scenery paired with western hospitality as you relive the "Golden Age" of railroad history. Passengers aboard the Durango & Narrow Gauge Railroad will be treated to an authentic ride behind a historic steam-powered engine as it winds its way through the gorgeous fall foliage of the San Juan National Forest. Autumn is an especially picturesque time of year to enjoy the fall foliage and mountain vistas.
Durango Hot Springs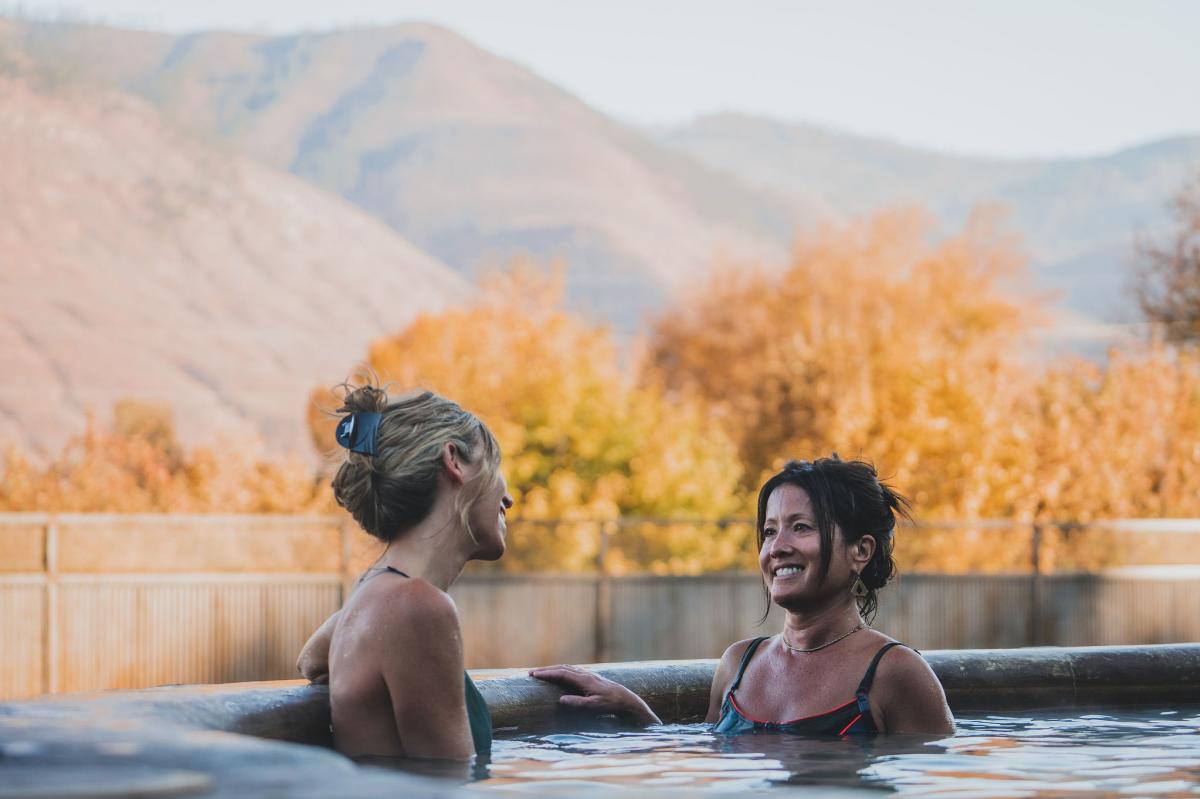 As the weather gets cooler, retreat to Durango Hot Springs Resort & Spa, located eight miles north of downtown Durango. Relax and unwind in these natural hot springs surrounded by glorious mountain views. These are the only thermal waters on the planet to infuse nano-meter and micro-meter oxygen bubbles, which increase purity and health benefits.
Soaring Tree Top Adventures
Experience the thrill of ziplining through the fall canopies of the San Juan Mountains at the longest zipline course in the world! With 27 different ziplines, Soaring Tree Top Adventures offers full-day, family-friendly adventures. Over five hours of ziplining await, including a four-course gourmet lunch, an ecology tour, and train transportation.
Inferno Coaster at Purgatory Resort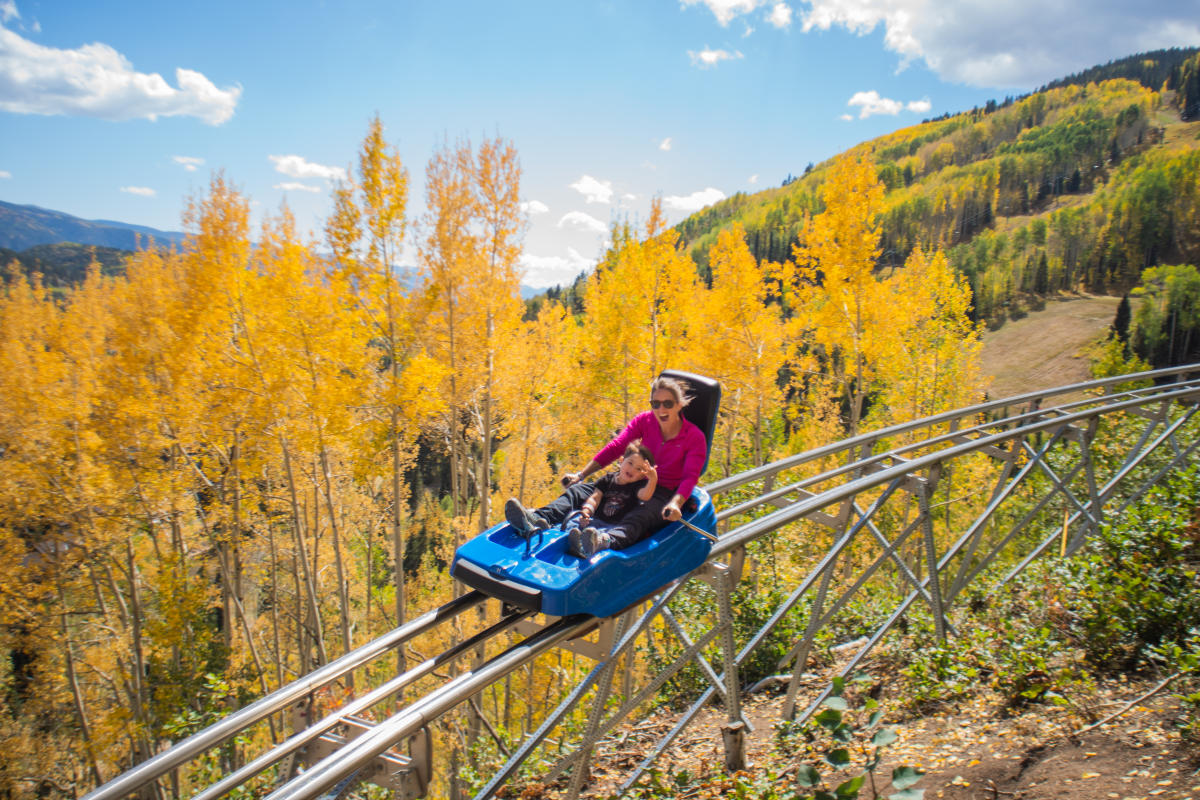 With amazing mountain views, heart-pumping twists and turns along fast descents, the Inferno Mountain Coaster will have you exclaiming from the treetops. Even better, you are in control of your adventure car with its individual hand breaks, so you can go as fast or slow as you like! Purgatory Resort offers affordable accommodations during your adventures.
Guided Tours at Mesa Verde National Park
Get a behind-the-scenes tour of the Mesa Verde National Park with ranger-assisted tours of Cliff Palace and Long House cliffs dwellings. Fall is a great time to go when the weather begins to change and the landscape takes on new hues. Learn about the lives of the Ancestral Pueblo people who made this area their home for over 700 years.
Restaurants to Try this Fall
James Ranch Grill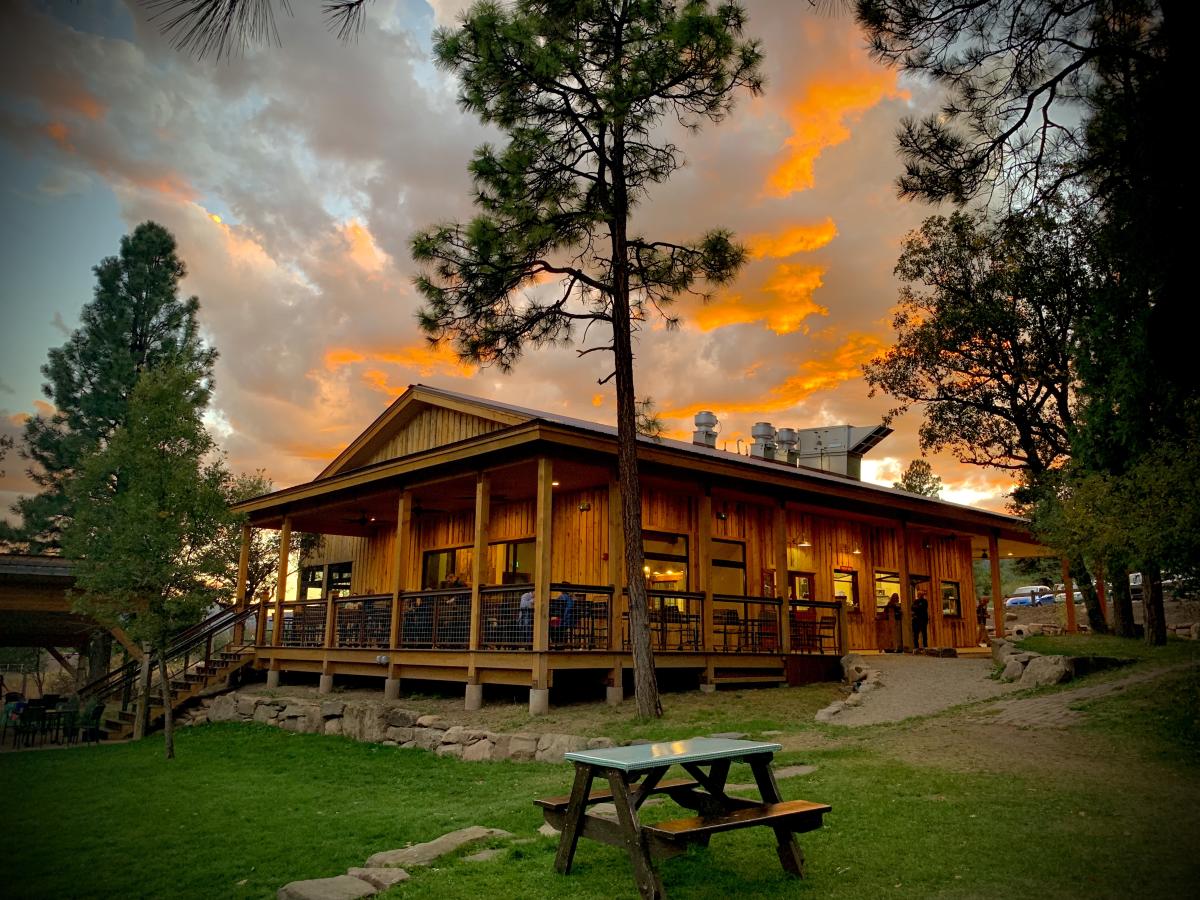 Going beyond "farm to table," this is a true "table on the farm" culinary experience set in a casual space. James Ranch Grill offers a variety of indoor and outdoor seating where you can really enjoy the fall colors of the surrounding countryside. Their food is sourced from local regenerative ingredients, and the menu includes an array of house-made goods.
Kennebec Café
For something a bit more elegant, The Kennebec Cafe offers a warm, comfy atmosphere the perfectly complements the bounty of autumn. Mediterranean-inspired cuisine is their specialty, focusing on local and seasonal ingredients. With an extensive wine list and local draft beers, dine with beautiful views of the surrounding La Platas. Reservations required.
Alce' Restaurant in Dalton Ranch
What could be better than dining on exquisitely prepared original Italian dishes from locally sourced ingredients? Dine-in at the Alce' Restaurant via a covered patio space overlooking the fall foliage of the Animas Valley and the beautifully manicured Dalton Ranch Golf Course. Indoor seating is also available, and reservations are required.
Eolus
Dedicated to using all-natural, organic, and locally sourced ingredients, Eolus partners with local farmers and ranchers to give their customers the very best. They serve sushi and New American fare with tasty cocktails featuring the only rooftop dining in Durango. In an inviting brick-walled space. Reservations are required. 
Taco Libre
One of Durango's newest eatery, Taco Libre specializes in quality ingredients paired with exquisite cocktails in a fun and inviting atmosphere. It is authentic Mexican street food personified, meaning not only is it delicious, but it's also affordable. With modern mixologists whipping up your favorite cocktails, what's not to love? 
Bars to Try this Fall
Foxfire Farms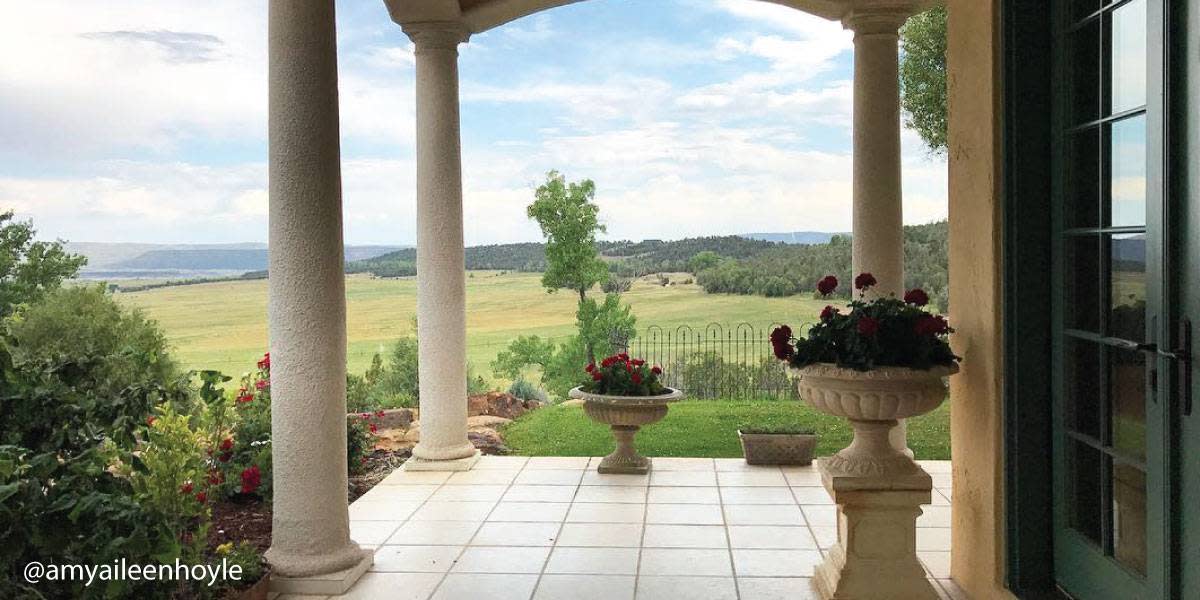 As the days get shorter and the weather cools down, most grape growers get antsy, especially at higher elevations. But not Foxfire Farms. Located about 30 miles southeast of Durango, their handcrafted wines are unique to the region. Because of the colder climate, exquisite hybrid wines made of Marquette, Traminette, Petite Pearl, Corot Noir, and Vigmiles grapes are produced.
The Nugget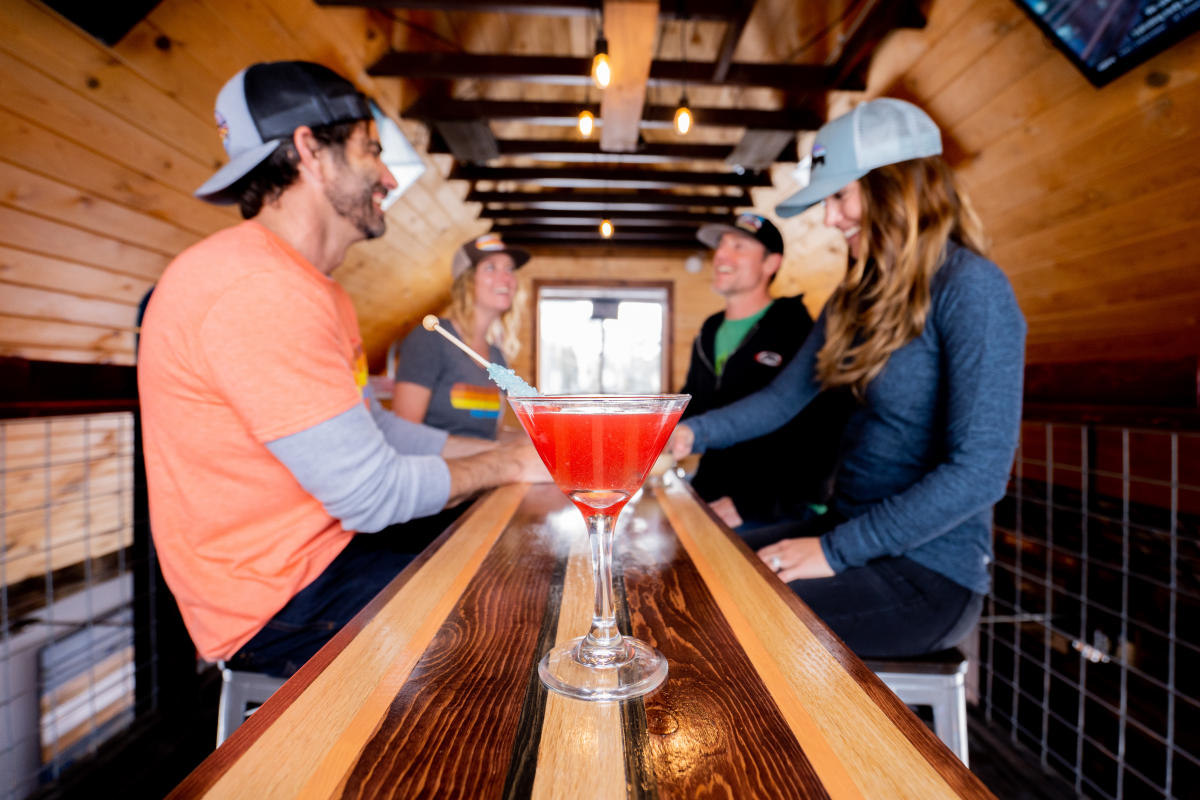 Sitting pretty at over 8,800 feet in elevation, The Nugget is where the locals come for their aprés ski. Located just ½ mile from Purgatory Resort, this is where friendly neighborhood meets backcountry gourmet. With live music on the patio and your favorite drink in hand, it's perfection.
Ska Brewing Co.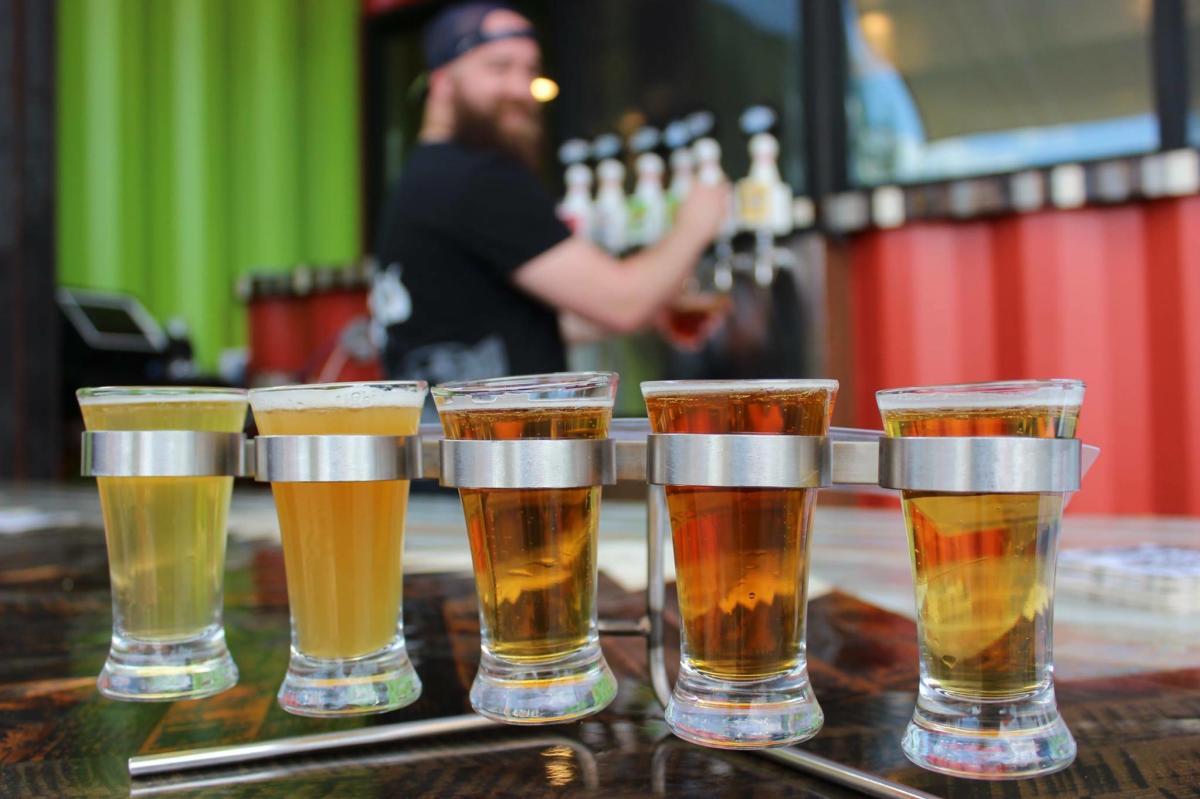 Dave and Bill started their brewing business with one goal in mind – to give locals and visitors alike one heck of a hoppy journey. They do just that with their flavor-packed flagship brews as well as their ridiculously refreshing seasonal ales. Fall at Ska Brewing Co. is a great place to experience in beer-form.
Union Social House
Much like that beloved 80's show Cheers, Union Social House is a relaxed neighborhood bar where everybody knows your name – or at least attempts to! But more importantly, they are just a great bar serving great drinks and delectable food in a historic building located on North Main in Durango.
Animas Brewing Company
The Animas Brewing Company is a minimalist brewpub housed inside a rustic-chic cabin that serves Irish-influenced fare, house-made brews and is located adjacent to the Animas River Trail. It's the perfect way to cozy up with the coming of fall. With Animas Brewing Company, less is more, and they really know how to emphasize their fantastic drinks and Irish comfort food.
Outdoor Things to Do this Fall
Hike the Colorado Trail from Molas Pass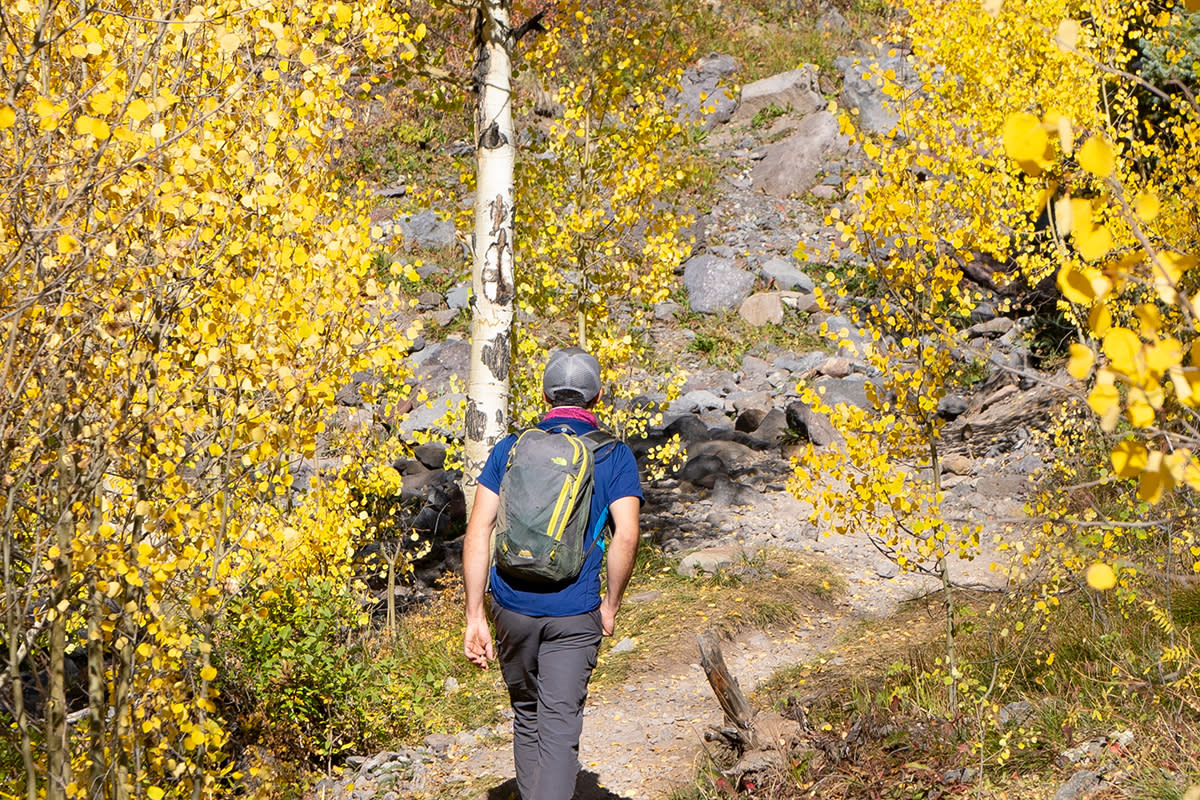 Molas Pass is a section of the Colorado Trail, going from Denver to Durango. It descends into the Animas River Valley and gradually drops about 1,500 feet into the Animas River. At about four miles long, the best season to hike this trail is in the late summer and fall months when the colors are at their peak.
Kayak at Lake Nighthorse
With stunning scenery all around, Lake Nighthorse is the best place to take your kayak (or rent one nearby) pack a picnic lunch, and make an afternoon of it. As one of Colorado's newest man-made lakes, located two miles southwest of Durango, there is a small entrance fee and parking is available.
Bike Along the Animas River Trail
Experience the amazing Colorado autumn on two wheels along the Animas River. The Animas River Trail is a hard-surface, shared-use hiking and biking trail perfect for all ages and skill levels. It runs through the heart of Durango, stretching over 7 miles along the river.
Mushroom Hunting at Elbert Creek or Castle Rock Peak
Both Elbert Creek and Castle Rock Peak are hiking trails perfect for hunting mushrooms. One may find such fancy fungi as shitake, phoenix, or chestnuts, among others. The colors you will see around the fall months simply cannot compare to the rest of the year.
We highly recommend going with an experienced mushroom hunting expert- don't go hunting without someone who knows what they're doing!
Pumpkin Picking
A favorite pastime everywhere, the pumpkin season in Colorado is extra magical. Falfa Pumpkin Patch has barrel train rides, pumpkin pie, and a picnic area (you will need to bring your own food). Don't forget to bring the kids! Open on weekends from the last weekend in September until the pumpkins are sold out!
Events to Check Out this Fall
The Durango Autumn Arts Festival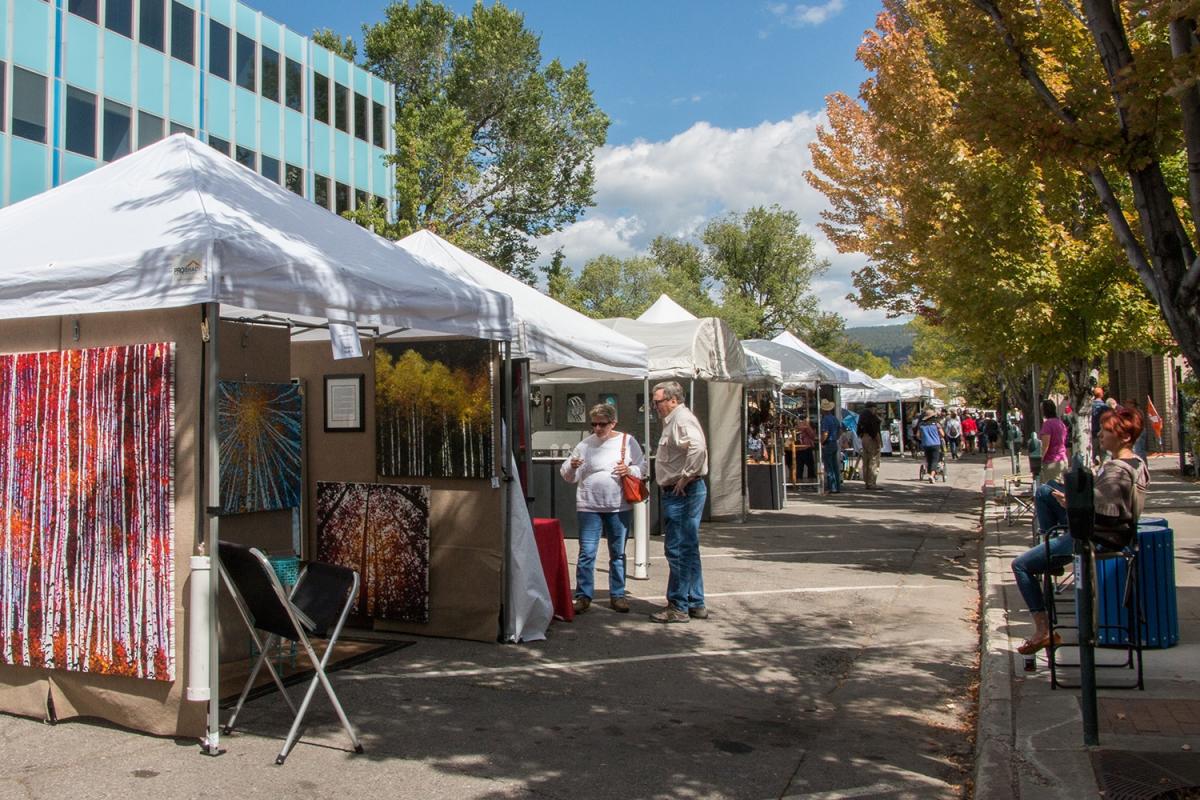 From September 18 – 19 this year (2021), the Durango Autumn Arts Festival celebrates fine art and crafts from artists all around the country. It will be held amidst the amazing fall colors of Durango on the quaint historic downtown on Second Avenue. Great restaurants are located nearby. 
Animas Valley Balloon Rally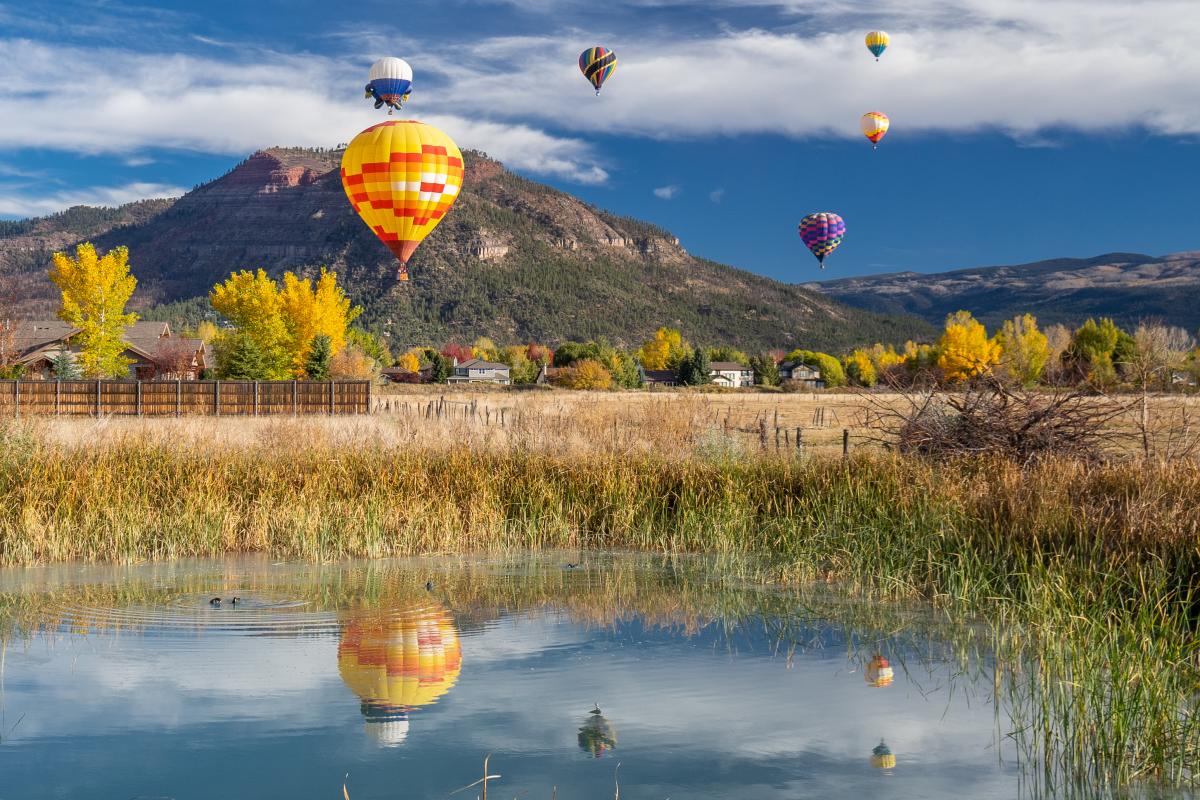 Come see this beloved yearly celebration: The Animas Valley Balloon Rally; October 15 – 17 in the Animas Valley. Stunning colors await you in the form of gigantic hot air balloons set to launch about 12 miles north of the city limits in the Animas River Valley over the weekend.
Durango Cowboy Poetry Gathering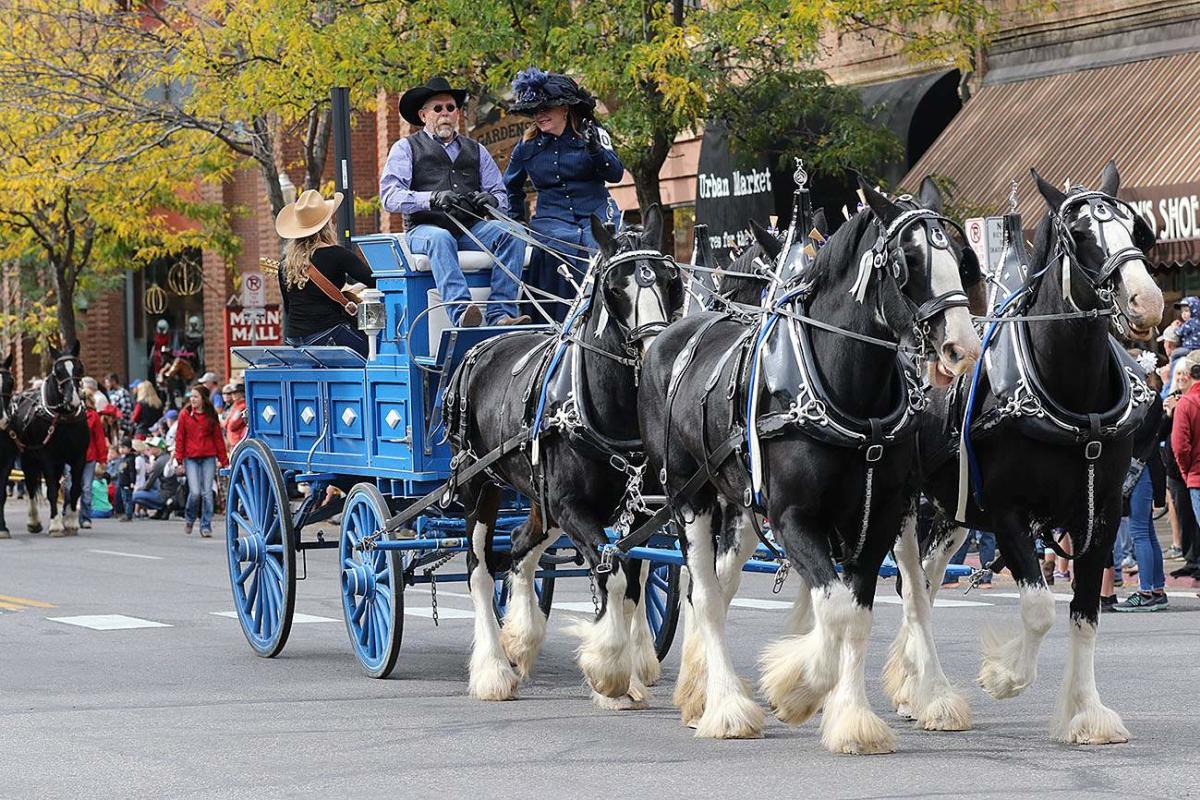 From September 30 – October 3rd, the Durango Cowboy Poetry Gathering is a fun event with evening performances and a Saturday daytime run of sessions. Musicians and poets from around the U.S. gather here in Durango to an intimate stage, performing both classic and contemporary works. Laughter and tears may both ensue.
USA Collegiate National Mountain Bike Championship
This year (2021) the USA Collegiate National Mountain Bike Championship will be held on October 14th at Purgatory Resort, outside of downtown Durango. Courses designed specifically to challenge bikers at every turn include downhill, cross-country, short-track, and dual slalom mountain biking. 
Tico Time Country Music Festival
Country music fans will love this festival held at the Tico Time River Resort on September 30 – October 2nd. Come see the Devon Worley Band, Rick Trevino, Dave McElroy, Coffey Anderson, and others, and get ready to scoot your booty into fall!
Conclusion
There you have it! Now go out and dance in the autumn foliage, adventure in the mountains, treat yourself to a delicious meal or beverage, and boogie at a local event before the last aspen grove sheds its dazzling gold leaves.
Want More Fall?