It's a poorly kept secret that southwest Colorado is one of the best destinations for off-roading adventures. Folks from around the continent salivate over our rugged passes, steep inclines, and history-rich abandoned mining trails.
Switch into four-wheel-drive mode and you'll connect with a warm and welcoming community of rock crawling experts. Leave the trail behind and be rewarded with rocky vistas and secluded, alpine views you'll find nowhere else.
A proper off-road experience is about more than the path less traveled. Where will you park the rig come nightfall? What are the best road stops along the way? Whether you plan to tow your own ATVs from home, want to practice your crawling skills in a rented Jeep, or book the family on a guided tour of our tallest peaks, consider Durango your #1 4x4 basecamp.
In order to get you prepped for this season, here are some of our favorite places to OHV and off-road in and around Durango:
#5 Scenic Alpine Loop
North of Durango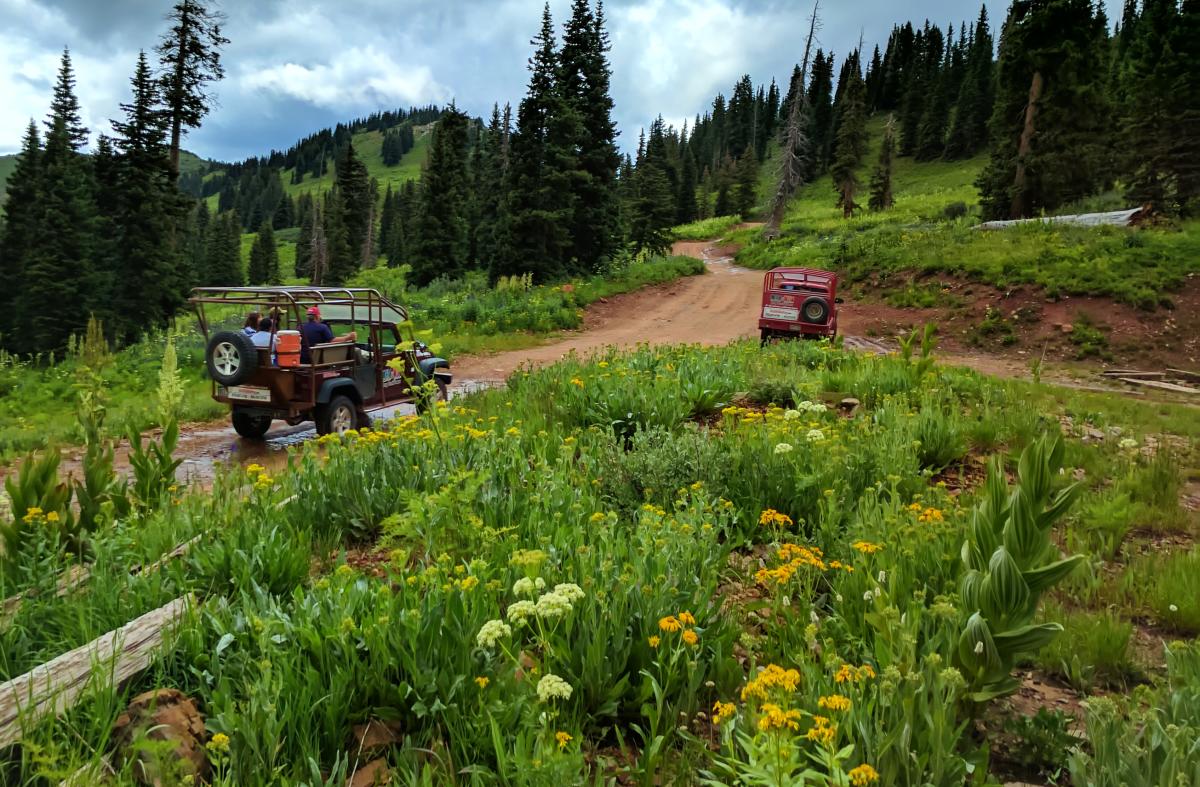 Connecting the towns of Silverton, Ophir, Telluride, Ouray, and Lake City, this 75-mile high-elevation loop can be broken up into segments or used as the ultimate multi-day bucket list adventure.
It's along these high-clearance roads where you'll find most of our recommendations. With incredible views of the San Juan Mountains, acres of national forest, and edge-of-your-seat hairpin turns, the Scenic Alpine Loop is a route that everyone should take once in their lifetime.
#4 Lime Creek Road
North of Durango
My own first off-roading trip spent behind the wheel was on Lime Creek Road, and for a number of reasons - it has close proximity to Durango, a short duration, low difficulty, and ample opportunities for camping and secret waterfall chasing.
During the 1800s, Lime Creek Road served as the only connection between the towns of Durango and Silverton, so if you want the authentic gold miner's experience, you'll find it here!
Be prepared to share the road with wandering hikers, mountain bikers, and campers. There are excellent dispersed camping spots near the southern entrance of Lime Creek, and boondocking is allowed at impacted sites. The view of the Needle Mountains can't be beaten.
Length: 12 miles
Peak Elevation: 9,900 ft.
Difficulty: Easy
Recommendations: Since the road follows the Lime Creek drainage, this path has great access to water along the way, so bring your fly fishing license and water shoes for stops along the way. Take a point to hike the trail to Spud Lake and enjoy overlooks of Purgatory Mountain Resort across the way. 
#3 Kennebec Pass in La Plata Canyon
West of Durango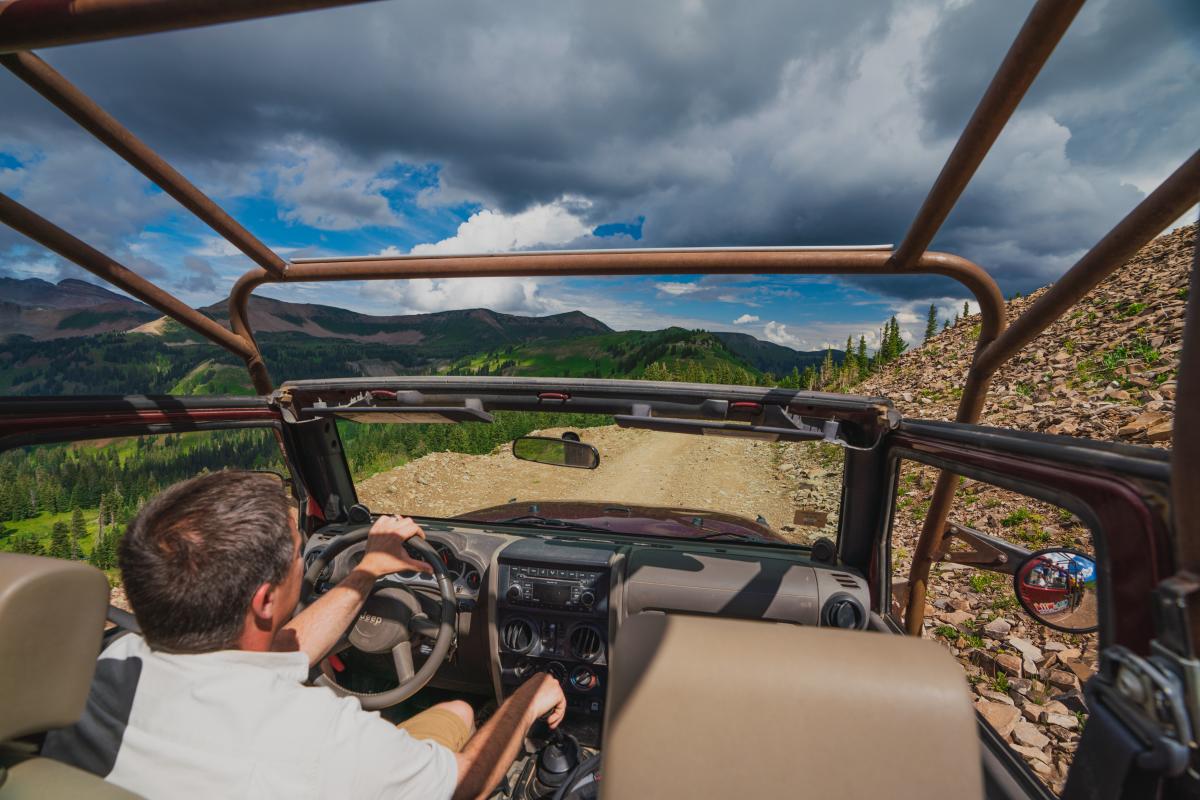 Part of the thrill of off-roading is that everyone in the vehicle is a little on edge for the duration of the experience. If that's understandably not your thing, but you're still interested in the private views of the best the San Juans have to offer, it's safe to go with a guide service. Put the keys in the hands of a Mild to Wild or Durango Rivertrippers tour guide. The half-day excursion is family-friendly and will take you and your crew high in the sky above Durango. Expect sweeping views, raging waterfalls, and all the best-kept secrets your guide is willing to share. La Plata Canyon Road, also known as County Road 124, invites exploration and adventure, welcoming those who traverse its winding path in street-legal vehicles. As you venture into this picturesque terrain, it's important to note that OHVs find their place on the enchanting side roads, which gracefully intertwine with the majestic Forest Service Roads.
Length: 15 miles
Peak Elevation: 11,683
Difficulty: Easy to Moderate
Where to Stay: Your favorite Durango hotel
Recommendations: If you prefer, you can of course take on Kennebec Pass on your own terms. But if you're looking for a stress-free excursion or a way to include the whole family, a guided excursion could be just the thing.
#2 Ophir Pass
Northwest of Durango
A major perk of starting your off-roading journey from Durango is the progressive increase in technicality and difficulty. The higher up into the San Juan National Forest you venture, the more tricky it can become. For well-versed 4x4 drivers, you'll appreciate Ophir Pass.
Long, winding, and with just enough drop-offs to make your stomach curl, Ophir Pass is the most scenic way to travel to Telluride, Colorado.
Towering mountains will make even the heaviest duty of vehicles seem minuscule, while rust-red rocks provide incredible contrast between the vibrant vegetation and endless wildflowers.
Length: 9.8 miles
Peak Elevation: 11,789 feet
Difficulty: Moderate
Where to Stay: There are a number of great hotels and lodges to be found in Telluride.
Recommendations: For an extra-long loop and full-day excursion, wait until all the snow melts in the highlands (August to September) and connect three bucket list passes - Black Bear, Imogene, and Ophir - in one epic loop.
#1 Animas Forks Trail
Northeast of Durango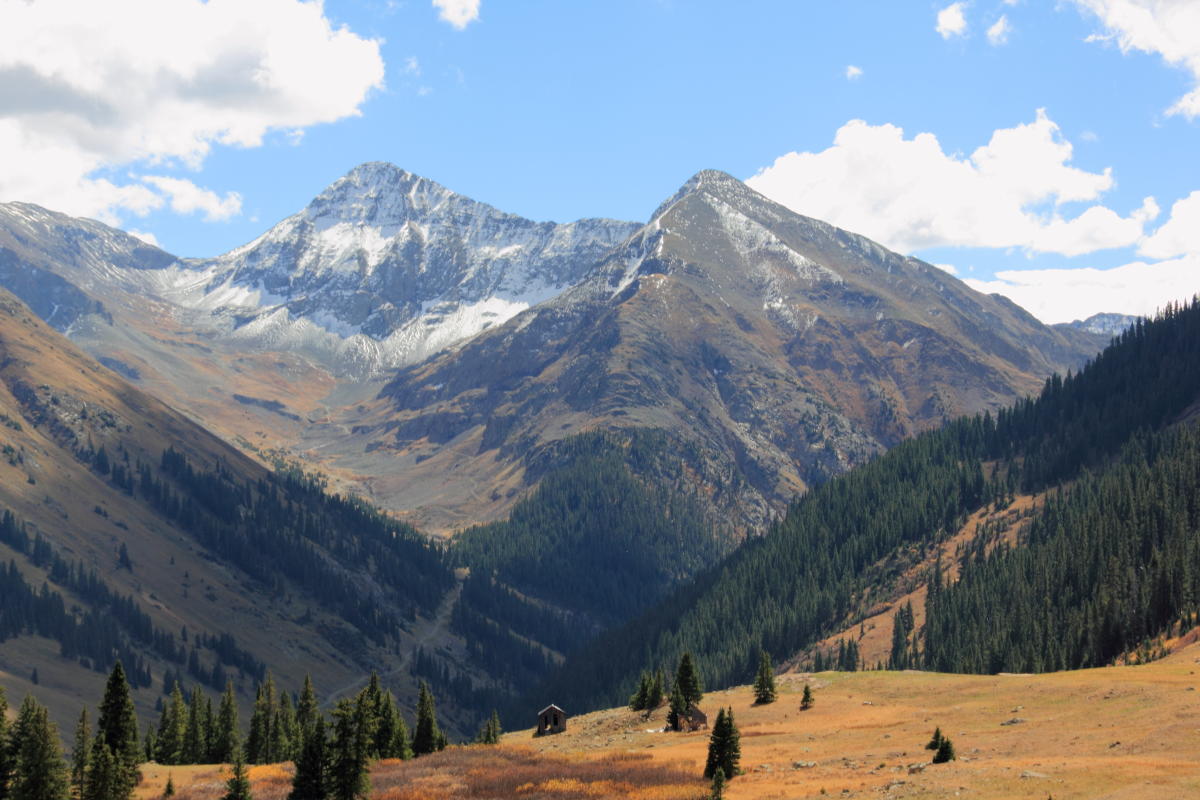 One could argue that the real journey doesn't begin until you leave Silverton. Beyond our favorite sleepy mining town is a spiderweb of high-clearance 4x4 roads and ghost towns with such historical significance, they alone make the journey worth it.
Like with most roads, the higher you crawl, the gnarlier it can get. Stock up on all your foodstuffs in Silverton and be prepared to camp if you want to stay in the thick of it. It's a "choose your challenge" kind of route, with access points to a number of lesser difficulty gulches and peaks. If you have time, the dead-end gulch roads of Minnie and Cunningham are both scenic drives, while Maggie Gulch will reveal a waterfall along the way. Arrastra Gulch provides access to the Mayflower Mine, a region known as one of the earliest successes in the mining boom.
Make a point to explore for a few hours in the slightly eerie but hugely fascinating Animas Forks ghost town before continuing your journey.  
Length: 12.3 miles
Peak Elevation: 13,722
Difficulty: Moderate to Difficult
Where to Stay: Eureka Campground
Recommendations: There are a number of places to boondock and camp in the National Forest beyond Silverton.
If you continue on to Cinnamon Pass, you'll enjoy prime access to some of Colorado's most incredible peaks over 14,000 feet. Handies Peak, often considered one of the best novice hikes for interested peak-baggers, is a great place to start. If you make it all the way to Lake City, Colorado, you'd be very mistaken not to camp at Cascade Creek and eat southern soul food at Southern Vittles restaurant.
Conclusion
With so many places to OHV and four-wheel-drive around Durango, CO, it's hard to pick just one spot! Hopefully, the places we have mentioned on our list will give you a little direction on where to explore this season. It's essential to ensure that you are aware of the legal locations where OHVs can explore to their heart's content. To assist you in this endeavor, check out COTREX (Colorado Trail Explorer), a comprehensive trails app that offers an extensive trail map specifically designed for Colorado's unique trail experiences.
No matter where you end up going off-roading around Durango, make sure you adhere to our Care for Durango principles to keep the scenery and nature areas intact for years to come!