It's that time of year again! Fall in Durango is here! While there are so many things to see and do around the area, sometimes you just need to take a scenic drive or road trip to experience our favorite season in Colorado.
Since Durango sits at the intersection of the high country with mountains and alpine terrain and the high desert country full of mesas, you'll see a variety of foliage changing during the fall season.
In order to get the most out of fall from your car window, here are some of our favorite scenic drives and road trips around Durango to see the fall colors:
San Juan Skyway
Durango to Ouray via Highway 550 - 6-8 Hours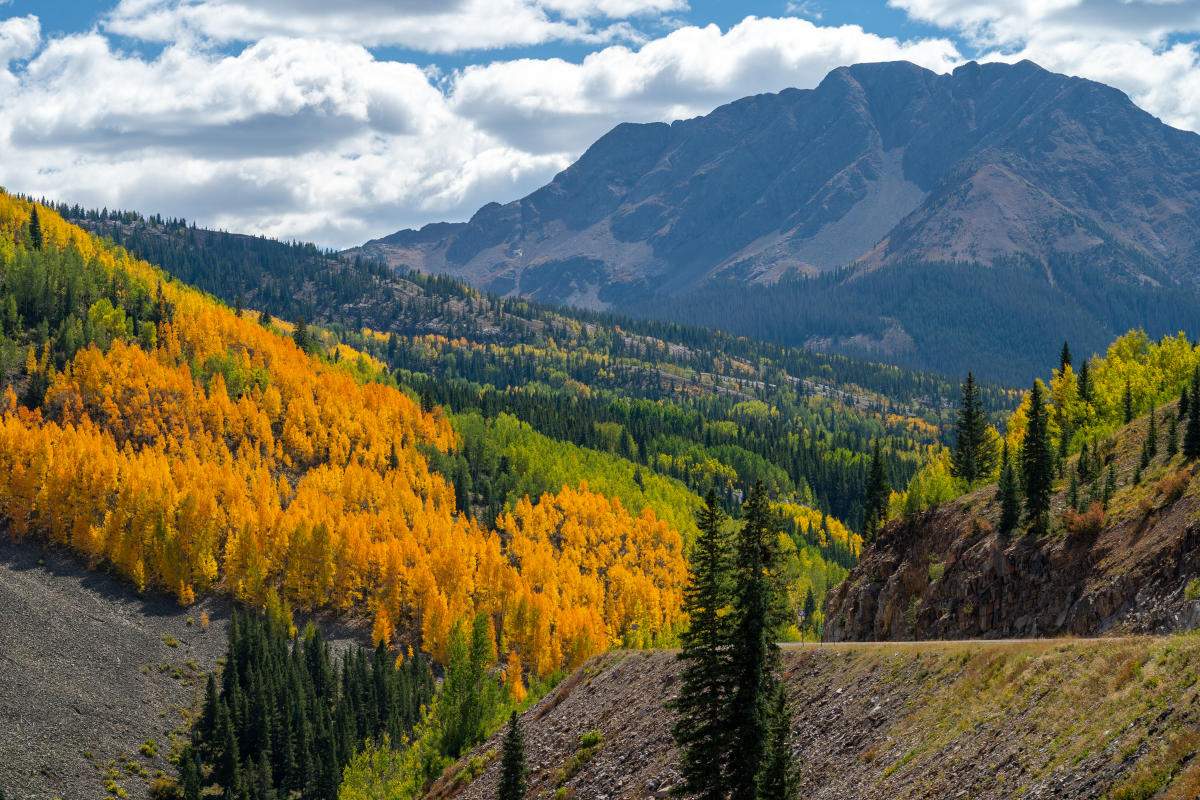 An amazing north/south drive through Colorado's Southwestern corner, your breath will be stolen from you several times as you take exhilarating twists and turns through incredible scenery. Traversing through the San Juan Mountains, be sure to stop and explore the mining town of Silverton along the way, offering rich history. 
You'll ascend over Coal Bank Pass at 10,600 feet, and reach Molas Pass, where you must stop and admire the views. Past Silverton, the Million Dollar Highway awaits and you approach Red Mountain, with its oxidized mineral beauty, and the steep canyon walls of Uncompahgre Gorge, from where you make your descent into Ouray.
Tracks Across Borders
Ignacio to Chimney Rock National Monument via Colorado State Highway 151 - 4 Hours
As Colorado's newest scenic byway, this Southwest Colorado route leads you through dramatic mountain scenery offering many layers of history. From the storied pasts of early Native American inhabitants to the golden age of railroad travel, to the bustling historic west towns brimming with gold-seekers. 
The drive is punctuated with beautiful landscapes, farming towns, and historic settlements, all worth stopping to explore. Twenty-five northeast of Arboles is Chimney Rock National Monument. Known for its twin rock structures, this sacred area was once home to ancestors of modern Pueblo Indians and boasts over 200 ancient homes and ceremonial structures. 
Mayday to Kennebec Pass
La Plata Canyon via County Road 124 - 3 Hours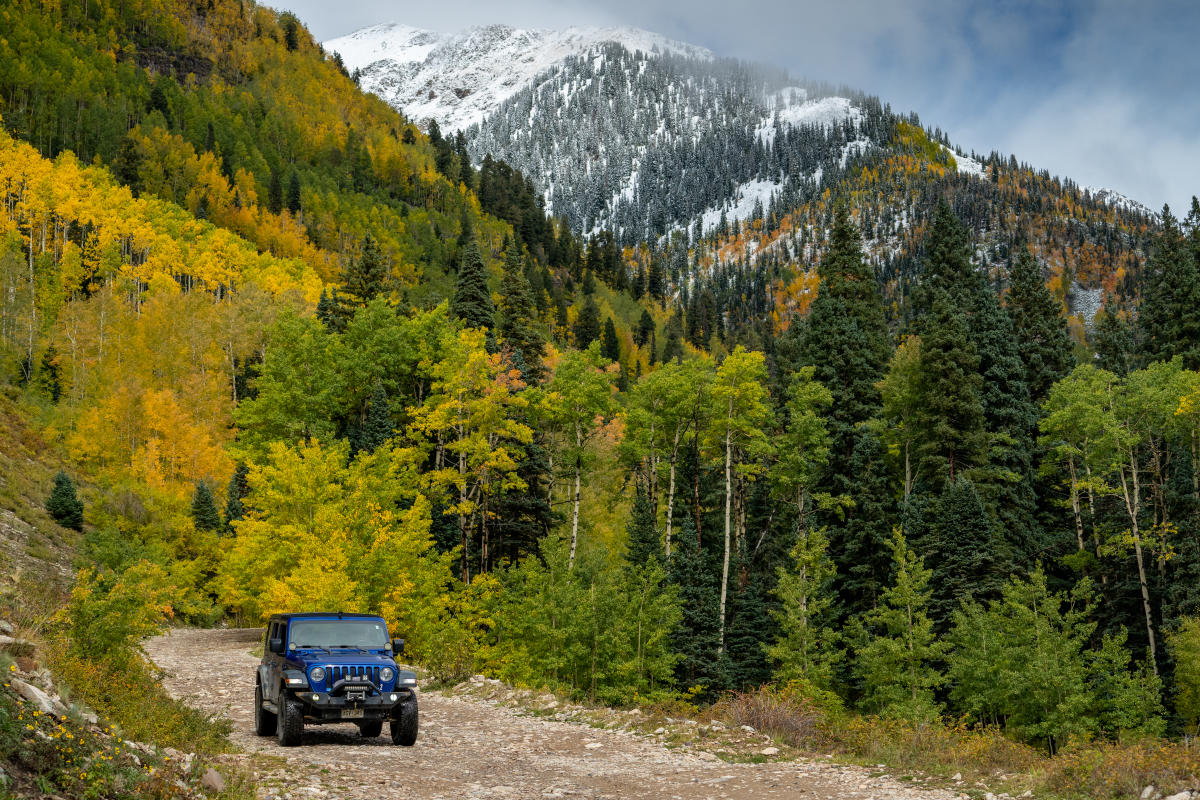 From the quaint hamlet of Mayday, you will be heading north through the wilds of La Plata Canyon. County Road 124 is unpaved, so having an SUV is a good idea, especially for the last few miles. On this epic drive, you will travel through dramatic panoramas of the surrounding mountains, and pass by old mining equipment and abandoned structures. 
Wind your way to the summit at 11,683 feet above sea level. Towards the final push, the winding road has steep drop-offs, so be sure to take it slowly. You will be rewarded with magnificent views all around. 
Mesa Verde National Park
Via Mesa Top Ruins Road - 3 Hours
Mesa Top Ruins is the main road going through Mesa Verde National Park, a UNESCO World Heritage Site. The first half of this spectacular 21-mile route has several steep inclines and hairpin turns, with several dramatic overlooks worthy of stopping to admire. 
The Mancos Valley Overlook offers incredible views of the Mancos Valley, while Montezuma Valley Overlook provides views to the Northwest and the small mountain town of Cortez. After a few more twists and turns, Park Point will greet you; the highest point in the park at 8,572 feet. On a clear day, you can see all the way to Shiprock, New Mexico.
Vallecito Reservoir and Bayfield Loop
Via County Roads 240 and 501 - 2 Hours
From downtown Durango, head Northeast on winding road 240 toward Ludwig Mountain. Along the way are lots of ponderosa pines, oak trees, flat-top mesas, and horse ranches. 
The road will intersect with County Road 501; head north towards Vallecito Reservoir and the little town of Vallecito, with glorious views of the lake and the Needle Mountains (on a clear day). Located on the Pine River in the San Juan National Forest, the Vallecito Reservoir is a playground for nature enthusiasts and watersport lovers. 
Heading back south on road 501, drive to the town of Bayfield, where you can take Highway 160 west back to Durango.
Durango to Wolf Creek Pass
Via Highway 160 - 4-6 Hours
On this scenic drive, you'll be heading east from Durango on steep ascents with natural beauty all around. Along the way, make stops at Bayfield, Piedra, and Pagosa Springs before beginning your ascent up to Wolf Creek Pass.
Located deep within the San Juan Mountains, the pass falls alongside the Continental Divide and gets its name from nearby Wolf Creek, which begins near the summit. Just before you reach the pass, there is an observation site for the popular Treasure Falls. At the top of the pass, be sure to get out, stretch your legs, and hike the Continental Divide Trail (but we don't recommend hiking all the way to Denver unless you packed/planned for the trek). 
Wildcat Canyon and Lake Nighthorse Loop
Via County Roads 141 and 210 - 1 Hour
If you only have time for a short but scenic drive, this one does not disappoint. Located a few miles southwest of Durango, you can easily make this a loop drive, traversing roads 141 (to Wildcat Canyon) and 210 (to Lake Nighthorse). 
Driving through Wildcat Canyon on Road 141 is a scenic sojourn lined with interesting rock formations and rolling distant hills in a rugged but quiet landscape dotted with the occasional rustic home. Head east on winding roads towards Durango, then loop around to road 210 to Lake Nighthorse, where boating and all sorts of outdoor recreation await the outdoor adventurer.
Perins Peak State Wildlife Area
Via Lightner Creek Road and County Road 208 - 1 Hour
Lightner Creek Road (or County Road 207) hooks up nicely to County Road 208 going north, leading to Perins Peak Wildlife Area, with lots of scenery to admire along the way. Located just Northwest of Durango, this makes for a great scenic, short drive. There are many opportunities to pull off the road and explore, but the highlight is the Perins Peak Trail. A 6-mile out-and-back trail featuring beautiful wildflowers when in season. The views are unique, and the La Plata Mountains as a backdrop make a signature statement throughout the hike. 
Conclusion
As you can tell, there are plenty of places to drive to and explore this fall in Durango. If you're looking for the groves of yellow aspens, the high country is the place to be. For a different Colorado fall experience- some of the lower elevation areas like Wildcat Canyon or Vallecito will provide you with a unique perspective on Durango's Fall season.
No matter which route you take, experiencing fall via a scenic drive or road trip is a drive that you'll never forget.