Waterfall hunting: nature's original scavenger hunt
The city of Durango isn't well known for its waterfalls. That's not because we don't have them, but rather because most of these outstanding water features are still a well-kept secret.
Many grand falls surround our town, but to find them, you're going to have to take a hike. If you're ready to experience the adventure of a lifetime, check out these areas and keep your ears tuned to the sound of roaring water. 
Explore five of our favorite waterfalls around Durango, Colorado:
#5 Lime Creek Road
Northwest of Durango
Lime Creek is a 12-mile-long dirt road popularly used by jeeps and ATVs. In the 1800s, this hairy stretch of land was the only way to access Silverton from Durango.
To reach this waterfall, drive north towards Silverton on Highway 550. Continue beyond Coal Bank Pass and look for the north entrance to Lime Creek on your right. Descend onto the dirt road and drive for a little less than 2 miles. Here you will reach a paved bridge that crosses over Coal Creek. The road is relatively wide, and there is available parking for maybe one or two vehicles nearby. Park here, but please don't block traffic or park directly on the bridge.
On the right side of the road, you will see a small trail that follows the creek upstream. Tread lightly up this path for around 15 minutes. Do not stray off the trail and you can't miss it!
Note that this is a seasonal waterfall and is usually most powerful in the late spring to early summer months.
There are a huge number of waterfalls in this area, thanks to its many tributaries and dramatic elevation change. Keep exploring as you go! You can take this road all the way back to Durango.
#4 Basin Creek Waterfall
West of Durango
Located only about 20 miles northwest of Durango, Basin Creek Waterfall is the perfect distance for a simple afternoon trip. Just head west on Highway US-160, then veer north onto Co Rd 124, and you will be there in no time.
From there the waterfall is just off the highway, so visitors have an easy trek to their destination. Keep in mind that with ease of accessibility comes higher foot traffic. You will likely not be the only ones there, so it may take some patience and timing to snag that perfect Instagram shot you were hoping for. If you are feeling up for a little community service, grab a small bag to pick up some litter (which again comes with the ease of accessibility.) This is one of the best waterfalls near Durango, and we all need to help keep it that way.
Just downstream Basin Creek merges into La Plata River, and it is well worth foraging. But for those itching to go upwards rather than down, Basic Creek Waterfall is surrounded by stunning peaks: Lewis Mountain, Silver Mountain, Indian Trail Ridge, Babcock Peak, and more! 
There are also numerous campsites along Co Rd 124 for all those looking to turn the day trip into a full weekend.
#3 Animas River Rapids
Downtown Durango
You don't have to leave Durango city limits for this one! Right in the heart of downtown runs the Animas River. Guests get to enjoy the extremely local Class V rapids, which implies a large and intense river flow, with vertical drops, strong currents, big waves, small falls, and boulders and holes large enough to possibly flip or hold boats. 
Professional guides and outfitters are available to take groups down the Animas and experience the joy and thrills of white water.
Local Durango residents and owners of Durango Rivertrippers explained, "The Animas is a front yard amenity. Without it, our town probably wouldn't be here. Whether a group of two or ten, there is a raft large enough to take you down the river that made our town what it is. Animas is the Latin plural for the soul, and you will find plenty of life in these waters, as well as your very own spirit for adventure."
#2 Cascade Creek Falls
North of Durango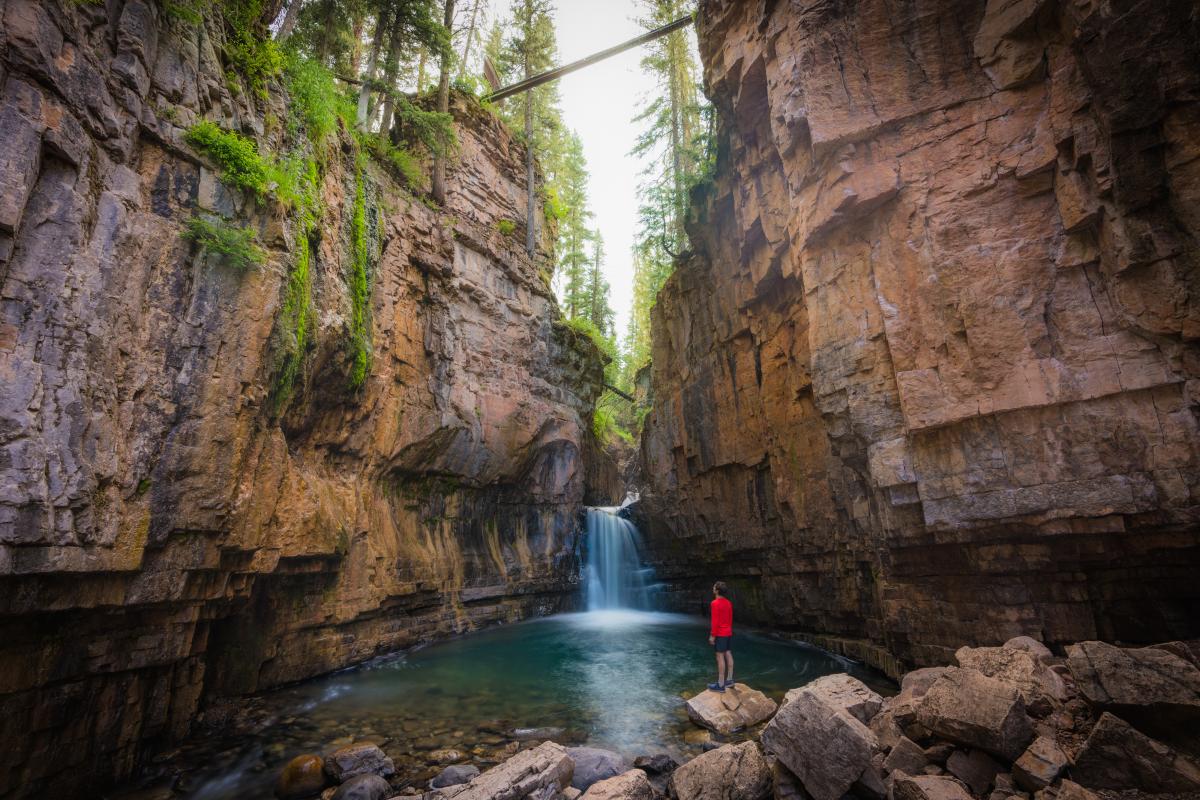 Cascade Creek is an out-and-back trail located just a little over two miles past Purgatory Resort. Traveling north from the resort, you'll reach a hairpin turn intersected by a dirt road. Turn left here and drive on dirt up to the Cascade Trail parking lot. Unless you have a 4WD vehicle with high clearance, park in the lower lot and hike in on the road to the gate. There are two notable waterfalls on this trail.
Cascade Creek Trail is located on the left-hand side after you pass by Cascade Village. You can park by the highway or go further up the rough dirt road. The dirt road is about one mile up to a metal gate. There is a nice parking area about 0.5 miles to the left, right before the bridge over the flume. Walk up the road and go through the gate. The trail is on the right side of the creek. From the gate, it is two miles to Engine Creek Falls where a bridge crosses Engine Creek. It is another 0.7 of a mile to Cascade Falls.
#1 Adrenaline Falls
North of Durango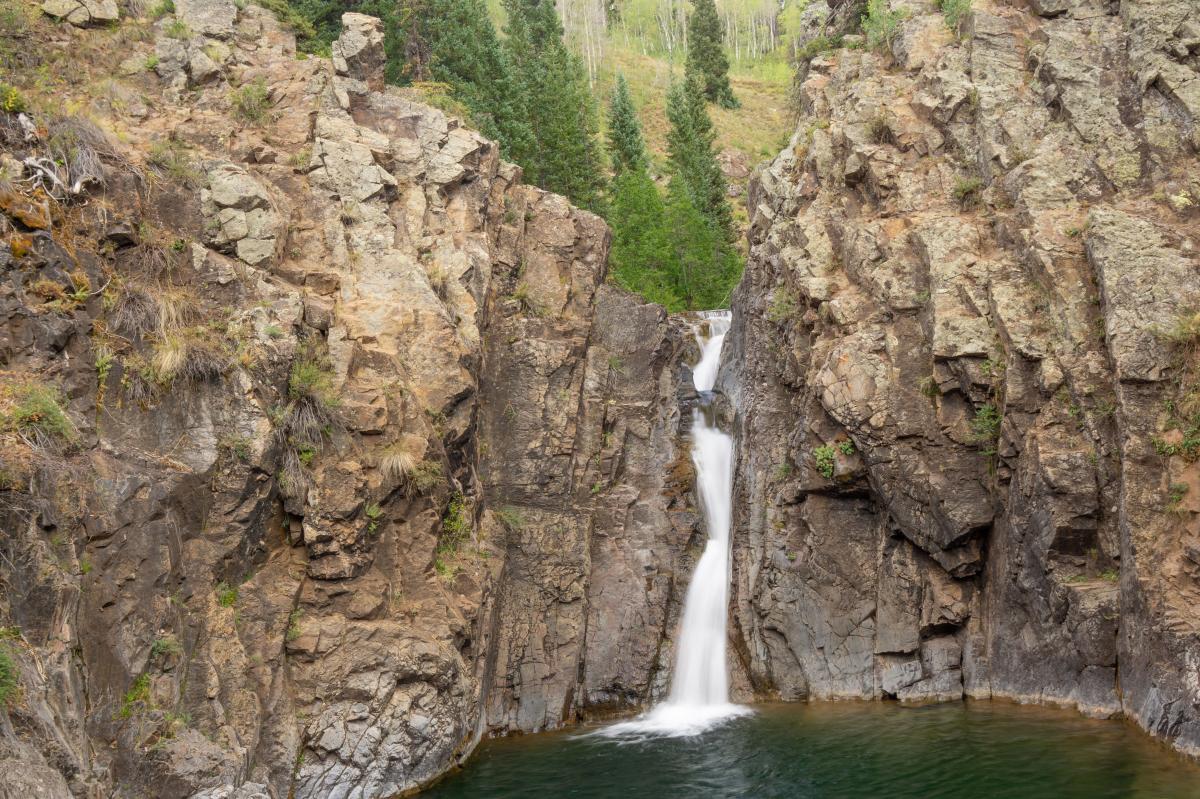 Adrenaline Falls is a very well-known, but mysterious waterfall outside of Durango. While many have heard of it, very few non-locals know where it is. For the folks who grew up here, this fall holds special memories of growing up in the mountains. So, please respect this area and always practice Leave No Trace principles.
To get to Adrenaline Falls, you'll first need to find a local. The best and only true way to experience Adrenaline is with a Durangotang who can share their own stories and provide meaning to the area. If and when you do make it out here, it's possible to have this incredible view of the fall all to yourself. So, ask around and do some digging. You won't find directions from us here.
Conclusion
The first moment of stumbling upon a secret waterfall is unforgettable, especially when you have the entire area for yourself.
We've listed a few Durango waterfalls here, but there are still many more out there in the neighboring backcountry. If you're up for the trailblazing challenge of waterfall hunting, grab a topographical map and follow this simple trick:
First, identify on the map a creek or river in an area with many contour lines. The contour lines suggest that there is a huge variance in elevation, which is exactly what you want. Next, follow your finger along the creek and look for a point where the river intersects a tight cluster of lines in the shape of a U. In many cases, this may suggest that there is a waterfall!
When is the Best Time to Go?
Some of the waterfalls mentioned in this article are seasonal, meaning that they don't flow year-round. We rely on snowmelt to keep our falls flowing, so the best time to catch sight of these awesome features is in the late spring and early summer months.
Leave No Trace – Keeping these Places a Secret
Remember, the locals have known about these falls for generations and generations. Waterfall hunting is a thrilling, age-old activity that we want to continue for many years to come. As such, it's important to take care of these areas. Always aim to leave a trail better than you found it. Stay on the trail, pick up trash, and keep to a single-file line to avoid trail erosion.