Springtime is here in Durango, Colorado! With the trails opening up, warmer weather, sunshine, and longer days, Durango residents and visitors awake from their Winter slumber in search of things to do around town.
With so much to see and do around Durango, it's hard to pick the perfect thing to do during a sunny, breezy Spring day!
Luckily for you, we've put together a blog to help guide you on your quest to enjoy Durango during this magical time of year.
Here are 50 things to do in and around Durango, Colorado during Spring: 
#50 Spring skiing or snowboarding at Purgatory Resort Ski Area
Enjoy Spring skiing, snowboarding, and more at Purgatory Resort through April 4th, then April 10, 11, 17, and 18. Soak in the sun and the incredible views of the Needle Mountains while you traverse the 100 trails and more than 1,635 skiable acres at Purgatory Resort. 
Currently, Purgatory is offering special spring discounts including 20% off your lodging, and the Spring Break Fun Fund where you can receive a free $20 Resort Credit when you purchase 2 or more consecutive days of lift tickets.
#49 Hike to the summit of Hogsback Mountain
Located just outside of downtown Durango is the famous Hogsback Mountain. Gleaming from the edge of town this mountain is located in the highly trafficked Overend Mountain Park trail system. 
Hogsback Mountain is an amazing hike for those who are looking for a few hours of outside time. However, this hike is no joke with nearly a thousand feet of vertical gain from the start of the trail system to the summit itself. 
Hogsback Mountain is also known to have some of the best views of Durango.
Learn More About Hikes with Views of Durango.
#48 Self-guided public art tour with ice cream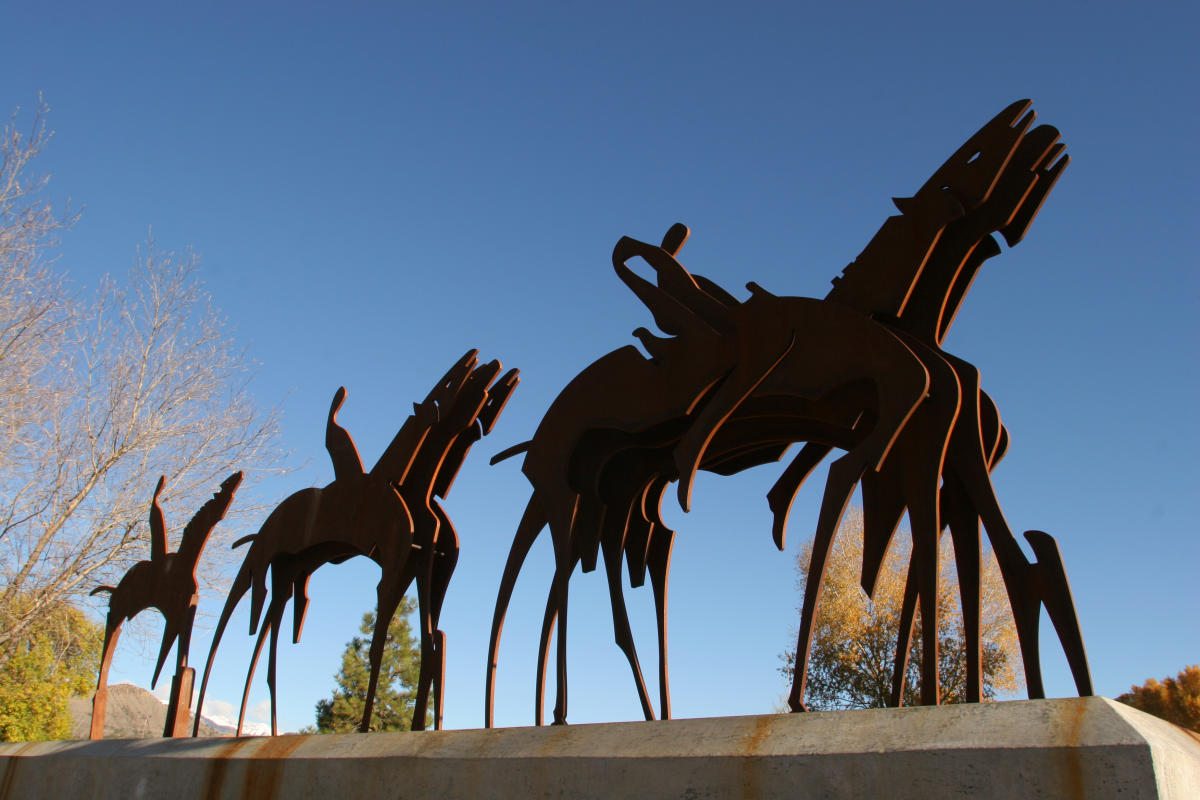 Durango is home to 11 unique art galleries, and they can all be taken in with a self-guided tour (don't forget your ice cream). While most galleries ask that you do not bring in food or drink, enjoying a cup or cone of ice cream is a great way to stay cool while you walk from gallery to gallery (and some may say that the promise of ice cream might encourage the kids to visit 'one more gallery'). 
Durango is known for its natural beauty, so naturally, you can find breathtaking photos in the Scenic Aperture Gallery featuring the work of award-winning photographer Frank Comisar. 
Durango also features incredible works by Native American artists from all over the Four Corners region in the Toh-Atin gallery. 
Learn More About All of Durango's Art Galleries.
#47 Take a road trip and drive the San Juan Skyway
The San Juan Skyway is something that you simply must see when you are visiting Durango. The entire loop is 235 miles and it takes you through old mining towns, spectacular scenery, and exhilarating twists & turns. If you were to take in the entire loop it will be at least 7 hours of driving, but be sure to leave time to explore along the way. While the loop is a state-maintained highway, be advised that there are very steep drop-offs without guardrails. 
Many people who drive the San Juan Skyway during the spring or summer often wonder why there are no guard rails. The answer is simple: the snowplows need to be able to push the snow off the roads. 
So pack your lunch and don't forget your sense of adventure when you hit the road to take in all the beauty along the San Juan Skyway. 
In order to be prepared and to be safe, be sure to check the road conditions before heading out at cotrip.org.
Click Here for a Map of the San Juan Skyway.
#46 Hike the Falls Creek Loop to see the waterfall
The natural beauty of Durango really flows on the Falls Creek Loop. This hike is for all skill levels, offers amazing views of the San Juan National Forest and a photogenic waterfall that will provide you with amazing images to share with friends and family. The 4.1-mile loop is just outside of Durango and features an elevation gain of 394 feet. Falls Creek Loop is best enjoyed from April through October. 
The trail is dog friendly (please keep your pet on a leash), and shared with mountain bikers, hikers, and trail runners. 
Please note that the waterfall is on private property, and please be respectful of the private lands!
Learn More About Waterfalls Near Durango.
#45 Take the Train: Durango & Silverton Narrow Gauge Railroad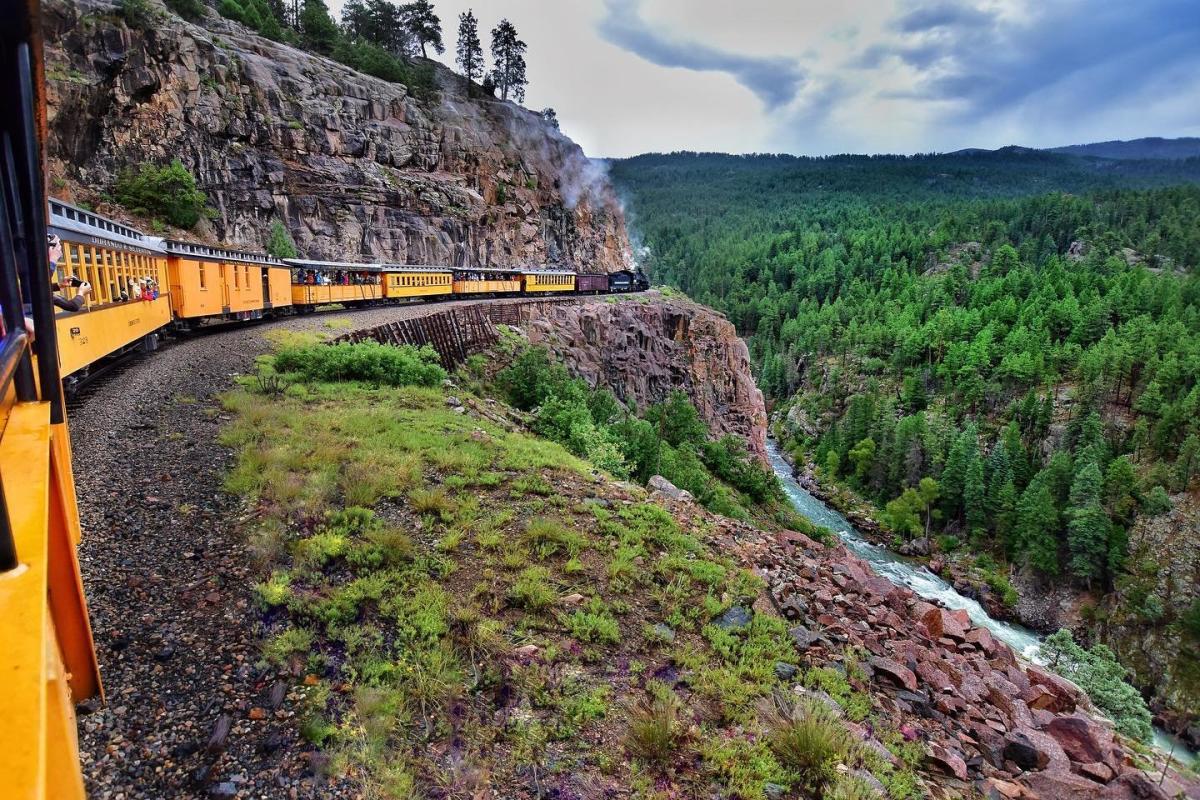 The Durango & Silverton Narrow Gauge Railroad (D&SNGRR) was founded in 1881 and is truly a historic experience that you must enjoy when you visit Durango. For more than 135 years the D&SNGRR has been transporting locals and visitors through time on an original, historic train to enjoy the scenic wilderness and high-mountain landscape of the San Juan National Forest. 
Passengers on the D&SNGRR have the unique opportunity to experience Colorado at its most magnificent with native flora and fauna, cascading waterfalls, spectacular canyons, breathtaking vistas, and majestic peaks that are only accessible by train.
#44 Night soak at the Durango Hot Springs & Spa
There's no better way to relax after your Durango adventures than to soak in the Durango Hot Springs & Spa. Of course, the naturally warm waters are relaxing, but it's the rich levels of calcium bicarbonate, sodium, and iron that support physical healing. So if your legs are aching from a hike, or your arms are tired from rafting, be sure to stop by the Durango Hot Springs & Spa for a one-of-a-kind relaxation experience.
Learn More About Durango's Hot Springs.
#43 Explore the Durango Roundhouse Museum
Learn more about the history of Durango and railroading at the Durango Roundhouse Museum. This 12,000 square foot museum will take you back in time by way of unique railroad artifacts collected and donated by railroad workers and families. There are many exhibits to see, but the two full-size locomotives, historic caboose and sleeper car, Durango's first motorized fire engine, a model representing the D&RGW from the 1950s, and a 1913 Curtiss Headless Pusher Model "D" Aircraft are the stars of the show.
Learn More About the Durango Roundhouse Museum.
#42 Climb at Elementary Wall near X-Rock
For many climbers, Durango is the perfect basecamp due to its proximity to many awesome climbing locations. 
Climbing Elementary Wall near X-Rock is a great beginner climb, but also enjoyable for more experienced climbers. 
It is located just north of Durango on the west side of Highway 550. The short approach and south-facing cliffs make it a very popular climbing location. 
Learn More About Places to Rock Climb in Durango.
#41 Go camping at Haviland Lake
Camping is an awesome way to enjoy the great outdoors, and Haviland Lake Campground is one of the best places to camp near Durango.  There is a picnic table and a fire grate at each site.  Water is and vault toilets are available throughout the campground.  
The Haviland Lake campground is located inside the San Juan National Forest and is a great place to visit during the spring in Durango. 
To canoe, paddleboard, kayak, or fish at Haviland, a DOW pass is required (can also be a fishing or hunting license).
#40 Explore Chimney Rock National Monument
Step back in time when you explore the natural wonders of Chimney Rock. Chimney Rock was a sacred celestial observatory and seasonal calendar for the Ancestral Puebloans more than 1,000 years ago. 
Chimney Rock features incredible natural beauty while sitting atop a high mesa at the southern edge of the San Juan Mountains. 
Chimney Rock has been on the National Register of Historic Places since 1970.
#39 See the wildflowers on Pass Creek Trail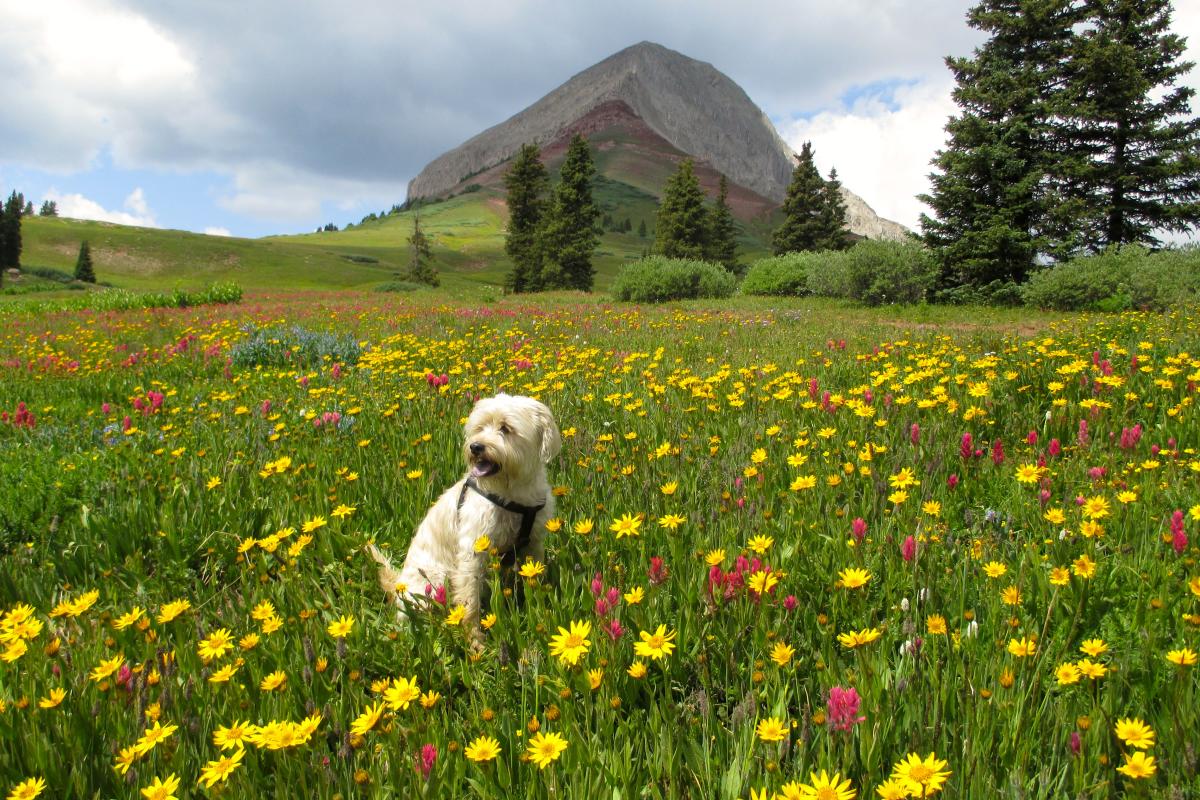 Colorado is famous for its beautiful abundance of wildflowers, and Pass Creek Trail is one of the best ways to immerse yourself in trails surrounded by wildflowers. 
Some of the wildflowers you will see include the Colorado columbine, larkspur, monk's head, Indian paintbrush, alpine phlox, orchids, glacier lilies, and elephant head.  
To get to the trailhead, head north on Highway 550 North (about 30 miles north of Durango at Coal Bank Pass). 
Even if you just go up the trail a short distance, you won't be disappointed!   
Discover Amazing Wildflower Viewing Locations Near Durango.
#38 Raft the Animas River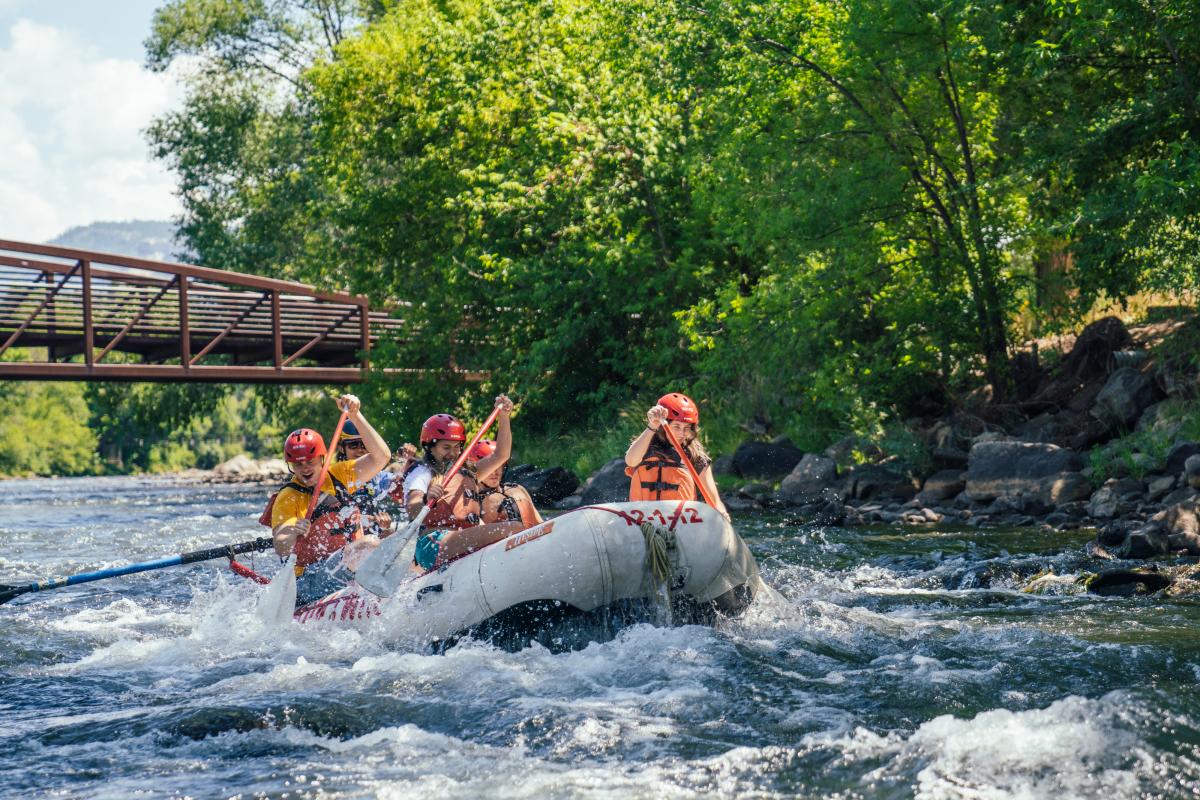 The Animas River is the heart of Durango, and rafting on the Animas River is the thrill of a lifetime. Durango features numerous rafting companies that will assist you in hitting the water and taking on the rapids. There are two and four-hour trips available.  There is no better way to experience Durango than rafting the Animas River as it winds through town.  Most of the raft guides will give you a history lesson as you float the river.  
Safety Tips for Enjoying the Animas River.
#37 Go Food-Trucking at 11th Street Station
Tired of trying to figure out where to eat and how to please everyone? Check out 11th Street Station and its team of permanent food trucks where you can enjoy everything from pizza to Thai food.  This is outdoor eating at its best!
It's hard to keep everyone happy, especially when they're all hungry and all craving something different. That's why 11th Street Station is the perfect place to take the whole crew for food and beverages. 
Explore the Best Hangouts in Durango.
#36 Go mini-golfing
Mini-Golf is fun for the whole family, and another outdoor activity you can enjoy when you visit Durango. Serious Texas BBQ and Mini Golf in Durango offers a world-famous barbeque with a side of mini-golf. 
The whole crew will enjoy playing mini-golf on the course connected to Serious Texas BBQ which sits right above the Animas River and River Trail.
Learn More About Serious Texas BBQ and Mini Golf.
#35 Grab a deal on Winter gear at the downtown gear shops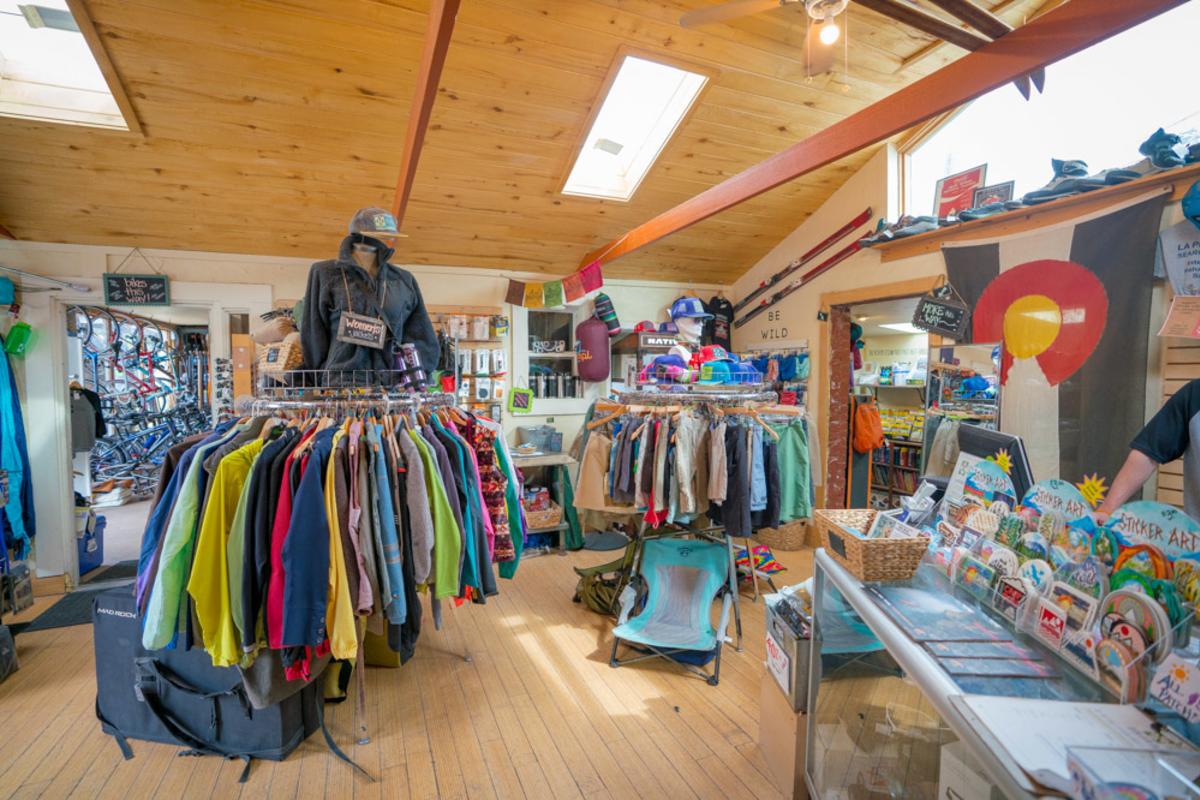 Durango is always in season, and this means that you can score amazing deals on winter gear during the spring months in Durango. 
There are many awesome outfitters in downtown Durango, and the spring is the perfect time to stock up on great deals on your winter gear.
Check Out All the Outdoor Gear Stores in Durango.
#34 Hike Horse Gulch
Horse Gulch is a mecca for hiking and mountain biking.  It offers miles of trails and loops so you don't have to go the same way back.  The closest trailhead is at 3rd Street and 8th Avenue, so just a hop, skip and jump from downtown.   
#33 Go Jeeping up La Plata Canyon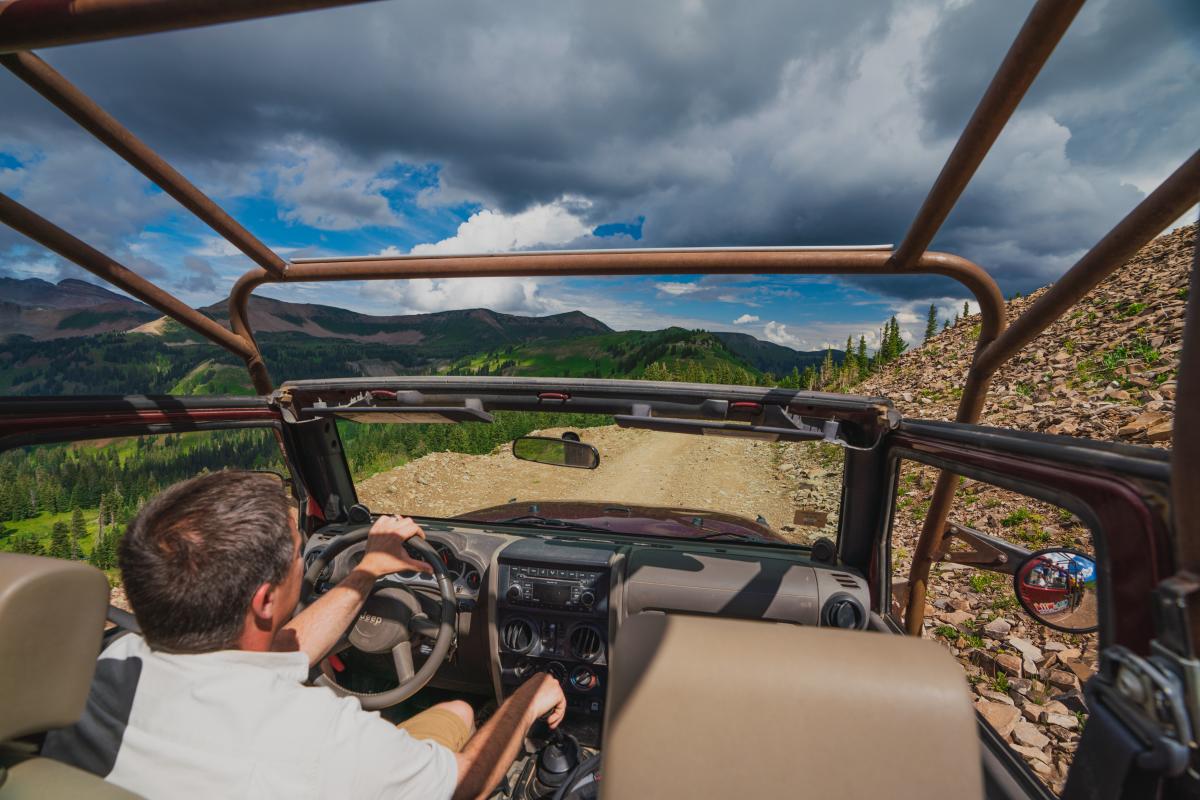 La Plata Canyon in the San Juan National Forest is an outdoor enthusiast's paradise. The forest is full of 4x4 trails leading deep into the canyon and up to the top of Kennebec Pass at 12,000 feet. Backcountry jeepers will find cascading waterfalls, sweeping mountain views, and plentiful native wildlife—including the opportunity to spot bald eagles!
#32 Enjoy the sunshine while beer tasting
Durango's many breweries offer the perfect way to explore the area's culture and soak in the Colorado sunshine. Plan out a brewery tour, hit up your favorite spots, and compare their seasonal offerings! Our recommendations are Steamworks Brewing or Ska Brewing Company for award-winning brews.  Animas Brewing and Durango Beer and Ice have nice sunny patios.  Carver Brewing is Durango's oldest brewery and a local favorite
#31 Play dominoes while enjoying live music
For a relaxing afternoon in the Spring sun, consider perching on an outdoor patio in downtown Durango with a set of dominoes and a backdrop of live music. 
Live music varies throughout the season, so it's best to check our events calendar for the latest updates and what bands are playing where!
#30 Stay for "last call" at the bar
Durango is known for its fun-filled, laid-back culture, and the nightlife is no exception. Frontier-themed saloons and rustic-chic lounges downtown will make you feel comfortable and welcomed, where you can meet friendly locals and fellow travelers to swap outdoor exploration stories and tips. Try the Starlight Lounge for outdoor seating, and check out El Rancho for the delicious drinks. 
#29 Dinner or Happy Hour at the Diamond Belle Saloon
The Diamond Belle is an Old West-style saloon, restored in 1957 and part of the living history museum at the Strater Hotel. It is the oldest hotel in Durango and was built in 1888. Go for dinner or a drink, and make sure to catch a Ragtime Piano show featuring local performers.
#28 See the bees at Honeyville
Local beekeepers at Honeyville supply Rocky Mountain honey and give tours of their beekeeping and honey bottling operations. Take a self-guided tour of their operations, learn about bee preservation, and stick around for a honey tasting! They also sell local provisions perfect for a picnic in the nearby San Juan National Forest.  Kids can see the hive and try to locate the queen bee!
#27 Go trout fishing at Lemon Reservoir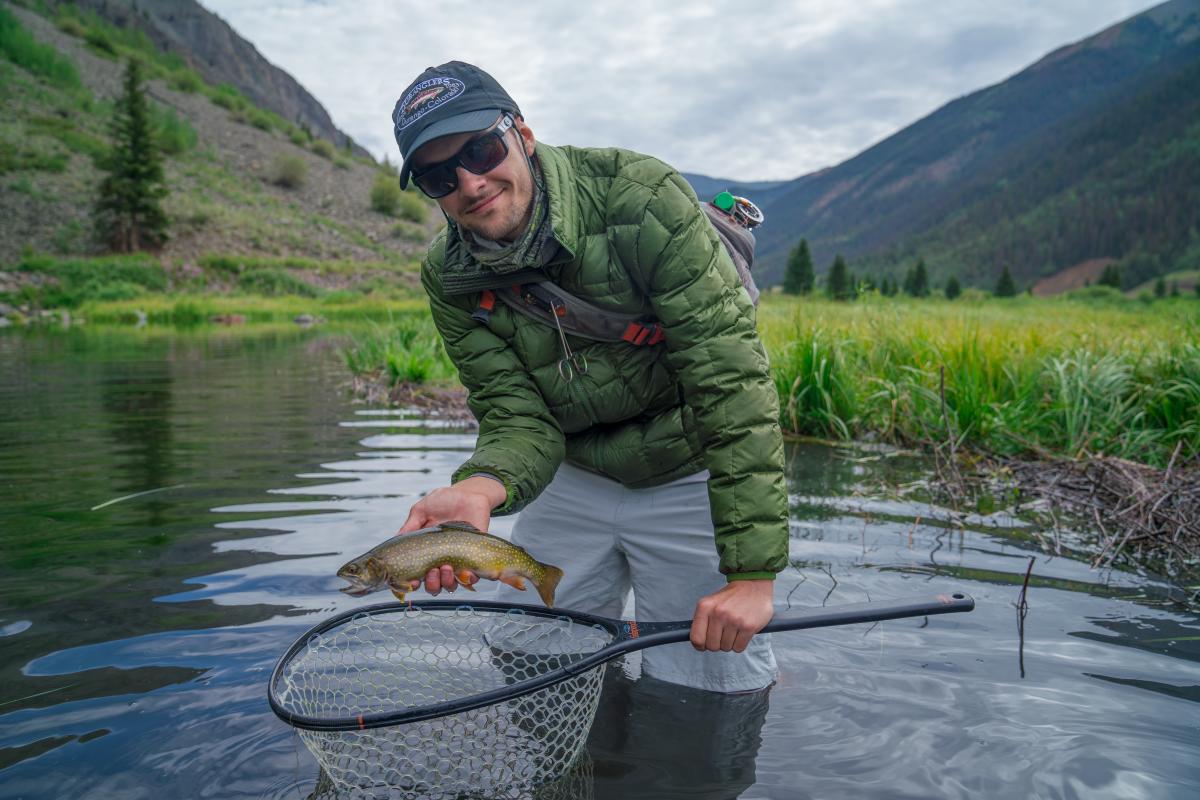 Lemon Reservoir is a man-made lake just outside Durango, beloved by locals and visitors alike for fishing,  biking,  paddleboarding, and kayaking.  . There are 3 three National forest campgrounds, one right on the lake.  The real draw for Lemon Reservoir is the award-winning fish. Cast from the shore or explore the alpine streams that feed the reservoir for rainbow trout, brown trout, and Kokanee salmon. 
#26 Watch the sunset from the shores of McPhee Reservoir
The largest lake in the San Juan National Forest, the McPhee Reservoir is a picturesque mountain getaway popular with locals and tourists alike for fishing, camping, boating, and picnicking by the shores. 
Nestled into the surrounding piñon and juniper forest, campsites at McPhee reservoir offer a perfect balance of amenities and serene nature. 
McPhee Reservoir lies about 45 minutes west of downtown Durango.
#25 Hike to the falls in Cascade Creek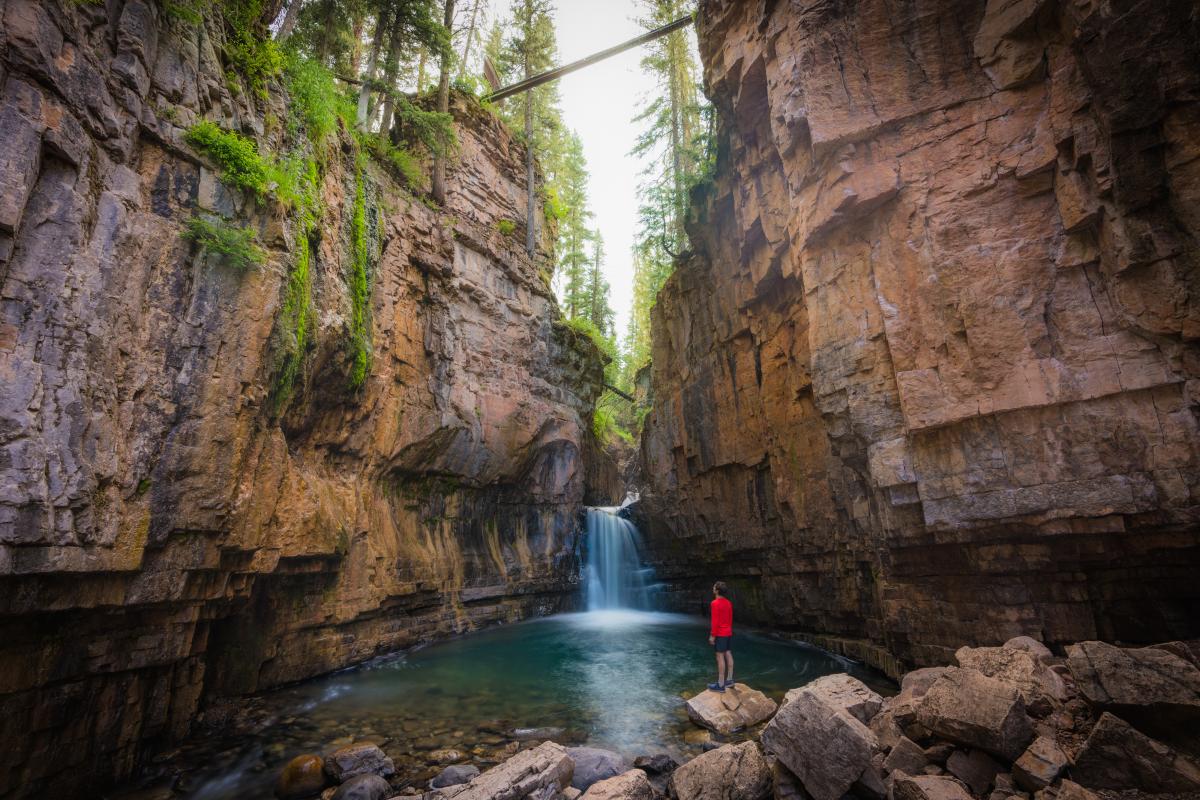 The Cascade Creek Trail is one of Durango's best waterfall trails and the trailhead is easily accessible from downtown. The two waterfalls on Cascade Creek, Engine Falls and Cascade falls,  are fueled by snowmelt off of Engineer Mountain. 
The creek falls into a peaceful meadow, which is filled with wildflowers during the spring and summer months. 
Cascade Creek is located just north of Purgatory Resort.
#24 Get vertigo from the Vallecito Creek Trail
Starting off from Vallecito Campground, the Vallecito Creek Trail is a popular trail that winds along the side of Vallecito Creek. There are several parts of the hike where you'll be just a few feet away from the cliff's edge!
Three miles from the trailhead you will cross the twin bridges and in another 2 miles, you will cross another bridge.  You can continue on into the Weminuche Wilderness or head back. Either way, the views are rewarding—looking up at Vallecito Mountain, Greylock Mountain, Windom Peak, and Sunlight Peak. 
#23 Explore Junction Creek via mountain bike
Junction Creek Trail is the final section of the Colorado trail, terminating in Durango with breathtaking, technical mountain biking descents. The final section of the trail has it all—a creekside trail, technical riding, and stunning views of the La Plata Mountains. Outdoor enthusiasts, locals, families, and runners with dogs all enjoy this trail for the natural beauty and proximity to the city.
#22 Go ziplining
Ziplining is one of the best ways to see the San Juan Mountains, and Durango offers three ziplining options with some of the longest courses in the country. Soar through the treetops with 360° views of Ponderosa forest, and explore the lush ecosystems of the Colorado mountains. 
Ziplining in Durango is a perfect way to spend the day outside with the family in the warm Spring sun.
#21 Go horseback riding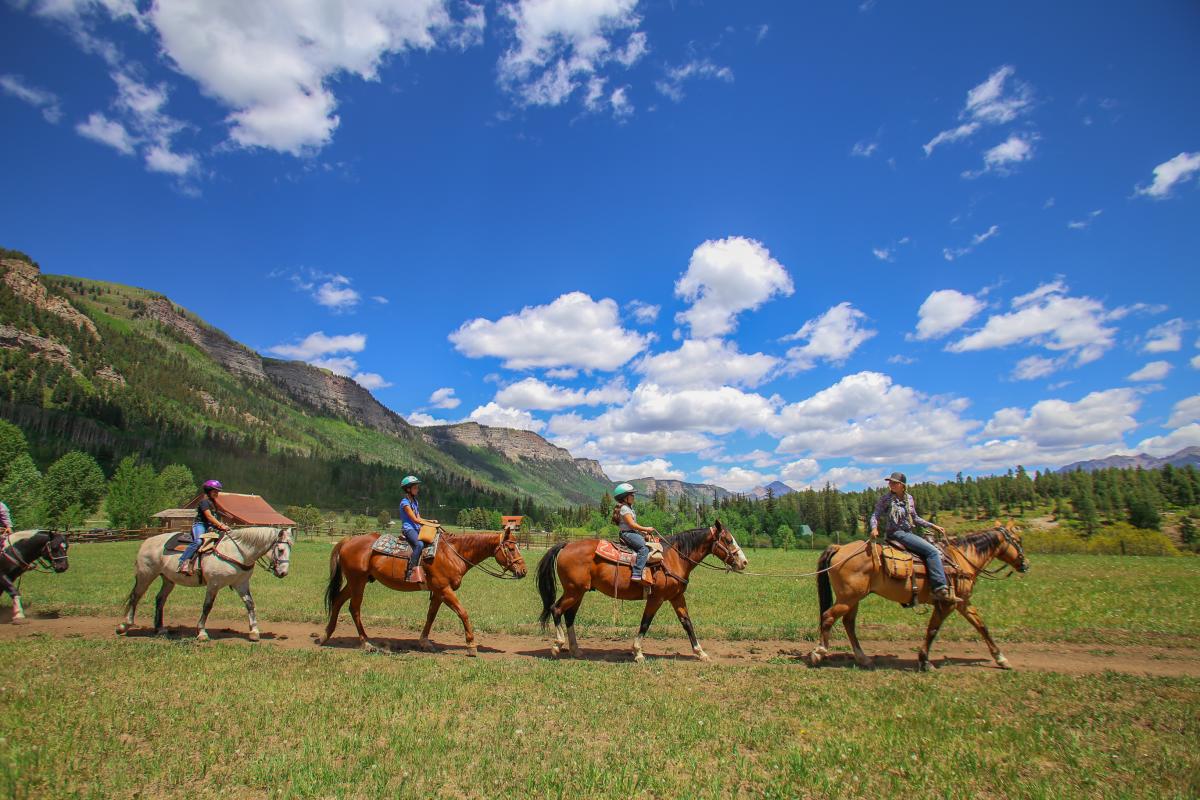 Connect with the natural beauty of the San Juan National forest by exploring on horseback. Durango's history is tied to the fertile river valley, dating back to the Puebloan and Ute people. 
A beautiful, well-traveled trail runs next to the river, and horseback tours will take you in and around the valley to adventure into the peaceful great outdoors.
#20 See the mesa and mountains from the Spur Line Trail
The Spur Line Trail, part of the Three Springs trail system just to the south of Durango, offers scenic views from the foothills of the San Juan mountains out over the Mesa Verde and the Animas River Valley.
The loop trail is popular for day hikers, mountain bikers, and trail runners.
#19 Get takeout and have a picnic at Lake Nighthorse
Lake Nighthorse, located two miles south of downtown Durango, is a fun outdoor getaway destination for the whole family. 
The lake's recreation area features fishing, walking and biking trails, kayaking, boating, and swimming off a sandy beach. The picnic area near the beach is perfect for a takeout feast after a day of fun in the sun.
#18 Take a walking architectural tour of Durango's historic homes
Durango's historic buildings and homes are monuments to the founding of the town and the people who lived there. Self-guided walking tours for both Main Avenue and Third Ave are available at the Welcome Center. Main Avenue features historic businesses and Third Avenue features historic homes.
#17 Play a half-round of golf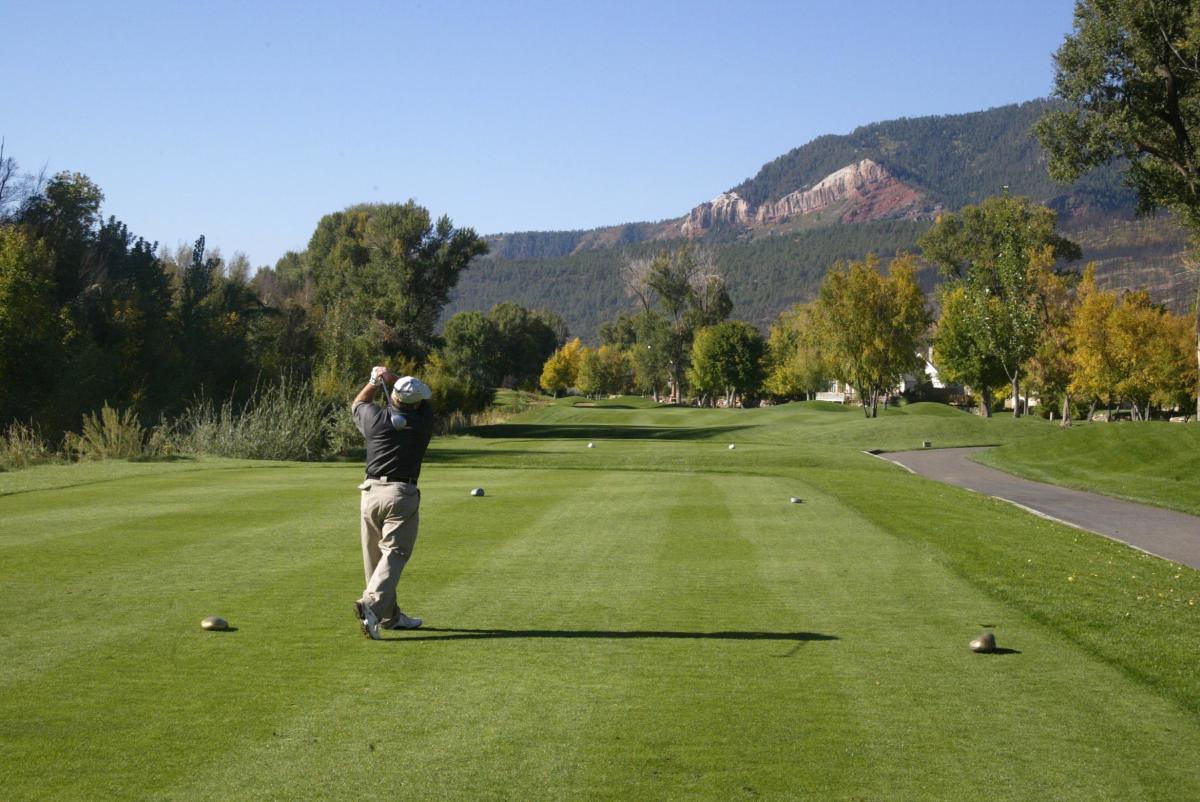 The scenic surroundings in Durango make it the perfect place to catch nine holes while taking in stunning views of the mountains and forests. 
Durango has both public and private courses, including one course designed by golf pro-Brett Walton. 
The two public golf courses are Hillcrest Golf Course located on the Fort Lewis College-Mesa and Dalton Ranch Golf Course located in the Animas Valley about 6 miles north on 550.  
Hillcrest has beautiful views of the La Plata Mountains and Dalton Ranch has views of the Hermosa Cliffs.
#16 Take a ghost tour in downtown Durango
Durango has a surprisingly spooky history, sitting right on the Animas River—known as "The River of Lost Souls" or "Animas Perdidas." 
A ghostly walking tour will take you through town, telling the stories of family tragedies whose ghosts wander the halls of their homes, saloons, and hotels.
#15 Read a book on the beach at Mancos State Park
Located 30 minutes west of downtown Durango lies an incredible, hidden spot in southwestern Colorado: Mancos State Park. This park is home to a quiet, calm body of water that is perfect for relaxing! Jackson Gulch Reservoir has both sand and rock-lined shores that are utilized throughout the year by visitors.
We suggest, picking up a book in downtown Durango, and reading on the shores of Jackson Gulch Reservoir. 
The soothing lapping of the water and grand views of the La Plata Mountains are the perfect compliments to a good book.
#14 Throw a ball around at the fields at Fort Lewis College
Sitting on the western edge of the Fort Lewis College's campus are a series of soccer, baseball, and football fields. When not being used by the Fort Lewis College teams or city sports leagues, these fields are open for public use.
We suggest grabbing your baseball mitt, football, or frisbee for a little catch under the warm Spring sun.
These fields overlook downtown Durango to the west and the mesas surrounding the Animas Valley to the north and east.
#13 Take a driving tour of Mesa Verde National Park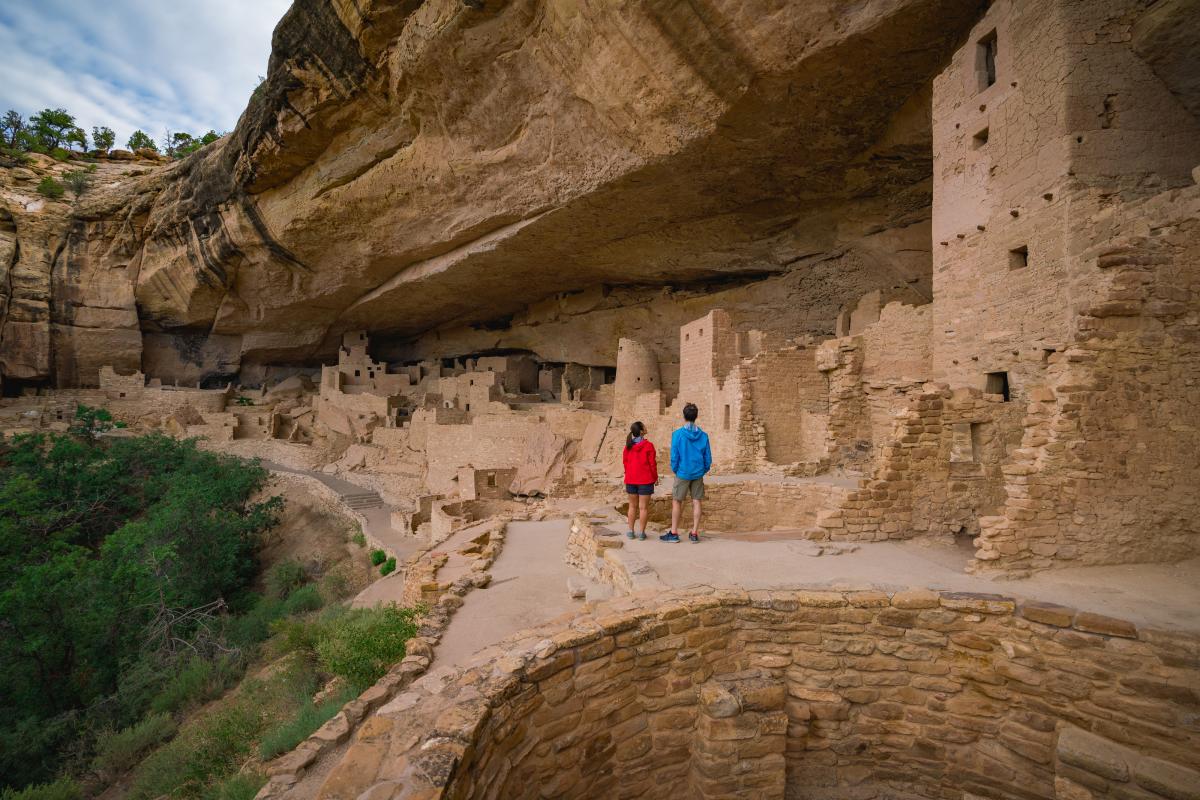 The entrance to Mesa Verde National Park is 36 miles from downtown Durango.  Stop at the Visitor and Research Center for an introduction to the Ancestral Puebloans and their wonderful cliff dwellings.  The first 15 miles into the park are windy but have some wonderful overlooks.  It is another 5 miles to Spruce Tree House where you will get your first sight of a cliff dwelling.  There you will also find a cafe and gift store as well as a picnic area.  
Cliff Palace Loop and Mesa Top Loop are 6 miles each and you will get wonderful views of Pit Houses and Cliff dwellings.  
Along the way, you will learn about the way these ancient people lived and worked.
#12 Try your luck at the Sky Ute Casino
Sky Ute Casino is located in Ignacio Colorado which is southeast of Durango and about a 30-minute drive.  Inside the Casino, you will find several restaurants with great food and loose slots!
#11 Pig out on some Durango BBQ
Durango has some of the best BBQ around. Some of these amazing eateries are J Bo Pizza and Grill, Serious Texas BBQ (with 2 locations), and T's Smokehouse and Grill.
#10 Explore the historic hotels in downtown Durango
Durango is known for its historic hotels such as The Stater Hotel, The General Palmer House, The Leland House, The Rochester Hotel and the Gable House Bed and Breakfast. All of these are beautiful inside and out and have a very colorful history. Be sure to check out their lobbies and, if time allows, ask for a tour!
#9 Shop until you drop
Downtown Durango is a mecca of shops and has exactly what you are looking for.  The downtown Durango pamphlet (found at the Durango Welcome Center) has a list of the stores on each block.  It also lists the dining and nightlife on each block as well as the attractions and activities. 
#8 Enjoy an iced tea while walking the Ned Overend Trail system
Overrend Mountain Park is named after one of Durango's most famous mountain bikers, Ned Overand. The most popular trail in this system is called Hogback but there are many from which to choose. A total of five different trailheads will easily get you into Overend Mountain Park.  Pick up a map at the Durango Welcome Center or access it online at Durangotrail.com 
#7 Look for flowers in La Plata Canyon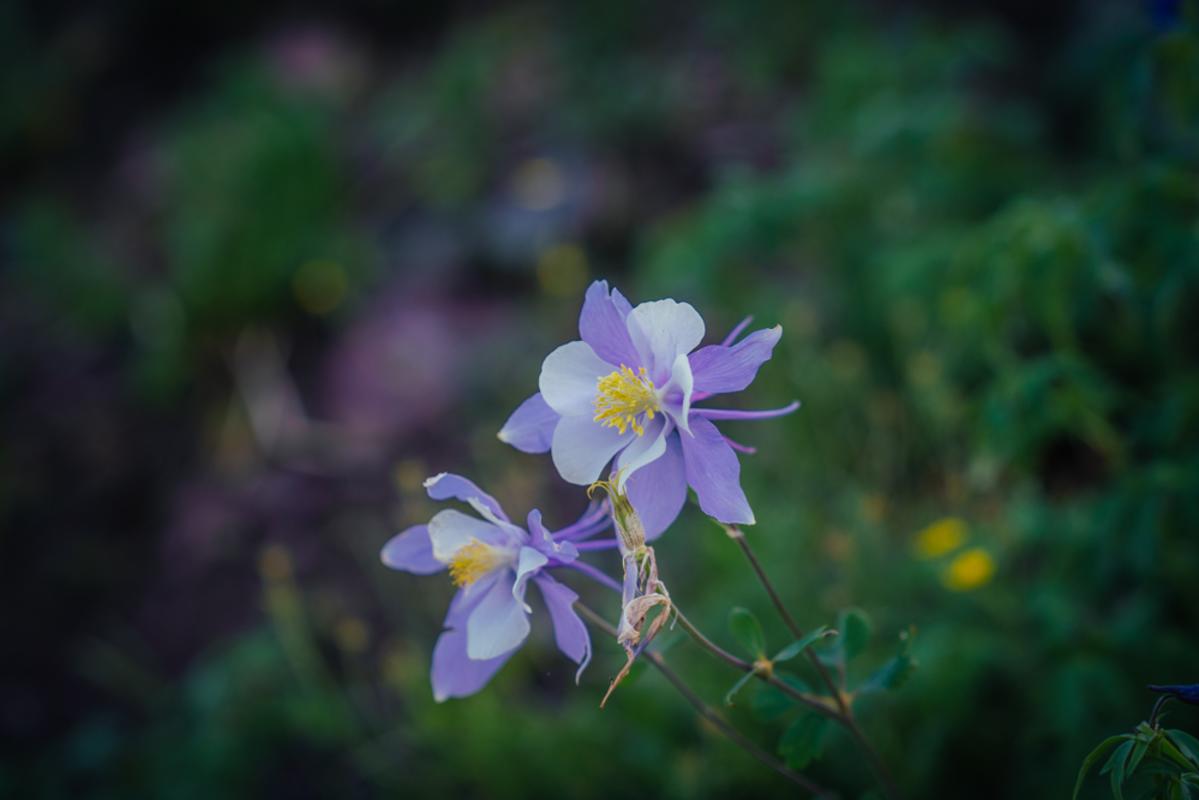 West of Durango lies two mountain ranges that are divided by a huge valley system: La Plata Canyon. With hiking and gravel biking trails along County Road 124 are home to thousands of wildflowers in late Spring. 
#6 Play at the Powerhouse Science Center
The Powerhouse Science Center is an establishment that values the developmental importance of children learning and discovering, even when they're on Summer vacation. The center offers a variety of camps, field trips, and tutoring programs that will occupy your child for a few hours while you relax and enjoy yourself.
#5 Go antique hunting
Durango is home to several antique shops that are perfect for finding that missing end-table you've been looking for! Both North Main Avenue and Main Avenue in downtown Durango have many antique shops to choose from.
#4 Climb the 500 Steps of the Sky Steps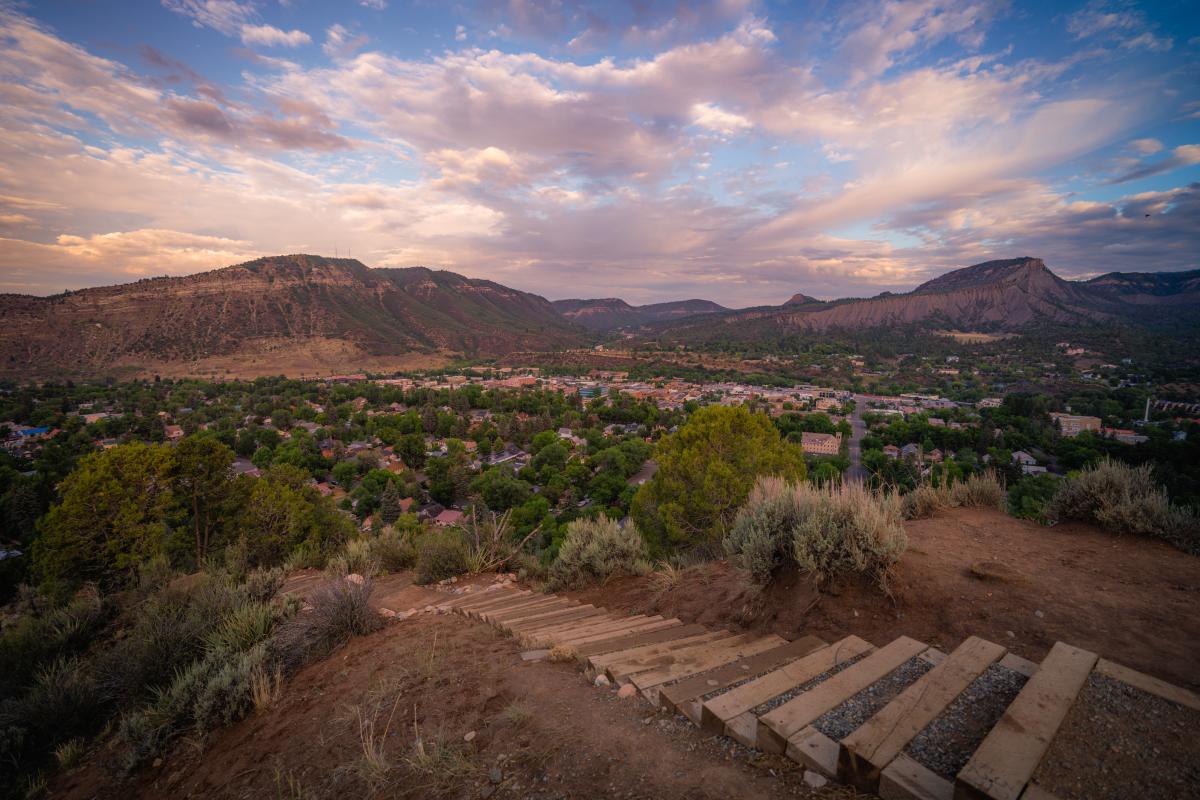 In just under half a mile, the 500 Sky Steps will send you to the top of the Rim Trail. With the appearance of a giant staircase, these "urban stairs" ascend over 250' in elevation to an overlook next to the campus of Fort Lewis College. 
With sweeping views of the Durango cityscape, La Plata Mountains, and mesas surrounding the city, the top of the Sky Steps is sure to take your breath away - in more ways than one! 
#3 Go Art Gallery Hopping
With 10 art galleries located in Durango alone, there's something for every art fan to check out! Whether you start at the south end of Main Avenue or the north end, Spring is a great time to check out the new exhibits on display in Durango's art galleries.
#2 Look for bald eagles in the Animas Valley
Several bald eagles have made the Animas Valley their home since 2012 and can be spotted during the Spring season. As the temperatures warm up and the snow melts, these two eagles can be seen circling the open space looking for mice and prairie dogs.
There also have been bald eagle sightings on the south side of the Animas River Trail by the bridge below LaQuinta Inn. 
We recommend checking in with the Durango Wildlife Service Center for tips and tricks on how and where to spot these eagles in the Animas Valley.
#1 Sign the Care for Durango Pledge and Win a Trip
Durango always values the safety and well-being of all residents and visitors, particularly in such unprecedented times. 
It is our top priority to keep Durango beautiful, clean, and safe.
Pledge to follow our safety guidelines and preventative action, for a chance to win your DREAM Vacation to the spectacular Durango, Colorado!
Conclusion
Durango, Colorado is a world-class destination to spend time this Spring. It's a place where anyone can have the perfect trip.
From hiking next to the mountains and mesas to relaxing in the sun listening to live music, you will never want your vacation to end. 
Come join us this Spring in Durango!