A list of our favorite Winter things to do in Durango!
Durango is the perfect place to experience a Colorado Winter wonderland. You'll never have a dull day during your visit. Durango is your Winter playground!
Winter offers so many things to see and do including skiing and snowboarding, sleigh rides, dog sledding, art galleries, ice fishing, the Polar Express, and more!
As you're planning your next vacation or adventure to Colorado, here are 50 fun things to do around Durango and the Four Corners area this Winter:
#50 Ice Skating at the Chapman Hill Facility
Located minutes from Downtown Durango, the Chapman Hill Facility houses an indoor, ice skating rink perfect for a laid-back afternoon away from the elements and cold. 
Ice skates can be rented directly from the Facility and daily passes are extremely affordable- ages 3 and under are free!
#49 Take the Polar Express: Durango & Silverton Narrow Gauge Railroad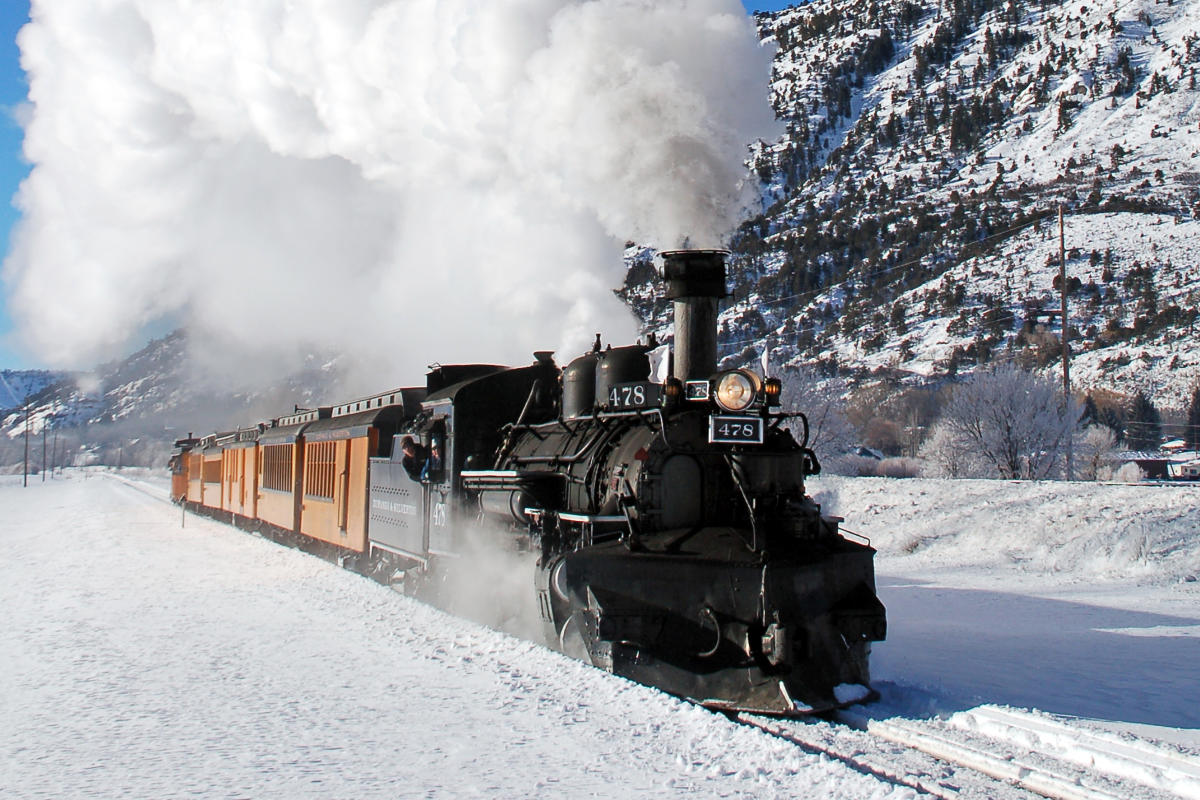 A favorite for families visiting Durango every Winter! The Polar Express via the Durango & Silverton Narrow Gauge Railroad is a recreation of the famous holiday story on an actual vintage steam locomotive. 
Enjoy the round-trip ride through the beautiful Animas Valley then watch as your family is transported to Santa's workshop in the North Pole!
#48 Soak in the Hot Springs around Durango
About 15 minutes north of downtown Durango lies the newly completed Durango Hot Springs & Spa resort. 
With over 12 spring-fed pools, soak your worries away while taking in the views of the snow-covered mesas of Animas Valley.
#47 Skiing or Snowboarding at Purgatory Resort
Skiing and snowboarding at Purgatory Resort offers over 1,600 skiable acres with amazing Winter views of the Needle Mountains. 
Trail difficulty is varied and perfect for skiers and snowboarders of all skill levels. Rentals, hotel rooms, and restaurants are available right at the base of the mountain. 
Purgatory Resort is located just 20 minutes north of Downtown Durango.
#46 Night Skiing or Snowboarding at Hesperus Ski Area
For skiing or snowboarding after the sun goes down, consider visiting the slopes of Hesperus Ski Area. Located 15 minutes west of Downtown Durango, Hesperus Ski Area is open for skiing until 9 PM most nights. 
With 26 trails and 150+ inches of snow, night skiing or snowboarding at Hesperus Ski Area is worth checking out during your Winter visit to Durango.
#45 Hot Chocolate at a Downtown Coffee Shop
Escaping from the cold is always better when there are sweets involved. During a Downtown walk or Holiday shopping spree, take a breather and warm up with a hot chocolate at one of Durango's coffee shops.
Check out Durango Coffee Company, Durango Joes, Hermosa Cafe, or Animas Chocolate & Coffee Company for an amazing hot chocolate this Winter.
#44 Snow Tubing at Chapman Hill or Hesperus Ski Area
Snow tubing is a great way to experience the Winter powder of Durango for families, non-skiers, or days off of the slopes. Snow tubing is available in both Chapman Hill or Hesperus Ski Area. Snow tube rentals are available Hesperus. At Chapman Hill, bring your own snow tube.
#43 Snowshoeing the Colorado Trail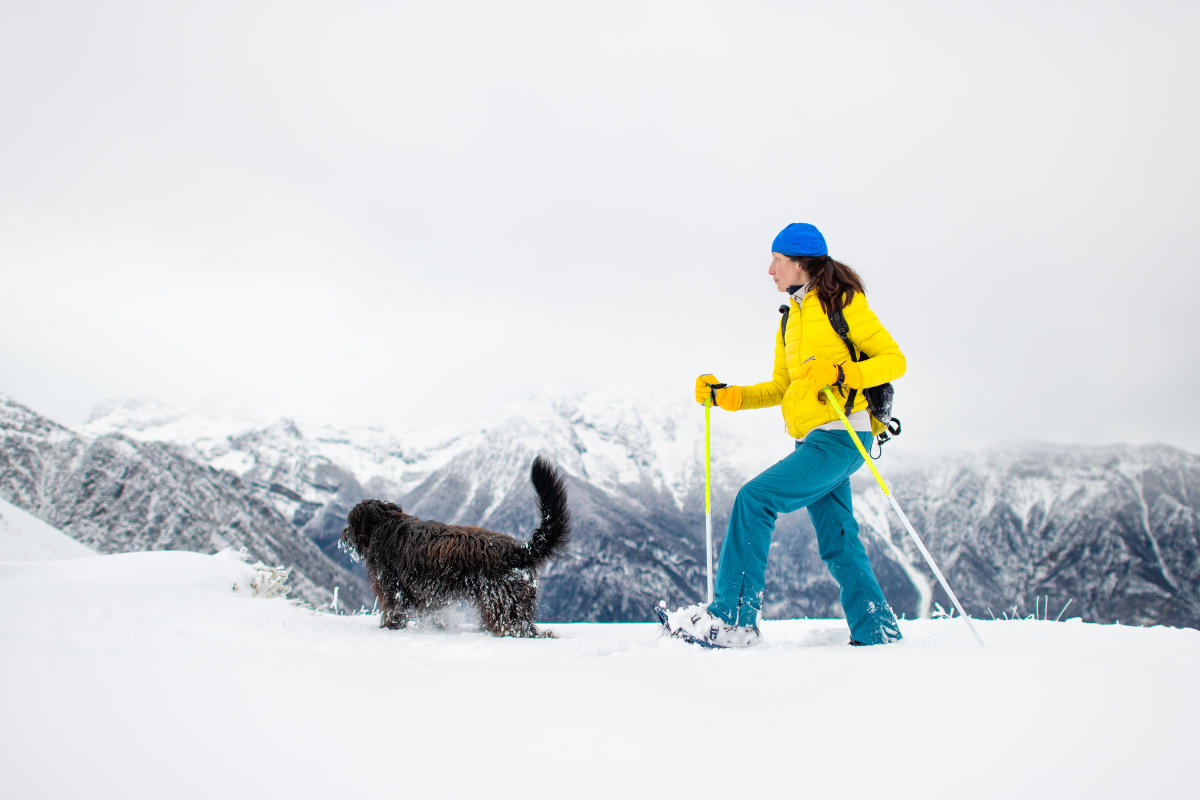 Snowshoeing in Durango offers some of the best views in Southwest Colorado. With the Colorado Trail beginning in Durango, the 480+ mile trail is a paradise for those looking to snowshoe this Winter.
Obviously, you don't have to snowshoe the whole Colorado Trail!
Consider the 8-mile round trip trek to "Gudy's Rest," a high-spot on the trail that overlooks the Animas River valley and Junction Creek.
#42 Sleigh Ride through the Animas River Valley

A true Winter experience in Durango: sleigh ride through the incredible Animas River Valley. There is nothing like listening to the clopping of hooves and jingle of bells as you travel the quiet Wintery landscape. 
Cuddle with blankets, hot drinks, and your favorite people as you explore the pristine terrain and picturesque views via a sleigh ride through the Animas River Valley north of Durango.
#41 Spa Day
After playing in Durango's Winter wonderland, there's nothing better than taking a day off at the spa. With a number of spas around Downtown Durango, enjoy everything from massages to acupuncture. Enjoy pampering from local, licensed therapists in beautiful spas.  
#40 Cross Country Skiing at Vallecito Nordic Club
With beautiful views of Vallecito Reservoir and the surrounding mesas, cross country skiing at the Vallecito Nordic Club is a must for anyone looking to explore this season. With groomed trails that snake through the woods adjacent to the reservoir, you're in for a heart-pumping afternoon on the tracks!
#39 Go Art Gallery Hopping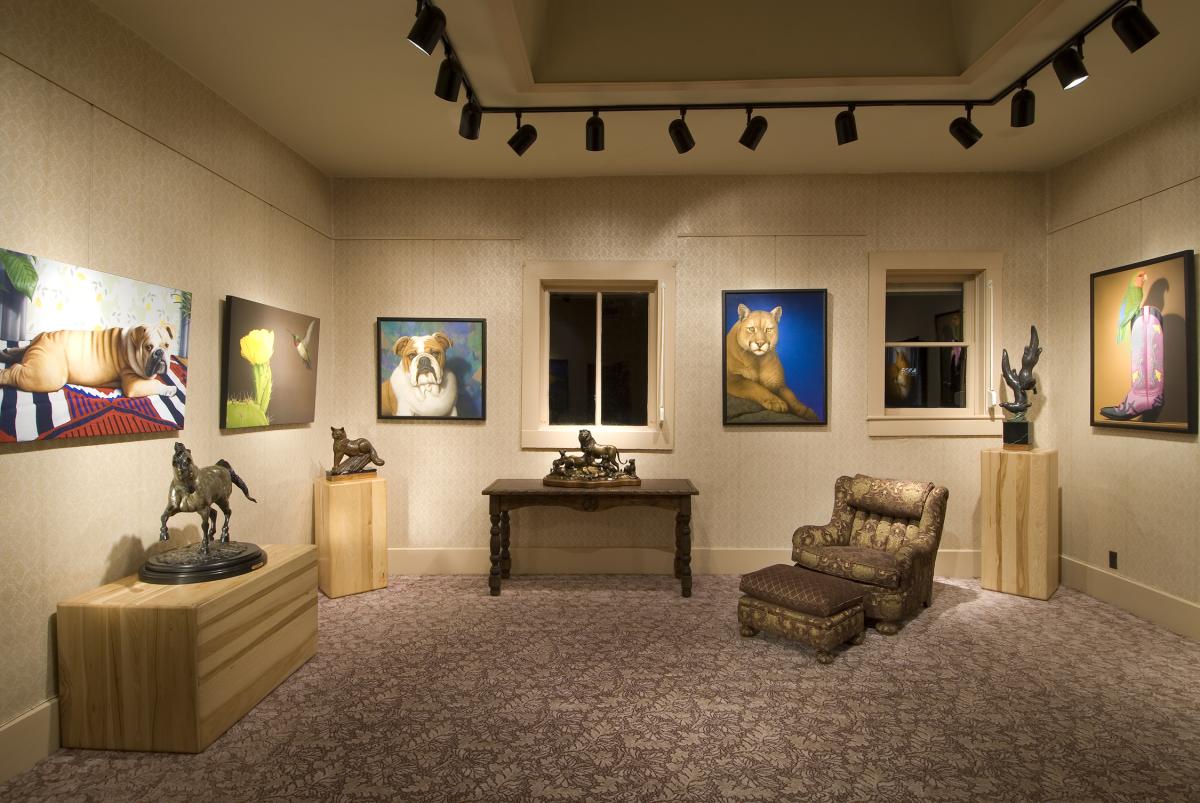 Downtown Durango is home to over 30 art galleries and studios featuring metal sculptures, oil paintings, Native American pottery and jewelry, landscape photography, glass-blown art, and more. Become inspired by the incredible talent of Durango's local artists as you stroll from gallery to gallery. 
Durango's art galleries have something for everyone!
#38 Holiday Shopping in Downtown Durango
With over 500 shops around Durango, you can find a gift for everyone on your list no matter what they're looking for. Enjoy clothing stores, gear shops, home and kitchen stores, and more. 
Whether you start at north Main and walk south or vice versa, you're sure to find something for everyone on your Holiday shopping list.
#37 Fat Biking in Horse Gulch
Mountain biking in Durango doesn't end when snow falls on the trails! Fat Biking is essentially mountain biking with very thick tires that cause you to "float" on top of the snow. Most mountain bike shops around Durango rent Fat Bikes with hourly and daily rates.
Once you've geared up with your Fat Bike, explore the trails in nearby Horse Gulch just east of downtown Durango. Miles of trails can be ridden in Horse Guide with views of Durango's mesas and the snow-capped La Plata Mountains in the distance.
#36 Happy Hour with Ragtime Piano
Experience the music of the Old West in a true Western Saloon. Some of the world's best ragtime pianists join us at The Diamond Belle. Ragtime dates back to the 1890s and has morphed from African-American style music, making a large influence on the creation of jazz music, and therefore helping to pave the way for mainstream music.
Take a trip back in time in Durango's Diamond Belle Saloon.
#35 Explore and Play at the Powerhouse Science Center
The Powerhouse Science Center is Durango's historic, interactive science center. Its history in Durango started as a coal-fired, steam-powered AC generator. Today, it serves as an educational playground for our community.
Exhibits about outer space, brand new exhibits from the Smithsonian, propulsion, and our ecosystem have been acquired to make learning easier to grasp and visualize. Additionally, they offer access to woodworking stations, metalsmithing machines, jewelry making stations, and much more!
#34 Take an Art Class at the Durango Arts Center
Durango is home to world-renowned artists and much of their work can be found while strolling through galleries downtown. The Durango Arts Center has worked with these local artists to put on art classes for those looking to expand their creative eye. 
Learn something entirely new or collaborate with other artists!
#33 Winter Ice Fishing at Lemon Reservoir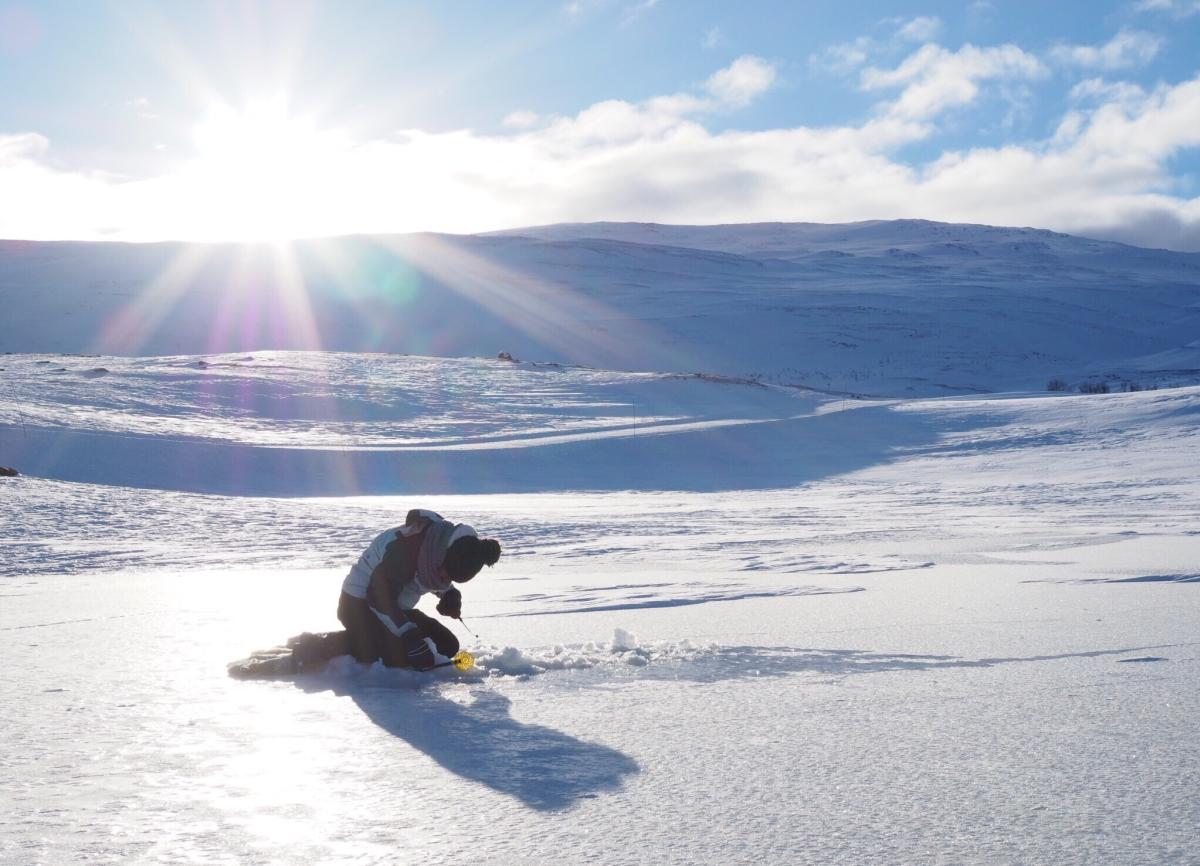 Just because the snow starts to fall, doesn't mean all Summer activities have to wait another year. Famously known for its gold medal waters and fly fishing in the Summer, Durango's reservoirs are stocked year-round! Pull a beautiful cut-throat out of the semi-frozen lakes when ice fishing in Durango.
Not only will you get to snag a hog, but you'll also be able to take on a sunny day in Southwest Colorado while it's draped in a layer of fresh snow. 
#32 Take the Alpine Coaster at Purgatory Resort
At over a half-mile in length, the alpine coaster at Purgatory Resort is a mini-roller coaster at the base of the mountain and ski lifts. With unbeatable views of the Needle Mountains and the ski runs of Purgatory, the alpine coaster is a unique way to sightsee in the mountains of Durango. 
A family-friendly attraction, riders on the alpine coaster control the speed of the cart itself as you glide through the air.
#31 Go Thrift Shopping
For those of you who love to go thrifting, more often than not you can find a treasure at any of our local thrift stores. With almost 20 stores within city limits, the pickings are yours for the taking! Many of the local stores also contribute to charities such as the La Plata County Humane Society, a no-kill animal shelter. 
#30 Wine Tasting
Agrotourism is alive and well in La Plata County! 
I bet you don't think about wine when you hear the words "local produce," but don't be fooled. Surrounded by nutrient-rich soil, Durango has the capability to grow grapes in our high elevations and produce delicious wine.
Enjoy baked goods and wine at Jean Pierre in Downtown Durango or head to Fox Fire Farms or Four Leaves Winery to indulge in their tasting rooms with a view.
#29 Cozy Up in a Cabin
Why should you stay in a cabin for your visit? It's luxurious and adventurous, it's cozy and exciting, it's homey and off the beaten path. Surrounded by mountains, Durango has hundreds of cabins to choose from for your visit. Whether it's an AirBnB, Vrbo, or established cabin, your home away from home awaits!
Spend a night at the O-Bar-O Cabins, Lone Wolf Cabins, or Croll Cabins. You'll be that much closer to the trails and the views from your bedroom window will be the cherry on top!
#28 Craft Your Own Jewelry at Durango Silversmithing Studio
Pick a stone, any stone! Then create your own masterpiece to wear and remind you of your time in Durango. Durango Silversmithing studio, also known as Four Corners Gems and Minerals makes it possible for you to create your own jewelry and learn to set stones and wrap wire. 
#27 Winter Stroll on the Animas River Trail
The Animas River Trail spans just over 9 miles, following the river through the middle of town and running parallel to the Durango and Silverton Narrow Gauge railroad tracks for much of it. While it is draped in green during the summer, it is equally as stunning in the winter!
Snow drifts line the river, patches of ice reflect the sunrises and sunsets, casting cotton candy colors along the banks and path. Take your time, enjoy the sunlight on your skin, maybe stop for hot cocoa, and embrace the winter wonderland. Download the river trail map and start anywhere in town. One of our favorites is to start at Albertsons and work your way north!
#26 Dog Sledding at the Durango Dog Ranch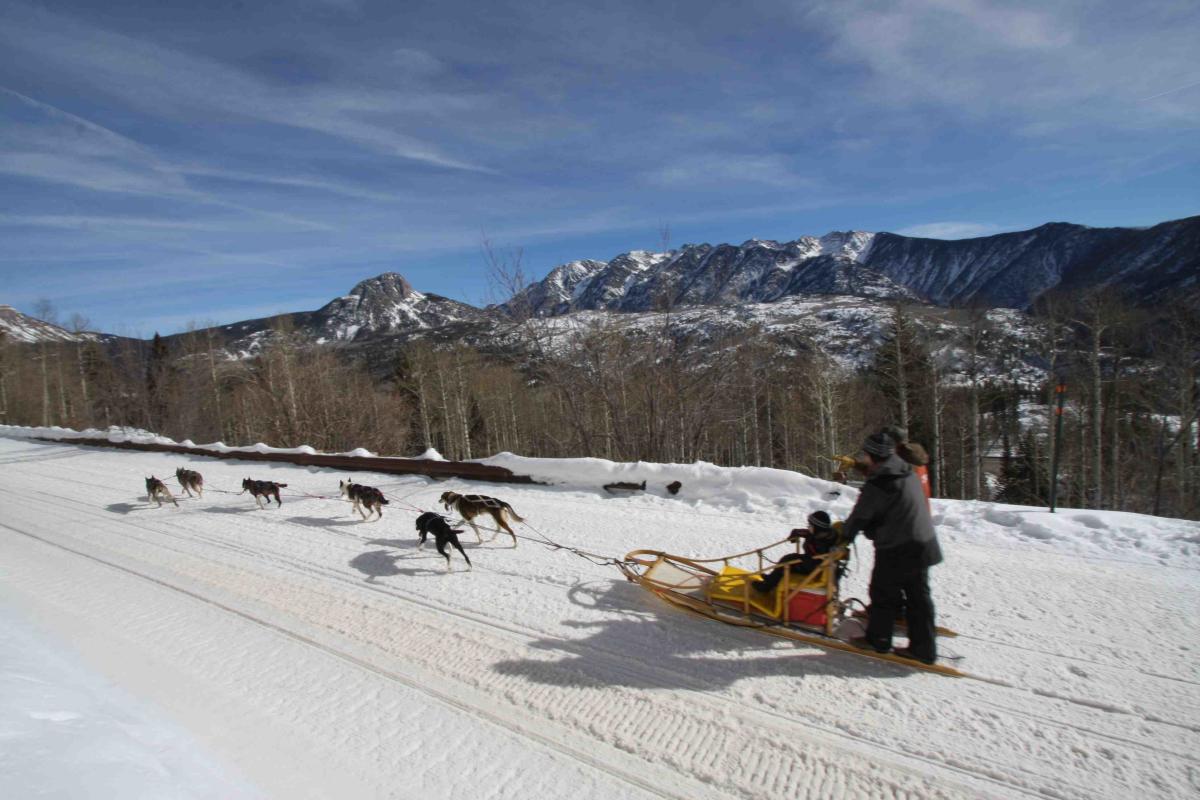 See the Colorado mountains as very few have ever seen them on picturesque mountain trails via dog sledding in Durango. Warmth and safety are of the utmost importance. Hot drinks, fresh snacks, and camaraderie between human and canine are just some of the highlights.
Experience the San Juan Mountains in a way very few have before. Be whisked through the snowy meadows by a dog sled team! The folks at Durango Dog Ranch have been running dogs for over 20 years and are seasoned guides. Afterward, warm up with a hot beverage and puppy cuddles.
#25 Rent a Snowmobile and Explore La Plata Canyon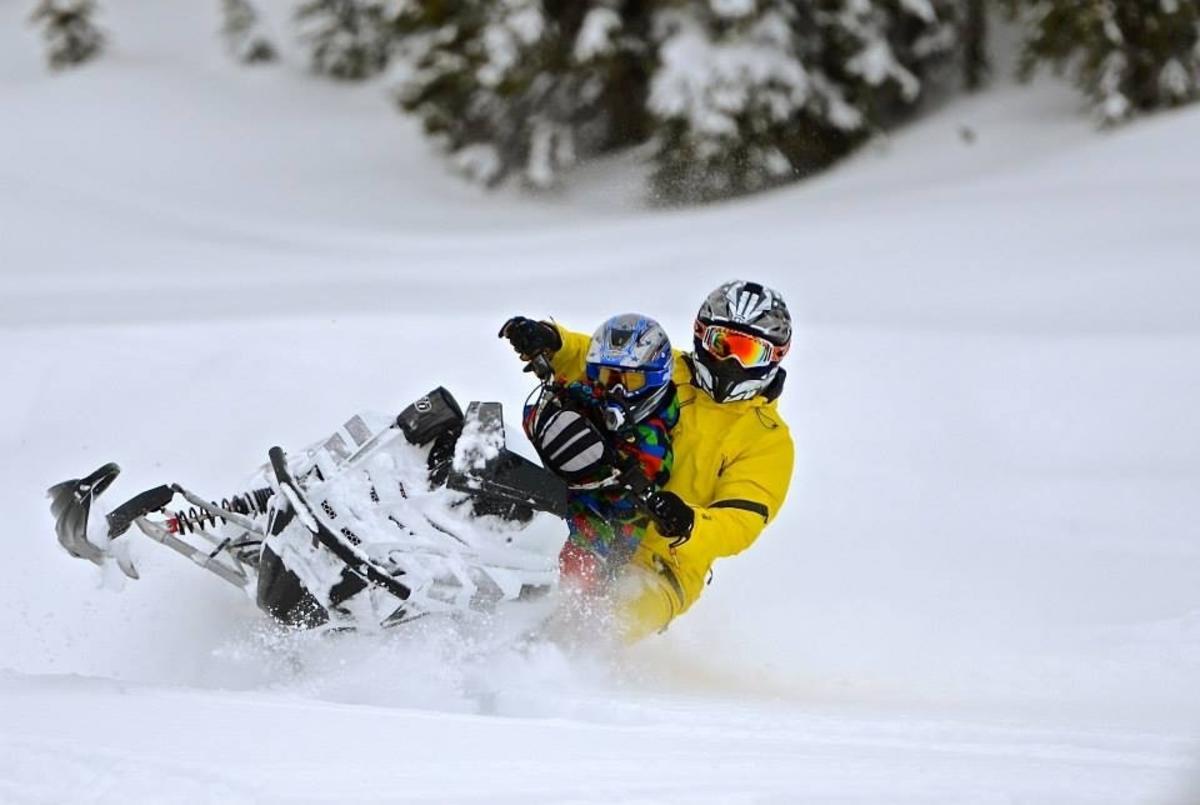 Get ready for an adventure of a lifetime through beautiful La Plata Canyon via snowmobile. Nestled between the iconic 12ers and 13ers west of Durango, La Plata Canyon hosts incredible snowmobiling roads and trails. 
Enjoy huge views of the nearby mountains as you cruise along the tree-lined trails in the canyon.
Snowmobile rentals are available at a number of outfitters including Snowmobile Adventures and Ice Pirates.
#24 Cross Country Skiing in La Plata Canyon
Not only is it the world's best workout, but it's also a workout with a great view! Cross country skiing is essentially gliding across the snow in a kick, push, glide rhythm and it is oh so therapeutic and gratifying.
The La Plata Mountains develop an incredibly well-established trail system in the Winter months, sporting miles of tracks throughout the valley floor. Head deep into the canyon or explore the entrance and sip some hot cocoa. Either way, it's a wonderful way to spend a day!
#23 Watching the Snow Fall with a Hot Toddy
There's something so contenting about sipping a hot toddy on a cold day, watching the snow fall over the Durango landscape. With home to more than a few award-winning mixologists, our favorite cocktail destinations are a must-visit. 
Visit the Bookcase and Barber, the Office Spiritorium, and El Moro Tavern for an amazing hot toddy.
#22 Cozy Dinner in Downtown Durango
Dinner by candlelight or next to a crackling fire is an absolute must during the dark evenings of the winter months. Not only will you be treated to an unforgettable meal, but you'll also have a cozy environment to relax into while indulging. Check out Eolus, the Mahogany Grill, or Seasons of Durango for a cozy dining experience in Downtown Durango.
#21 Winter Scenic Drive to Vallecito
Vallecito is the quintessential Colorado getaway. Enjoy ice fishing, cross country skiing, snowmobiling, great views, and some solitude, away from the hustle and bustle of everyday life. 
Middle Mountain is a great place to snowmobile. The 11-mile trip is peaceful and scenic, and also steep! It climbs 10,800 feet in elevation.
#20 Explore the Frozen Waterfalls of Cascade Canyon
Located 27 miles north of town, just past Purgatory, Cascade Creek is a MUST for multiple reasons. Before you go, make sure you're in an AWD car as the road can be rough in the Winter months. 
It is a favorite local spot because of the easy accessibility, incredible views, and winter photography options. There are 5 solid reasons to visit Cascade Creek this Winter.
#19 Learn How to Ice Climb with a Climbing Clinic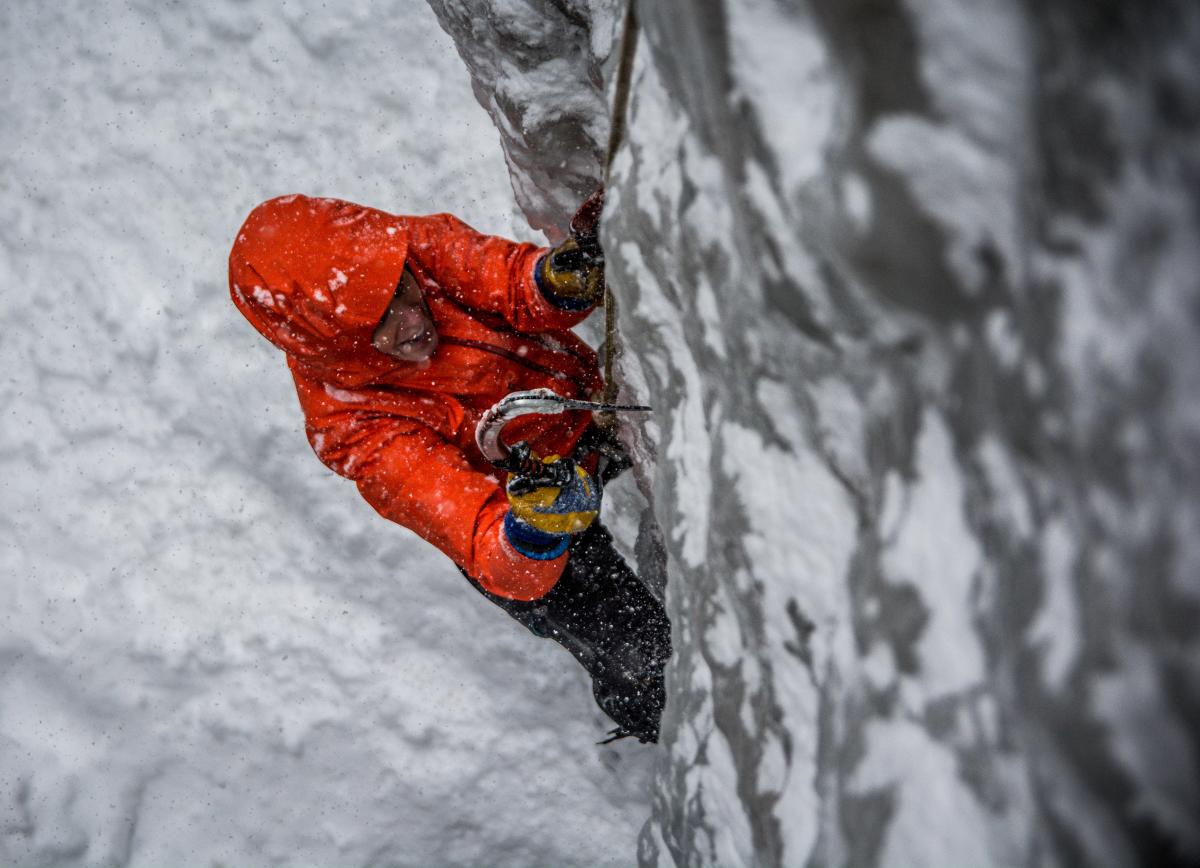 Durango has incredible ice climbing within a short drive of downtown. Durango's ice climbing scene features towering frozen waterfalls housed in striking canyon walls and alongside mountain cliffs.
Durango is home to professional guides, easily accessed routes, and unrivaled scenery during the winter season. The folks at The Rock Lounge are Nationally known for their climbing instructors.
#18 Beer on the "Beach" at Purgatory Resort
Who says you need sand for a good day at the beach? 
Enjoy the snow and sunshine from the "Beach" at the base of Purgatory Resort and make sure to grab a brew from Purgy's. 
With a great view of the mountains and the skiers above, this is a great place to embrace Après skiing in Durango.
#17 Winter Scenic Drive to Molas Pass
The year-round maintained Molas Pass offers breathtaking views of the San Juan Mountain Range. Standing at 11,000 feet, the scenic overlook at the summit is the perfect stop to rest and stretch while taking in the stunning mountains in every direction. 
About halfway between Purgatory and Silverton, Molas Pass offers access to some of the best backcountry skiing in the country and the iconic Colorado Trail. 
#16 Watch the Sunset from the Rim Trail
Located on the edge of Fort Lewis College campus, the Rim Trail offers the best views of Durango's breathtaking sunsets. With fiery cotton-candy skies over the mountains, Durango's sunsets are like nowhere else. 
The Rim Trail spans the circumference of the Fort Lewis Campus and has benches scattered throughout to view the town and scenery. 
#15 Explore the Exhibits at the Center of Southwest Studies
The Center of Southwest Studies is located on the Fort Lewis College campus and offers a chance to explore, study, and experience the rich cultural heritage of Durango and the Southwest. 
The Center houses one of the most comprehensive collections of documents, rare books, and artifacts representative of Colorado and the Southwest four corners area. 
#14 Borrow a Book from the Durango Public Library
You don't need to love books to enjoy the Durango Public Library! 
Nestled near the Animas River, the Durango Public Library is a great spot for both nature-watching and lounging in the Winter months.
Bring a blanket, grab a coffee, find a book, and settle in for a relaxing afternoon.
#13 Take a Self-Guided Art Sculpture Tour
The perfect way to enjoy Durango's local artists and social distance at the same time is with a public art tour around Durango! With dozens of public art displays around town, this is the perfect chance to get to know some of Durango's local artists and some of the history of Durango.
#12 Learn the Grow Cycle at the Cannabis Discovery Center
One of the first cannabis museums in the country, this is a fun stop to learn about the growing, processing, and consuming process of cannabis. 
With interactive, self-guided discovery stations, friendly staff, and free entry, this is a must-see attraction and a great opportunity to learn about the history of cannabis from its origins through prohibition to today.
#11 Play Board Games at Your Hotel Room, Cabin, or Home
A crisp Winter evening is the perfect time to cozy up in your cabin or hotel with family, friends, and a board game. Plenty of local hotels, motels, and cabins carry board games available for check out at the front desk or in the room themselves. 
If you're looking for a particular game that isn't found at the place you're staying, consider stopping at one of the many retail shops around town to pick up your favorite board game!
We're particularly fond of Colorado-Opoly: a Colorado twist on the classic Monopoly game.
#10 Take a Winter Hike Along Old Lime Creek Road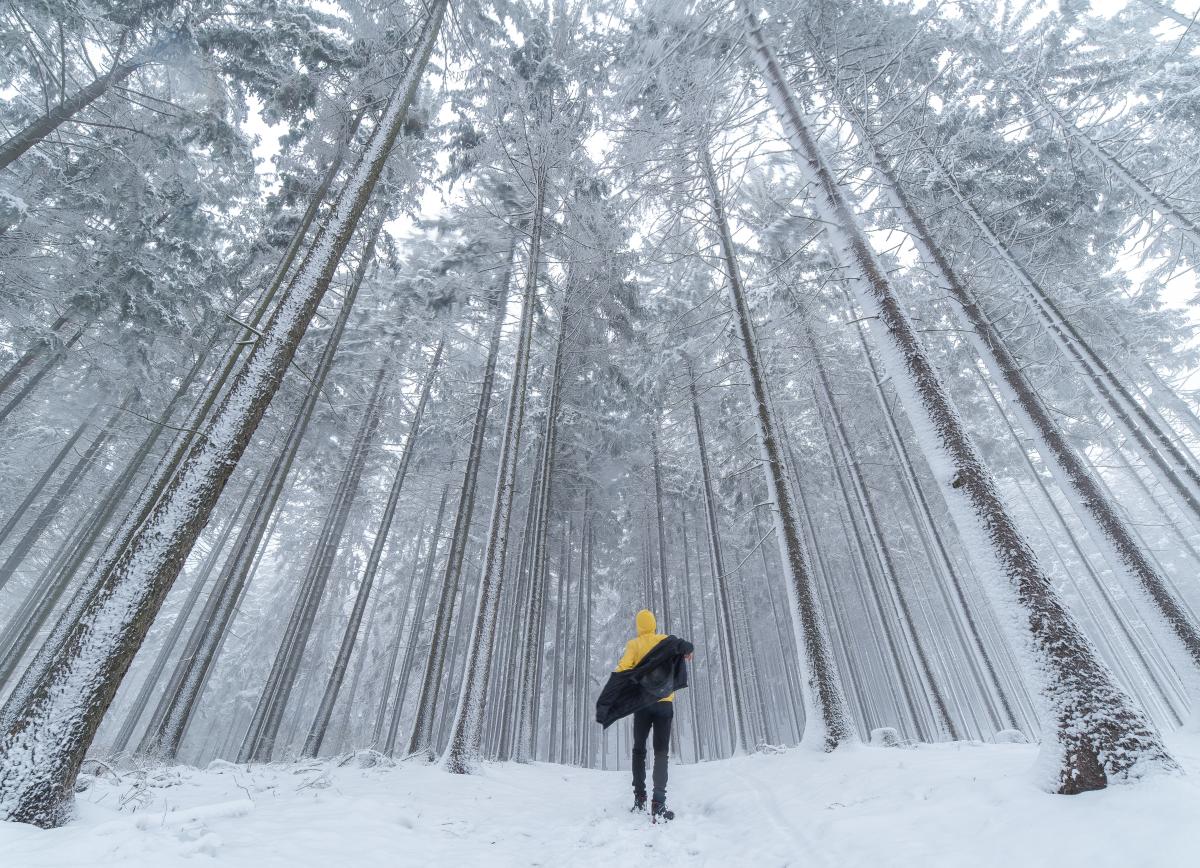 Just north of Purgatory Resort, Old Lime Creek Road is part of the old Durango-Silverton stage road that snakes along Cascade Creek at the foot of the Needle Mountains. Winter hiking around this area can be done on either the road itself or cut snowshoeing trails.
#9 Visit the Pinkerton Hot Springs
For the sightseer in the family, take Pinkerton Hot Springs as a chance to rest, stretch the legs, and take in Durango's beautiful scenery. Pinkerton Hot Springs is a unique mineral feature off the side of Highway 550 on the way to Purgatory and the perfect place to stop and take photos. 
#8 Take a Ghost Tour
Take a tour through centuries of haunted history with Ghost Walk Durango in the historic district of Durango. With a long past of gun battles, gang feuds, and the Spanish flu epidemic, Durango has countless ghost and haunting stories to be told. 
#7 Explore the Roundhouse Museum
If you enjoy history, take a trip to the Durango & Silverton Narrow Gauge Railway Museum and learn about the roots of Durango's and it's exciting mining history. 
#6 Gift Shopping at the Winter Farmer's Market
Saturday, December 12th at the La Plata Fairgrounds, the Durango community showcases its local artisans and farmers. See some of the amazing talent and craftsmanship that Durango has to offer and take it as your last chance to pick up any of the season's fresh produce, meat, and cheese. 
#5 Grab a Deal at the Ski Swap
The ski season in Durango doesn't officially start until the annual Ski Swap. This is a long-time local favorite and a perfect spot to make sure your gear needs are covered or even for some holiday gift shopping. 
The Ski Swap helps raise money for the Hesperus Ski-Patrol program, a team of patrollers offering EMS services and avalanche awareness for over 50 years.
#4 Explore Mesa Verde with Fresh Snowfall
Mesa Verde National Park is an American national park and UNESCO World Heritage Site famous for its amazingly well-preserved  Ancestral Puebloan cliff dwellings.
Take a peek into the past and immerse yourself in rich Native American culture with 52,000 acres of park to explore and over 5,000 sites. 
Mesa Top Loop Road is the best way to see some of the most iconic and breathtaking sites at this national park with views of cliff and surface dwellings.
#3 Hike in Canyon of the Ancients
With the largest concentration of archaeological sites in the United States, Canyon of the Ancients is a truly memorable experience. The monument covers almost 200,000 acres of land and is of amazing cultural, ecological, and scientific value.
One of the best ways to experience this national monument is the Sand Canyon Trail. It provides beautiful views of the canyons and passes by a handful of ancestral Puebloan ruins.
#2 Get Brunch
Nothing says vacation like brunch with friends or family. Lucky for you, Durango is home to world-renowned chefs that have worked hard to create a brunch menu that'll blow you away. 
Local favorites for brunch include El Moro and Switchback. El Moro's food offerings and brunch cocktails are always seasonal, inventive, and delicious. And don't be fooled by Switchback being known as only a taco bar. They serve up a great offering for brunch and a $5 bottle of champagne for all the mimosas you can enjoy!
#1 Sign the "Care for Durango" Pledge and Win a Trip
Durango always values the safety and wellbeing of all residents and visitors, particularly in such unprecedented times. 
It is our top priority to keep everyone healthy but we need YOU to do your part to protect yourself and your neighbors from COVID-19.
Pledge to follow our safety guidelines and preventative action, for a chance to win your DREAM Vacation to the spectacular Durango, Colorado! Sign the pledge!
Conclusion
Winter in Durango, Colorado is a special time of the year. While the snow and cold weather might scare away some, we embrace it 100%! New activities and attractions open up allowing you to explore the sights and sounds of Durango in a unique manner. 
As you're planning your Winter or Holiday trips this year, consider adding one of the things to do on our list when you're in Durango!